The local heroes on Xabi Fernàndez's MAPFRE were a popular winner in the first point scoring race of the Volvo Ocean Race.
Share on Facebook
– ORACLE TEAM USA win two from two
– Land Rover BAR collide with SoftBank Team Japan
– Artemis Racing, Emirates Team New Zealand, Land Rover BAR and SoftBank Team Japan win one and lose one race each
– Groupama Team France only team not to register a day one race win
– ORACLE TEAM USA and Land Rover BAR are joint top of Louis Vuitton America's Cup Qualifiers leaderboard after day one
Sir Ben Ainslie was forced to explain a highly dramatic collision in the first day of the Louis Vuitton America's Cup Qualifiers on Bermuda's Great Sound.
Having already seen some thrilling and action-packed racing in the first five of the six races that were run on day one, particularly from ORACLE TEAM USA who claimed back-to-back wins, the drama really unfolded in the final race of the day between Land Rover BAR and SoftBank Team Japan.
In what proved the biggest flashpoint of the afternoon, both teams were looking for the advantage going into the start box, before the two boats collided at speed, resulting in a penalty being given to Sir Ben Ainslie and the British team. Damage was sustained to both boats, with the Olympic legend's boat taking on water after the incident.
In scenes similar to the final week of practice racing, in which Land Rover BAR hit Emirates Team New Zealand, Ainslie again found himself having to defend his actions when questioned after racing.
"To be honest, to me it appeared six of one and half a dozen of the other," said the Land Rover Bar helmsman, whose team suffered defeat in their second race of the day having enjoyed a morale-boosting win over Artemis Racing earlier in the day in race four.
"The collision was obviously unfortunate but these things happen when you are racing these boats.
"You don't go out there intending to cause damage and so on that front it is was unfortunate to see both boats with damage.
"Unfortunately I'm not a boat builder so I'm not sure about the extent of the damage just yet, but no doubt both shore teams will be working incredibly hard to make sure we are both ready for tomorrow.
"However, for me it was fantastic just to see us competing and up to speed with all of the others. I believe we have silenced a lot of our doubters and I am just incredibly proud of all of our team."
Meanwhile, SoftBank Team Japan helmsman Dean Barker, whose team suffered defeat to Artemis Racing in their first race of the day, bounced back with victory in race six and was relieved that none of his team had sustained any injuries in the collision with Land Rover BAR.
"We were incredibly lucky that there were no injuries sustained by the guys," said the New Zealand native. "Maybe they were still in a bit of shock when we started racing but the way they regrouped and got back into things was fantastic.
"Ben has apologised. Clearly it was their mistake because they caused it but it doesn't stop the guys in the shore team having to have a big workload tonight to put things right.
"You know what is about to happen. You can see it coming in slow motion but there is nothing you can do to stop it.
"What would have been worse is if their boat came a little bit higher over our hull, that would have been really dangerous.
"Fortunately we were able to carry on with the race and limp our way home. The guys did brilliantly to regroup in reply to what happened and get on with the race.
"The first race against Artemis Racing was disappointing. We had good pace and obviously tried hard to keep ahead but ultimately we couldn't.
"However, what was pleasing was how we bounced back and got that victory in the final race."
Meanwhile, it proved a highly positive day for the Defenders of the 'Auld Mug', ORACLE TEAM USA, who comfortably beat Groupama Team France in the opening race of the afternoon, before coming from behind to overcome Emirates Team New Zealand in what proved the highlight race of the day.
However, despite seeing ORACLE TEAM USA sit joint top of the Louis Vuitton America's Cup Qualifiers standings with three points, alongside Land Rover BAR, skipper Jimmy Spithill was left far from content as he refused to rest on his laurels ahead of day two tomorrow.
"The lads aren't happy tonight. We can definitely sharpen up a lot ahead of tomorrow," said the two-time America's Cup winner.
"Of course it is good to end the first day with two wins from two races but we have got to sharpen up on what we do out there.
"Consistency is the key in a competition like this and so there is a lot for us to improve on.
"However, as I said, it is pleasing that we managed to finish this first day of competition and come away with two race wins."
Another helmsman who was left with mixed feelings was Artemis Racing's Nathan Outteridge, having seen his side claim a victory against SoftBank Team Japan, before somewhat surprisingly losing out to Land Rover BAR in race 4.
"It proved a very tiring first day of racing," said Outteridge.
"Our first race we started slowly but you could see how hard we pushed to get back into the race and when the opportunity came, we took full advantage.
"The second race against Land Rover BAR, we just didn't get any opportunity to pass them. It was disappointing to lose the race but we will look at ourselves and see what we can do to improve.
"However to get that first win on the board is really important. We had some strong performances in practice racing and so it was great to be able to bring that forward to today and get a first point banked.
"It was also pleasing to win in in the manner in which we did. We kept chipping away, put pressure on SoftBank Team Japan, and then, to get something, that feeling was really good."
Emirates Team New Zealand helmsman Peter Burling was left satisfied with his team's showing on the first day, having also taken one win from the day, overcoming Groupama Team France, before losing out to ORACLE TEAM USA in their second race of the day.
"It is really great for us to have got a win on the board," said the youngest helmsman competing.
"Having taken that win, we always knew it was going to be tough taking on ORACLE TEAM USA. We put up a strong challenge and matched them throughout the race but they just edged us in the end.
"Having lost it late on was a little frustrating but I'm really happy with our first day on the water.
"We're now excited to get back into action tomorrow and no doubt we'll be racing hard again."
Meanwhile, it proved a difficult day for Groupama Team France, who suffered defeats in both their encounters, losing to both ORACLE TEAM USA and Emirates Team New Zealand.
However, having faced two of the highly-fancied teams on the first day, helmsman Franck Cammas is remaining hopeful of an improved showing from the French team in the days to come.
"Today to have our first two matches against teams like ORACLE TEAM USA and Emirates Team New Zealand was a hard way to start the America's Cup," said Cammas.
"We knew those teams were among the best teams but we wanted to be closer to them than we were in the end.
"We have to work hard and try and understand why we weren't fast today. We also need some big improvements in the maneuvers and so there is a lot to work on for us.
"We will try for sure to improve as quickly as possible. Every day is different and so we will see what tomorrow brings."
Race results
Race 1: ORACLE TEAM USA beat Groupama Team France
Race 2: Artemis Racing beat SoftBank Team Japan
Race 3: Emirates Team New Zealand beat Groupama Team France
Race 4: Land Rover BAR beat Artemis Racing
Race 5: ORACLE TEAM USA beat Emirates Team New Zealand
Race 6: SoftBank Team Japan beat Land Rover BAR
Share on Facebook
Oman Sail's crew on flagship MOD70 trimaran Musandam-Oman Sail return to the race track on Saturday with their first big race of the season, the 2016 Myth of Malham off the south coast of England.
This English classic, run by the Royal Ocean Racing Club, is a weekend race starting at the Royal Yacht Squadron in Cowes with the top mark set at the Eddystone Lighthouse, some 12 miles south-west of Plymouth and the finish back in the Solent.
At 256 nautical miles, it may be a relatively short course but it will test the team, since the Solent and Channel are amongst the busiest shipping channels in the world and a hub of recreational boating and sailing in Britain with thousands of boats taking to the waters on a nice sunny day.
For the Musandam-Oman Sail crew which features Omani professionals Fahad Al Hasni, Sami Al Shukaili and Yassir Al Rahbi, plus skipper Sidney Gavignet, Damian Foxall and navigator Jean Luc Nelias, the race marks the transition from training to performance.
"All our preparations here this week have been about working efficiently round the clock, morning and evening, on the dock as well," said Sidney Gavignet.
"We want everyone to perform. On our delivery runs, we have spent a lot of time teaching and experimenting but during the race, there will be no time for any of that. It will be time to perform and that requires a completely different state of mind."
"It will be good preparation for the Round Ireland race next month."
Musandam-Oman Sail, an ultra-fast trimaran, will be one of around 40 boats competing in the Myth of Malham but there is only one other contender in the fleet that Gavignet's team want to beat and that is Team Concise, a rival British-owned MOD70 that recently set a new record in the Round Barbados Race.
"They have done a lot of racing in the Caribbean this year so it will be a very good contest but we have a good crew, and with some intensive training under our belt, we will be trying our best for a win," added Gavignet.
Known as the mini-Fastnet, since it follows the same course through the Solent down to the 49-metre high Eddystone Lighthouse – which is mentioned in Herman Melville's epic novel Moby-Dick – the Myth of Malham was named after the yacht of the same name, a 37'6″ sloop built in 1947 that went on to win the Fastnet race that year, and again two years later.
The Myth of Malham race starts on the morning of Saturday May 28 when the fleet will head west out of the Solent en route to the Eddystone Lighthouse before an exhilarating downwind ride back to the Solent under spinnaker.
"We can't wait to get racing again and are looking forward to getting some speed up on Musandam-Oman Sail," said Fahad Al Hasni, who is likely to be given helming duties.
"This is the first race of the season and we are keen to make an early impression. She's a fast boat and because we have a few records under our belt, we know we can get the best out of her but we also know we will have to be at the top of our game to win."
MOD70 Musandam-Oman Sail Programme
Myth of Malham: Starts Cowes, Isle of Wight – Saturday 28 May
Volvo Round Ireland Yacht Race: Starts Wicklow, Ireland – Saturday 18 June
Quebec – St Malo: Starts Quebec, Canada – Saturday 10 July
Share on Facebook
In a thrilling winner-take-all final race, Emirates Team New Zealand unhooked itself from a starting buoy to win the Louis Vuitton America's Cup World Series New York with the high score of 52 points.
Another large crowd, estimated at 100,000, turned out on a sunny day and was treated to some very unpredictable racing. This after over 75,000 came out on Saturday.
No lead was ever safe on Sunday as the wind shifted through wide arcs from the west to the north and ranged anywhere from 5 to 20 knots.
"It was one of those series where everyone had good luck and bad luck, but we got our good luck at the end of the regatta," said Emirates Team New Zealand skipper Glenn Ashby. "It was exciting and crazy at the same time. Today it was important to keep your cool and stay focused."
The Kiwi crew, led by Ashby and World Sailor of the year and Red Bull Youth America's Cup champion helmsman Peter Burling, was literally dead in the water at the start of Race 3. Crewman Blair Tuke had to jump in the water to unhook the starting buoy's anchor line from the catamaran's rudder. Making matters worse, the port hull was punctured by the buoy and water was leaking into the hull throughout the race.
"We saw the buoy coming at us with about 20 seconds to go," said Ashby. "It wasn't ideal but we were lucky in the end."
The Kiwi crew's luck came full circle on the next-to-last leg. They rounded the last windward mark in fifth place, about 42 seconds behind leading SoftBank Team Japan. But as all the crews began the downwind leg they sailed into a patch of no wind that engulfed the course.
As the leg was perpendicular to the southerly flowing current, some of the crews were being swept over the course boundary. Land Rover BAR, Groupama Team France and SoftBank Team Japan all were penalized for crossing the boundary in the current.
The Kiwis, further behind, held in the middle of the course and when the wind filled in the Kiwis took off on their hydrofoils at 16 to 20 knots boatspeed, leaving the rest of the fleet gasping in disbelief.
At one point during the final race ORACLE TEAM USA looked to be in position to win. Skipper Jimmy Spithill and crew won the start and led around the first two mark roundings. But Dean Barker's SoftBank Team Japan grabbed the lead by working the right side of the course while ORACLE TEAM USA struggled on the right side. In the end the reigning America's Cup champion placed second in the race and second for the series.
"The crowd was insane," said Spithill. "Today was great for the fans. In these conditions you have to roll with the punches and keep fighting. We wanted to win but we'll take the second place. The Kiwis got a Hail Mary there at the end, but you have to take your hat off to them and congratulate them."
Third went to Franck Cammas' Groupama Team France, winner of Race 2. SoftBank Team Japan placed fourth, Land Rover BAR fifth and Artemis Racing sixth.
Illustrating just how challenging the day was on the short, confined racecourse, Nathan Outteridge's crew won the first race going away but was then sixth in Races 2 and 3.
"We got a little bit of luck in the first race and managed to hold on, but we had some terrible moments in the last two races…" said Outteridge. "You can't get people to come watch sailing if you don't bring it to them. That's what we've done here. When the America's Cup is in Bermuda next year, in super high-tech boats, we'll get some amazing racing."
The Louis Vuitton America's Cup World Series now moves onto Chicago, June 10-12. After that it heads to Europe for events in the U.K. in July and France in September.
Louis Vuitton America's Cup World Series New York Final Standings
1. Emirates Team New Zealand – 52 points
2. ORACLE TEAM USA – 50 points
3. Groupama Team France – 44 points
4. SoftBank Team Japan – 42 points
5. Land Rover BAR – 42 points
6. Artemis Racing – 40 points
Louis Vuitton America's Cup World Series Overall Standings
(After six events)
1. Emirates Team New Zealand – 244 points
2. ORACLE TEAM USA – 236 points
3. Land Rover BAR – 227 points
4. SoftBank Team Japan – 203 points
5. Artemis Racing – 201 points
6. Groupama Team France – 194 points
Share on Facebook
The trimaran skippered by Yann Guichard has finished its first Jules Verne Trophy, registering the second fastest time in history, and with Dona Bertarelli becoming the fastest woman to have sailed around the world.
Note:
– Spindrift racing has finished its first voyage around the world
– Spindrift 2 crossed the line at 15:01 UTC after 47 days 10 hours 59 minutes and 02 seconds at sea
– The trimaran is expected to arrive in La Trinité-sur-Mer at around 21:00 UTC
The sailors on Spindrift 2 crossed the finish line of the Jules Verne Trophy off Ushant at 15:01 UTC on Friday, after 47 days 10 hours 59 minutes and 02 seconds at sea. After nearly 29,000 miles travelled at an average speed of 25.35 knots, Spindrift 2 completed the circle on its first voyage around the world by claiming the second fastest time in history. The crew, led by Yann Guichard, did not better, on this attempt, the time set by Loïck Peyron (they were slower by 1d 21h 16' 09"), whose record of 45 days 13 hours 42 minutes is still the one to beat. However, they were 20 hours 45 minutes 50 seconds faster than the time set by Franck Cammas in 2010, over this always demanding course. During its high-speed journey, the black and gold trimaran also improved three record times (Ushant-Equator, Ushant-Tasmania and Ushant-Cape Horn) and held, for a few hours, the record for the crossing of the Indian Ocean. One woman among 13 men on this record attempt, and the first to complete a Jules Verne Trophy course, Dona Bertarelli is now the fastest woman to have sailed around the world.
The crew is sailing to its home port and base in La Trinité-sur-Mer and is expected to arrive there at 21:00 UTC on Friday night. They will be greeted by the public and notably the schoolchildren who shared the adventure, along with the families, friends, project partners, supporters and onshore members of this young Spindrift racing team, who have prepared a warm welcome on the harbour. After the arrival of the trimaran, the sailors will enjoy sharing a drink and some oysters with the public.
They left in the dark of night on November 22, and in the afternoon of January 8, just before sunset, the three bows of Spindrift 2 emerged from the great Atlantic swell with Dona Bertarelli, Yann Guichard, Sébastien Audigane, Antoine Carraz, Thierry Duprey du Vorsent, Christophe Espagnon, Jacques Guichard, Erwan Israël, Loïc Le Mignon, Sébastien Marsset, François Morvan, Xavier Revil, Yann Riou and Thomas Rouxel on board.
Yann Guichard, skipper: "The passage south of the Cape of Good Hope was one of the most important moments for me, but then, finishing in front of Ushant is also a relief. Not in the sense of liberation, because I wasn't a prisoner and I really enjoyed this round-the-world voyage, but it's time I have a little break. Of course, there was a bit of stress, but that's part of my job.
This Jules Verne Trophy has been a series of firsts for me: going around the world, rounding the three capes, having so many days on the clock… And I really want to get back out there. The boat is perfectly adapted for this task, we'll just need the weather to be with us. And then the South Seas, they're magical. The Indian Ocean was rather grey, but in the Pacific we were treated to some incredible light when we went down to almost 60° South… But I'll remember all the birds most: the albatrosses, petrels, fulmars and Cape petrels constantly following us.
My biggest fear was when we hit an unidentified object with the foil: I thought we were going to have to give up. I'm glad we've finished because since Cape Horn – and this goes beyond just the effect on the record attempt – the climb back up the Atlantic was as severe on the boat as on the crew."
Dona Bertarelli, helm/trimmer: "This ascent of the Atlantic has been long, laborious, and it felt like time was standing still. Fortunately yesterday, we could feel the finish line because we passed the symbolic mark of being 500 miles from Ushant: it was a special moment and I didn't sleep much last night because there was so much emotion and adrenaline. Completing this voyage around the world allowed me to achieve the goals I had set myself, even if we didn't beat the record for the Jules Verne Trophy. I have no regrets because the essential thing was to get back to Ushant as quickly as possible and we did everything we could to achieve that.
The voyage was a great experience for me because we all know each other very well and everyone respected each other's individualities. It was really nice because it's a team of real friends. But it's also because of having been able, somehow, to exorcise my fears, those fears of plunging into the Southern Ocean or being so far from anything. Through writing articles for the schools in France and Switzerland and continuing to communicate with the world and share my experiences, I never felt isolated or alone on this adventure."
A first one together
The crew was able to manage a journey across the oceans for over a month and a half. The incredible experience accumulated on a voyage around the world showed that the optimisations made the previous winter have paid off: with its rigging slightly shorter but much lighter and more aerodynamically efficient, Spindrift 2 was safer in the wind and easier to handle in moderate winds, without compromising its qualities in light airs. But the three storm fronts and ridges of high pressure that cluttered the Indian Ocean after the Kerguelen Islands, the Pacific before Cape Horn, and the South Atlantic off Brazil, were too much even for the efforts and perseverance of this crew. And that is without counting an arduous climb up the Atlantic due to adverse headwinds at the latitude of Argentina and Uruguay, and an uncooperative Azores High between the Canaries and Florida. The whole Spindrift team can be proud of what has been achieved, and that they rose to the challenge and finished the journey despite the problems pitted along the way, such as breaking the lower part of the port foil in the Indian Ocean after hitting a UFO (unidentified floating object). It was a collision that caused a crack in the port hull and could have cost them the Indian Ocean record. Then, later, there was the sudden weakness in the mast (repaired at sea) off Uruguay.
Record times
The 14 sailors have set three new record times on this voyage around the world. The first came from the start at Ushant to the Equator in 4 days 21 hours 29 minutes, a staggering average of 30.33 knots on the theoretical route (the shortest route). The second, between Ushant and the South of Tasmania, symbolising the entrance into the Pacific Ocean, was 20 days 04 hours 37 minutes. Incidentally, Spindrift 2 fleetingly held the record for crossing the Indian Ocean in 8 days 04 hours 35 minutes, which was broken a few hours later by IDEC Sport, who also left from Ushant on November 22. Finally, the third record: Ushant-Cape Horn in 30 days 04 hours 07 minutes, which brought a lead of 18 hours and 11 minutes over Banque Populaire V.
The women's record
This Jules Verne Trophy has also finished with the confirmation of Dona Bertarelli as the fastest woman to have sailed around the world. During her standby watches, she also focused on the ocean environment of a voyage around the world and shared her feelings, discoveries and logbook. And she corresponded, in particular, with 2,000 children from schools in France and Switzerland, who are partners of the Spindrift for Schools programme, to help improve their understanding of these maritime areas and the species, so often under threat, which live there.
Shared time
There has also been a lot of life experience garnered along the miles covered across three oceans. A voyage around the world is not for the faint-hearted: from suffering the coldness of the Southern Ocean, to enduring the blistering Equatorial heat, braving the icy spray hitting your face at more than 40mph, performing a succession of manoeuvres in fading and fickle winds, worrying about the approach of drift ice and being trapped with 13 other people in a 20m³ box…
Share on Facebook
CAPE LEEUWIN TOMORROW NIGHT
"There is an all-pervasive grey, with rays of sunshine at times, and always a few birds accompanying the boat," was how the message received from the boat this morning started. Wrapped up well for over a week against the harsh environment of the Deep South, the sailors are now acclimatized and paying more attention to the cold pinching their faces. Warm clothes, gloves and hats are evident, with the key stopping the icy wind that tries to whip in. But mentally, all attention is focused on an Indian Ocean that is not really roaring. The maxi-trimaran is heading towards the second legendary cape of a round-the-world sailing voyage, Cape Leeuwin, which marks the south-west tip of Australia and which it will reach by the end of the day on Thursday. The current weather system limits the choice of route, forcing the crew to manoeuvre to keep the power up and not to fall into a windless area that is moving due east ahead of the bows of the trimaran. Spindrift 2 will gradually climb to 45° South, following a trajectory parallel to its predecessor Banque Populaire V. The good news: the area of drift ice is well and truly behind their transom. The way is clear until the entrance into the Pacific Ocean off Tasmania.
Day 18 – 17h00 GMT
198 nm behind the current record holder
Distance covered from the start: 11,656 nm
Average speed over 24 hours: 21.6 knots
Distance over 24 hours: 517.4 nm
THE ICE AGE
Strategic 
analisis – 12h00 (GMT)
« The highlight of this third week has been the rounding of the Kerguelen archipelago which are in the middle of the Indian Ocean. The crew decided to sail north of the islands in order to avoid the drift ice located to their south. Although Spindrift 2 has lost a few miles over the last couple of days, it is mainly due to a zone of light winds ahead, moving at more than twenty knots…» Read more…
WEATHER FORECAST
Day 18 – December 9th – 10h55 (GMT)
"The Indian Ocean has never deserved its nickname – "The tunnel" – so much. Spindrift 2 continues on its way, stuck between southern depressions and a windless connecting…" Read more…
MESSAGE FROM THE BOAT
Day 18 – December 9th – 06h17 (GMT)
"With more than half of the Indian Ocean behind us, the scenery has not changed much since Spindrift 2's upwind passage of the Kerguelen Islands. There is a dominance of grey…" Read more…
TOMORROW ON CNN
Shirley Robertson's Mainsail show with Dona Bertarelli
And as well Dame Ellen MacArthur, Loïck Peyron, Francis Joyon, Sir Robin Knox-Johnston and Brian Thomson.Emission mainsail de Shirley Robertson… Read more…
Share on Facebook
Dona Bertarelli and Yann Guichard introduce the Spindrift 2 crew for the Jules Verne Trophy around-the-world record attempt. The crew will be on stand-by from October 19th.
To undertake the crewed around-the-world record is as much about the human adventure as it is a technical and sporting challenge. The men and women working alongside Dona Bertarelli and Yann Guichard at Spindrift racing have been preparing this race against the clock for almost three years. The target: to sail around the world in less than 45 days, 13 hours and 42 minutes. The tough record they will try to beat was set by Loïck Peyron and his crew in 2012 on Banque Populaire V, which was renamed Spindrift 2 a year later.
The French-Swiss team decided to use the same 40 m trimaran because they believed that the boat could be further optimised, a task that sailors, engineers and technicians at the team have been working on ever since. After countless hours of work at the boatyard and 40,000 nautical miles of racing and training, the Spindrift racing-prepared trimaran is all set to go. The team will officially go on stand-by on October 19th and wait for the ideal weather window.
With just a few days left until that important date, Dona and Yann are pleased to announce the twelve men who will join them on their journey through the world's most hostile oceans. Most are multihull experts; some have an Olympic background; others, experience in offshore challenges; but all are familiar with the trimaran and share the team's values and mindset. The crew members know each other, having competed together for Spindrift racing or taken part in other projects. Some have already circumnavigated the globe, whether in the Jules Verne Trophy or the Volvo Ocean Race.
From left to right, at the top : Thierry Duprey du Vorsent, Thomas Rouxel, Sébastien Audigane, Antoine Carraz, Sébastien Marsset, Xavier Revil, François Morvan. From left to right, at the bottom : Yann Riou, Dona Bertarelli, Yann Guichard, Jacques Guichard, Christophe Espagnon, Erwan Israël. (Loïc Le Mignon, not in the picture)
Photo © Eloi Stichelbaut I Spindrift racing
"The Jules Verne Trophy is the highlight of a programme we drew up as soon as we bought the trimaran Spindrift 2," explains Dona Bertarelli. "The tour around the world will require total physical, mental, professional and especially personal dedication. Being a team means relying on each another, supporting each other, and accepting the highs and lows while striving to strike the right balance to succeed together. Yann and I are hugely motivated by this immense challenge. We want to surround ourselves with people who share our approach and our values. We're also driven by a desire to share our passion for sailing with the public, especially youngsters, and to show them the hard work put in by our team. Very soon we'll reveal the tools we've decided to use to achieve this goal."
Yann Guichard also spoke about the record attempt: "Apart from the competition itself, for Dona and me it is as much about the human adventure. The record attempt brings together sailors who competed in Olympic series before turning to offshore competition and sailors with previous experience of oceanic record attempts and the Southern Ocean. Spindrift 2 is a prototype, so we have to take good care of her. Multihull specialists are aware of the fundamental balance we must strike between speed and safety. I'm surrounded by sailors who I know are talented and who feel good at sea. I can rely on them and trust them. In training I see us gel as a team, which gives me such a strong desire to experience this unique challenge together."
Photo © Eloi Stichelbaut I Spindrift racing
First around-the-world campaign for Dona Bertarelli and Yann Guichard
Two challenges lie ahead for the skipper Yann Guichard, who has dedicated his career to elite multihull sailing and has made more than 15 transatlantic crossings. First, to complete his first around-the-world sail, and second, to take charge of the boat and the crew on board. "I must concentrate hard to make the right choices at the right time, whether during early or final preparations or out on the water," says Yann. He set up Spindrift racing with his partner Dona Bertarelli, and the couple are jointly responsible for the team's day-to-day development and management. Dona is an exacting, determined businesswoman, actively involved in several foundations, including the Bertarelli Foundation for marine conservation, and she has been involved in the Jules Verne Trophy project from day one. She first took up offshore multihull sailing on Spindrift 2 in 2013. Since then she has listened, observed, honed her skills and grown in confidence, and is now ready to spend more than 40 days at sea, following in the footsteps of Tracy Edwards (1998) and Ellen MacArthur (2003) in attempting to become the first woman ever to beat the record. "This circumnavigation is probably one of the biggest challenges I've ever set myself," says Dona. "We've spent several years preparing ourselves and preparing those close to us who support and encourage us, but I don't think you can ever be fully prepared for the unknown that awaits us. If we want to enjoy the adventure, those of us out at sea and those ashore will have to accept whatever comes our way."
A supportive, well-drilled crew
One of Spindrift racing's goals is to perform well all year round on the different circuits on which it competes. To achieve this, a core group of sailors accompany Dona and Yann throughout the year on the D35, the Diam 24, the GC32 and the maxi-trimaran. From that core group, Christophe Espagnon, François Morvan and Xavier Revil, whom Yann met during his Olympic preparations, will be part of the Jules Verne Trophy crew, as will the skipper's younger brother Jacques Guichard, who is the team's sailmaker at North Sails. Xavier Revil has already sailed around the world on the same boat as part of Loïck Peyron's record-breaking crew in 2012.
Another member of Peyron's crew was Thierry Duprey du Vorsent, who was brought in to the project last winter as Boat Captain because of his maritime experience over the last fifteen years, including his role in the Banque Populaire V record. Antoine Carraz was also part of the previous record and is one of the persons who know Spindrift 2 the best, having spent three years as technical manager for the trimaran and for the design office. This will be his first circumnavigation during which he will be keeping a particularly close eye on the boat.
Three other crew members – Thomas Rouxel, Sébastien Marsset and Erwan Israël – were part of the team that beat the Discovery Route record (Cádiz-San Salvador) on Spindrift 2 at the end of 2013, so their experience on the boat will also be important. Two of three have just competed in the 2014–15 Volvo Ocean Race: Thomas for the Chinese Dongfeng Race Team and Sébastien for the American Team Alvimedica. None of the three, however, took part in the Southern Ocean leg, so they will have their sights set firmly on rounding Cape Horn during the Jules Verne. Erwan Israël was Yann Guichard's router for the 2014 edition of the single-handed Route du Rhum (Yann was sailing Spindrift 2), and last winter he joined Dongfeng for the Sanya-Auckland stage of the Volvo Ocean Race. After several months as Spindrift racing's performance analyst, Erwan will be the navigator for the Jules Verne Trophy, working alongside the skipper at the chart table to determine the best route.
Yann Riou also has experience in the Volvo Ocean Race: the former electronics specialist was Groupama's media reporter during their victorious 2011–12 campaign, and in the latest edition of the race he performed the same role for Dongfeng Race Team. Yann will be the first full-time on-board reporter for a Jules Verne record attempt.
Dona Bertarelli and Yann Guichard have called up two men with vast experience sailing multihulls at high speed in the Southern Ocean. Brest-based sailor Sébastien Audigane will take on sailing's most famous record for the fourth time, having been part of Bruno Peyron's successful bid on Orange II in 2005 and the unsuccessful attempts by Olivier de Kersauson in 2002 and Franck Cammas in 2008. Loïc Le Mignon, meanwhile, was part of the Jules Verne attempts by Groupama 3, including the successful one in 2010.
Onshore support will be provided by world-renowned meteorologist and offshore sailing router Jean-Yves Bernot, who has prepared and routed some of the world's best single-handed sailors. Jean-Yves has also competed in the Whitbread Round the World Race and has been a crew member for various teams in different countries.
Finally, there are two reserves, Thomas Le Breton and Simone Gaeta, both of whom have trained on the maxi-trimaran this season and are ready to stand in if a crew member has to drop out.
On stand-by
Preparations on the trimaran are drawing to a close. As of Monday, October 19th, Spindrift 2 will officially be on stand-by in Brest, a port famous for major record attempts, located just a few miles away from the start line at Créac'h lighthouse on Ushant island. The routing team will analyse weather data several times a year in search of a good opportunity to launch the assault on the legendary course.
Spindrift 2 crew for the Jules Verne Trophy
Yann Guichard, skipper
Dona Bertarelli, helmsman-trimmer
Sébastien Audigane, helmsman-trimmer
Antoine Carraz, helmsman-trimmer
Thierry Duprey du Vorsent, helmsman-trimmer
Christophe Espagnon, helmsman-bowman
Jacques Guichard, helmsman-trimmer
Erwan Israël, navigator
Loïc Le Mignon, helmsman-trimmer
Sébastien Marsset, bowman
François Morvan, helmsman-trimmer
Xavier Revil, helmsman-trimmer
Yann Riou, media reporter
Thomas Rouxel, helmsman-bowman
Jean-Yves Bernot, onshore router
Simone Gaeta, substitute
Thomas Le Breton, substitute
Jules Verne Trophy:
Start and finish: a line between Créac'h lighthouse (Ushant island) and Lizard Point (England)
Course: non-stop around-the-world tour travelling without outside assistance via the three capes (Good Hope, Leeuwin and Horn)
Minimum distance: 21,600 nautical miles (40,000 kilometres)
Ratification: World Sailing Speed Record Council 
Time to beat: 45 days, 13 hours, 42 minutes and 53 seconds
Average speed: 19.75 knots
Date of current record: January 2012
Holder: Banque Populaire V, Loïck Peyron and a 13-man crew
Maxi-trimaran joined Spindrift racing on: January 2013
Stand-by start date for Spindrift 2: October 19th, 2015

Spindrift 2 maxi-trimaran:
Design: VPLP & Spindrift racing design team
Launch date: July 2008
Deck and mast boatyard: CDK Technologies
Sails: North Sails
Length of main hull: 40 metres
Length of outrigger hulls: 37 metres
Width: 23 metres
Dry weight: 20.5 tonnes
Draft: 5.1 metres
New mast height: 42 metres
Mainsail: 405 m²
Gennaker max: 560 m²
Gennaker medium: 450 m²
Gennaker mini: 360 m²
Reacher: 260 m²
Staysail: 170 m²
ORC: 75 m²
_______________________________________________________
The History of the Jules Verne Trophy
Records
Record attempts
[
edit
]
Year
Skipper
Yacht
Type
Notes
Failed attempts (15)
2011
Pascal Bidégorry
Banque Populaire V
Trimaran
Damaged centerboard, west of the Cape of Good Hope[4]
2009
Franck Cammas
Groupama 3
Trimaran
Ushant–Equator: 5 days 15 hours 23 minutes (new record)[5]
Broken aft beam bulkhead, South Africa[6]
2008
Franck Cammas
Groupama 3
Trimaran
Loss of leeward float leading to capsize, New Zealand[7]
2004
Bruno Peyron
Orange II
Catamaran
Damaged starboard hull, Cap Verde islands
2004
Bruno Peyron
Orange II
Catamaran
Damaged starboard crashbox, Spain
2004
Olivier de Kersauson
Geronimo
Trimaran
Damaged gennaker, North Atlantic
2003
Olivier de Kersauson
Geronimo
Trimaran
Circumnavigation achieved, record not broken
2003
Ellen MacArthur
Kingfisher 2
(formerly Orange)
Catamaran
Broken mast, South-East Kerguelen Islands
2002
Olivier de Kersauson
Geronimo
Trimaran
Damaged rudder, Brasil
2002
Bruno Peyron
Orange
(formerly Innovation Explorer)
Catamaran
Damaged mast, Ouessant
1998
Tracy Edwards
Royal et SunAlliance
(formerly ENZA New Zealand)
Catamaran
Broken mast, Southern seas
1996
Olivier de Kersauson
Sport-Elec
Trimaran
Excessive delay
1995
Olivier de Kersauson
Sport-Elec
(formerly Lyonnaise des Eaux)
Trimaran
Extreme weather
1994
Olivier de Kersauson
Lyonnaise des Eaux
(formerly Charal)
Trimaran
Circumnavigation achieved, record not broken
1993
Peter Blake
Robin Knox-Johnston
ENZA New Zealand
Catamaran
Damaged hull, Indian Ocean
1993
Olivier de Kersauson
Charal
Trimaran
Damaged outrigger hull, South of Cape Town
Share on Facebook
 200 miles to go. After 9 months and nearly 40,000 miles
Dongfeng slenderest of leads over main rivals Brunel and Mapfre, but seems like it will not mean much this evening.
Caudrelier: "For us its easy to go from 3rd place to 5th place (overall), and also to come back to second. Everything can happen still"
The podium of the Volvo Ocean Race might just come down to a total lottery tonight as wind forecasts predict a difficult transition as Charles Caudrelier describes "from the current strong southerly winds that have carried Dongfeng up the North Sea, to some light easterly winds that will should get us to the finish line. Its going to be stressful".In between potentially little or no wind at all – during the early evening tonight in theory. The battleground will probably be between Hanstholm and Skagen, the two towns with a bay between them, that mark the northern tip of Denmark. But even now the compression is starting, from Yanndirect this morning "Still coming back from behind. Less than 4 miles, now. Nothing we can do about it. Not a nice feeling". More often than not in ocean racing, the rich get richer – but this time its not going to work like that. The guys (and girls) behind are going to sail on in pressure as the boats in front that worked so hard to grind out their leads, will stop in the transition zone between the old and new winds.The warm front moving from the UK east, that has been chasing the fleet since they left, is going to slow down and stall before it gets to them, at least at surface level. Higher up in the atmosphere its forecast to continue east – this differential between up high and at the surface, will provide the conditions for a new low to form, bringing new winds – but the transition could be long – and in the meantime somehow the boats have to get from the old to the new. This in effect should allow almost all, if not all, the backmarkers to sail straight to the front, with the leaders helpless.

It will be tragic if the entire race comes down to luck, but then this is part of ocean racing. Since Dong Feng means 'winds from the east bringing freshness and energy' and Aeolus being the Guardian of the Winds – on land we can only hope and pray to whatever Gods we believe in, that luck will be on our side, and that we will get the podium finish we deserve!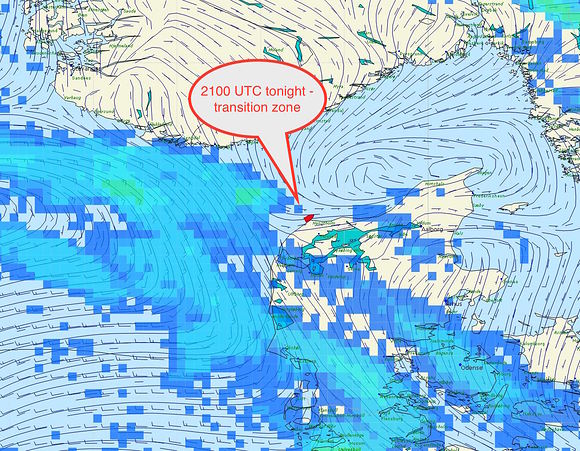 You can follow our story and interact with the team on all social media channels and our official website:Facebook: Click here
Twitter: Click here
Instagram: Click here
Weibo: Click here
WeChat: Click here
Youtube: Click here
YouKu: Click here
Official website: Click here
Share on Facebook