The Chinese-flagged Dongfeng Race Team has won the Volvo Ocean Race 2017-18…
Dongfeng Race Team has won the Volvo Ocean Race 2017-18 in the closest finish in race history.
Skipper Charles Caudrelier led his team to victory on the final leg of the race, a 970-mile sprint from Gothenburg, Sweden to The Hague.
Incredibly, it marked the first leg win for the team — it couldn't have come at a better time.
Three teams started Leg 11 of the race on Thursday in a dead heat on the overall leaderboard. The finishing order between MAPFRE, Team Brunel and Dongfeng Race Team at The Hague would determine their place on the overall race podium.
Each of those three teams led at various points on the leg and had their opportunities to grab the prize.
But it was Caudrelier and his crew who made a bold call on Saturday evening to take a coastal route to the finish, which squeezed them tight against the shoreline and separated from the other leaders by a series of Exclusion Zones.
"We were not in such a good position, but we trusted our choice and we pushed," Caudrelier said. "The others didn't follow us, but we believed and we won…"
The decision hurt the team in the short term as they tumbled down the leaderboard. But by Sunday morning, with less than 100 miles left to race, weather routing projections had the top boats finishing within minutes of each other. None had been able to break away overnight, despite the significant splits on the race course.
"We knew that we would fall behind initially and that if it came good it would only be at the end. The last position report (1300 UTC on Sunday) we were 27-miles from the finish and they were 20-miles and we thought it was over. But then I did a small weather routing and it showed we could end up one-mile ahead so I woke everyone up and said, 'let's push!'"
As the teams finally converged again on Sunday afternoon, just a few miles from the finish, it was Dongfeng Race Team, flying down the coast from the north sliding in front of the offshore group, to earn their first leg win, propelling Caudrelier's team to overall victory.
"We always trusted each other. Nobody thought we were going to win this last leg, but I had a good feeling," an emotional Caudrelier said, after thanking his supporters and team. "I said 'we can't lose, we can't lose, we can't lose'… and we won!"
The overall results make this the closest finish in the 45-year history of the race and marks the first win for a Chinese-flagged team. It also means Carolijn Brouwer and Marie Riou were on board as the first women sailors to win the Volvo Ocean Race.
Xabi Fernández's MAPFRE was third on the leg, which put the team into second overall.
"It has been tough," Fernández admitted. "We sailed very well the whole way around the world and on this leg as well, so naturally we're a bit disappointed. We were very, very close this time, but it was not quite enough. So we have to say congratulations to Dongfeng who sailed a little bit better than us."
Team Brunel skipper Bouwe Bekking would have liked nothing more than to win the race for the first time in eight tries with a home finish in The Netherlands. But it wasn't to be. His fourth place leg finish left the team in third place overall.
"Third place, still on the podium, I think we can be pretty proud of that as a team," he said. "We thought we had made the right choice (to go further offshore) and we expected a windshift. It came 90-minutes too late and that was the race. But that's yacht racing. And of course we have to congratulate Dongfeng and MAPFRE for their results."
Second place on the final leg into The Hague was Dutch skipper Simeon Tienpont and his team AkzoNobel, who had previously secured fourth place on the overall leaderboard.
"It's incredible to finish on the podium in our hometown," Tienpont said. "We would have loved to have been fighting into The Hague for the final podium but to have set the 24-hour speed record and to get six podium finishes in the race is a testament to the job everyone on our team – on the boat and on shore – have done."
Vestas 11th Hour Racing had already been locked into fifth place on the scoreboard and after a promising start to Leg 11, had a disappointing seventh place finish on the leg.
"We have a great group of folks on this team," skipper Charlie Enright said. "We've been through a lot and I'm not sure any other group could have dealt with the challenges we have faced the way we did. It's something special and we're going to continue to work together moving forward. This was a tough way to go out certainly, but we have one more opportunity with the In-Port Race this weekend."
That In-Port Race, scheduled for Saturday afternoon, will determine the sixth and seventh place positions in this edition of the Volvo Ocean Race. Both SHK/Scallywag and Turn the Tide on Plastic finished the Volvo Ocean Race on equal points.
The tie-break mechanism is the In-Port Race Series, where David Witt's Scallywag team currently holds the lead. But Dee Caffari's Turn the Tide on Plastic is just three points behind and a strong finish on Saturday could lift them off the bottom of the leaderboard.
"We can't help but smile today. We've done it," said Caffari. "This leg was like the longest In-Port Race ever. A lot of corners to go around, and we gave it 100 per cent and left nothing in the tank."
For David Witt, the finish was bittersweet the loss of John Fisher overboard in the Southern Ocean top of mind.
"I have very mixed emotions right now," Witt said dockside immediately after finishing. "I'm incredibly proud of our team both on and off the water. We're very tight and we have gone through a lot… But I'm also sad of course. I didn't finish it with my best mate (John Fisher) who we started with. So very mixed emotions, but I'm glad we finished it."
The teams will celebrate their accomplishments and take well-earned rest on Monday. The rest of the week will see activities in The Hague building towards the final In-Port Race and Awards Night on June 30.
Volvo Ocean Race Leg 11 Final Leaderboard — Saturday 23 June
1. Dongfeng Race Team – 3 days, 3 hours, 22 minutes, 32 seconds
2. team AkzoNobel – 3 days, 3 hours, 38 minutes, 31 seconds
3. MAPFRE – 3 days, 3 hours, 39 minutes, 25 seconds
4. Team Brunel – 3 days, 3 hours, 45 minutes, 52 seconds
5. Turn the Tide on Plastic – 3 days, 3 hours, 56 minutes, 56 seconds
6. SHK / Scallywag – 3 days, 4 hours, 01 minutes, 32 seconds
7. Vestas 11th Hour Racing – 3 days, 4 hours, 05 minutes, 36 seconds
Volvo Ocean Race Overall Points Leaderboard after Leg 11
1. Dongfeng Race Team – 73 points
2. MAPFRE – 70 points
3. Team Brunel – 69 points
4. team AkzoNobel – 59 points
5. Vestas 11th Hour Racing – 39 points
6. SHK / Scallywag – 32 points *
7. Turn the Tide on Plastic – 32 points *
* Should there be a tie on the overall race leaderboard at the end of the offshore legs, the In-Port Race Series standings will be used to break the tie.
Share on Facebook
NEWPORT, RI (May 8, 2018) – A 5,700 nautical mile race leg from Itajai, Brazil to Newport finished off Fort Adams State Park this morning with a come-from-behind win of Leg 8 by MAPFRE in the global Volvo Ocean Race. Just a day ago, MAPFRE was in fifth place. As Tuesday morning dawned in New England and delivered "pea-soup" fog and light winds, MAPFRE inched ahead of Team Brunel, Dongfeng Race Team and Vestas 11th Hour Racing. The final hours were a slow battle for the exhausted sailors as they also were pushed around by the tide and currents near shore, at times even drifting backward.
After nearly 16 days of racing, the margin between MAPFRE who finished at 6:44 a.m., and Team Brunel, was only 1-minute and 1-second. The local crowd cheered on all of the race boats that dramatically popped out of the dense fog one-by-one in close succession, but had an especially warm welcome for third-place winners and hometown sailors Charlie Enright (Bristol, RI) and Newport's Nick Dana and crew onboard Vestas 11th Hour Racing.
"This leg has had its ups and downs," said Charlie Enright, the skipper of Vestas 11th Hour Racing. "We didn't start great, but we feel like we sailed pretty well for the middle two-thirds of the leg. Then with some positive input from some local knowledge, we end up back on the podium which is great." Newport is a homecoming for Enright and Dana on Vestas 11th Hour Racing as well as for Mark Towill (Hawaii) who did his college sailing at Brown University in nearby Providence, RI. "It's awesome here," Enright said. "It's 0600 local time here, and the amount of boats out is absurd. The amount of effort put in by Sail Newport and the stopover here is amazing."  The fleet then finished in the order of Dongfeng Race Team, AkzoNobel, Turn the Tide on Plastic and Team Sun Hung Kai/Scallywag. Check the
 full scoreboard here.
Rhode Island Welcomes the International Event to the City-by-the-Sea In contrast to the morning's chilly fog finish, the weather improved to a picture-perfect day with sunny skies and warm temperatures for the official kick-off of the Race Village. The backdrop for the opening ceremony was the U.S.C.G. Barque Eagle which arrived and docked next to the race boats earlier this morning.
The Opening Ceremony was launched with an international Parade of Nations with country flags representing sailors' home countries, carried by local youth. The parade started at the welcome arch and marched past the Team Bases through the Race Village. The U.S.C.G. Navy Band performed as did the Navy Band Northeast.
Also, salutes were operated by the Newport Artillery Company. The Harris Family Dance Troupe of The Narragansett Tribal Nation performed for the crowds as well. In addition, The Rogers High School Junior ROTC also joined in the opening festivities.
The Race Village is now open every day through May 20. The full schedule of events is listed on the website.
Tomorrow, May 9, the U.S.C.G. Barque Eagle will host free public tours between 11 a.m. and 6:30 p.m. Admission to the Race Village for the entire event. Parking is free tomorrow.
Speaker Brad Read, exec. dir. of Sail Newport, opened the ceremony welcoming the Volvo Ocean Race's only North American Stopover to Newport. He said that the event has been in the planning stages for three years.
Read also thanked the many non-profit organizations, educational institutions, and city and state agencies and professionals who helped win the original bid for the Stopover in 2015 and plan for today's opening. Read also recognized the nearly 700 volunteers that will work the event over the next 13 days.
Governor Gina Raimondo spoke and welcomed the international visitors to the Ocean State and acknowledged the coordination of many state agencies to help welcome the event to Rhode Island. Janet Coit, director of the R.I. Dept. of Environmental Management, Newport Mayor, the Hon. Harry Winthrop, Eagle Captain Matt Meilstrup, Volvo Ocean Race Operations Director Peter Ansell also made welcoming remarks. Dignitaries also attending the ceremony included: Newport City Council Vice Chair, Lynn Underwood.
To follow the racing and events check out the latest at Volvo Ocean Race.
 #VOR #VolvoOceanRace #VolvoOceanRaceNewport #SailNewport #Newport #FortAdams
Share on Facebook
MAPFRE takes a close win over team AkzoNobel and Dongfeng Race Team in Brazil In Port Race, while SHK/Scallywag race the clock to be on the start line on Sunday…
Itajai stopover.In-port Race. 20 April
Pedro Martinez/Volvo Ocean Race
The Spanish team MAPFRE won the Itajaí In-Port Race on Friday in Brazil, after battling with team AkzoNobel for the lead on the first of three laps of the race course.
A large spectator fleet was on hand to watch the racing in a moderate 10 knot sea breeze and after taking the lead on the first downwind leg, MAPFRE protected well the rest of the way.
The win allows skipper Xabi Fernández and his team to extend their advantage in the In-Port Race Series over Dongfeng Race Team who finished in third place on Friday.
"It was a good race for us today, right from the start, but the key for us was being able to pass AkzoNobel on the first downwind," Fernández said. "From there we could stretch.
"Being the series leader is always good. We know how tight the overall race leaderboard is where we're just one point behind Dongfeng, so this could be important at the end of the race and for that we are happy today."
Team AkzoNobel was a close second place in Itajaí, which secures their third place position on the series leaderboard.
"When we looked at the conditions and the race course today we knew the start would be critical and we had a very good start with pace," skipper Simeon Tienpont said. "But MAPFRE did a really good job. We were waiting for them to make a mistake but they did the best race today and we're very happy with second place."
Dongfeng Race Team was also content with a podium result.
"We didn't have a good start but we were able to use the mistakes of the others to get back near the leaders," skipper Charles Caudrelier said. "We sailed the rest of the race well but there was not so much opportunity."
Turn the Tide on Plastic scored their best finish of the series with a fourth place result and has moved off the bottom of the series leaderboard.
Team Brunel had a promising start on Friday but was undone by a sail handling error at the top mark, which dropped them from challenging for the lead to battling with Vestas 11th Hour Racing at the back of the fleet.
Team SHK/Scallywag didn't take the start on Friday, with the boat still out of the water being prepared to take the start of Leg 8 on Sunday. It's a race against the clock to get the boat ready in time.
Earlier, at the skippers' press conference, Scallywag's David Witt spoke poignantly about the loss of his friend and teammate John Fisher:
"We started together 12 years ago and he was always the first guy picked… the biggest compliment I could give John is that he was the best team player I've ever seen. He put everyone else first.
"For me, he was my best mate. Sunday will be a bit weird – it will be the first time I've gone to sea without him in 12 years…
"But we've had amazing support from within the Volvo Ocean Race family. The character of the people in this race has been exemplified by the way we've been supported by the other competitors in this race… I'm sure John would be very proud about that.
"The best thing we can do in John's memory is get on with the job on Sunday… If he was standing behind be right now he'd be telling me to harden up and get on with it and that's what we're going to do on Sunday."
Leg 8 of the Volvo Ocean Race, from Itajaí, Brazil to Newport, Rhode Island, starts on Sunday 22 April.
Itajaí In-Port Race — Results
1. MAPFRE – 7 points
2. Team AkzoNobel – 6 points
3. Dongfeng Race Team – 5 points
4. Turn the Tide on Plastic – 4 points
5. Team Brunel – 3 points
6. Vestas 11th Hour Racing – 2 points
7. Team SHK/Scallywag – did not start
Current Volvo Ocean Race In-Port Race Series Leaderboard
1. MAPFRE – 44 points
2. Dongfeng Race Team – 39 points
3. team AkzoNobel – 33 points
4. Team Brunel – 29 points
5. Vestas 11th Hour Racing – 18 points
6. Turn the Tide on Plastic – 15 points
7. Sun Hung Kai / Scallywag – 15 points
Share on Facebook
March 10, 2018 02:00 UTC
Written by Peter Rusch
Dongfeng Race Team earned a spectacular come from behind win on Saturday afternoon in New Zealand
Dongfeng Race Team showed great concentration and resilience in winning the New Zealand Herald In Port Race in Auckland, New Zealand on Saturday.
Conditions were extremely light, shifty and patchy on the Waitematā Harbour, making for plenty of lead changes over the course of the one hour race.
Team AkzoNobel finished in second place, while early leaders MAPFRE completed the podium to retain the overall lead in the In Port Race Series.
"It was very tricky, very difficult," said Dongfeng skipper Charles Caudrelier following the race. "We had a terrible start but there was so much happening during the first leg that it wasn't always good to be in the lead as you just showed the others where the light spots were. We were able to pick up on that and sail around the leaders.
"We worked hard on our speed, and managed to come back slowly."
The race started in spectacular fashion, considering how light the wind was. MAPFRE positioned well to leeward of the fleet, was first across the line, with David Witt's Scallywag barging through with speed ahead of a big group clustered near the pin end.
But in fact, it was Team Brunel who were causing the pile-up at the pin, forcing three boats outside of the start line, with Dongfeng, Turn the Tide on Plastic and team AkzoNobel all required to re-start well behind the leaders.
That left MAPFRE and Scallywag as the early leaders, charging up what appeared to be a one-tack leg.
But as they approached the top third of the leg, the wind died, and the trailing boats were able to sail around the leading pair on both sides, with AkzoNobel and Vestas 11th Hour Racing squeezing through just ahead of Dongfeng Race Team and Brunel Sailing.
On the nominally downwind second leg, AkzoNobel and Dongfeng found a vein of pressure to grab the lead, and on a shortened two-lap course, it was Dongfeng who were able to ease ahead and hold on for the win.
"It was a good team win," said Caudrelier. "Very good for the mood of the team."
The results mean MAPFRE retains the overall lead in the series, with Dongfeng reducing the gap to second place and team AkzoNobel leapfrogging Brunel to take third.

Current Volvo Ocean Race In-Port Race Series Leaderboard
1. MAPFRE – 37 points
2. Dongfeng Race Team – 34 points
3. team AkzoNobel – 27 points
4. Team Brunel – 26 points
5. Vestas 11th Hour Racing – 18 points
6. Sun Hung Kai / Scallywag – 15 points
7. Turn the Tide on Plastic – 11 points
#volvooceanrace #dongfeng #auckland #inport
Share on Facebook
Team AkzoNobel took the win in the HGC In-Port Race Hong Kong on a challenging afternoon on the waters of Kowloon Bay.
The wind during race time was a 6 to 10 knot Easterly, but it was very shifty and puffy, and with a tidal current running on the race course, it was a difficult day for the tacticians.
"We had a fantastic race, pretty exciting. We planned to sail our own race today. It was tricky enough with the tide and the windshifts," said team AkzoNobel skipper Simeon Tienpont.
"The team sailed an unbelievable race and the guys in the back of the boat played the tactics very well… It's good when things come together. It's a nice reward for all the effort the team has put in."
Dongfeng Race Team finished in second place, with Team Brunel third. The two swapped places on the third lap of the course after a solid upwind leg by Brunel gave them the lead, but the Dongfeng crew fought back on the run to secure second place.
A fourth place finish on Saturday by the series leader MAPFRE means Dongfeng vaults to the top of the table.
But it's a tight leaderboard and it could compress further following Sunday's Around Hong Kong Island Race, when results of the weekend of racing will be combined to assign the points from this stopover.
Hong Kong's hometown heroes Sun Hung Kai/Scallywag had a fantastic start, but fell back and battled to a fifth place finish over Turn the Tide on Plastic on Saturday. Both teams will be determined to move up with a better result on Sunday.
The Around Hong Kong Island Race is scheduled to start at 11:30am local time in Hong Kong (0330 UTC). There will be live coverage of the start and finish of Sunday's race on www.volvooceanrace.com, on Facebook and Twitter @volvooceanrace. Fans will be able to follow the full race on the tracker via www.volvooceanrace.com.
Vestas 11th Hour Racing will not race this weekend or on Leg 5 to Guangzhou next week as the team coordinates repairs to its boat – see more here.
Current Volvo Ocean Race In-Port Race leaderboard 
Dongfeng Race Team – 24 points
MAPFRE – 23 points
team AkzoNobel – 18 points
Team Brunel – 18 points
Vestas 11th Hour Racing – 12 points
Sun Hung Kai / Scallywag – 9 points
Turn the Tide on Plastic – 7 points
*** Note: The above leaderboard reflects full points assigned from Saturday's HGC In-Port Race Hong Kong. On Sunday, the results of the Around Hong Kong Island race will be combined with Saturday's HGC In-Port Race to award the overall leader from this weekend's racing a maximum of seven points from Hong Kong.
Share on Facebook
The local heroes on Xabi Fernàndez's MAPFRE were a popular winner in the first point scoring race of the Volvo Ocean Race.
The local heroes on Xabi Fernández's MAPFRE were a popular winner in the first point scoring race of the Volvo Ocean Race.
Fernández and his team made a bold call at the start to duck behind the entire fleet in order to sail up what turned out to be the favoured right hand side of the course, coming from behind to earn a narrow lead at the first gate.
"It was pretty clear from Joan (Vila) and Rob (Greenhalgh) that we wanted to hit the right side of the course in the first upwind looking for more breeze," explained Fernández.
"Our intention was to start on port but Pablo (Arrarte) saw the gap himself when Brunel did a poor tack and they couldn't accelerate so we want for the cross and we had plenty of room and once we hit the right everything went well."
MAPFRE then managed to stretch out to a lead of nearly one-minute at the bottom gate, giving them a lead they would enjoy the rest of the way.
"The truth is it hasn't been an easy race but we took a bit of a risk at the start," Fernández said after the finish. "We saw the gap in front of Brunel and we went for it. Everything went really well."
In fact, the Spanish team sailed a flawless race, in terms of strategy and execution, and were never threatened after grabbing the lead at the first mark.
But behind them, it was a hard-fought race. Sun Hung Kai/Scallywag was strong on the first leg, but dropped back over the course of the race. In contrast, Dongfeng Race Team fought up the fleet to grab second place, battling with Vestas 11th Hour Racing and Team Brunel who were trading places throughout the race.
"There was a lot of action! MAPFRE played their own game alone but behind them, we had a big fight for second place. It's good, it's good," said skipper Charles Caudrelier on Dongfeng Race Team.
"We showed how we can sail well, after having not such good results in the last few days. It's great that we managed to come back and get this result."
"It was a very exciting first In-Port Race for us," said Charlie Enright, the skipper of Vestas 11th Hour Racing. "They're always really close. You know, when you're racing these 65-foot canting keel boats around a one-mile track it gets interesting, with a lot of exchanges and big headsails and a lot of grinding. We did some good things and some bad things and got third place. All in all, not a bad way to start the campaign."
"I had a bad start and that put us on the back foot," said Bouwe Bekking the skipper of Team Brunel. "But we sailed the boat very nicely. All in all, we're pretty happy with how we sailed today."
Sun Hung Kai/Scallywag made a late gain to grab fifth over team AkzoNobel with Turn the Tide on Plastic never recovering from a poor first leg.
"It was okay. Fifth's not great but it was okay. We were second at the top but we just made one mistake on the first run and it cost us. Basically, it was good. Amazing to be racing here in Alicante," said David Witt, the skipper of Sun Hung Kai/Scallywag.
MAPFRE In-Port Race Alicante — Results

| | | | |
| --- | --- | --- | --- |
| Position | Team | Elapsed Time | Points |
| 1 | MAPFRE | 54:38 | 7 |
| 2 | Dongfeng Race Team | 56:06 | 6 |
| 3 | Vestas 11th Hour Racing | 56:54 | 5 |
| 4 | Team Brunel | 57:13 | 4 |
| 5 | Team Sun Hung Kai/Scallywag | 58:07 | 3 |
| 6 | team AkzoNobel | 58:31 | 2 |
| 7 | Turn the Tide on Plastic | 59:39 | 1 |
Share on Facebook
 200 miles to go. After 9 months and nearly 40,000 miles
Dongfeng slenderest of leads over main rivals Brunel and Mapfre, but seems like it will not mean much this evening.
Caudrelier: "For us its easy to go from 3rd place to 5th place (overall), and also to come back to second. Everything can happen still"
The podium of the Volvo Ocean Race might just come down to a total lottery tonight as wind forecasts predict a difficult transition as Charles Caudrelier describes "from the current strong southerly winds that have carried Dongfeng up the North Sea, to some light easterly winds that will should get us to the finish line. Its going to be stressful".In between potentially little or no wind at all – during the early evening tonight in theory. The battleground will probably be between Hanstholm and Skagen, the two towns with a bay between them, that mark the northern tip of Denmark. But even now the compression is starting, from Yanndirect this morning "Still coming back from behind. Less than 4 miles, now. Nothing we can do about it. Not a nice feeling". More often than not in ocean racing, the rich get richer – but this time its not going to work like that. The guys (and girls) behind are going to sail on in pressure as the boats in front that worked so hard to grind out their leads, will stop in the transition zone between the old and new winds.The warm front moving from the UK east, that has been chasing the fleet since they left, is going to slow down and stall before it gets to them, at least at surface level. Higher up in the atmosphere its forecast to continue east – this differential between up high and at the surface, will provide the conditions for a new low to form, bringing new winds – but the transition could be long – and in the meantime somehow the boats have to get from the old to the new. This in effect should allow almost all, if not all, the backmarkers to sail straight to the front, with the leaders helpless.

It will be tragic if the entire race comes down to luck, but then this is part of ocean racing. Since Dong Feng means 'winds from the east bringing freshness and energy' and Aeolus being the Guardian of the Winds – on land we can only hope and pray to whatever Gods we believe in, that luck will be on our side, and that we will get the podium finish we deserve!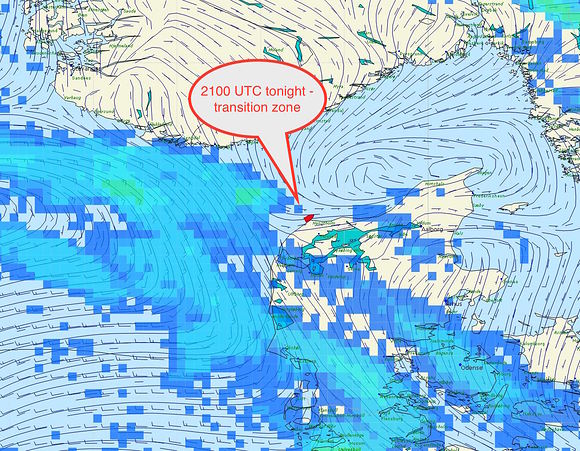 You can follow our story and interact with the team on all social media channels and our official website:Facebook: Click here
Twitter: Click here
Instagram: Click here
Weibo: Click here
WeChat: Click here
Youtube: Click here
YouKu: Click here
Official website: Click here
Share on Facebook
Skipper Sam Davies (GBR) and her Team SCA crew struck a resounding blow for women's offshore sailing in the early hours of Thursday morning when they gloriously clinched Leg 8 of the Volvo Ocean Race
Leg 8

DTL

(NM)

GAIN/LOSS

(NM)

DTF

(NM)

Speed

(kt)

SCA1
FIN – 03d 13h 11m 11s

VEST
FIN – 03d 13h 59m 38s

ADOR
0.3
10.9
3
11.1

MAPF
0.8
11.3
4
11.7

TBRU
1.8
11.5
5
12.4

ALVI
2.3
11.7
5
12.9

DFRT
5.5
11.7
8
13.2
Latest positions may be downloaded
from the race dashboard hereº MAPFRE given 2-point penalty Leg 5
Dongfeng Race Team, Team SCA & MAPFRE penalised Leg 7
– A resounding blow for women's offshore sailing
– Team Vestas Wind bounce back for second place
– Abu Dhabi Ocean Racing nearing overall trophy win
LORIENT, France, June 11 – Skipper Sam Davies (GBR) and her Team SCA crew struck a resounding blow for women's offshore sailing in the early hours of Thursday morning when they gloriously clinched Leg 8 of the Volvo Ocean Race.
The comfortable victory was the first leg win in offshore sailing's toughest challenge since Tracy Edwards' Maidenclinched two stage wins in Class D of the 1989-90 race, won overall by Sir Peter Blake's famous Steinlager2.
At least as satisfying for the first all-women's crew to enter the race in 12 years will be the opportunity to silence critics who suggested that they were looking outclassed in the current 12th edition by their experienced male rivals.
True, the Swedish entry had yet to win a podium place until now, but the crew has clearly improved leg after leg and many observers felt that a breakthrough performance was just around the corner.
The win was certainly no fluke in an upwind leg that tested seamanship to the full with an often heinous sea state and strong winds virtually throughout.
They grabbed the 647-nautical mile leg from Lisbon by the scruff of the neck on Monday, and strengthened that grip on Tuesday after taking an offshore course while most of their rivals hugged the Spanish and French coast approaching the Bay of Biscay.
It took them three days 13 hours 11 minutes and 11 seconds to grab their share of Race history.
"Thanks to everybody for all your support. It's not really sunk in yet," said a jubilant Davies. "It probably won't hit us until we hit the dock and we see there aren't any other boats there.
"It's a reward for all the hard work we have done. It's a great confidence booster. It's going to be huge for us. We've had a mountain to climb to get here."
Behind them, another fairy-tale was unfolding as Team Vestas Wind (Chris Nicholson/AUS) closed to a remarkable second-placed finish in their return to the race after six months out following a collision with an Indian Ocean reef on November 29 during Leg 2.
Nicholson had every reason for the huge smile on his face as he approached the port of Lorient following a near perfect race from Lisbon starting on Sunday.
He had simply hoped that his boat could negotiate the leg without mishap and be competitive – a high podium finish is almost beyond his wildest dreams.
"It's a very special moment," said the team's Onboard Reporter, Brian Carlin (IRL), simply.
Astern of the leading pair, third-placed Abu Dhabi Ocean Racing (Ian Walker/GBR) were nearing an ever bigger prize than the handsome silver leg trophy claimed by Team SCA.
They needed simply to finish ahead of their nearest overall pursuers in the standings,Team Brunel (Bouwe Bekking/NED) and Dongfeng Race Team (Charles Caudrelier/FRA), with a boat in between, to be all but be sure of winning the 12th edition of the Volvo Ocean Race.
As Team SCA passed the finish at 0211 UTC/0411 local time on Thursday, that prospect looked very much on with MAPFRE (Xabi Fernández/ESP) in fourth, Team Brunel fifth, and Team Alvimedica (Charlie Enright/USA) keeping Dongfeng Race Team at bay in the fight for sixth.
The boats will have a short maintenance period before Sunday's SCA In-Port Race here in Lorient, before the fleet set sail for Gothenburg via a much-awaited pit-stop in The Hague, on Tuesday, June 16.
It promises to be a period of considerable celebration for at least three crews of very, very happy sailors.
Share on Facebook