MAPFRE, the Spanish-flagged team led by skipper Xabi Fernández has won Leg 2 of the Volvo Ocean Race, a 7,000 nautical mile marathon from Lisbon, Portugal to Cape Town, South Africa.
"It's amazing, we're super-happy. We arrived here in one piece and in front of the others; we can't ask for more," skipper Xabi Fernández said moments after finishing.
MAPFRE trailed Dongfeng Race Team on the long charge to the south, but last weekend, 14 days into the leg and after crossing the Doldrums, navigator Juan Vila and skipper Xabi Fernández put in a quick gybe to the southwest that Dongfeng didn't match. It turned out to be a winning move; within hours the Spanish team had a lead it wouldn't relinquish.
In contrast, after leading from the first night, Dongfeng suddenly found itself in fourth place two weeks into the leg. But skipper Charles Caudrelier led his team to an inspiring fight-back. Over the final days, Dongfeng clawed its way back into a well-deserved second place.
"A good second place," said Caudrelier. "For sure at one moment we were hoping for better, but a few days ago it was much worse and we made a fantastic comeback.
"Well done to MAPFRE, they did less mistakes than us, but we never gave up, the crew never complained, they just worked on the comeback… We have amazing speed in strong winds, we've worked on that a lot, and it was unbelievable, we were nearly a knot faster sometimes."
Completing the podium is Vestas 11th Hour Racing, the winner of Leg 1. Skipper Charlie Enright's team was always in the mix with the leaders on this leg, but couldn't find a way to slip into the lead.
"We're happy with a podium result against a lot of good teams," Enright said, dockside in Cape Town. "We're not satisfied yet with how we're sailing the boat, so we still have a lot of work to do, but we'll keep chipping away. We're still trying to get faster through the water and streamline our decision-making, but it's a long race. We have time."
The next boat to finish should be Team Brunel, expected to cross the line in Cape Town in fourth place sometime after midnight (UTC) Friday night.
Then it will be another 24 hours or so to the trailing group of three – team AkzoNobel, Turn the Tide on Plastic, and Sun Hung Kai/Scallywag are engaged in a tight battle for fifth place. Current projections have them all finishing with an hour of each just after midnight on Saturday night (UTC).
Leg 2 – Provisional Results – as at Friday 24 November (Leg 2, Day 20) at 19:45 UTC
1. MAPFRE — FINISHED — 15:10.33 UTC – 19 days, 01h:10m:33s
2. Dongfeng Race Team — FINISHED — 18:02.39 UTC – 19 days, 04h:02m:39s
3. Vestas 11th Hour Racing — FINISHED — 19:37.53 UTC – 19 days, 05h:37m:53s
4. Team Brunel +59.8 nautical miles to the finish
5. team AkzoNobel +382.6
6. Turn the Tide on Plastic +385.4
7. Sun Hung Kai/Scallywag +387.1
Volvo Ocean Race – Current Leaderboard
1. MAPFRE — FINISHED — 14 points (after Leg 2)
2. Vestas 11th Hour Racing — FINISHED — 13 points (after Leg 2)
3. Dongfeng Race Team — FINISHED — 11 points (after Leg 2)
4. team AkzoNobel — RACING — 4 points (after Leg 1)
5. Sun Hung Kai/Scallywag — FINISHED — 3 points (after Leg 1)
6. Team Brunel – 2 points (after Leg 1)
7. Turn the Tide on Plastic – 1 point (after Leg 1)
Share on Facebook
Simeon Tienpont will skipper team AkzoNobel in Leg 1 of the Volvo Ocean Race from Alicante to Lisbon on Sunday, after Race Management approved a new crew list submitted by the team shortly before the dockout.
October 22, 2017
10:35 UTC
A total of eight sailors will be on board for the 1,450 nautical mile leg to Lisbon – including Dutchman Tienpont.
That crew composition satisfies requirements for safety, gender and age as per the Notice of Race.
The new crew list is as follows:
Simeon Tienpont – skipper
Brad Farrand
António Fontes
Martine Grael
Luke Molloy
Ross Monson
Emily Nagel
Nicolai Sehested
The team has been in flux since it was announced that original skipper Simeon Tienpont had left the team and was replaced by watch captain Brad Jackson last weekend.
On Friday evening, Tienpont won an arbitration judgement allowing him to return to the team and just hours before start time, the team submitted an updated crew list with Tienpont leading a newly constituted squad.
In a statement released by the team, Tienpont commented: "This has obviously been an incredibly difficult time for everyone involved since we arrived here in Alicante just 10 days ago. I have now reached an agreement with AkzoNobel and all parties now want to put this behind us and focus on our campaign for the Volvo Ocean Race 2017-18.
"I would like to thank Brad Jackson for stepping up at such a challenging time to keep team AkzoNobel moving forward with our preparations for the race. Thanks also go to Joca Signorini and Jules Salter for their contributions to the campaign so far and also to Rome Kirby. We are grateful to Sun Hung Kai Scallywag team owner Seng Huang Lee and skipper David Witt for loaning us Antonio Fontes for this first leg.
"Personally, I am relieved to be back with my team and excited to be getting our Volvo Ocean Race campaign underway."
Share on Facebook
The local heroes on Xabi Fernàndez's MAPFRE were a popular winner in the first point scoring race of the Volvo Ocean Race.
The local heroes on Xabi Fernández's MAPFRE were a popular winner in the first point scoring race of the Volvo Ocean Race.
Fernández and his team made a bold call at the start to duck behind the entire fleet in order to sail up what turned out to be the favoured right hand side of the course, coming from behind to earn a narrow lead at the first gate.
"It was pretty clear from Joan (Vila) and Rob (Greenhalgh) that we wanted to hit the right side of the course in the first upwind looking for more breeze," explained Fernández.
"Our intention was to start on port but Pablo (Arrarte) saw the gap himself when Brunel did a poor tack and they couldn't accelerate so we want for the cross and we had plenty of room and once we hit the right everything went well."
MAPFRE then managed to stretch out to a lead of nearly one-minute at the bottom gate, giving them a lead they would enjoy the rest of the way.
"The truth is it hasn't been an easy race but we took a bit of a risk at the start," Fernández said after the finish. "We saw the gap in front of Brunel and we went for it. Everything went really well."
Watch the highlight video here
In fact, the Spanish team sailed a flawless race, in terms of strategy and execution, and were never threatened after grabbing the lead at the first mark.
But behind them, it was a hard-fought race. Sun Hung Kai/Scallywag was strong on the first leg, but dropped back over the course of the race. In contrast, Dongfeng Race Team fought up the fleet to grab second place, battling with Vestas 11th Hour Racing and Team Brunel who were trading places throughout the race.
"There was a lot of action! MAPFRE played their own game alone but behind them, we had a big fight for second place. It's good, it's good," said skipper Charles Caudrelier on Dongfeng Race Team.
"We showed how we can sail well, after having not such good results in the last few days. It's great that we managed to come back and get this result."
"It was a very exciting first In-Port Race for us," said Charlie Enright, the skipper of Vestas 11th Hour Racing. "They're always really close. You know, when you're racing these 65-foot canting keel boats around a one-mile track it gets interesting, with a lot of exchanges and big headsails and a lot of grinding. We did some good things and some bad things and got third place. All in all, not a bad way to start the campaign."
"I had a bad start and that put us on the back foot," said Bouwe Bekking the skipper of Team Brunel. "But we sailed the boat very nicely. All in all, we're pretty happy with how we sailed today."
Sun Hung Kai/Scallywag made a late gain to grab fifth over team AkzoNobel with Turn the Tide on Plastic never recovering from a poor first leg.
"It was okay. Fifth's not great but it was okay. We were second at the top but we just made one mistake on the first run and it cost us. Basically, it was good. Amazing to be racing here in Alicante," said David Witt, the skipper of Sun Hung Kai/Scallywag.
MAPFRE In-Port Race Alicante — Results

| | | | |
| --- | --- | --- | --- |
| Position | Team | Elapsed Time | Points |
| 1 | MAPFRE | 54:38 | 7 |
| 2 | Dongfeng Race Team | 56:06 | 6 |
| 3 | Vestas 11th Hour Racing | 56:54 | 5 |
| 4 | Team Brunel | 57:13 | 4 |
| 5 | Team Sun Hung Kai/Scallywag | 58:07 | 3 |
| 6 | team AkzoNobel | 58:31 | 2 |
| 7 | Turn the Tide on Plastic | 59:39 | 1 |
Share on Facebook
NEWPORT, RI (17 March 2017) – The public is invited to attend the Sail Newport Volvo Ocean Race press conference and Pep Rally on Tuesday, March 21 starting at 10:00 a.m.   The major announcement will feature speakers from the Volvo Ocean Race and Sail Newport.
The press conference will be held at Belle Mer, 2 Goat Island, Newport, RI, USA. The public is invited to attend as space permits and coffee will be served starting at 9:30 a.m. at Belle Mer.
"We're encouraging sailing fans to come and help us show Newport's excitement about the Volvo Ocean Race coming back to Rhode Island," says Brad Read, executive director of Sail Newport.
Also, Sail Newport will host a reception to celebrate the announcement at the Clarke Cooke House, at 5:30 p.m. on Tuesday.  Complimentary hors d'oeuvres and cash bar will be available.
The Volvo Ocean Race Newport Stopover in 2015 was a huge success as over 130,000 people attended and enjoyed the racing, entertainment and hospitality of the public shore side festival. The Race starts October 22, 2017 from Alicante, Spain and will make its only North American stop in Newport, RI, May 8-20, 2018.
LIVE STREAMING:
The event will be live streamed for those who can't make the event. Check the home page at
sailnewport.org
on Monday for information.
The Volvo Ocean Race
The Volvo Ocean Race is the ultimate ocean marathon, pitting sport's best sailors against each other across the world's toughest oceans.  The legendary race that began in 1973 will start from Alicante, Spain in October 2017 and finish in The Hague, Netherlands in June 2018.  Featuring almost three times as much Southern Ocean sailing as in the previous edition, the Volvo Ocean Race 2017-18 will be contested over the longest distance in the race's history at around 45,000 nautical miles, crossing four oceans and taking in 12 major cities on six continents.
The Volvo Ocean Race has been the global sponsorship flagship of Volvo Group and Volvo Car Group since taking ownership of the race in 1999.  The Volvo Ocean Race is operated as a non-profit organization.
| | |
| --- | --- |
| | |
ABOUT THE VOLVO OCEAN RACE NEWPORT STOPOVER
The only North American Stopover of the Volvo Ocean Race will be hosted by Sail Newport, Rhode Island's Public Sailing Center, the State of Rhode Island Dept. of Environmental Management (DEM), Discover Newport, and the City of Newport.  This two-week stopover celebration and festival will be open to the public for free and will include a Race Village (opens May 8, 2018) with entertainment, a marine Exploration Zone (opens May 12, 2018), kids activities, a food court, team compounds, sponsor pavilions and a theater.  On-the-water activities and sailing events are scheduled for each day such as Try Sailing for families, M32 and other sailboat racing, up-close viewing of the race boats at dock and racing during the Pro-Am Race, the In-Port Races, and the boat parade and Leg Start to Cardiff, Wales (May 20, 2018)  All sailing will take place within yards of the Race Village on the shoreline at Fort Adams State Park.
Share on Facebook
Volvo Ocean Race COO Tom Touber today joined Sail Newport's Brad Read and Governor Gina Raimondo, to announce that the Race will be heading back to the Ocean State for the 2017-18 edition
–       Rhode Island town to host race for a second time in 2018
–       Governor Raimondo heralds Newport's achievement
–       More port announcements to come in the New Year
NEWPORT, Rhode Island, October 30 – Newport, Rhode Island, will once again host the North American stopover for the 13th edition of the Volvo Ocean Race in 2017-18 following the success of the sailing-mad coastal town's hosting of the world's leading offshore event in May.
"We're delighted to be able to confirm that Newport will be staging a second consecutive stopover in 2018," said Race COO, Tom Touber, at Friday's (October 30) official announcement.
"Everything worked brilliantly in Newport in May thanks to the great work of Brad Read and his team plus the backing of the Governor, legislative leaders and State of Rhode Island agencies, and we were delighted with the large amount of spectators from our major fan base in the U.S. and elsewhere, who supported the stopover.
"Moreover, the Newport stopover was greatly valued by our stakeholders, who very much enjoyed visiting the area for its history, culture and, of course, the commercial opportunities it provided."
The news that Newport will again be hosting the event means that seven ports for the next edition of the 42-year-old race are already known.
The east coast port joins Alicante (Spain), Cape Town (South Africa), Auckland (New Zealand), Cardiff (United Kingdom), Lisbon (Portugal) and Gothenburg (Sweden) on the list of confirmed stopovers for the 2017-18 edition.
"The route is already shaping up very nicely, although we have several more key port announcements to come, probably early in the New Year," added Touber.
Rhode Island Governor, Gina M. Raimondo, who joined Volvo Ocean Race officials and Stopover Director Brad Read in Friday's announcement ceremony at the State Room in the State capital, Providence, said:
"Rhode Island looks forward to welcoming back the Volvo Ocean Race in 2018, and we're honoured to be among this list of world-class port destinations."
She added: "This year's event was a great success, drawing more than 130,000 fans from across the U.S. and abroad. We look forward to once again showcasing Rhode Island as a great place to visit – and do business."
Brad Read, who heads Sail Newport, which masterminded the stopover this year, was delighted to have the chance to repeat – and improve on – the success of their inaugural hosting of the round-the-world marathon.
"Sail Newport, the Department of Environmental Management, and State Leadership, together with all of our outstanding partners, organised and hosted the most successful North American stopover in Volvo Ocean Race history," he said.
"We did this as a non-profit organization combined with a whole lot of community heart and passion because we knew the event would be a remarkable success."
He continued: "I believe strongly that tourists, fans, sponsors and media will travel from all over the world to Rhode Island to be part of the next Newport stopover.
"Everyone wants the Race back here. The State, the marine, business, education communities, and fans, will follow the Race until it arrives back at Castle Hill in 2018."
The precise dates of the fleet's visit in 2018 are not yet known but will be announced when the full route is unveiled early next year.
Share on Facebook
 200 miles to go. After 9 months and nearly 40,000 miles
Dongfeng slenderest of leads over main rivals Brunel and Mapfre, but seems like it will not mean much this evening.
Caudrelier: "For us its easy to go from 3rd place to 5th place (overall), and also to come back to second. Everything can happen still"
The podium of the Volvo Ocean Race might just come down to a total lottery tonight as wind forecasts predict a difficult transition as Charles Caudrelier describes "from the current strong southerly winds that have carried Dongfeng up the North Sea, to some light easterly winds that will should get us to the finish line. Its going to be stressful".In between potentially little or no wind at all – during the early evening tonight in theory. The battleground will probably be between Hanstholm and Skagen, the two towns with a bay between them, that mark the northern tip of Denmark. But even now the compression is starting, from Yanndirect this morning "Still coming back from behind. Less than 4 miles, now. Nothing we can do about it. Not a nice feeling". More often than not in ocean racing, the rich get richer – but this time its not going to work like that. The guys (and girls) behind are going to sail on in pressure as the boats in front that worked so hard to grind out their leads, will stop in the transition zone between the old and new winds.The warm front moving from the UK east, that has been chasing the fleet since they left, is going to slow down and stall before it gets to them, at least at surface level. Higher up in the atmosphere its forecast to continue east – this differential between up high and at the surface, will provide the conditions for a new low to form, bringing new winds – but the transition could be long – and in the meantime somehow the boats have to get from the old to the new. This in effect should allow almost all, if not all, the backmarkers to sail straight to the front, with the leaders helpless.

It will be tragic if the entire race comes down to luck, but then this is part of ocean racing. Since Dong Feng means 'winds from the east bringing freshness and energy' and Aeolus being the Guardian of the Winds – on land we can only hope and pray to whatever Gods we believe in, that luck will be on our side, and that we will get the podium finish we deserve!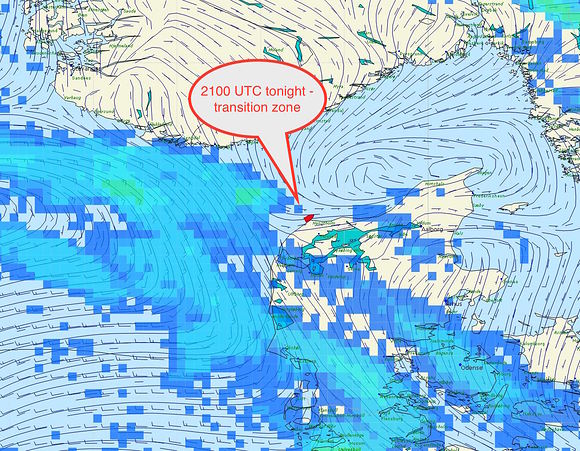 You can follow our story and interact with the team on all social media channels and our official website:Facebook: Click here
Twitter: Click here
Instagram: Click here
Weibo: Click here
WeChat: Click here
Youtube: Click here
YouKu: Click here
Official website: Click here
Share on Facebook
Skipper Sam Davies (GBR) and her Team SCA crew struck a resounding blow for women's offshore sailing in the early hours of Thursday morning when they gloriously clinched Leg 8 of the Volvo Ocean Race
Leg 8

DTL

(NM)

GAIN/LOSS

(NM)

DTF

(NM)

Speed

(kt)

SCA1
FIN – 03d 13h 11m 11s

VEST
FIN – 03d 13h 59m 38s

ADOR
0.3
10.9
3
11.1

MAPF
0.8
11.3
4
11.7

TBRU
1.8
11.5
5
12.4

ALVI
2.3
11.7
5
12.9

DFRT
5.5
11.7
8
13.2
Latest positions may be downloaded
from the race dashboard hereº MAPFRE given 2-point penalty Leg 5
Dongfeng Race Team, Team SCA & MAPFRE penalised Leg 7
– A resounding blow for women's offshore sailing
– Team Vestas Wind bounce back for second place
– Abu Dhabi Ocean Racing nearing overall trophy win
LORIENT, France, June 11 – Skipper Sam Davies (GBR) and her Team SCA crew struck a resounding blow for women's offshore sailing in the early hours of Thursday morning when they gloriously clinched Leg 8 of the Volvo Ocean Race.
The comfortable victory was the first leg win in offshore sailing's toughest challenge since Tracy Edwards' Maidenclinched two stage wins in Class D of the 1989-90 race, won overall by Sir Peter Blake's famous Steinlager2.
At least as satisfying for the first all-women's crew to enter the race in 12 years will be the opportunity to silence critics who suggested that they were looking outclassed in the current 12th edition by their experienced male rivals.
True, the Swedish entry had yet to win a podium place until now, but the crew has clearly improved leg after leg and many observers felt that a breakthrough performance was just around the corner.
The win was certainly no fluke in an upwind leg that tested seamanship to the full with an often heinous sea state and strong winds virtually throughout.
They grabbed the 647-nautical mile leg from Lisbon by the scruff of the neck on Monday, and strengthened that grip on Tuesday after taking an offshore course while most of their rivals hugged the Spanish and French coast approaching the Bay of Biscay.
It took them three days 13 hours 11 minutes and 11 seconds to grab their share of Race history.
"Thanks to everybody for all your support. It's not really sunk in yet," said a jubilant Davies. "It probably won't hit us until we hit the dock and we see there aren't any other boats there.
"It's a reward for all the hard work we have done. It's a great confidence booster. It's going to be huge for us. We've had a mountain to climb to get here."
Behind them, another fairy-tale was unfolding as Team Vestas Wind (Chris Nicholson/AUS) closed to a remarkable second-placed finish in their return to the race after six months out following a collision with an Indian Ocean reef on November 29 during Leg 2.
Nicholson had every reason for the huge smile on his face as he approached the port of Lorient following a near perfect race from Lisbon starting on Sunday.
He had simply hoped that his boat could negotiate the leg without mishap and be competitive – a high podium finish is almost beyond his wildest dreams.
"It's a very special moment," said the team's Onboard Reporter, Brian Carlin (IRL), simply.
Astern of the leading pair, third-placed Abu Dhabi Ocean Racing (Ian Walker/GBR) were nearing an ever bigger prize than the handsome silver leg trophy claimed by Team SCA.
They needed simply to finish ahead of their nearest overall pursuers in the standings,Team Brunel (Bouwe Bekking/NED) and Dongfeng Race Team (Charles Caudrelier/FRA), with a boat in between, to be all but be sure of winning the 12th edition of the Volvo Ocean Race.
As Team SCA passed the finish at 0211 UTC/0411 local time on Thursday, that prospect looked very much on with MAPFRE (Xabi Fernández/ESP) in fourth, Team Brunel fifth, and Team Alvimedica (Charlie Enright/USA) keeping Dongfeng Race Team at bay in the fight for sixth.
The boats will have a short maintenance period before Sunday's SCA In-Port Race here in Lorient, before the fleet set sail for Gothenburg via a much-awaited pit-stop in The Hague, on Tuesday, June 16.
It promises to be a period of considerable celebration for at least three crews of very, very happy sailors.
Share on Facebook
Team Brunel (Bouwe Bekking/NED) completed a triumphant Leg 7 early on Wednesday to bolster their hopes of finishing with a podium place in the Volvo Ocean Race and also keep alive their hopes of overall victory
Leg 7

DTL

(NM)

GAIN/LOSS

(NM)

DTF

(NM)

Speed

(kt)

TBRU
FIN – 09d 11h 09m 49s

MAPF
FIN – 09d 11h 31m 39s

ALVI
FIN – 09d 12h 50m 49s

DFRT
FIN – 09d 12h 51m 44s

ADOR
FIN – 09d 13h 24m 34s

SCA1
FIN – 09d 15h 32m 38s

VEST
Did Not Start
Latest positions may be downloaded
from the race dashboard here º MAPFRE given two-point penalty – read more
– Team Brunel edge home ahead in transatlantic leg
– MAPFRE chase them all the way into Lisbon
– Team Alvimedica beat Dongfeng in thrilling dogfight
– Team Vestas Wind are reunited with rest of the fleet
LISBON, Portugal, May 27 – Team Brunel (Bouwe Bekking/NED) completed a triumphant Leg 7 early on Wednesday to bolster their hopes of finishing with a podium place in the Volvo Ocean Race and also keep alive the possibility of overall victory.
The Dutch boat sailed a near faultless transatlantic stage, edging MAPFRE (Iker Martínez/ESP) into second, just under 22 minutes behind.
Behind them, Team Alvimedica (Charlie Enright/USA) edged out long-time leg leaders, Dongfeng Race Team (Charles Caudrelier/FRA), after an enthralling dogfight over the final miles.
The Chinese-backed boat was caught by Enright's crew in the early hours of Wednesday, but battled their way back and looked sure to overtake them again before a botched tack ruined their chances.
They lost out by just 55 seconds after nearly nine days and 13 hours of sailing across 2,800 nautical miles (nm).
With overall leaders Abu Dhabi Ocean Racing (Ian Walker/GBR) finishing fifth ahead of Team SCA (Sam Davies/GBR), the overall race standings are left finely poised.
The Emirati crew now have a five-point lead over Dongfeng Race Team with two short legs to sail, while Team Brunel are a point further adrift of Charles Caudrelier's crew.
Caudrelier made no attempt to hide his disappointment after leading the leg for so long and seeing a podium place disappear in the final miles.
"I'm feeling very bad, very upset and very sad," he summed up. "We deserved better, but I guess that's life.
"Most of all, I'm upset with myself because my crew did a great job and I made a huge mistake – and I don't accept mistakes. We really missed a chance in this leg with Abu Dhabi Ocean Racing finishing fifth."
Few sailors in the fleet will savour a win over one of the race's trademark legs more than Team Brunel's 51-year-old skipper, Bouwe Bekking, in his record-equalling seventh appearance.
He has certainly experienced the ups and downs of racing across the Atlantic. Few will forget the agonising position he faced in 2006 before he was finally forced to abandon his sinking movistar boat during the same stage of that Volvo Ocean Race.
Bekking insisted last week that he had not lost 'a single night's sleep' over the incident and the confident way that Team Brunel sailed the leg would bear that out.
Team Brunel were harried all the way over the past 24 hours by both MAPFRE and Dongfeng Race Team, especially over the final few miles when the breeze dropped to almost zero in the Tagus River as they approached the Lisbon finish.
"We sailed a tremendous leg but just at the end when there was no wind, it was getting a bit gnarly," said Bekking. "But we pulled it off."
The victory was achieved with two newcomers on board, Adam Minoprio (NZL) and Timo Hagoort (NED), the latter replacing the injured Gerd-Jan Poortman (NED).
"It was good to have those young guys on board, they did a fantastic job," added Bekking.
Team SCA crossed the line, some four hours and 22 minutes behind Team Brunel (see panel above), after an action-packed transatlantic leg in which they sailed within the pack for much of the nine days and at one stage threatened a podium finish after taking a bold strategic choice around the Azores High.
The final two stages, to Lorient (France) and then Gothenburg (Sweden) via a pit-stop in The Hague (Netherlands), will once again be contested by seven boats.
Team Vestas Wind (Chris Nicholson/AUS) rejoin the fleet for the first time since November 29 when the boat was grounded on a reef in the Indian Ocean.
After a four-month rebuild in the Persico boatyard in Bergamo, Italy, the boat was transported by sea and road to Lisbon, arriving a few hours before the rest of the fleet in the small hours of Wednesday morning.
Over the next few days, the rig will be stepped ahead of the Danish-backed team's competitive comeback on June 6 in the Lisbon In-Port Race. Leg 8 to Lorient, a relative sprint at 647nm, begins a day later.
The race concludes on June 27 with the In-Port Race in Gothenburg after nine months and 38,739nm of sailing, visiting 11 ports and every continent.
Current latest standings (low points wins, In-Port Race Series splits ties): 1) Abu Dhabi Ocean Racing 16 pts, 2) Dongfeng Race Team 21, 3) Team Brunel 22, 4) MAPFRE 26, 5) Team Alvimedica 27, 6) Team SCA 41, 7) Team Vestas Wind (Denmark) 52 (DNS).
Share on Facebook