200 miles to go. After 9 months and nearly 40,000 miles
Dongfeng slenderest of leads over main rivals Brunel and Mapfre, but seems like it will not mean much this evening.
Caudrelier: "For us its easy to go from 3rd place to 5th place (overall), and also to come back to second. Everything can happen still"
The podium of the Volvo Ocean Race might just come down to a total lottery tonight as wind forecasts predict a difficult transition as Charles Caudrelier describes "from the current strong southerly winds that have carried Dongfeng up the North Sea, to some light easterly winds that will should get us to the finish line. Its going to be stressful".In between potentially little or no wind at all – during the early evening tonight in theory. The battleground will probably be between Hanstholm and Skagen, the two towns with a bay between them, that mark the northern tip of Denmark. But even now the compression is starting, from Yanndirect this morning "Still coming back from behind. Less than 4 miles, now. Nothing we can do about it. Not a nice feeling". More often than not in ocean racing, the rich get richer – but this time its not going to work like that. The guys (and girls) behind are going to sail on in pressure as the boats in front that worked so hard to grind out their leads, will stop in the transition zone between the old and new winds.The warm front moving from the UK east, that has been chasing the fleet since they left, is going to slow down and stall before it gets to them, at least at surface level. Higher up in the atmosphere its forecast to continue east – this differential between up high and at the surface, will provide the conditions for a new low to form, bringing new winds – but the transition could be long – and in the meantime somehow the boats have to get from the old to the new. This in effect should allow almost all, if not all, the backmarkers to sail straight to the front, with the leaders helpless.

It will be tragic if the entire race comes down to luck, but then this is part of ocean racing. Since Dong Feng means 'winds from the east bringing freshness and energy' and Aeolus being the Guardian of the Winds – on land we can only hope and pray to whatever Gods we believe in, that luck will be on our side, and that we will get the podium finish we deserve!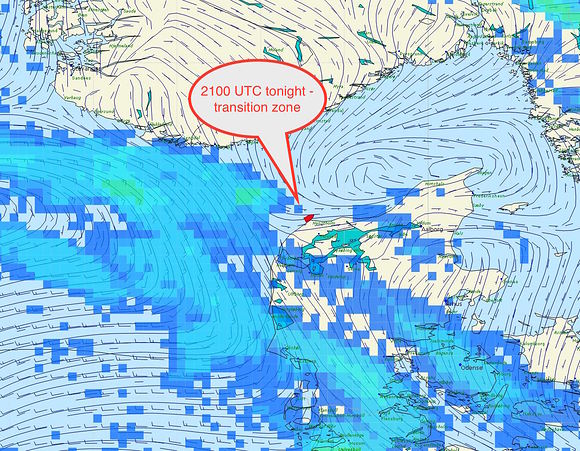 You can follow our story and interact with the team on all social media channels and our official website:Facebook: Click here
Twitter: Click here
Instagram: Click here
Weibo: Click here
WeChat: Click here
Youtube: Click here
YouKu: Click here
Official website: Click here
Share on Facebook
Skipper Sam Davies (GBR) and her Team SCA crew struck a resounding blow for women's offshore sailing in the early hours of Thursday morning when they gloriously clinched Leg 8 of the Volvo Ocean Race
Leg 8

DTL

(NM)

GAIN/LOSS

(NM)

DTF

(NM)

Speed

(kt)

SCA1
FIN – 03d 13h 11m 11s

VEST
FIN – 03d 13h 59m 38s

ADOR
0.3
10.9
3
11.1

MAPF
0.8
11.3
4
11.7

TBRU
1.8
11.5
5
12.4

ALVI
2.3
11.7
5
12.9

DFRT
5.5
11.7
8
13.2
Latest positions may be downloaded
from the race dashboard hereº MAPFRE given 2-point penalty Leg 5
Dongfeng Race Team, Team SCA & MAPFRE penalised Leg 7
– A resounding blow for women's offshore sailing
– Team Vestas Wind bounce back for second place
– Abu Dhabi Ocean Racing nearing overall trophy win
LORIENT, France, June 11 – Skipper Sam Davies (GBR) and her Team SCA crew struck a resounding blow for women's offshore sailing in the early hours of Thursday morning when they gloriously clinched Leg 8 of the Volvo Ocean Race.
The comfortable victory was the first leg win in offshore sailing's toughest challenge since Tracy Edwards' Maidenclinched two stage wins in Class D of the 1989-90 race, won overall by Sir Peter Blake's famous Steinlager2.
At least as satisfying for the first all-women's crew to enter the race in 12 years will be the opportunity to silence critics who suggested that they were looking outclassed in the current 12th edition by their experienced male rivals.
True, the Swedish entry had yet to win a podium place until now, but the crew has clearly improved leg after leg and many observers felt that a breakthrough performance was just around the corner.
The win was certainly no fluke in an upwind leg that tested seamanship to the full with an often heinous sea state and strong winds virtually throughout.
They grabbed the 647-nautical mile leg from Lisbon by the scruff of the neck on Monday, and strengthened that grip on Tuesday after taking an offshore course while most of their rivals hugged the Spanish and French coast approaching the Bay of Biscay.
It took them three days 13 hours 11 minutes and 11 seconds to grab their share of Race history.
"Thanks to everybody for all your support. It's not really sunk in yet," said a jubilant Davies. "It probably won't hit us until we hit the dock and we see there aren't any other boats there.
"It's a reward for all the hard work we have done. It's a great confidence booster. It's going to be huge for us. We've had a mountain to climb to get here."
Behind them, another fairy-tale was unfolding as Team Vestas Wind (Chris Nicholson/AUS) closed to a remarkable second-placed finish in their return to the race after six months out following a collision with an Indian Ocean reef on November 29 during Leg 2.
Nicholson had every reason for the huge smile on his face as he approached the port of Lorient following a near perfect race from Lisbon starting on Sunday.
He had simply hoped that his boat could negotiate the leg without mishap and be competitive – a high podium finish is almost beyond his wildest dreams.
"It's a very special moment," said the team's Onboard Reporter, Brian Carlin (IRL), simply.
Astern of the leading pair, third-placed Abu Dhabi Ocean Racing (Ian Walker/GBR) were nearing an ever bigger prize than the handsome silver leg trophy claimed by Team SCA.
They needed simply to finish ahead of their nearest overall pursuers in the standings,Team Brunel (Bouwe Bekking/NED) and Dongfeng Race Team (Charles Caudrelier/FRA), with a boat in between, to be all but be sure of winning the 12th edition of the Volvo Ocean Race.
As Team SCA passed the finish at 0211 UTC/0411 local time on Thursday, that prospect looked very much on with MAPFRE (Xabi Fernández/ESP) in fourth, Team Brunel fifth, and Team Alvimedica (Charlie Enright/USA) keeping Dongfeng Race Team at bay in the fight for sixth.
The boats will have a short maintenance period before Sunday's SCA In-Port Race here in Lorient, before the fleet set sail for Gothenburg via a much-awaited pit-stop in The Hague, on Tuesday, June 16.
It promises to be a period of considerable celebration for at least three crews of very, very happy sailors.
Share on Facebook
Spanish boat MAPFRE, boosted by the return of their skipper Iker Martinez, claimed their first win of the Volvo Ocean Race in-port series on Saturday in front of thousands of spectators.
With Martinez at the helm, the red boat raced to the first mark with a narrow lead over Team Alvimedica (Turkey/US) and gradually stretched their advantage in a race completed in just under an hour.
The result leaves the Spanish crew still trailing the fleet in the overall standings on 31 points, but they have closed the gap considerably after a string of largely disappointing performances prior to Saturday.
Martinez, 37, was delighted to return to the winner's circle having returned to lead the crew after missing the previous leg due to Olympic commitments.
The helmsman from San Sebastian won gold in the 2004 Athens Games and silver in Beijing 2008, but finished disappointingly down the field in the 2012 London Olympics.
He is determined to put that right in Rio de Janeiro next year, but his commitment to his preparation has led to his missing several legs in this edition of the nine-month Ocean Race which started last October.
"We are improving slowly and that's the way we want to do these things," said Martinez after the victory. "Today we were first and we're feeling super good."
Team Alvimedica, led by Newport local Charlie Enright, clung on to second place while Abu Dhabi Ocean Racing stole third position from the all-women crew of Team SCA, who made a damaging positioning error mid-race.
The result puts Abu Dhabi, led by Briton Ian Walker, back on top of the overall in-port race series standings on 19 points. The series will count towards a separate trophy and be used to split ties in the main offshore competition.
The six boats in the fleet will begin the seventh leg, a 2,800-nautical mile (4,815km) trip to Lisbon, Portugal, on Sunday at 1800GMT.
Abu Dhabi lead by six points from China's Dongfeng Race Team, with three legs to complete in the nine-month, 38,739-nautical mile (71,745km) marathon.
The race concludes on June 27 in Gothenburg, Sweden, having visited 11 ports and every continent.
Team Vestas Wind In-Port Race Newport results 
Course: 3 laps.
Bearing to top gate: 230
Distance to top: 1.4nm, extended to 1.8nm on the 3rd lap.
Total distance sailed: 9.2nm
TWD: 180-185
TWS: 8kts
Team Vestas Wind In-Port Race Newport Results:
1. MAPFRE 14:55:41 – 1pt
2. Team Alvimedica 14:56:39 – 2pts
3. Abu Dhabi Ocean Racing 14:57:38 – 3pts
4. Team SCA 14:57:57 – 4pts
5. Team Brunel 14:58:17 – 5pts
6. Dongfeng Race Team 14:59:09 – 6pts
DNS. Team Vestas Wind – 8pts
In-Port series Overall standings:
1. Abu Dhabi Ocean Racing – 19pts
2. Team Brunel – 20pts
3. Team SCA – 24pts
4. Dongfeng Race Team – 27pts
5. Team Alvimedica – 28pts
6. MAPFRE – 31pts
7. Team Vestas Wind  – 52pts
Crew List for Team Vestas Wind Newport In-Port Race:
Dongfeng Race Team Charles Caudrelier FRA Kevin Escoffier FRA Thomas Rouxel FRA Martin Strömberg SWE Chen Jin Hao (Horace) CHN Pascal Bidegorry FRA Sidney Gavignet FRA Jiru Yang (Wolf) CHN Yann Riou FRA (OBR)
Team Alvimedica Charles Enright USA William Oxley AUS Alberto Bolzan ITA Mark Towill USA Sébastien Marsset FRA Nick Dana USA Ryan Houston NZL Dave Swete NZL Amory Ross USA (OBR)
MAPFRE Iker Martínez ESP Xabi Fernández ESP Jean-Luc Nélias FRA Rob Greenhalgh GBR André Fonseca BRA Antonio Cuervas-Mons ESP Carlos Hernández ESP Guillermo Altadill ESP Francisco Vignale ARG (OBR)
Abu Dhabi Ocean Racing Ian Walker GBR Simon Fisher GBR Daryl Wislang NZL Adil Khalid UAE Luke Parkinson AUS Justin Slattery IRL Roberto Bermúdez de Castro ESP Phil Harmer AUS Matt Knighton USA (OBR)
Team Brunel Bouwe Bekking NED Andrew Cape AUS Jens Dolmer DEN Pablo Arrarte ESP Louis Balcaen BEL Adam Minoprio NZL Rokas Milevicius LTU Timo Hagoort NED Stefan Coppers NED (OBR)
Team SCA Sam Davies GBR Carolijn Brouwer NED Dee Caffari GBR Abby Ehler GBR Annie Lush GBR Elodie-Jane Mettraux SUI Stacey Jackson AUS Libby Greenhalgh GBR Liz Wardley AUS Sally Barkow USA Sophie Ciszek AUS Anna-Lena Elled SWE (OBR)
Share on Facebook
The ladies of Team SCA pull off a beautifully maneuvered win in the Volvo Ocean Race In-port race.
In-Port
ABU DHABI
total

Abu Dhabi Ocean Racing
3
6

Team Brunel
2
8

Team SCA
1
10

Team Alvimedica
5
12

Dongfeng Race Team
4
13

MAPFRE
6
16

Team Vestas Wind
8*
20
* Did Not Start | ** Did Not Finish | *** Retired | **** Disqualified | ***** Given Redress | ****** Provisional
– Check out our fabulous app
– It's not to late to play the Official Game
ABU DHABI, January 2 – Team SCA led virtually from start to finish to romp to a convincing victory in the Volvo Ocean Race In-Port Race in Abu Dhabi on Friday after a lack of wind nearly forced a postponement.
The third race in the series began 1hr 40mins behind schedule – another 20 minutes and the action would have been scrapped for the day – because of the missing breeze.
Finally, at 1540 local time/1140 UTC, race officials judged that the breeze had picked up enough for a viable race and the women of Team SCA never looked back.
They took a starboard course early on and by the first mark in the 3.2-nautical mile (nm), two-lap race, had established a 50-metre lead and they continued to build on it from then on with a display of consummate in-port sailing.
In the end, it almost looked easy as the Swedish-backed boat crossed the line, 1min 28secs ahead of second-placed Team Brunel (Bouwe Bekking/NED).
Abu Dhabi Ocean Racing, who won the corresponding race here three years ago, again finished on the podium in third, 43 seconds further behind.
Ian Walker's crew lead the overall standings by two points from Team Brunel with Team SCA now in third.
The win is doubly sweet for the first women's crew to contest the Volvo Ocean Race in 12 years.
Skipper Sam Davies (GBR) and her crew had shown with their boost the whole crew's morale before we leave tomorrow for Sanya."
Indeed, this was certainly no one-woman victory, and all 11 crew proved what great strength-in-depth the team has even with their powerful bowman Sophie Ciszek (AUS) missing through a back injury, which needed surgery over Christmas.
As her crew-mates crossed the line, nobody was more excited than the temporarily sidelined Australian.
Ciszek, who watched the race from the deck of the SCA pavilion in the race village, said: "Yeah, it was frustrating because I wasn't out on the boat but, wow, it was the best thing ever because they won the race!
"It can only get better, and we're one step closer. They did really well.
"There's been some big changes. We had a big debrief (after finishing sixth in Leg 2) but it's really good to turn it around and win the in-port."
Abu Dhabi In-Port Race result: 1 Team SCA (Sweden) 1 pt, 2 Team Brunel (Netherlands) 2 pts, 3 Abu Dhabi Ocean Racing 3 pts, 4 Dongfeng Race Team (China) 4 pts, 5 Team Alvimedica (Turkey/USA) 5 pts, 6 MAPFRE (Spain) 6 pts.
Overall standings in the Volvo Ocean Race In-Port Series: 1 Abu Dhabi Ocean Racing 6 pts, 2 Team Brunel 8, 3 Team SCA 10, 4 Team Alvimedica 12, 5 Dongfeng Race Team 13, 6 MAPFRE 16, 7 Team Vestas Wind 20.
http://teamsca.com/race-guide/360-tour
Share on Facebook
In-Port
CAPE TOWN
total

Abu Dhabi Ocean Racing
1
3

Team Brunel
2
6

Team Alvimedica
6
7

Team SCA
3
9

Dongfeng Race Team
4
9

MAPFRE
7
10

Team Vestas Wind
5
12
* Did Not Finish | ** Retired | *** Disqualified | **** Did Not Start
– Abu Dhabi Ocean Racing top of In-Port series
– Follow the race all the way on our app
CAPE TOWN, South Africa, November 15 – Ian Walker (GBR) and his Abu Dhabi Ocean Racing crew became the confirmed kings of Cape Town on Saturday, clinching the in-port race less than a week after arriving here as Leg 1 winners.
The victory, by just over a minute, leaves them on top of the In-port Race Series too, and bursting with confidence for Leg 2 which starts on Wednesday (November 19).
Only in the sprint to the finish line from the final mark on the eight-mile course on Saturday, did Walker's men look under threat with Team Brunel (Bouwe Bekking/NED) and Team SCA (Sam Davies/GBR) breathing down their necks.
The fleet was split from the start in challenging conditions in Table Bay, under the famous Table Mountain, with winds jumping dramatically between 12 and 20 knots and rain clouds threatening throughout.
Walker's team from the Emirates have already shown that they can make the right decisions under the toughest of pressure, by edging out Dongfeng Race Team (Charles Caudrelier/FRA) by just 12 minutes in a thrilling Leg 1 climax last week after 25 days of sailing from Alicante to Cape Town.
After some 20 minutes of racing on Saturday, they looked to have victory in the bag, especially after one of their rivals for the in-port series prize, Team Alvimedica (Charlie Enright/USA), suffered a tear in their headsail.
The battle for second place soon grabbed the attention of most with Team SCA and Team Brunel in a thrilling showdown after the Dutch found a burst of pressure midway round.
Bekking had earlier told a press conference that the in-port series was not a big priority for him.
But he and his crew were plainly giving it 100 percent as they scrambled with Team SCA for the second rung of the poldium.
A problem with a gennaker failing to unfurl cleanly finally scuppered the efforts of the women's crew to keep Bekking and co at bay and Team Brunel made one final effort to catch Abu Dhabi Ocean Racing.
Once again, Walker was ready for the challenge and by the finish line had a winning margin of a couple of hundred metres from Team Brunel with Team SCA in third.
Results Cape town In-Port Race:
1. Abu Dhabi Ocean Racing – 15:06:57 -1pt
2. Team Brunel (NED) 15:08:00 – 2pts
3. Team SCA (SWE) 15:09:04 – 3pts
4. Dongfeng Race Team (CHN) 15:09:22 – 4pts
5. Team Vestas Wind (DEN) 15:11:25 – 5pts
6. Team Alvimedica (USA/TUR) 15:16:14 – 6pts
7. MAPFRE (ESP) 15:18:32 – 7pts
Share on Facebook
–      American newcomer leaves experienced rivals in wake
–       Catch all the latest Volvo Ocean Race action here
–       And don't forget to play our great new Official Race Game
ALICANTE, Spain, Oct 4 – Charlie Enright's smile said it all as he led his young Team Alvimedica crew to victory in the opening skirmish of the Volvo Ocean Race 2014-15 on Saturday.
There's a long, long way to go and the Alicante in-port race success does not even count towards the offshore overall trophy apart from as a tie-breaker in the case of teams finishing level on points.
But as a confidence-builder for the Turkish/American team, you could hardly beat victory under bright blue skies and 14-knot winds in front of thousands of fans who thronged the Alicante harbour.
Enright was impressively poised afterwards. "Surprised that we're able to do well? Not that much. We've had some good practice, the guys have been working really hard on maneuvres and we're happy with the win," he said.
"We haven't done anything that counts for the overall trophy yet, but it's a confidence builder, it gives us the feeling that we can do well again."
Enright (USA), 30, and his right-hand man Mark Towill (USA) know all about fairytale starts after hatching a dream to one day compete in offshore racing's leading event on the film set of the Disney movie, Morning Light, some seven years ago.
The realisation of that ambition took a lot of determination and the hammering on doors of countless sponsors before Turkish surgical instrument manufacturer Alvimedica CEO Cem Bozkurt finally saw potential in them and supported their campaign.
On the face of Saturday's surprise result, that confidence could be richly repaid, although it's obviously very early days.
Abu Dhabi Ocean Racing, winners of the 2011 Alicante in-port race, were denied a repeat triumph by a mere five seconds in just over 14 knots of wind with Spanish entrants MAPFRE third a further 25 seconds adrift.
Generally, the racing could barely have been tighter in almost perfect conditions for sailing and the lead changed hands several times after a storming start with China's Dongfeng Race Team grabbing the early initiative.
Team Brunel (NED) eventually pipped them for fourth spot with Team SCA's all-women crew (SWE) leaving Team Vestas Wind (DEN) comfortably behind to take sixth.
Leg 1 from Alicante to Cape Town begins next Saturday. In all, the boats will cover 38,739 nautical miles over nine months before the adventure finishes in Gothenburg, Sweden on June 27, 2015. They will visit 11 ports in all, including a pit-stop in The Hague.
Alicante in-port race results:
1. Team Alvimedica (Turkey/USA) 14:52:02 – 1pt
2. Abu Dhabi Ocean Racing 14:52:07 – 2pts
3. MAPFRE (Spain) 14:52:27 – 3pts
4. Team Brunel (The Netherlands) 14:52:48 – 4pts
5. Dongfeng Race Team (China) 14:53:14 – 5pts
6. Team SCA (Sweden) 14:53:51  – 6pts
7. Team Vestas Wind (Denmark) 14:55:24 – 7pts
Share on Facebook
COWES, Isle of Wight, August 16 (Volvo Ocean Race) – Ian Walker's Abu Dhabi Ocean Racing fired a huge warning shot across the bows of the Volvo Ocean Race 2014-15 fleet with a record-breaking monohull victory in the Sevenstar Round Britain and Ireland Race.
Walker's crew didn't just beat the existing four-year monohull best for the trip set by France's Groupama, they obliterated it – and showed that the new one-design Volvo Ocean 65 is more than a match for speed, in the right conditions, for its predecessor, the Volvo Open 70.
The achievement, completed shortly before midnight on Friday was all the more remarkable for the fact that two Abu Dhabi Ocean Racing crew members suffered injuries during the race – Phil Harmer has a suspected broken hand and Justin Slattery has a rib injury.
The team also reported that a hydraulic leak and a malfunctioning water-maker also tested the crew's engineering and maintenance skills.
Abu Dhabi's Azzam finished the 1,800-mile course in four days 13 hours and 10 minutes, lopping one day, eight hours and 16 minutes off the previous record set by the French boat.
They were chased all the way by Iker Martinez's Spanish boat, followed by a very promising performance by the Chinese rookies on board Dongfeng Race Team with Team Alvimedica just pipping the all-women's crew of Team SCA into fourth spot by around 10 minutes.
Team Brunel decided to sit out the race, the first serious rehearsal for the Volvo Ocean Race's 12th edition which starts on October 4 in Alicante, but they would have been following every mile of a fascinating week's racing in testing sailing conditions off the British and Irish coasts.
The other member of the seven-strong fleet for the next Volvo Ocean Race, Denmark's Team Vestas Wind, did not have time to prepare a challenge.
For Abu Dhabi skipper Walker, the performance could hardly bode better as he chases a third-time-lucky victory in offshore racing's biggest test having finished disappointingly down the field in the previous two editions on board under-performing boats.
"I'm very pleased. I'm very, very pleased, because it was the perfect performance. And I'm delighted for every crew member because it was a lot of work," 
he told www.volvooceanrace.com.
So how much should we read into such a pulverizing of the monohull record for the Round Britain and Ireland Race?
"It's pretty exciting that we smashed it by more than a day with these new Volvo Ocean 65 boats. And all five boats made it around safe and in one piece despite the rough weather. It's a good sign of things to come."
Martínez spoke for the rest of the fleet after chasing Azzam's heels for more than four and a half days: "Azzam has set the bench mark, so at least now we know where it is and we have seen where we need to get to.
"Their boat handling is better than ours, but that is understandable as we have only had the boat for a short period of time. We did have some electrical problems which did not help us, especially with navigation, but congratulations to Azzam."
Share on Facebook
ALICANTE, Spain, July 7 – Eight new crew for the Volvo Ocean Race 2014-15 were today unveiled in separate announcements from Team Alvimedica and the Spanish Team challengers  Team Alvimedica crew will include Italian Alberto Bolzan, American Nick Dana, Australian Will Oxley plus New Zealanders Ryan Houston and Dave Swete. Another American, Amory Ross, will be the Onboard Reporter (OBR),
They will join skipper Charlie Enright and co-founder Mark Towill in their final race crew.
The Spanish team, which has yet to announce its main title sponsors, will include Spaniards Rafa Trujillo and Antonio 'Neti' Cuervas-Mons plus Frenchman Nicolas Lunven in their line-up alongside the previously announced Iker Martínez and Xabi Fernández.
The five recruits to the 2014-15 crew leave Team Alvimedica needing to fill just one more gap before the first event of the 12thedition, the Alicante in-port race on October 4.
Their recruitment confirms Team Alvimedica's ambition to use a young crew of sailors since all are in their 20s or early 30s with the exception of the hugely experienced Oxley, 49, who has already been navigator in two previous Volvo Ocean Races.
Bolzan, 32, from Trieste, is a rookie in the race but has four world championships under his belt (see biographies below) and is the first Italian to be named in this edition's crews.
The other four sailors all competed in the last edition including Nick Dana who was OBR (then known as media crew member) for Abu Dhabi Ocean Racing. Amory Ross was Puma's OBR in 2011-12.
Three of the crew – Enright, Dana and Ross – are from Rhode Island which will host the race when the boats visit Newport in May 2015.
"With only eight race crew positions each role on board is vital," said Enright. "Sailing skill is the main requirement but equally important is the team chemistry and ability to work together in a confined space for 38,000 miles around the world.
"To achieve great results on the water we need a collaborative group who will look after each other's safety and well-being throughout a range of challenging conditions."
The team next sets out from Newport on Wednesday (June 9) for a transatlantic training run to the United Kingdom. The team will line up against Volvo Ocean Race rivals Abu Dhabi Ocean Racing for a promotional start out of Narragansett Bay.
Meanwhile, Neti Cuervas-Mons was celebrating his third call-up for a Volvo Ocean Race at the age of just 32 for the Spanish team after competing in the 2008-09 and 2011-12 editions.
A big change for him this time is that his responsibilities will go far beyond just sailing. "Besides being a key player in the team, he is also in charge of the mast and everything that 'goes up'. He will train the under 30 crew members and other members of the crew as well," said Fernández.
Trujillo, 38, from Cadiz is a four-time Olympian and won silver in Athens in 2004. Additionally, he has competed in the America's Cup but this is his first Volvo Ocean Race.
Frenchman 'Nico' Lunven, 31, is a well-known Brittany sailor having won the Solitaire du Figaro in 2009. He will be responsible for navigation for the Spanish team.
Said Fernández: "Nico is a very young sailor and a very talented navigator. In this edition we will have to push even harder because of the fact that we are sailing on one-design boats and the navigator's profile changes a bit.
"Besides Nico being ultimately responsible for the navigation, he is also another driver, another trimmer and in critical moments he can give a hand on deck."
Confirmed crew for Team Alvimedica
Charlie Enright, 29 (USA) – Skipper
Mark Towill, 25 (USA) – General Manager
Alberto Bolzan, 32 (ITA)
Nick Dana, 28 (USA)
Ryan Houston, 31 (NZL)
Will Oxley, 49 (AUS) – Navigator
David Swete, 30 (NZL)
Amory Ross, 30 (USA) – Onboard Reporter


Confirmed crew for the Spanish Team
Iker Martínez, 37 (ESP)
Xabi Fernández, 37 (ESP)
Nicolas Lunven, 31 (FRA) – navigator
Rafael Trujillo, 38 (ESP) – trimmer/driver
Antonio "Ñeti" Cuervas-Mons, 32 (ESP) – bowman
Share on Facebook