The local heroes on Xabi Fernàndez's MAPFRE were a popular winner in the first point scoring race of the Volvo Ocean Race.
Share on Facebook
 200 miles to go. After 9 months and nearly 40,000 miles
Dongfeng slenderest of leads over main rivals Brunel and Mapfre, but seems like it will not mean much this evening.
Caudrelier: "For us its easy to go from 3rd place to 5th place (overall), and also to come back to second. Everything can happen still"
The podium of the Volvo Ocean Race might just come down to a total lottery tonight as wind forecasts predict a difficult transition as Charles Caudrelier describes "from the current strong southerly winds that have carried Dongfeng up the North Sea, to some light easterly winds that will should get us to the finish line. Its going to be stressful".In between potentially little or no wind at all – during the early evening tonight in theory. The battleground will probably be between Hanstholm and Skagen, the two towns with a bay between them, that mark the northern tip of Denmark. But even now the compression is starting, from Yanndirect this morning "Still coming back from behind. Less than 4 miles, now. Nothing we can do about it. Not a nice feeling". More often than not in ocean racing, the rich get richer – but this time its not going to work like that. The guys (and girls) behind are going to sail on in pressure as the boats in front that worked so hard to grind out their leads, will stop in the transition zone between the old and new winds.The warm front moving from the UK east, that has been chasing the fleet since they left, is going to slow down and stall before it gets to them, at least at surface level. Higher up in the atmosphere its forecast to continue east – this differential between up high and at the surface, will provide the conditions for a new low to form, bringing new winds – but the transition could be long – and in the meantime somehow the boats have to get from the old to the new. This in effect should allow almost all, if not all, the backmarkers to sail straight to the front, with the leaders helpless.

It will be tragic if the entire race comes down to luck, but then this is part of ocean racing. Since Dong Feng means 'winds from the east bringing freshness and energy' and Aeolus being the Guardian of the Winds – on land we can only hope and pray to whatever Gods we believe in, that luck will be on our side, and that we will get the podium finish we deserve!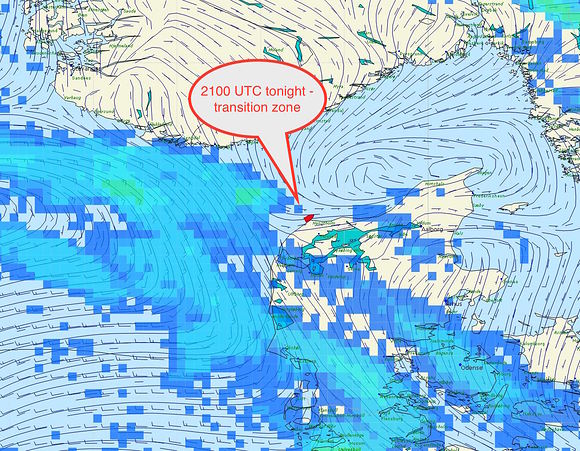 You can follow our story and interact with the team on all social media channels and our official website:Facebook: Click here
Twitter: Click here
Instagram: Click here
Weibo: Click here
WeChat: Click here
Youtube: Click here
YouKu: Click here
Official website: Click here
Share on Facebook
Skipper Sam Davies (GBR) and her Team SCA crew struck a resounding blow for women's offshore sailing in the early hours of Thursday morning when they gloriously clinched Leg 8 of the Volvo Ocean Race
Leg 8

DTL

(NM)

GAIN/LOSS

(NM)

DTF

(NM)

Speed

(kt)

SCA1
FIN – 03d 13h 11m 11s

VEST
FIN – 03d 13h 59m 38s

ADOR
0.3
10.9
3
11.1

MAPF
0.8
11.3
4
11.7

TBRU
1.8
11.5
5
12.4

ALVI
2.3
11.7
5
12.9

DFRT
5.5
11.7
8
13.2
Latest positions may be downloaded
from the race dashboard hereº MAPFRE given 2-point penalty Leg 5
Dongfeng Race Team, Team SCA & MAPFRE penalised Leg 7
– A resounding blow for women's offshore sailing
– Team Vestas Wind bounce back for second place
– Abu Dhabi Ocean Racing nearing overall trophy win
LORIENT, France, June 11 – Skipper Sam Davies (GBR) and her Team SCA crew struck a resounding blow for women's offshore sailing in the early hours of Thursday morning when they gloriously clinched Leg 8 of the Volvo Ocean Race.
The comfortable victory was the first leg win in offshore sailing's toughest challenge since Tracy Edwards' Maidenclinched two stage wins in Class D of the 1989-90 race, won overall by Sir Peter Blake's famous Steinlager2.
At least as satisfying for the first all-women's crew to enter the race in 12 years will be the opportunity to silence critics who suggested that they were looking outclassed in the current 12th edition by their experienced male rivals.
True, the Swedish entry had yet to win a podium place until now, but the crew has clearly improved leg after leg and many observers felt that a breakthrough performance was just around the corner.
The win was certainly no fluke in an upwind leg that tested seamanship to the full with an often heinous sea state and strong winds virtually throughout.
They grabbed the 647-nautical mile leg from Lisbon by the scruff of the neck on Monday, and strengthened that grip on Tuesday after taking an offshore course while most of their rivals hugged the Spanish and French coast approaching the Bay of Biscay.
It took them three days 13 hours 11 minutes and 11 seconds to grab their share of Race history.
"Thanks to everybody for all your support. It's not really sunk in yet," said a jubilant Davies. "It probably won't hit us until we hit the dock and we see there aren't any other boats there.
"It's a reward for all the hard work we have done. It's a great confidence booster. It's going to be huge for us. We've had a mountain to climb to get here."
Behind them, another fairy-tale was unfolding as Team Vestas Wind (Chris Nicholson/AUS) closed to a remarkable second-placed finish in their return to the race after six months out following a collision with an Indian Ocean reef on November 29 during Leg 2.
Nicholson had every reason for the huge smile on his face as he approached the port of Lorient following a near perfect race from Lisbon starting on Sunday.
He had simply hoped that his boat could negotiate the leg without mishap and be competitive – a high podium finish is almost beyond his wildest dreams.
"It's a very special moment," said the team's Onboard Reporter, Brian Carlin (IRL), simply.
Astern of the leading pair, third-placed Abu Dhabi Ocean Racing (Ian Walker/GBR) were nearing an ever bigger prize than the handsome silver leg trophy claimed by Team SCA.
They needed simply to finish ahead of their nearest overall pursuers in the standings,Team Brunel (Bouwe Bekking/NED) and Dongfeng Race Team (Charles Caudrelier/FRA), with a boat in between, to be all but be sure of winning the 12th edition of the Volvo Ocean Race.
As Team SCA passed the finish at 0211 UTC/0411 local time on Thursday, that prospect looked very much on with MAPFRE (Xabi Fernández/ESP) in fourth, Team Brunel fifth, and Team Alvimedica (Charlie Enright/USA) keeping Dongfeng Race Team at bay in the fight for sixth.
The boats will have a short maintenance period before Sunday's SCA In-Port Race here in Lorient, before the fleet set sail for Gothenburg via a much-awaited pit-stop in The Hague, on Tuesday, June 16.
It promises to be a period of considerable celebration for at least three crews of very, very happy sailors.
Share on Facebook
Team Brunel (Bouwe Bekking/NED) completed a triumphant Leg 7 early on Wednesday to bolster their hopes of finishing with a podium place in the Volvo Ocean Race and also keep alive their hopes of overall victory
Leg 7

DTL

(NM)

GAIN/LOSS

(NM)

DTF

(NM)

Speed

(kt)

TBRU
FIN – 09d 11h 09m 49s

MAPF
FIN – 09d 11h 31m 39s

ALVI
FIN – 09d 12h 50m 49s

DFRT
FIN – 09d 12h 51m 44s

ADOR
FIN – 09d 13h 24m 34s

SCA1
FIN – 09d 15h 32m 38s

VEST
Did Not Start
Latest positions may be downloaded
from the race dashboard here º MAPFRE given two-point penalty – read more
– Team Brunel edge home ahead in transatlantic leg
– MAPFRE chase them all the way into Lisbon
– Team Alvimedica beat Dongfeng in thrilling dogfight
– Team Vestas Wind are reunited with rest of the fleet
LISBON, Portugal, May 27 – Team Brunel (Bouwe Bekking/NED) completed a triumphant Leg 7 early on Wednesday to bolster their hopes of finishing with a podium place in the Volvo Ocean Race and also keep alive the possibility of overall victory.
The Dutch boat sailed a near faultless transatlantic stage, edging MAPFRE (Iker Martínez/ESP) into second, just under 22 minutes behind.
Behind them, Team Alvimedica (Charlie Enright/USA) edged out long-time leg leaders, Dongfeng Race Team (Charles Caudrelier/FRA), after an enthralling dogfight over the final miles.
The Chinese-backed boat was caught by Enright's crew in the early hours of Wednesday, but battled their way back and looked sure to overtake them again before a botched tack ruined their chances.
They lost out by just 55 seconds after nearly nine days and 13 hours of sailing across 2,800 nautical miles (nm).
With overall leaders Abu Dhabi Ocean Racing (Ian Walker/GBR) finishing fifth ahead of Team SCA (Sam Davies/GBR), the overall race standings are left finely poised.
The Emirati crew now have a five-point lead over Dongfeng Race Team with two short legs to sail, while Team Brunel are a point further adrift of Charles Caudrelier's crew.
Caudrelier made no attempt to hide his disappointment after leading the leg for so long and seeing a podium place disappear in the final miles.
"I'm feeling very bad, very upset and very sad," he summed up. "We deserved better, but I guess that's life.
"Most of all, I'm upset with myself because my crew did a great job and I made a huge mistake – and I don't accept mistakes. We really missed a chance in this leg with Abu Dhabi Ocean Racing finishing fifth."
Few sailors in the fleet will savour a win over one of the race's trademark legs more than Team Brunel's 51-year-old skipper, Bouwe Bekking, in his record-equalling seventh appearance.
He has certainly experienced the ups and downs of racing across the Atlantic. Few will forget the agonising position he faced in 2006 before he was finally forced to abandon his sinking movistar boat during the same stage of that Volvo Ocean Race.
Bekking insisted last week that he had not lost 'a single night's sleep' over the incident and the confident way that Team Brunel sailed the leg would bear that out.
Team Brunel were harried all the way over the past 24 hours by both MAPFRE and Dongfeng Race Team, especially over the final few miles when the breeze dropped to almost zero in the Tagus River as they approached the Lisbon finish.
"We sailed a tremendous leg but just at the end when there was no wind, it was getting a bit gnarly," said Bekking. "But we pulled it off."
The victory was achieved with two newcomers on board, Adam Minoprio (NZL) and Timo Hagoort (NED), the latter replacing the injured Gerd-Jan Poortman (NED).
"It was good to have those young guys on board, they did a fantastic job," added Bekking.
Team SCA crossed the line, some four hours and 22 minutes behind Team Brunel (see panel above), after an action-packed transatlantic leg in which they sailed within the pack for much of the nine days and at one stage threatened a podium finish after taking a bold strategic choice around the Azores High.
The final two stages, to Lorient (France) and then Gothenburg (Sweden) via a pit-stop in The Hague (Netherlands), will once again be contested by seven boats.
Team Vestas Wind (Chris Nicholson/AUS) rejoin the fleet for the first time since November 29 when the boat was grounded on a reef in the Indian Ocean.
After a four-month rebuild in the Persico boatyard in Bergamo, Italy, the boat was transported by sea and road to Lisbon, arriving a few hours before the rest of the fleet in the small hours of Wednesday morning.
Over the next few days, the rig will be stepped ahead of the Danish-backed team's competitive comeback on June 6 in the Lisbon In-Port Race. Leg 8 to Lorient, a relative sprint at 647nm, begins a day later.
The race concludes on June 27 with the In-Port Race in Gothenburg after nine months and 38,739nm of sailing, visiting 11 ports and every continent.
Current latest standings (low points wins, In-Port Race Series splits ties): 1) Abu Dhabi Ocean Racing 16 pts, 2) Dongfeng Race Team 21, 3) Team Brunel 22, 4) MAPFRE 26, 5) Team Alvimedica 27, 6) Team SCA 41, 7) Team Vestas Wind (Denmark) 52 (DNS).
Share on Facebook
Lanzarote, Spain – March 17, 2014 – Dee Caffari, the Briton who has made a career of setting new standards in female offshore sailing, has been recruited by Team SCA for their Volvo Ocean Race 2014-15 challenge.
The 41-year-old from Watford, England, has been named alongside Sara Hastreiter (USA) and Elodie-Jane Mettraux (SUI) as the latest squad members in the first all-women's team to compete in offshore sailing's premier professional test since 2001-02.
Caffari brings a wealth of experience to the campaign. She has competed in the Vendée Globe, the Global Challenge, the Barcelona World Race and four transatlantic races. She is the only woman to have sailed solo around the world in both directions (east about and west about) as well as being the only female to have sailed around the world three times non-stop.
On top of this, she holds the female-crewed monohull Round Britain and Ireland speed record, setting it in June 2009 in a team also including her new Team SCA crew mate Sam Davies with a time of six days, 11 hours and 30 minutes.
"I am most looking forward to being back on the race track around the world. The best part of this project is working with a great bunch of girls and all working together towards the same goal," she said.
Caffari, Hastreiter and Mettraux, whose sister Justine had already been recruited, bring the total of SCA crew members to 12 following an 18-month selection process.
The others are Sally Barkow (USA), Carolijn Brouwer (NED), Sophie Ciszek (AUS), Sam Davies (GBR), Abby Ehler (GBR), Stacey Jackson (AUS), Annie Lush (GBR), Justine Mettraux (SUI) and Liz Wardley (AUS).
Only 11 can sail with the other staying on shore as reserve. Mettraux, 29, who won the amateur ranking in the 2012 Tour de France a la Voile, is one of four under-30 members of the squad. Hastreiter, also 29, brings a wealth of offshore experience into the SCA line-up too, having sailed over 40,000 nautical miles during her career and many leading events in the States and the Caribbean.
The team is based in Lanzarote and is due to complete two transatlantic passages in May as they ramp up their training before the start of the Volvo Ocean Race on October 4 this year with the Alicante in-port race. The teams leave for the first leg destination of Cape Town on October 11.
Richard Brisius, managing director of Team SCA, said he was delighted with the way his team was shaping up. "It has been a long but very rewarding process and there is no doubt that there is a huge amount of female talent out there that has just not had the opportunity to break through the glass ceiling of offshore sailing," he said.
"We very much hope that this team will set the benchmark for women's offshore sailing and empower more able and talented female sailors to take part in this classic event."
Share on Facebook
Strong female entry in record breaking Rolex Fastnet Race   A key feature of this year's Rolex Fastnet Race will be the number of high profile women taking part, when the world's largest offshore race sets sail from Cowes on Sunday 11th August.   Yet again the Royal Ocean Racing Club's flagship event is breaking new records in terms of the size of its fleet with 372 boats entered at present. The biennial race from Cowes to the Fastnet Rock off southwest Ireland and back around the Scilly Isles to Plymouth, is now by far the biggest of all the international 600 mile offshore races.
The largest on the start line will be the 40m trimaran Spindrift 2, which as Maxi Banque Populaire in 2011 romped around the course in just 32 hours 48 minutes. As she was finishing most of the fleet had still to round Land's End en route to the Fastnet Rock. Since the last race, the fastest offshore boat in the world, which holds the record for the highest ever 24 hour run (908.2nm or 37.84 knots average) has been sold to the Franco-Swiss Spindrift racing team. Her new co-skippers are Yann Guichard and Dona Bertarelli, whose brother Ernesto Bertarelli twice won the America's Cup with his Alinghi team.   Spindrift is obviously gunning to beat the existing record of its new trimaran. However even with a good forecast this shouldn't be taken for granted.
"This race is a big challenge for me and for the Spindrift racing team as a whole, not only because of its historical importance, but for several other reasons," explains Bertarelli, who has spent the last years campaigning the D35 catamaran Ladycat in Switzerland. "The Rolex Fastnet Race will be my first offshore experience, but it will also be our first race with Spindrift 2. We are competitors and even though we will have had little time to train, to get to know the boat and build a strong sailing team, our objective remains to win."   Team SCA is competing in the Rolex Fastnet Race as part of the Swedish campaign's rigorous training regime and selection process to mount the Volvo Ocean Race's best ever all-female campaign. As part of their training regime, they typically sail their VO70 training boat – formerly Puma Ocean Racing's mar mostro – with their male coaches on board. For the Fastnet this will comprise multiple Volvo Ocean Race winner Brad Jackson, Joca Signorini and Spanish bowman Pepe Ribes. Among the British crew is Vendee Globe skipper Sam Davies and Olympic match racer Annie Lush, two of the five women already selected for the team.   For Davies this will be her fifth Rolex Fastnet Race, having last competed with Sidney Gavignet aboard the IMOCA 60 Artemis Ocean Racing in 2009. On board she is navigator although as she points out "we are all in the watch system, so I will be sailing and navigating."
Team SCA is at present one of four VO70s competing, up against the Ian Walker-skippered Abu Dhabi, which set a monohull course record in 2011, plus the former Team Russia and the latest entry, Camper, being campaigned by an Australian crew led by TP52 owner Jason van der Slot.
How do Team SCA expect to get on against Abu Dhabi? "We have done a lot more sailing, but we are missing the Volvo experience still. I'm sure their crew will be made up mostly of people who have done the race before."   Likely to finish between Team SCA and Spindrift 2 will be another Vendee Globe competitor, Dee Caffari.   For Caffari this will be her seventh Fastnet, her first having been as skipper of the Challenge boat Group 4 in 2001. In 2007, her IMOCA 60 Aviva had to pull out with a ripped mainsail and a very sick quadruple Olympic gold medallist Matthew Pinsent on board, while last year she received her multihull baptism, hitching a ride on Steve Ravussin's MOD70, Race for Water.   "I'd never done the race that quick before in my life, so I am really delighted I'm back on a MOD70," says Caffari, who this year joins Sidney Gavignet's team on Oman Air-Musandam.   As part of Oman Sail's continued efforts to develop women's sailing in the sultanate, Omani sailor Raya Al Habsi will also be competing on board. She has previously competed in Sailing Arabia-The Tour in 2012 and 2013, and is currently part of the all-female Oman Sail entry at the J/80 Worlds. "Raya has been with us from the beginning of the girls' offshore sailing," says Caffari. "She has been working the bow on the Farr 30 and has been cold, wet and beaten up and still continues to smile, which is a good characteristic to have for a tough environment, which the Fastnet is. This is big deal for Oman Sail and for Arab women in sport."   As to their prospects this year Oman Air-Musandam will be up against another MOD70 in the Seb Josse-skippered Edmond de Rothschild. Caffari remembers two years ago when they match raced another MOD70 Veolia Environnement for the entire race. "I am really looking forward to being back in that intensity again."   Some way behind the grand prix speedsters will be another all-female team led by Lucy Reynolds. While husband Christian Reynolds will be campaigning the Swan 53 Northern Child, Lucy has entered the First 40, Southern Child. "One of our regular crew asked if I'd be interested in doing an all-female campaign and I went 'why not?'" says Lucy of how this came about. The Reynolds run a charter company and the crew of Southern Child is mostly paying guests.
The crew of Southern Child, Lucy Reynolds' First 40 – Photo credit Corinna Halloran
"One of our crew has done the race before and another has done the ARC and various transatlantic and offshore passage, so it is a mixed level of experience, and we have a couple coming in from the States," says Lucy.   To date they have had a training weekend and competed in the RORC's Morgan Cup and have the St Malo and Channel Races ahead of them to build up their experience and qualification miles.   "It has been very enjoyable, everyone just growing and learning," explains Lucy for whom this will be her third Rolex Fastnet Race. "Quite often with female sailors, they do a task and they don't understand why they are doing it. So it has been a really enjoyable process empowering people to do things for themselves and understand why they are doing it."   At present there are six First 40s competing in IRC 2 and given that two, La Réponse and Lancelot 2 Logic finished just nine seconds apart on corrected time in the RORC's recent Morgan Cup, they can expect some close racing.
 About the Rolex Fastnet Regatta
Share on Facebook
Overall standings: Team AISM 1st, BAE Systems 2nd, EFG Bank (Monaco) 3rd – Short race leg brings drama in the dark for crews –
Dubai-based Team AISM has maintained the overall lead by claiming the fourth leg of the EFG Bank Sailing Arabia – The Tour following a night of drama for the world-class crews from around the world and the Gulf region competing between Dubai and northern Emirate Ras Al Khaimah.At only 53 miles up the coast from Dubai to Al Hamra is the second shortest leg on the bruising 15 day and 760 nautical mile EFG Bank Sailing Arabia – The Tour and should have been routine.  But due to Custom's procedures in Dubai taking longer than anticipated, the scheduled mid-morning start was delayed until 14:50, forcing crews to re-equip themselves and their boats ready for a night time finish.The result was a race of intense fighting in darkness with the wind ranging from zero to as much as 17 knots, with the boats reaching or sailing downwind with Bertrand Pace's overall leader, AISM, continually a nose ahead. Following AISM into Al Hamra were the youthful Team Messe Frankfurt led by Marcel Herrera and in third team BAE Systems.Yet the finishing order does little to tell of the drama that unfolded for the teams at around 20 miles out from the finish and an hour and a half after it turned dark. Just at a time when the boats were being pushed to limit sailing high under their big spinnakers, the fleet came across an area densely populated with fishing boats and their nets.
As Cedric Pouligny, skipper of BAE Systems described the high jump manoeuvre they had to perform each time they ran into a net: "Basically you went from 10 knots of speed to zero, then you had to broach and make even more heel before the boat could get off again." Broaching normally occurs when a boat is overpowered in a gust, the rudder loses control and the boat is forced over on its side, but was necessary on this occasion effectively to lift the keel over the net.Unfortunately the result on this leg was determined by those who got through the fishing nets the fastest.
Speaking following another action-packed leg and night of drama Issa Al Ismaili, Director of Events at the race's organiser Oman Sail said:"Firstly congratulations to team ASIM who continue to prove best equipped to deal with every challenge the EFG Bank Sailing Arabia – The Tour offers including on this occasion fishing nets. Obviously such a test at night was not planned for. But that is sailing and this world-class regatta is having to overcome unique challenges on every single leg. Even this leg to Al Hamra at only 53 miles, the second shortest on the race schedules has pushed crews to face the unknown. We're delighted all have made it safely to Ras Al Khaimah and our preparing themselves for the next round of in-port racing." After their disappointing result on the Abu Dhabi to Dubai leg yesterday, Marcel Herrera's University of Plymouth team on Messe Frankfurt had managed to get back in with the lead trio and were into fourth place when they encountered the nets. "I think we hit eight fishing nets – along with every other boat, but the other boats seemed to broach a bit more when they hit them," said Herrera. "We ploughed through them and managed to get a good technique going so that we didn't get caught."Because of this Messe Frankfurt emerged in second place and as the wind dropped subsequently they were closing on first placed AISM  as they crossed the finish line at 21:49 (local time), three and a half minutes after Pace's team. "It makes up for yesterday," said Herrera.AISM crewman Benoit Briand said that through the day their speed was good and being ahead they had been able to control their opponents before they encountered the fishing nets. "We were lucky that we got over them quite easily, our keel seemed to pass over the nets."
The AISM team was also pleased that Messe Frankfurt came home second as it puts more distance between themselves and second placed BAE Systems in the overall results. "Bertrand is going to be even more difficult to beat. He is going to be hard to catch," admitted BAE Systems skipper Cedric Pouligny.One of the most dramatic moments occurred when team BAE Systems and EFG Bank (Monaco) got caught on the same fishing net at the same time and started to get drawn into the middle of the net so that at one point they came very close to colliding, only 2m apart.
Mohsin al Busaidi's Renaissance came home in fifth place. The Omani skipper, the first sailor from the Middle East to sail non-stop around the world, reckoned that his team had hit maybe seven nets. "We got stuck in the first one. It was a surprise because we were all together and only two boats got stuck and other boats got through." Al Busaidi's solution was speed: "If you are going more than 10 knots you can pass it. We stopped once for three or four minutes and at other times we were slowed down from 10 knots to 5 and then we were off again. Fortunately Mohammed in our team is a fisherman…"
Most disappointed last night when they got in was Dee Caffari's women's team on Al-Thuraya Bank Muscat and Kay Heemskerk's Dutch team on TU Delft. Having been caught in nets and then further suffering after the wind went light, they finished outside of the time limit and have been scored 'TLE' (time limit expired) or seven points for this leg."It was disappointing that we didn't get to start until five hours late and then to sail through miles of fishing nets in the dark," said Al-Thuraya Bank Muscat's Liz Bayliss, one of two Americans in the all-female team that also includes four Omanis.Their race effectively came to a grinding halt when they got entangled in a fishing net and remained that way for more than an hour. "We hit something and then we got stuck – the fishing boat finally came over to us and cut the net but retrieved both ends of it. There were nets everywhere," Bayliss continued.
After the late finish the two in-port races are being held today off Al Hamra with the first start attended by H.H Sheikh Mohammed bin Saud Al Qasimi, Crown prince of RAK and commencing at 11.00am. 
Competing aboard identical Farr 30 yachts, the EFG Bank Sailing Arabia – The Tour has attracted nine crews representing five different nations, led locally by Oman's Team Renaissance, Royal Navy of Oman, Team BAE Systems and the all – female Team Al-Thuraya Bank Muscat. Two teams will compete on behalf of the UAE, Team Abu Dhabi and Team AISM. International crews include EFG Bank (Monaco), Team Delft Challenge – TU Delft (Holland) and the Team Messe Frankfurt (EU).
Taking in four countries and eight ports of call, EFG Bank Sailing Arabia – The Tour is a showcase of everything that the Gulf has to offer in terms of state-of-the-art facilities and idyllic sailing conditions Leaving Manama on February 10th, EFG Bank Sailing Arabia – The Tour calls at Doha, Abu Dhabi, Dubai, Ras Al Khaimah, Dibba and Mussanah and ends February 25th in Muscat.  The racing will include in-port racing at selected locations
Share on Facebook
After a grueling 52-hour selection process, seven British sailors from the 16 participating in the Artemis Offshore Academy Selection Trials have now been recruited to join the Development Squad.  They are Ollie Bond (31, Hamble), Henry Bomby (20, Kingswear), Aaron Cooper (22, Southampton), Robert Gullan (25, Southampton), Lizzy Foreman (21, Worcester Park), Robin Elsey (19, Turo), Sam Matson (20, Ottery St Mary).
The annual Selection Trials were staged from 26th September to 2nd October, at Wokefield Park and the Weymouth and Portland National Sailing Academy.  Sixteen hopefuls were split into two groups for 52-hours of intense challenges to identify those who had the potential to be a first class short-handed sailor. "It was a difficult decision as we are not only looking for sailors with extraordinary talent, potential and commitment, but they also have to be at the right stage of their career to benefit from the Academy training programme," explained Rod Carr, ex-CEO of the Royal Yachting Association, who leads the Artemis Offshore Academy Advisory Board. "The Artemis Offshore Academy has a similar structure to the successful RYA Olympic Sailing programmes and has started to show signs of success with 2011 graduates Phil Sharp finishing in 18th place in the Solitaire du Figaro, the highest placed finish for a British sailor in the history of the race, and Sam Goodchild who will be making his debut in the grueling double-handed Transat Jacques Vabre transatlantic race."
The judges, who included record-breaking round the world yachtswoman Dee Caffari, were looking for candidates with good racing skills and the ability to perform under pressure. Physical fitness, mental strength and their ability to manage their sleep and food intake were key factors in their assessment, as well as their overall potential to succeed in short-handed racing. It was a tough programme with the candidates, on average, only managing 4.5 hours sleep in total over the two and a half days. "I was really impressed with how hard these guys have worked," said Caffari. "If I think back to when I started, I spent years acquiring all the facets of what it takes to make a solo offshore sailor and the Artemis Offshore Academy are offering it in one programme. It's an amazing opportunity and I would have loved to have signed up back when I started!"

2011 – 2012 Development Squad* with John Thorn © Lloyd Images
Aaran Cooper, Ollie Bond and Henry Bomby will join the Development Squad from the end of the month. They begin their training at the specialist Figaro training facility, the Centre d'Entrainement Mediterranée in La Grande Motte, in France. Cooper is delighted to have been selected for the new Development Squad: "It was a real heart in mouth moment when I was told I was selected. I realised I was going to be part of the team and would have some fantastic opportunities ahead of me," said Cooper. "It's a real step on the ladder towards progressing my solo sailing towards the ultimate goal of racing in a Vendée Globe."
Part of the Development Squad programme has been adapted for the new Squad members who are currently attending University: "To be given the opportunity to join the squad and train with the Artemis Offshore Academy around my studies means that I can finish my university degree whilst working towards my long-term goal which is a fantastic opportunity," commented Lizzy Foreman.  Foreman, Robert Gullan, Robin Elsey and Sam Matson will be on an 18-month training programme with an aim to be ready to race in the Mini Class or Figaro Circuit in 2013.

The new Squad on Figaro 23 © Lloyd Images
The candidates who attended the Selection Trials ranged from a solo round-the-world sailor to dinghy sailors, match racers to crewed keelboat racers. The judges had to make the tough decision on who would make it through. John Thorn, Performance Director explains: "We saw a diverse group of sailors with very mixed backgrounds. Some sailors excelled in certain areas but still need to develop skills in weaker areas, and with feedback from us we hope those unsuccessful applicants will spend the next year furthering their knowledge with some guidance from us before re-applying next year."
The Development Squad will be training this winter in the south of France. All the sailors will be training together as a team, as well as working on their own tailor-made programmes. The sailors will undergo training not only in racing but also meteorology, navigation, onboard systems, boat maintenance, sponsorship procurement, French language and fitness. Once individual needs have been assessed, a more detailed plan will be released, including details of the 2012 racing programme.
Meet the 2011-2012 Development Squad here.
Share on Facebook