MAPFRE takes a close win over team AkzoNobel and Dongfeng Race Team in Brazil In Port Race, while SHK/Scallywag race the clock to be on the start line on Sunday…
Itajai stopover.In-port Race. 20 April
Pedro Martinez/Volvo Ocean Race
The Spanish team MAPFRE won the Itajaí In-Port Race on Friday in Brazil, after battling with team AkzoNobel for the lead on the first of three laps of the race course.
A large spectator fleet was on hand to watch the racing in a moderate 10 knot sea breeze and after taking the lead on the first downwind leg, MAPFRE protected well the rest of the way.
The win allows skipper Xabi Fernández and his team to extend their advantage in the In-Port Race Series over Dongfeng Race Team who finished in third place on Friday.
"It was a good race for us today, right from the start, but the key for us was being able to pass AkzoNobel on the first downwind," Fernández said. "From there we could stretch.
"Being the series leader is always good. We know how tight the overall race leaderboard is where we're just one point behind Dongfeng, so this could be important at the end of the race and for that we are happy today."
Team AkzoNobel was a close second place in Itajaí, which secures their third place position on the series leaderboard.
"When we looked at the conditions and the race course today we knew the start would be critical and we had a very good start with pace," skipper Simeon Tienpont said. "But MAPFRE did a really good job. We were waiting for them to make a mistake but they did the best race today and we're very happy with second place."
Dongfeng Race Team was also content with a podium result.
"We didn't have a good start but we were able to use the mistakes of the others to get back near the leaders," skipper Charles Caudrelier said. "We sailed the rest of the race well but there was not so much opportunity."
Turn the Tide on Plastic scored their best finish of the series with a fourth place result and has moved off the bottom of the series leaderboard.
Team Brunel had a promising start on Friday but was undone by a sail handling error at the top mark, which dropped them from challenging for the lead to battling with Vestas 11th Hour Racing at the back of the fleet.
Team SHK/Scallywag didn't take the start on Friday, with the boat still out of the water being prepared to take the start of Leg 8 on Sunday. It's a race against the clock to get the boat ready in time.
Earlier, at the skippers' press conference, Scallywag's David Witt spoke poignantly about the loss of his friend and teammate John Fisher:
"We started together 12 years ago and he was always the first guy picked… the biggest compliment I could give John is that he was the best team player I've ever seen. He put everyone else first.
"For me, he was my best mate. Sunday will be a bit weird – it will be the first time I've gone to sea without him in 12 years…
"But we've had amazing support from within the Volvo Ocean Race family. The character of the people in this race has been exemplified by the way we've been supported by the other competitors in this race… I'm sure John would be very proud about that.
"The best thing we can do in John's memory is get on with the job on Sunday… If he was standing behind be right now he'd be telling me to harden up and get on with it and that's what we're going to do on Sunday."
Leg 8 of the Volvo Ocean Race, from Itajaí, Brazil to Newport, Rhode Island, starts on Sunday 22 April.
Itajaí In-Port Race — Results
1. MAPFRE – 7 points
2. Team AkzoNobel – 6 points
3. Dongfeng Race Team – 5 points
4. Turn the Tide on Plastic – 4 points
5. Team Brunel – 3 points
6. Vestas 11th Hour Racing – 2 points
7. Team SHK/Scallywag – did not start
Current Volvo Ocean Race In-Port Race Series Leaderboard
1. MAPFRE – 44 points
2. Dongfeng Race Team – 39 points
3. team AkzoNobel – 33 points
4. Team Brunel – 29 points
5. Vestas 11th Hour Racing – 18 points
6. Turn the Tide on Plastic – 15 points
7. Sun Hung Kai / Scallywag – 15 points
Share on Facebook
March 10, 2018 02:00 UTC
Written by Peter Rusch
Dongfeng Race Team earned a spectacular come from behind win on Saturday afternoon in New Zealand
Dongfeng Race Team showed great concentration and resilience in winning the New Zealand Herald In Port Race in Auckland, New Zealand on Saturday.
Conditions were extremely light, shifty and patchy on the Waitematā Harbour, making for plenty of lead changes over the course of the one hour race.
Team AkzoNobel finished in second place, while early leaders MAPFRE completed the podium to retain the overall lead in the In Port Race Series.
"It was very tricky, very difficult," said Dongfeng skipper Charles Caudrelier following the race. "We had a terrible start but there was so much happening during the first leg that it wasn't always good to be in the lead as you just showed the others where the light spots were. We were able to pick up on that and sail around the leaders.
"We worked hard on our speed, and managed to come back slowly."
The race started in spectacular fashion, considering how light the wind was. MAPFRE positioned well to leeward of the fleet, was first across the line, with David Witt's Scallywag barging through with speed ahead of a big group clustered near the pin end.
But in fact, it was Team Brunel who were causing the pile-up at the pin, forcing three boats outside of the start line, with Dongfeng, Turn the Tide on Plastic and team AkzoNobel all required to re-start well behind the leaders.
That left MAPFRE and Scallywag as the early leaders, charging up what appeared to be a one-tack leg.
But as they approached the top third of the leg, the wind died, and the trailing boats were able to sail around the leading pair on both sides, with AkzoNobel and Vestas 11th Hour Racing squeezing through just ahead of Dongfeng Race Team and Brunel Sailing.
On the nominally downwind second leg, AkzoNobel and Dongfeng found a vein of pressure to grab the lead, and on a shortened two-lap course, it was Dongfeng who were able to ease ahead and hold on for the win.
"It was a good team win," said Caudrelier. "Very good for the mood of the team."
The results mean MAPFRE retains the overall lead in the series, with Dongfeng reducing the gap to second place and team AkzoNobel leapfrogging Brunel to take third.

Current Volvo Ocean Race In-Port Race Series Leaderboard
1. MAPFRE – 37 points
2. Dongfeng Race Team – 34 points
3. team AkzoNobel – 27 points
4. Team Brunel – 26 points
5. Vestas 11th Hour Racing – 18 points
6. Sun Hung Kai / Scallywag – 15 points
7. Turn the Tide on Plastic – 11 points
#volvooceanrace #dongfeng #auckland #inport
Share on Facebook
Team AkzoNobel took the win in the HGC In-Port Race Hong Kong on a challenging afternoon on the waters of Kowloon Bay.
The wind during race time was a 6 to 10 knot Easterly, but it was very shifty and puffy, and with a tidal current running on the race course, it was a difficult day for the tacticians.
"We had a fantastic race, pretty exciting. We planned to sail our own race today. It was tricky enough with the tide and the windshifts," said team AkzoNobel skipper Simeon Tienpont.
"The team sailed an unbelievable race and the guys in the back of the boat played the tactics very well… It's good when things come together. It's a nice reward for all the effort the team has put in."
Dongfeng Race Team finished in second place, with Team Brunel third. The two swapped places on the third lap of the course after a solid upwind leg by Brunel gave them the lead, but the Dongfeng crew fought back on the run to secure second place.
A fourth place finish on Saturday by the series leader MAPFRE means Dongfeng vaults to the top of the table.
But it's a tight leaderboard and it could compress further following Sunday's Around Hong Kong Island Race, when results of the weekend of racing will be combined to assign the points from this stopover.
Hong Kong's hometown heroes Sun Hung Kai/Scallywag had a fantastic start, but fell back and battled to a fifth place finish over Turn the Tide on Plastic on Saturday. Both teams will be determined to move up with a better result on Sunday.
The Around Hong Kong Island Race is scheduled to start at 11:30am local time in Hong Kong (0330 UTC). There will be live coverage of the start and finish of Sunday's race on www.volvooceanrace.com, on Facebook and Twitter @volvooceanrace. Fans will be able to follow the full race on the tracker via www.volvooceanrace.com.
Vestas 11th Hour Racing will not race this weekend or on Leg 5 to Guangzhou next week as the team coordinates repairs to its boat – see more here.
Current Volvo Ocean Race In-Port Race leaderboard 
Dongfeng Race Team – 24 points
MAPFRE – 23 points
team AkzoNobel – 18 points
Team Brunel – 18 points
Vestas 11th Hour Racing – 12 points
Sun Hung Kai / Scallywag – 9 points
Turn the Tide on Plastic – 7 points
*** Note: The above leaderboard reflects full points assigned from Saturday's HGC In-Port Race Hong Kong. On Sunday, the results of the Around Hong Kong Island race will be combined with Saturday's HGC In-Port Race to award the overall leader from this weekend's racing a maximum of seven points from Hong Kong.
Share on Facebook
The Volvo Ocean Race can confirm Vestas 11th Hour Racing, one of the teams competing in the 2017-18 race, has been involved in a collision with a non-race vessel before the finish of Leg 4, near Hong Kong.
The team has retired from Leg 4 and is proceeding to Hong Kong unassisted and under its own power.
Race Control at Volvo Ocean Race headquarters was informed of the collision by the team moments after it happened at approximately 17:23 UTC on Friday January 19, 2018 (01:23 local time on Saturday morning).
The Vestas 11th Hour Racing team issued a Mayday distress call on behalf of the other vessel, alerting the Hong Kong Marine Rescue Coordination Centre (HKMRCC) and undertook a search and rescue mission.
HKMRCC has informed Race Control that a commercial vessel in the area was able to rescue nine of the crew and that a tenth crew member was taken by helicopter to hospital.
All of the crew on Vestas 11th Hour Racing are safe. Their boat suffered damage and the team has officially retired from the leg, but the team is able to motor to shore.
The Volvo Ocean Race is deeply saddened to inform that the collision between Vestas 11th Hour Racing, a team competing in the Volvo Ocean Race 2017-18, and a fishing vessel has resulted in a fatality of a crew of the fishing vessel.
On behalf of the Volvo Ocean Race and Vestas 11th Hour Racing, we offer our deepest condolences to the loved ones of the deceased.
The incident occurred approximately 30 miles from the finish of Leg 4, outside of Hong Kong waters. Race Control at Volvo Ocean Race headquarters was informed of the collision by the team moments after it happened at approximately 17:23 UTC on Friday January 19, 2018 (01:23 local time on Saturday morning).
The Vestas 11th Hour Racing team, none of whom were injured in the collision, issued a Mayday distress call on behalf of the other vessel, alerting the Hong Kong Marine Rescue Coordination Centre (HKMRCC) and undertook a search and rescue mission.
HKMRCC informed Race Control that a commercial vessel in the area was able to rescue nine of the crew and that a tenth crew member was taken by helicopter to hospital. HKMRCC has since confirmed the death of the air-lifted crew member.
Volvo Ocean Race and Vestas 11th Hour Racing are now focused on providing immediate support to those affected by this incident.
All involved organisations are co-operating with the authorities and are fully supporting the ongoing investigation.
Share on Facebook
François Gabart and the crew on MACIF win THE BRIDGE 2017 Ultime Trimarans – Centennial Transat race as they crossed under the The Verrazano-Narrows Bridge on July 3rd at 13:31 EST. The crew consisting of François Gabart – skipper, Pascal Bidégorry, Guillaume Combescure, Antoine Gautier, Benoît Marie and Yann Riou. They crossed in 8 days, 31 minutes and 20 seconds. The boat crossed the atlantic averaging 18.6 kts.
The race pitted the Queen Mary 2 against four Ultime trimarans skippered by some of the greatest names in Ocean Racing. François Gabart – MACIF, Francis Joyon – IDEC SPORT, Thomas Coville – Sodebo Ultime and Yves Le Blévec – ACTUAL.
They left Saint-Nazaire on June 25th UTC for the 3068.4 nm transat. The trimaran skippers faced headwinds during much of their race as a result they raced a longer race in terms of actual miles than the Queen Mary 2. They also had some areas of very calm winds reducing their boat speed.
The QM2 could follow a more or less straight line to the finish minus the exclusion zones for ice formations and Cetaceans. The Queen Mary 2 did stray into the ice exclusion zone for a short time before correcting causing them a penalty.
IDEC SPORT, skippered by Francis Joyon placed 2nd when they crossed under the Verrazano-Narrows Bridge at 8 days 11 hours 9 minutes 3seconds. The crew covered this transat with an average of 17.2 kts of speed. We spoke to Francis Joyon following his arrival in New York and he said he plans to head back across the atlantic solo on Friday July 7th on IDEC SPORT. He stated this will be the first time he has a chance to sail IDEC SPORT solo and he wants to take this opportunity to get to know his boat without crew. 17.2 kts average speed.
Sodebo Ultime crossed 3rd despite having an injured crewman on Tuesday, July 4 at 05:18:55 EST. Just 50 miles behind IDEC SPORT. They completed the race in 8 days,16 hours,18 minutes, 55 seconds with a 17.04 kts average speed.
Thomas Coville, the current round the world solo record holder, was in good spirits after arrival and was happy with the time they made coming in as they passed the Statue of Liberty right after dawn. They were able to complete the race without evacuating the injured Thierry Briend until they passed the finish. He was then transferred to a RIB and taken for medical attention as a precaution.
Coville commented on dealing with his injured friend and crewmate after arriving at the Atlantic Boat Basin ""We were all very worried when Thierry had his problem," Colville said. "I'm not going to discuss the whole race through this, but it really did affect us. He was knocked flat on his back and then the other way, face first onto a winch. He was incoherent for a few hours and couldn't remember what had happened. The doctor said evacuating him from the boat wasn't the right thing to do because it was best to keep him out of the elements. You need to have a very professional crew running the boat, so that when you have an injury, like Thierry had, you can manage it properly. We managed to race the boat to the finish and the situation with Thierry at the same time."
ACTUAL finish off the race and concluded the race when they arrived in New York on July 5th, at 10.28 pm and 58 seconds. They arrived in the night with spotlights highlighting the crew and boat against the Statue of Liberty as they passed.
The event concluded for the Ultime Trimarans with the award ceremony at the New York Yacht Club in Manhattan on July 6, 2017.
Although the rest of the MACIF was on hand for the ceremony and to accept the award. François Gabart had to appear via live video because he had to return to France where his wife is expecting a baby at any time.
The event concluded for the Ultime Trimarans with the award ceremony at the New York Yacht Club in Manhattan on July 6, 2017.
Crew of IDEC SPORT
Francis Joyon
Alex Pella (ESP)
Sébastien Audigane
Gwénola Gahinet
Clément Surtel
Quentin Ponroy
Crew of ACUTAL
Yves Le Blévec
Samantha Davies
Jean-Baptiste Le Vaillant
Davy Beaudart
Stanislas Thuret
Crew of Sodebo Ultime
Thomas Coville
Jean-Luc Nélias
Vincent Riou
Billy Besson
Loïc Le Mignon
Thierry Briend
Crew of MACIF
François Gabart
Pascal Bidégorry
Guillaume Combescure
Antoine Gautier
Benoît Marie
Yann Riou
Visit THE BRIDGE 2017 for more Information and Statistics about the Maxi Trimarans Race
Share on Facebook
The Queen Mary 2 left France on July 25th UTC amid great fanfare and crowds who gathered to watch the spectacle of this first of it's kind race. This event is celebrating a century of friendship and unity between France and America. The event commemorated the centennial of the United States entering World War I to fight with the allies and end the conflict. On June 26, 1917 the first Americans landed in Saint-Nazaire, France. Along with those Americans came jazz music and basketball. Therefore it was appropriate that these were incorporated in THE BRIDGE 2017 when the events were organized.
The race pitted the Queen Mary 2 against four Ultime Trimarans skippered by some of the greatest names in Ocean Racing. Francis Joyon – IDEC SPORT, Thomas Coville – Sodebo Ultime, François Gabart – MACIF, and Yves Le Blévec – ACTUAL.
The Queen Mary beat out the competitors finishing in July 1st. She made the crossing in 5 days, 15 hours and 45 minutes. Her average speed for the crossing was 22.7 kts.
The Queen Mary 2 ended her race to New York as she crossed the finish at the Verrazano-Narrows Bridge at 5:00 am local time.  After crossing she passed the Statue of Liberty and did a circle in front of it as New York Fireboat saluted her with a spray in the morning light.
The Queen Mary 2 has its thirteen passenger decks, the Queen Mary 2 is the largest, longest, tallest, widest, and most expensive passenger ship of all time. The 1,132 foot ship has a top speed of 29 knots and is so stable it a bit like being in a luxury hotel on the water. Her sweeping 2nd deck covered in wood runs the entire length of the ship with an uninterrupted view that runs from bow to stern. She is reminiscent of the golden age of cruising the oceans when the getting there was an event in itself. There are beautiful and elegant restaurants. Before the modern neon, water slide laden, running track and glitz liners so common in ports all over the world. This ship brings back the elegant grandeur of a time of elegance in travel. There is a feeling of going back in time as you step aboard and take in the grand lobby and halls lined with relief sculptures. She recently underwent a total refit so everything is sparkling and fresh onboard.
There are many cabins to choose  from including the opulent duplex Buckingham Suite at the stern the spanned deck 9 and 10 with a private viewing deck on the stern.
During her crossing the passengers were treated to the well known jazz singers and musicians. Archie Shepp performed with his saxophone.  Also performing during the festival ain onboard was Natalie Dessay. The festival of Jazz began with concerts Nantes, Saint-Nazaire, continued on the ocean, and will conclude with a concert in New York City at the Central Park SummerStage Festival on July 1, 2017. Bringing the events full circle from it's origins in the United States to France and a century later back New York City.
There were other aspects to THE BRIDGE as well. Personal bridges and bonds made. Anna Boissier, a passenger on the ship, decided to take part in the cruise after finding out the link between herself and France in her own family history.
She was a American from Pennsylvania who married a Frenchman and moved to France twenty one years ago. She began investigating her own roots and found seven generations ago on her father's side of the family a man named Lorenz Sandmanm, who came from the Baden region in Germany was in her family tree. He sailed on a ship to America 1752.   The name Sandmann through time became Sentman.  One of the Sentmans was Eli who  joined the CO B303 Bn Tank Corps on May 3, 1918 during World War I. He trained and travelled across the atlantic with the American forces to a tank base in England. Eli was then sent to Neuvy-Pailloux, France later that year. He was stationed in France during the winter of 1919 before leaving the army and returning to america that spring.
After the war he started an automobile dealership in Philadelphia where Boissier's grandfather worked as well. Their family continues to live in Pennsylvania with the exception of Bossier who has been in France for 21 years. This trip is especially exciting for her as she is set to meet her cousin Eli Sentman V in New York before the ship sails back to France.  This trip was a bridge for Anna and her family as well. She will have a new connection in America that she would never had if she hadn't began building bridges of her own. Now Anna will have family memories for her and her husband to take back to France.
THE BRIDGE 2017 was not only a race. On the ship were business representatives in the 100 CLUB who chartered the ship to participate in the race against the Ultime trimarans in the transatlantic race. The 100 CLUB was established with the launch of the race in September of 2016 by Tony Parker, a sponsor of the bridge. There were 150 companies represented on board the QM2 to take place in 8 days of conferences and exchange of ideas mixed in with time to unwind in the middle of the Atlantic and let their creative minds collaborate on new ways to work together. This time allowed them uninterrupted opportunities to make contacts for the future in the ever changing world of business in the 21st century and it's abundance of new business opportunities. It was a mix of small, medium and large companies all looking toward the future and how to best adjust and adapt going forward in a changing world. Allowing them to form bonds and alliances with each other that will last well past this transatlantic crossing. It just happened to take place on board one of the most majestic ships today on one the world's greatest oceans, far from land and daily distractions.
The FIBA 3×3 World Cup 2017 Basketball portion of THE BRIDGE was ongoing in France with 40 teams from 36 countries competing at the Parc des Chantires. The winners were Serbia in 1st place, Netherlands in 2nd and France took 3rd.
"I've always looked at sailing as a way of building bridges," Damien Grimont, the founder and organizer, said. "Here, we brought the worlds of jazz, basketball, and business together to remember this 100 years and this race has been an amazing bridge between all of them. "The Queen Mary 2 was the biggest thing because it was so important to the lives of so many people, particularly in Saint-Nazaire (where she was built). There are such emotional ties and such energy from that boat; 100,000 people worked on it and four million hours of human labor went into its construction."
This was the first edition of THE BRIDGE. It's the hope of many that this becomes a tradition of bringing together the brightest minds in business with the top racers in the sailing circuit for an event that will grow with each edition.
The 150 companies participating in the 100 club were as follows:
4 MOD – 727 SAILBAGS – AAERON FRANCE – ACT.ALARM – ACTUAL – ADENINE – ADRIEN STRATÉGIE AID – AIR FRANCE – ALAIN CHARTIER – AMP – APRIL MOTO – ARIES ALLIANCE – ARMETON – ATELIER DES TENDANCES – ATLANTIQUE EXPANSION ERB – ATLOC – ATOL – AVOLENS – AXO- BERJAC -BIG SUCCESS – C3P – CDII – CABINET MOITIER ET CARRIÈRE – CANAPÉS DUVIVIER – CAPACITÉS CAPVISIO – CAZENOVE ARCHITECTURE – CELENCIA – CFLC GROUPE (CRLC – ATLANTIC SOL) – CHÂTEAU DES TOURELLES – CIC – CLEAR CHANNEL – CLUB APM MAYENNE – CM-CIC INVESTISSEMENT -C.M.R – COLBERT ASSURANCE – COLBERT PATRIMOINE ET FINANCE – CORNET VINCENT SEGUREL AVOCATS – CREATIC EMBALL SERVICES – DANTES YACHTS – DELOITTE – DOCUWORLD GROUP – DOLMEN -DURET IMMOBILIER – ENVOLIIS – EUROPCAR – EXCELIUM – EY – FICAMEX – FINANCIÈRE CONSEIL -GALÉO – GELENCSER – GÉNICADO – GESTAL – GIL TURPEAU ENTREPRISES – GOSSELIN DESIGN & DIGITAL – GROUPE COUPECHOUX – GROUPE DUBREUIL – GROUPE GRUAU – GROUPE IDYL'AUTO – GROUPE LE DUFF -GROUPE LEGENDRE – GROUPE LUCAS – GROUPE MOUSSET – GROUPE RIDEAU – GUESNEAU SERVICES -GYMGLISH – HARMONIE MUTUELLE – HERIGE – HISI – HLP AUDIT – HOFIA – IDÉA – IJINUS – INTERACTION INTERIM – INTUITI – KPMG – LA MAISON HEBEL – LAUDESCHER INDUSTRIE – LAUDREN ATLANTIQUE – LE CONSERVATEUR – LEROY MERLIN – LINER COMMUNICATION – LOCARMOR LOGISTIC SOLUTIONS – LUCAS G – MAINDRON – MANHATTAN ASSOCIATES – MCDONALD'S OLONNE-SUR-MER – MÉTIER INTERIM & CD – MITIS – MNM CONSULTING – MSTREAM – MULTIPLAST – NANTES SAINT-NAZAIRE DÉVELOPPEMENT – NAP – NEOVIVO – NOUVEL OUEST – OCF – ORATIO – OUEST COUVERTURE ÉNERGIE – OUEST-FRANCE – PAEONIA – PATRICK GELENSCER -PLAST'IC ENTREPRISES – PRÉFA TECHNICOF – PROTECT'HOMS – QUADRA CONSULTANTS – REALITES – RÉAUTÉ CHOCOLAT – REGARD 9 – RH-INC – SÉCHÉ ENVIRONNEMENT – SEGASEL – SÉMÉNIA – SFCMM -SIMAB – SIPAC ASSURANCES – SAS RABAS – SODEBO – SOFAGEM – STREGO – SUPER U VERTOU -SYD CONSEILS – TEAM PLASTIQUE – TEGRALIS – TIBCO – TGS AUDIT – TGS AVOCATS – THÉÂTRE 100 NOMS -THE LINKS – TRANSPORTS VÉZO – TRANSVERSALES – TRI OUEST – VALPG PÔLE GRAPHIQUE EPA -VD COM – VERTAL – VYP
For more information and facts about the race visit THE BRIDGE 2017
Share on Facebook
 200 miles to go. After 9 months and nearly 40,000 miles
Dongfeng slenderest of leads over main rivals Brunel and Mapfre, but seems like it will not mean much this evening.
Caudrelier: "For us its easy to go from 3rd place to 5th place (overall), and also to come back to second. Everything can happen still"
The podium of the Volvo Ocean Race might just come down to a total lottery tonight as wind forecasts predict a difficult transition as Charles Caudrelier describes "from the current strong southerly winds that have carried Dongfeng up the North Sea, to some light easterly winds that will should get us to the finish line. Its going to be stressful".In between potentially little or no wind at all – during the early evening tonight in theory. The battleground will probably be between Hanstholm and Skagen, the two towns with a bay between them, that mark the northern tip of Denmark. But even now the compression is starting, from Yanndirect this morning "Still coming back from behind. Less than 4 miles, now. Nothing we can do about it. Not a nice feeling". More often than not in ocean racing, the rich get richer – but this time its not going to work like that. The guys (and girls) behind are going to sail on in pressure as the boats in front that worked so hard to grind out their leads, will stop in the transition zone between the old and new winds.The warm front moving from the UK east, that has been chasing the fleet since they left, is going to slow down and stall before it gets to them, at least at surface level. Higher up in the atmosphere its forecast to continue east – this differential between up high and at the surface, will provide the conditions for a new low to form, bringing new winds – but the transition could be long – and in the meantime somehow the boats have to get from the old to the new. This in effect should allow almost all, if not all, the backmarkers to sail straight to the front, with the leaders helpless.

It will be tragic if the entire race comes down to luck, but then this is part of ocean racing. Since Dong Feng means 'winds from the east bringing freshness and energy' and Aeolus being the Guardian of the Winds – on land we can only hope and pray to whatever Gods we believe in, that luck will be on our side, and that we will get the podium finish we deserve!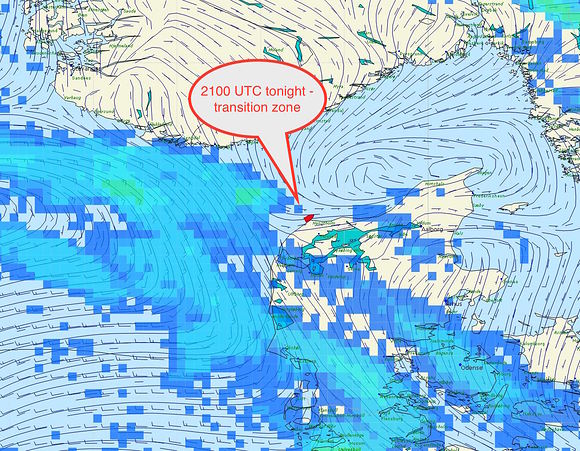 You can follow our story and interact with the team on all social media channels and our official website:Facebook: Click here
Twitter: Click here
Instagram: Click here
Weibo: Click here
WeChat: Click here
Youtube: Click here
YouKu: Click here
Official website: Click here
Share on Facebook
Skipper Sam Davies (GBR) and her Team SCA crew struck a resounding blow for women's offshore sailing in the early hours of Thursday morning when they gloriously clinched Leg 8 of the Volvo Ocean Race
Leg 8

DTL

(NM)

GAIN/LOSS

(NM)

DTF

(NM)

Speed

(kt)

SCA1
FIN – 03d 13h 11m 11s

VEST
FIN – 03d 13h 59m 38s

ADOR
0.3
10.9
3
11.1

MAPF
0.8
11.3
4
11.7

TBRU
1.8
11.5
5
12.4

ALVI
2.3
11.7
5
12.9

DFRT
5.5
11.7
8
13.2
Latest positions may be downloaded
from the race dashboard hereº MAPFRE given 2-point penalty Leg 5
Dongfeng Race Team, Team SCA & MAPFRE penalised Leg 7
– A resounding blow for women's offshore sailing
– Team Vestas Wind bounce back for second place
– Abu Dhabi Ocean Racing nearing overall trophy win
LORIENT, France, June 11 – Skipper Sam Davies (GBR) and her Team SCA crew struck a resounding blow for women's offshore sailing in the early hours of Thursday morning when they gloriously clinched Leg 8 of the Volvo Ocean Race.
The comfortable victory was the first leg win in offshore sailing's toughest challenge since Tracy Edwards' Maidenclinched two stage wins in Class D of the 1989-90 race, won overall by Sir Peter Blake's famous Steinlager2.
At least as satisfying for the first all-women's crew to enter the race in 12 years will be the opportunity to silence critics who suggested that they were looking outclassed in the current 12th edition by their experienced male rivals.
True, the Swedish entry had yet to win a podium place until now, but the crew has clearly improved leg after leg and many observers felt that a breakthrough performance was just around the corner.
The win was certainly no fluke in an upwind leg that tested seamanship to the full with an often heinous sea state and strong winds virtually throughout.
They grabbed the 647-nautical mile leg from Lisbon by the scruff of the neck on Monday, and strengthened that grip on Tuesday after taking an offshore course while most of their rivals hugged the Spanish and French coast approaching the Bay of Biscay.
It took them three days 13 hours 11 minutes and 11 seconds to grab their share of Race history.
"Thanks to everybody for all your support. It's not really sunk in yet," said a jubilant Davies. "It probably won't hit us until we hit the dock and we see there aren't any other boats there.
"It's a reward for all the hard work we have done. It's a great confidence booster. It's going to be huge for us. We've had a mountain to climb to get here."
Behind them, another fairy-tale was unfolding as Team Vestas Wind (Chris Nicholson/AUS) closed to a remarkable second-placed finish in their return to the race after six months out following a collision with an Indian Ocean reef on November 29 during Leg 2.
Nicholson had every reason for the huge smile on his face as he approached the port of Lorient following a near perfect race from Lisbon starting on Sunday.
He had simply hoped that his boat could negotiate the leg without mishap and be competitive – a high podium finish is almost beyond his wildest dreams.
"It's a very special moment," said the team's Onboard Reporter, Brian Carlin (IRL), simply.
Astern of the leading pair, third-placed Abu Dhabi Ocean Racing (Ian Walker/GBR) were nearing an ever bigger prize than the handsome silver leg trophy claimed by Team SCA.
They needed simply to finish ahead of their nearest overall pursuers in the standings,Team Brunel (Bouwe Bekking/NED) and Dongfeng Race Team (Charles Caudrelier/FRA), with a boat in between, to be all but be sure of winning the 12th edition of the Volvo Ocean Race.
As Team SCA passed the finish at 0211 UTC/0411 local time on Thursday, that prospect looked very much on with MAPFRE (Xabi Fernández/ESP) in fourth, Team Brunel fifth, and Team Alvimedica (Charlie Enright/USA) keeping Dongfeng Race Team at bay in the fight for sixth.
The boats will have a short maintenance period before Sunday's SCA In-Port Race here in Lorient, before the fleet set sail for Gothenburg via a much-awaited pit-stop in The Hague, on Tuesday, June 16.
It promises to be a period of considerable celebration for at least three crews of very, very happy sailors.
Share on Facebook