200 miles to go. After 9 months and nearly 40,000 miles
Dongfeng slenderest of leads over main rivals Brunel and Mapfre, but seems like it will not mean much this evening.
Caudrelier: "For us its easy to go from 3rd place to 5th place (overall), and also to come back to second. Everything can happen still"
The podium of the Volvo Ocean Race might just come down to a total lottery tonight as wind forecasts predict a difficult transition as Charles Caudrelier describes "from the current strong southerly winds that have carried Dongfeng up the North Sea, to some light easterly winds that will should get us to the finish line. Its going to be stressful".In between potentially little or no wind at all – during the early evening tonight in theory. The battleground will probably be between Hanstholm and Skagen, the two towns with a bay between them, that mark the northern tip of Denmark. But even now the compression is starting, from Yanndirect this morning "Still coming back from behind. Less than 4 miles, now. Nothing we can do about it. Not a nice feeling". More often than not in ocean racing, the rich get richer – but this time its not going to work like that. The guys (and girls) behind are going to sail on in pressure as the boats in front that worked so hard to grind out their leads, will stop in the transition zone between the old and new winds.The warm front moving from the UK east, that has been chasing the fleet since they left, is going to slow down and stall before it gets to them, at least at surface level. Higher up in the atmosphere its forecast to continue east – this differential between up high and at the surface, will provide the conditions for a new low to form, bringing new winds – but the transition could be long – and in the meantime somehow the boats have to get from the old to the new. This in effect should allow almost all, if not all, the backmarkers to sail straight to the front, with the leaders helpless.

It will be tragic if the entire race comes down to luck, but then this is part of ocean racing. Since Dong Feng means 'winds from the east bringing freshness and energy' and Aeolus being the Guardian of the Winds – on land we can only hope and pray to whatever Gods we believe in, that luck will be on our side, and that we will get the podium finish we deserve!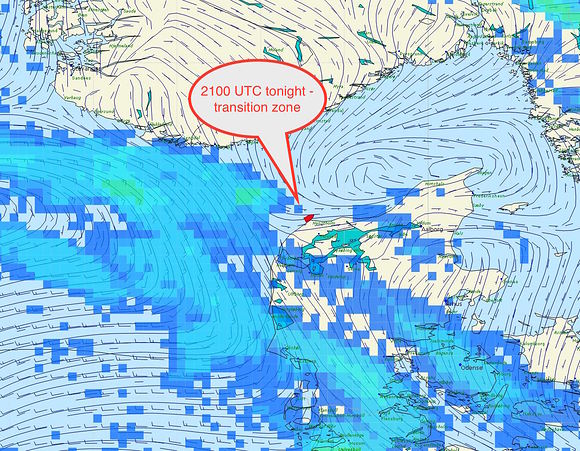 You can follow our story and interact with the team on all social media channels and our official website:Facebook: Click here
Twitter: Click here
Instagram: Click here
Weibo: Click here
WeChat: Click here
Youtube: Click here
YouKu: Click here
Official website: Click here
Share on Facebook
Skipper Sam Davies (GBR) and her Team SCA crew struck a resounding blow for women's offshore sailing in the early hours of Thursday morning when they gloriously clinched Leg 8 of the Volvo Ocean Race
Leg 8

DTL

(NM)

GAIN/LOSS

(NM)

DTF

(NM)

Speed

(kt)

SCA1
FIN – 03d 13h 11m 11s

VEST
FIN – 03d 13h 59m 38s

ADOR
0.3
10.9
3
11.1

MAPF
0.8
11.3
4
11.7

TBRU
1.8
11.5
5
12.4

ALVI
2.3
11.7
5
12.9

DFRT
5.5
11.7
8
13.2
Latest positions may be downloaded
from the race dashboard hereº MAPFRE given 2-point penalty Leg 5
Dongfeng Race Team, Team SCA & MAPFRE penalised Leg 7
– A resounding blow for women's offshore sailing
– Team Vestas Wind bounce back for second place
– Abu Dhabi Ocean Racing nearing overall trophy win
LORIENT, France, June 11 – Skipper Sam Davies (GBR) and her Team SCA crew struck a resounding blow for women's offshore sailing in the early hours of Thursday morning when they gloriously clinched Leg 8 of the Volvo Ocean Race.
The comfortable victory was the first leg win in offshore sailing's toughest challenge since Tracy Edwards' Maidenclinched two stage wins in Class D of the 1989-90 race, won overall by Sir Peter Blake's famous Steinlager2.
At least as satisfying for the first all-women's crew to enter the race in 12 years will be the opportunity to silence critics who suggested that they were looking outclassed in the current 12th edition by their experienced male rivals.
True, the Swedish entry had yet to win a podium place until now, but the crew has clearly improved leg after leg and many observers felt that a breakthrough performance was just around the corner.
The win was certainly no fluke in an upwind leg that tested seamanship to the full with an often heinous sea state and strong winds virtually throughout.
They grabbed the 647-nautical mile leg from Lisbon by the scruff of the neck on Monday, and strengthened that grip on Tuesday after taking an offshore course while most of their rivals hugged the Spanish and French coast approaching the Bay of Biscay.
It took them three days 13 hours 11 minutes and 11 seconds to grab their share of Race history.
"Thanks to everybody for all your support. It's not really sunk in yet," said a jubilant Davies. "It probably won't hit us until we hit the dock and we see there aren't any other boats there.
"It's a reward for all the hard work we have done. It's a great confidence booster. It's going to be huge for us. We've had a mountain to climb to get here."
Behind them, another fairy-tale was unfolding as Team Vestas Wind (Chris Nicholson/AUS) closed to a remarkable second-placed finish in their return to the race after six months out following a collision with an Indian Ocean reef on November 29 during Leg 2.
Nicholson had every reason for the huge smile on his face as he approached the port of Lorient following a near perfect race from Lisbon starting on Sunday.
He had simply hoped that his boat could negotiate the leg without mishap and be competitive – a high podium finish is almost beyond his wildest dreams.
"It's a very special moment," said the team's Onboard Reporter, Brian Carlin (IRL), simply.
Astern of the leading pair, third-placed Abu Dhabi Ocean Racing (Ian Walker/GBR) were nearing an ever bigger prize than the handsome silver leg trophy claimed by Team SCA.
They needed simply to finish ahead of their nearest overall pursuers in the standings,Team Brunel (Bouwe Bekking/NED) and Dongfeng Race Team (Charles Caudrelier/FRA), with a boat in between, to be all but be sure of winning the 12th edition of the Volvo Ocean Race.
As Team SCA passed the finish at 0211 UTC/0411 local time on Thursday, that prospect looked very much on with MAPFRE (Xabi Fernández/ESP) in fourth, Team Brunel fifth, and Team Alvimedica (Charlie Enright/USA) keeping Dongfeng Race Team at bay in the fight for sixth.
The boats will have a short maintenance period before Sunday's SCA In-Port Race here in Lorient, before the fleet set sail for Gothenburg via a much-awaited pit-stop in The Hague, on Tuesday, June 16.
It promises to be a period of considerable celebration for at least three crews of very, very happy sailors.
Share on Facebook
Team Brunel (Bouwe Bekking/NED) completed a triumphant Leg 7 early on Wednesday to bolster their hopes of finishing with a podium place in the Volvo Ocean Race and also keep alive their hopes of overall victory
Leg 7

DTL

(NM)

GAIN/LOSS

(NM)

DTF

(NM)

Speed

(kt)

TBRU
FIN – 09d 11h 09m 49s

MAPF
FIN – 09d 11h 31m 39s

ALVI
FIN – 09d 12h 50m 49s

DFRT
FIN – 09d 12h 51m 44s

ADOR
FIN – 09d 13h 24m 34s

SCA1
FIN – 09d 15h 32m 38s

VEST
Did Not Start
Latest positions may be downloaded
from the race dashboard here º MAPFRE given two-point penalty – read more
– Team Brunel edge home ahead in transatlantic leg
– MAPFRE chase them all the way into Lisbon
– Team Alvimedica beat Dongfeng in thrilling dogfight
– Team Vestas Wind are reunited with rest of the fleet
LISBON, Portugal, May 27 – Team Brunel (Bouwe Bekking/NED) completed a triumphant Leg 7 early on Wednesday to bolster their hopes of finishing with a podium place in the Volvo Ocean Race and also keep alive the possibility of overall victory.
The Dutch boat sailed a near faultless transatlantic stage, edging MAPFRE (Iker Martínez/ESP) into second, just under 22 minutes behind.
Behind them, Team Alvimedica (Charlie Enright/USA) edged out long-time leg leaders, Dongfeng Race Team (Charles Caudrelier/FRA), after an enthralling dogfight over the final miles.
The Chinese-backed boat was caught by Enright's crew in the early hours of Wednesday, but battled their way back and looked sure to overtake them again before a botched tack ruined their chances.
They lost out by just 55 seconds after nearly nine days and 13 hours of sailing across 2,800 nautical miles (nm).
With overall leaders Abu Dhabi Ocean Racing (Ian Walker/GBR) finishing fifth ahead of Team SCA (Sam Davies/GBR), the overall race standings are left finely poised.
The Emirati crew now have a five-point lead over Dongfeng Race Team with two short legs to sail, while Team Brunel are a point further adrift of Charles Caudrelier's crew.
Caudrelier made no attempt to hide his disappointment after leading the leg for so long and seeing a podium place disappear in the final miles.
"I'm feeling very bad, very upset and very sad," he summed up. "We deserved better, but I guess that's life.
"Most of all, I'm upset with myself because my crew did a great job and I made a huge mistake – and I don't accept mistakes. We really missed a chance in this leg with Abu Dhabi Ocean Racing finishing fifth."
Few sailors in the fleet will savour a win over one of the race's trademark legs more than Team Brunel's 51-year-old skipper, Bouwe Bekking, in his record-equalling seventh appearance.
He has certainly experienced the ups and downs of racing across the Atlantic. Few will forget the agonising position he faced in 2006 before he was finally forced to abandon his sinking movistar boat during the same stage of that Volvo Ocean Race.
Bekking insisted last week that he had not lost 'a single night's sleep' over the incident and the confident way that Team Brunel sailed the leg would bear that out.
Team Brunel were harried all the way over the past 24 hours by both MAPFRE and Dongfeng Race Team, especially over the final few miles when the breeze dropped to almost zero in the Tagus River as they approached the Lisbon finish.
"We sailed a tremendous leg but just at the end when there was no wind, it was getting a bit gnarly," said Bekking. "But we pulled it off."
The victory was achieved with two newcomers on board, Adam Minoprio (NZL) and Timo Hagoort (NED), the latter replacing the injured Gerd-Jan Poortman (NED).
"It was good to have those young guys on board, they did a fantastic job," added Bekking.
Team SCA crossed the line, some four hours and 22 minutes behind Team Brunel (see panel above), after an action-packed transatlantic leg in which they sailed within the pack for much of the nine days and at one stage threatened a podium finish after taking a bold strategic choice around the Azores High.
The final two stages, to Lorient (France) and then Gothenburg (Sweden) via a pit-stop in The Hague (Netherlands), will once again be contested by seven boats.
Team Vestas Wind (Chris Nicholson/AUS) rejoin the fleet for the first time since November 29 when the boat was grounded on a reef in the Indian Ocean.
After a four-month rebuild in the Persico boatyard in Bergamo, Italy, the boat was transported by sea and road to Lisbon, arriving a few hours before the rest of the fleet in the small hours of Wednesday morning.
Over the next few days, the rig will be stepped ahead of the Danish-backed team's competitive comeback on June 6 in the Lisbon In-Port Race. Leg 8 to Lorient, a relative sprint at 647nm, begins a day later.
The race concludes on June 27 with the In-Port Race in Gothenburg after nine months and 38,739nm of sailing, visiting 11 ports and every continent.
Current latest standings (low points wins, In-Port Race Series splits ties): 1) Abu Dhabi Ocean Racing 16 pts, 2) Dongfeng Race Team 21, 3) Team Brunel 22, 4) MAPFRE 26, 5) Team Alvimedica 27, 6) Team SCA 41, 7) Team Vestas Wind (Denmark) 52 (DNS).
Share on Facebook
Spanish boat MAPFRE, boosted by the return of their skipper Iker Martinez, claimed their first win of the Volvo Ocean Race in-port series on Saturday in front of thousands of spectators.
With Martinez at the helm, the red boat raced to the first mark with a narrow lead over Team Alvimedica (Turkey/US) and gradually stretched their advantage in a race completed in just under an hour.
The result leaves the Spanish crew still trailing the fleet in the overall standings on 31 points, but they have closed the gap considerably after a string of largely disappointing performances prior to Saturday.
Martinez, 37, was delighted to return to the winner's circle having returned to lead the crew after missing the previous leg due to Olympic commitments.
The helmsman from San Sebastian won gold in the 2004 Athens Games and silver in Beijing 2008, but finished disappointingly down the field in the 2012 London Olympics.
He is determined to put that right in Rio de Janeiro next year, but his commitment to his preparation has led to his missing several legs in this edition of the nine-month Ocean Race which started last October.
"We are improving slowly and that's the way we want to do these things," said Martinez after the victory. "Today we were first and we're feeling super good."
Team Alvimedica, led by Newport local Charlie Enright, clung on to second place while Abu Dhabi Ocean Racing stole third position from the all-women crew of Team SCA, who made a damaging positioning error mid-race.
The result puts Abu Dhabi, led by Briton Ian Walker, back on top of the overall in-port race series standings on 19 points. The series will count towards a separate trophy and be used to split ties in the main offshore competition.
The six boats in the fleet will begin the seventh leg, a 2,800-nautical mile (4,815km) trip to Lisbon, Portugal, on Sunday at 1800GMT.
Abu Dhabi lead by six points from China's Dongfeng Race Team, with three legs to complete in the nine-month, 38,739-nautical mile (71,745km) marathon.
The race concludes on June 27 in Gothenburg, Sweden, having visited 11 ports and every continent.
Team Vestas Wind In-Port Race Newport results 
Course: 3 laps.
Bearing to top gate: 230
Distance to top: 1.4nm, extended to 1.8nm on the 3rd lap.
Total distance sailed: 9.2nm
TWD: 180-185
TWS: 8kts
Team Vestas Wind In-Port Race Newport Results:
1. MAPFRE 14:55:41 – 1pt
2. Team Alvimedica 14:56:39 – 2pts
3. Abu Dhabi Ocean Racing 14:57:38 – 3pts
4. Team SCA 14:57:57 – 4pts
5. Team Brunel 14:58:17 – 5pts
6. Dongfeng Race Team 14:59:09 – 6pts
DNS. Team Vestas Wind – 8pts
In-Port series Overall standings:
1. Abu Dhabi Ocean Racing – 19pts
2. Team Brunel – 20pts
3. Team SCA – 24pts
4. Dongfeng Race Team – 27pts
5. Team Alvimedica – 28pts
6. MAPFRE – 31pts
7. Team Vestas Wind  – 52pts
Crew List for Team Vestas Wind Newport In-Port Race:
Dongfeng Race Team Charles Caudrelier FRA Kevin Escoffier FRA Thomas Rouxel FRA Martin Strömberg SWE Chen Jin Hao (Horace) CHN Pascal Bidegorry FRA Sidney Gavignet FRA Jiru Yang (Wolf) CHN Yann Riou FRA (OBR)
Team Alvimedica Charles Enright USA William Oxley AUS Alberto Bolzan ITA Mark Towill USA Sébastien Marsset FRA Nick Dana USA Ryan Houston NZL Dave Swete NZL Amory Ross USA (OBR)
MAPFRE Iker Martínez ESP Xabi Fernández ESP Jean-Luc Nélias FRA Rob Greenhalgh GBR André Fonseca BRA Antonio Cuervas-Mons ESP Carlos Hernández ESP Guillermo Altadill ESP Francisco Vignale ARG (OBR)
Abu Dhabi Ocean Racing Ian Walker GBR Simon Fisher GBR Daryl Wislang NZL Adil Khalid UAE Luke Parkinson AUS Justin Slattery IRL Roberto Bermúdez de Castro ESP Phil Harmer AUS Matt Knighton USA (OBR)
Team Brunel Bouwe Bekking NED Andrew Cape AUS Jens Dolmer DEN Pablo Arrarte ESP Louis Balcaen BEL Adam Minoprio NZL Rokas Milevicius LTU Timo Hagoort NED Stefan Coppers NED (OBR)
Team SCA Sam Davies GBR Carolijn Brouwer NED Dee Caffari GBR Abby Ehler GBR Annie Lush GBR Elodie-Jane Mettraux SUI Stacey Jackson AUS Libby Greenhalgh GBR Liz Wardley AUS Sally Barkow USA Sophie Ciszek AUS Anna-Lena Elled SWE (OBR)
Share on Facebook
Abu Dhabi shrugged off seven months of frustration to seal their first offshore victory in a nerve-jarring transatlantic leg from Miami to Lisbon, while Groupama's second place finish — five and a half minutes behind after more than 3,500 nautical miles racing — was enough to take them top of the leaderboard in place of long-term leaders Telefonica.
Groupama spent days snapping at the heels of the Emirati team and were within a mile of their rivals as they headed up the River Tagus towards the finish line.
Ian Walker's team defended resolutely, however, matching their rivals gybe for gybe to ensure their first podium finish on an offshore leg would also be their first win, and spark wild celebrations lit up by a booming firework display.
For Groupama, the consolation prize came soon enough, as Telefónica's finish in fourth place — behind PUMA Ocean Racing powered by BERG in the third podium slot and just ahead of CAMPER with Emirates Team New Zealand — meant the French team climb above them.
Abu Dhabi, who finished at 21:23:54 UTC, received 30 points for victory, with Groupama netting 25 after their finish at 21:29:21. PUMA took 20 points, Telefonica 15 and CAMPER 10.
Team Sanya finished sixth to pick up five points.
Groupama, skippered by Franck Cammas, now lead Telefónica by three points overall, with the Spanish team dropping off the lead for the first time since their victory on Leg 1 from Alicante to Cape Town back in November.
Four teams remain separated by just 21 points, making it the closest contest in the 39-year history of the Volvo Ocean Race with just two offshore legs and three in-port races still to come.
The arrival in Lisbon represented a homecoming for Abu Dhabi, who had a training base in nearby Cascais during the build-up to the race.
"It's incredible — what a welcome," said Walker, before he and Emirati crew member Adil Khalid were chucked into the water by their team mates.
"Do you think you can make the last 10 miles of a race any harder than that?
"It's one of the most amazing experiences of my sailing career, that's for sure. Mentally, certainly I'm exhausted. It's just such a relief."
Abu Dhabi also visited Lisbon in much less happy circumstances during Leg 1, after a dismasting within the first few hours ultimately forced them to ship the boat from Lisbon to Cape Town.
While they have notched up three victories in in-port races, and have a strong chance of winning the series, this is the first time they have really been able to shine in an offshore leg.
First Groupama and then Telefónica enjoyed the lead for long spells on a leg that started out looking like a fast, direct sprint across the Atlantic before the effects of Tropical Storm Alberto altered things drastically.
One by one, the boats were forced to head ever further north towards the ice exclusion zone.
Abu Dhabi moved into the lead on Day 6 and after briefly surrendering it to CAMPER they were back ahead the following day.
Two days later they were clear, though skipper Ian Walker warned repeatedly that a light-air zone inside the final 300 nautical miles would see the fleet compress.
That's exactly how it turned out, with Abu Dhabi forced to scrap every step of the way to an emotional victory at the team's second home.
"It came down to the wire, and we certainly had our ups and downs, but we are very happy," said Groupama skipper Franck Cammas. "it was a good operation for us!"
Third place for PUMA kept them in contention for the overall lead, 12 points behind new leaders Groupama.
"This is a great result," said the team's American skipper Ken Read. "There's still a lot of points on the board and to be on the podium is a big deal for us."
The battle between Telefónica and CAMPER for fourth and fifth came down to a slow-motion tussle over an excruciating final few miles, with no breeze and the current against them.
Telefónica eventually finished with an advantage of 102 seconds and less than a boat length for a five-point boost that could yet prove crucial.
The action resumes with the In-Port Race on June 9, followed by the start of Leg 8 to Lorient the following day.
Leg 7 results:
1. Abu Dhabi Ocean Racing – 11d, 04h, 23m, 54s
2. Groupama sailing team – 11d, 04h, 29m, 21s
3. PUMA Ocean Racing powered by BERG – 11d, 06h, 26m, 52s
4. Team Telefónica – 11d, 08h, 28m, 27s
5. CAMPER with Emirates Team New Zealand – 11d, 08h, 30m, 09s
6. Team Sanya – 11d, 08h, 44m, 25s
Overall        Leg 7    Total
1            Groupama sailing team    25    183
2            Team Telefónica    15    180
3            PUMA Ocean Racing by BERG    20    171
4            CAMPER with Emirates Team NZ    10    162
5            Abu Dhabi Ocean Racing    30    104
6            Team Sanya    5    32
Share on Facebook
Abu Dhabi Ocean Racing launched an 11th hour comeback in the PORTMIAMI In-Port Race to take their tally of in-shore successes to three, while Groupama scored a strong second to pile the pressure on overall race leaders Telefónica.
Ian Walker's crew were rewarded for sailing a near-perfect race on Saturday when they snatched the lead from Groupama on the penultimate leg and went on to seal a dramatic victory.
Although they were pipped at the post, Groupama's result moves them to within just seven points of Telefónica, who had yet more in-port disappointment when a penalty for touching one of the turning marks relegated them to last place.
In a thrilling finale, PUMA came from behind to rocket past CAMPER into third just metres from the finish line.
It was a fourth successive podium finish in the in-shore series for Ken Read's PUMA Ocean Racing powered by BERG crew, and it brought them to within a point of third-placed CAMPER with Emirates Team New Zealand on the overall scoreboard.
Team Sanya, the only team not racing in a new generation boat, were unlucky not to finish higher up the leaderboard, having to settle for fifth after a brave battle with their rivals.
"It feels great," said a jubilant Abu Dhabi skipper Walker moments after crossing the finish line.
"We've had a tough time of it. We had no time at all to prepare for the last in-port race and we made a special point of having two full days' training here. We wanted to show the world that Abu Dhabi hasn't given up. We're a good team, we're determined, and it feels great to win a race."
With the Volvo Ocean Race entering a critical stage with just three offshore legs and three in-port races left, just 14 points split the top four boats.
Telefónica still lead with 165 points but snapping at their heels are Groupama on 158, while CAMPER and PUMA are dangerously close on 152 and 151 respectively, bolstered by the results of the PORTMIAMI In-Port Race.
In a nail-biting contest peppered with position changes, Abu Dhabi capitalised on a strong start along with Sanya but it was Telefónica who led round the first mark, showing off their blistering speed on Leg 1.
The action couldn't have been any more intense with Abu Dhabi and Groupama overhauling Telefónica on Leg 2. Meanwhile, after paying the price for heading offshore, CAMPER and PUMA were left desperately chasing the frontrunners.
While the front two stretched their lead, a fierce battle for third developed, climaxing on Leg 6 with Telefónica hitting the mark and the rest of the fleet piling in behind.
Telefónica were penalised by the on-the-water umpires, adding to their in-port misery and ending their hopes of consolidating their overall lead.
Sniffing a chance to pick up crucial points, PUMA, CAMPER and Sanya put pedal to metal and launched an extraordinary comeback that brought them back in touch with then leaders Groupama and second-placed Abu Dhabi with just a few legs left.
Abu Dhabi's defining moment came when they hoisted a bigger sail than their French rivals, making the most of the smallest of speed advantages to pass Groupama despite having to dodge a spectator boat.
With the breeze fading, race officials chose to shorten the course and Abu Dhabi hung on to claim the win, all the more sweet due to the fact that just a few weeks ago their stricken boat Azzam was on a container ship en route to Brazil.
The sailors and shore crews are now turning their sights on the final preparations for 3,580 nautical mile Leg 7 from Miami to Lisbon, Portugal, starting on Sunday at 1700 UTC (1300 local time).
PORTMIAMI In-Port Race results:
1. Abu Dhabi Ocean Racing, 74:09
2. Groupama sailing team, +00:33
3. PUMA Ocean Racing powered by BERG, +02:02
4. CAMPER with Emirates Team New Zealand, +02:11 
5. Team Sanya, +2:35
6. Team Telefónica, +6:28
Share on Facebook
Ken Read and The PUMA Ocean Racing Powered By BERG team win Leg 6,American skipper Ken Read led his PUMA team to a second consecutive leg win on Wednesday, arriving on home soil in Miami triumphant following an epic 17-day match race with closest rivals CAMPER to confirm they are back in contention for overall victory.
Since the heartbreak of the first leg, in which their yacht Mar Mostro dismasted, PUMA have been on the up – and after scoring their first offshore success in Leg 5 from Auckland to Itajaí, Brazil, they made it two in two with glory in Leg 6.
After coming off best in an intense battle for first place with CAMPER with Emirates Team New Zealand, who at one point closed the gap to less than a mile, Read said his team were back in the fight for the Volvo Ocean Race 2011-12 trophy.
"That was about as stressful as it can get, believe me," Read said. "It was touch and go, and the guys on CAMPER sailed very well, but I couldn't be more proud of our team — they did an unbelievably great job."
PUMA Ocean Racing powered by BERG crossed the finish line at 18:14:00 UTC, 17 days after leaving from Itajaí, Brazil, with CAMPER with Emirates Team New Zealand around an hour behind PUMA and on course to take second.
PUMA dominated the 4,800 nautical mile leg from the start, only surrendering the lead on two occasion to CAMPER and for no more than 48 hours.
A fast start to the leg in fresh conditions saw PUMA lead out of Itajaí and into several days of fast sailing up the Brazilian coast.
As winds eased the fleet split into three groups, with CAMPER and Abu Dhabi Ocean Racing closest to the shore enjoying two days at the head of the pack, while Team Telefónica and Groupama sailing team opted to head east in search of better breeze. PUMA split the difference and it paid as they got a jump on their rivals that would lay the foundations for their eventual win.
With the south-east trade winds providing near-perfect conditions for the Volvo Open 70s, a drag race began up to the Equator and through the Doldrums, which presented little problem for the fleet. But 10 days into racing, PUMA were nearly undone by storm clouds which stalled the leaders, allowing CAMPER and Telefónica to reel them in to just six miles.
Into the Caribbean Sea they enjoyed fast sailing once more until they hit tricky weather systems that once again saw the leading boats compress. Despite coming under fire from CAMPER right up until the very last minute, faultless sailing saw PUMA defend their lead to claim the win.
It's the fourth time in six legs that PUMA have finished on the podium, and they pick up an invaluable 30 points for the leg win to take their overall tally to 147.
CAMPER will be awarded 25 points for second place, their best result in the offshore series since Leg 2 from Cape Town to Abu Dhabi when they finished second behind Team Telefónica.
"It's been a long leg and PUMA have sailed very nicely, they have defended very well, but I think we have attacked well too," CAMPER skipper Chris Nicholson said as his team closed in on the finish line. "I'm pretty happy with how it's gone. We're in better shape now for the next leg."
Both teams will close the gap on overall leaders Telefónica, who were still scrapping it out for the final podium position with Groupama sailing team.
The current ETA for the arrival of Groupama and Telefónica is 0300 UTC, with fifth-placed Abu Dhabi Ocean Racing expected to arrive at 0800 UTC.
| | | |
| --- | --- | --- |
| eg 6 | | 09/05/2012 18:23:56 UTC |
| | | | | | |
| --- | --- | --- | --- | --- | --- |
| 1 | | | PUMA | FIN | 017d 01h 13m 59s |
| | | | | |
| --- | --- | --- | --- | --- |
| – | | | SNYA | Did Not Start |
Share on Facebook
A trough of low pressure blocking the fleet's path brought light winds on Friday and a tactical split in the trio at the front. Leaders PUMA have stuck doggedly to their north easterly course, while CAMPER and Telefónica gybed to the west in search of stronger winds closer to the Caribbean Islands.
By 1200 UTC today Team Telefónica had resumed a northerly track, putting pressure on CAMPER with Emirates Team New Zealand, who must decide to follow suit or press on with a higher risk westerly strategy.
With up to 30 hours of slow sailing likely before the leaders break through into steadier winds, the pressure is well and truly on for the skippers and navigators on the top three boats.
PUMA Ocean Racing powered by BERG navigator Tom Addis said leading into such a scenario was always tricky as it raised the threat of being caught by the boats behind, but was nevertheless confident in the short term strategy.
"A front has come through to the north and disturbed the trade winds so we've all compressed again," Addis said. "It is unfortunate for us but it's just how it goes.
"It's hard to say when the breeze will pick up again. We've still got about 10 knots of breeze but it's going to be a good day and a half before we're into decent breeze again.
"When the wind goes light and you compress, especially for a good solid day, anything can happen. If someone gets a squall and picks up some wind for a few hours that could easily turn the fleet inside out.
"That makes things more tense on board, no question."
Addis said PUMA's current plan was to skirt around the eastern side of the Caribbean to avoid the additional threat of wind shadows in the lee of the island chain.
"The next 1,000 miles is going to be pretty light and tricky and it's going to be 'heart in the mouth' stuff for the majority of the rest of the leg," he said.
"We think we've got a solid plan and most likely we'll go round the outside of the Caribbean islands," he said. "Through the Caribbean there's plenty of water but it's fraught with lees.
"Those islands are very tall and they create big wind shadows so you've got to be very careful going through them."
On second placed CAMPER, Media Crew Member Hamish Hooper said the mood was equally tense with skipper Chris Nicholson and navigator Will Oxley spending long hours together at the navigation station, deliberating on the best plan.
"It is certain to be a nerve-wracking few days for sure," Hooper said.
"It has been said from the start that this last 1,000 miles will be where the leg is won and lost, and it's looking about as tricky as tricky can be, with light fickle breezes throughout.
"It's a maze. One boat will come out looking famous and it could be one of any of the five boats in the fleet.
"Abu Dhabi and Groupama who are still 100 miles behind are still right in this leg and in fact they are in the sometimes enviable position of having nothing to lose, so able to throw caution to the wind and take a gamble."
Telefónica navigator Andrew Cape described the final push to the finish as "a bit touch and go".
"There's going to be a lot of changes, put it that way," Cape added. "It's going to be a tricky one. There's going to be opportunities both ways but certainly the team that gets it right will be the winner."
Cape said he was happy with the Spanish team's positioning at this point but said there would be plenty of other key decisions to agonise over before the finish.
"We're where we wanted to be, but this is the very first stage of about 25 that we need to get right," he said.
At 1300 UTC PUMA still led the fleet, from CAMPER in second, Team Telefónica in third, Groupama sailing team in fourth and Abu Dhabi Ocean Racing in fifth.
Latest estimates show the leading boats arriving in Miami on or around midday on May 9.
Share on Facebook