A record-sized fleet of the world's largest performance yachts is readying itself in Porto Cervo, Sardinia for next week's Maxi Yacht Rolex Cup. Organised by the Yacht Club Costa Smeralda and the International Maxi Association (IMA) with Rolex as title sponsor, this year's event takes place over 4th-10th September and has 52 entries. Of these, 25 belong to members of the IMA, the body which since 1979 has been guiding and structuring maxi yacht racing globally, in collaboration with the world's leading yacht clubs.
In terms of length, the fleet spans the giant 49.7m Ohana to entries at the shorter end of the IMA's permitted size range – 60 footers such as Gérard Logel's Swan 601 @robas and the Wally 60 Wallyño.
The biggest class at the Maxi Yacht Rolex Cup will once again be the Wallys (an associated class within the IMA), which features 13 examples of the modernist high performance luxury yachts. Leading the charge off the Costa Smeralda will be the two Wallycentos, Sir Lindsay Owen Jones' Magic Carpet Cubed and the latest example launched last October, David Leuschen's Galateia, plus the elongated version, (now 32.7m) Open Season of International Maxi Association President, Thomas Bscher.

Photo: ROLEX / Carlo Borlenghi
The Supermaxi class has a formidable line-up including Irvine Laidlaw's new Swan 115 Highland Fling 15, plus two Baltic Yachts-built high performance carbon fibre one-offs: the Nauta 115 Nikata and the Javier Jaudenes-designed Win Win – both making their Maxi Yacht Rolex Cup debuts. This year sees the return of Sir Peter Harrison's Farr 115 ketch, Sojana, following a lengthy refit.
The Js are back this year. Lionheart and Velsheda will match race their way around the race track.
The Maxi class (79-100ft) will see two high profile yachts making their Maxi Yacht Rolex Cup debuts. Best known for her offshore program, Mike Slade's Farr 100 Leopard 3 has travelled to the four corners of the earth to compete in races such as the Rolex Sydney Hobart, the RORC Caribbean 600 and the Fastnet Race, in which she has twice scored line honours victories.
Despite only being two years old, George David's Juan Kouyoumdjian-designed Rambler 88, also has notched up thousands of sea miles. This year alone she has won the IMA's annual Volcano Race (from Gaeta, Italy, south around the volcanic Aeolian Islands off northeast Sicily) and last week claimed line honours in the Palermo-Montecarlo race, the fourth and final event of the IMA's inaugural Mediterranean Maxi Offshore Challenge.
The Maxi class also includes four entries from Southern Wind Shipyard, including the Farr-designed 100ft Blues and Michael Cotter's Windfall. There are two SWS 82s: Massimilano Florio's Grande Orazio was winner of the IMA's Volcano Race in 2015, while Ammonite is brand new, campaigned by leading Australian skipper Marcus Blackmore.
Rolex Maxi 72 World Championship
As ever a major feature of the Maxi Yacht Rolex Cup is the Rolex Maxi 72 World Championship. This year six examples of the ultra competitive, owner-driven, grand prix racers will be lining up, their challenge being to dislodge Hap Fauth's dominant Judel Vrolijk design, Bella Mente. The reigning Rolex Maxi 72 World Champion  goes into this year's Worlds straight from victories at Copa del Rey MAPFRE and the inaugural Maxi 72 North American Championship held in Newport, RI in June.
"This is our favourite regatta," commented Fauth, who is President of the Maxi 72 Class, which is affiliated to the IMA. "There will be six 72 footers and competition will be fierce. It is always challenging conditions both for the around the buoys and the coastal race. It is normally all you want."
As to Bella Mente being favourite for a third World title, Fauth added: "We have the oldest boat and I am the oldest helmsman, but we have got a very good team. Our execution over the course of a regatta has been good and if there is one reason why we might have a small advantage it is because of that. But it is a very small advantage: The margin of victory in this fleet is two or three seconds – the boats are very close."

Photo: ROLEX / Carlo Borlenghi
The Mini Maxi class (60-79ft) also has a strong line-up. Roberto Lacorte's Mark Mills 68 Supernikka returns to defend her title, while she will be up against another Mills 68, the more thoroughbred racer, Prospector, which as Alegre and then Caol Ila R was one of the most competitive boats in what is now the Maxi 72 class. Also to be watched will be American Bryon Ehrhart's Reichel Pugh 63, Lucky. Winner of last year's Transatlantic Race, Lucky in her previous life was Loki, winner of the 2011 Rolex Sydney Hobart.
In 2015 the Mini Maxi Racer-Cruiser class had one of the tightest finishes and the top four boats return this year, including winner, Riccardo de Michele's Vallicelli 80 H2O, which finished on equal points with Giuseppe Puttini's Swan 65 Shirlaf (which this year will face stiff competition from new IMA member Marietta Strasoldo's Swan 651 Lunz Am Meer.)
Andrew McIrvine, Secretary General of the IMA commented: "It will be an exciting year with a number of new boats competing, especially in the SuperMaxi division where a new generation of more race-oriented boats are appearing. The challenge of manoeuvring these huge craft around the tight courses around the islands of the Maddalena makes for a great spectacle and keeps so many sailors coming back year after year."
Racing will take place over a mixture of windward-leeward and coastal courses. As usual there will be a magnificent social programme including the annual International Maxi Association Dinner and parties sponsored by Rolex and Audi.
Maxi Yacht Rolex Cup 2016 Tracking
#maxi #porto #Rolex #MaxiYacht #yacht #yachts #Sailing
#sail #race #racing
Share on Facebook
The final race day of the Loro Piana Caribbean Superyacht Regatta & Rendezvous was a fittingly gripping affair that brought three days of hard-fought and incredibly tight racing to a close and saw overall victory awarded to P2 (Class A) and Marie (Class B). Unofficial accolades also went to the new ORCsy handicap rule, implemented for the first time ever during this event, which assured compact racing and scene-stealing finishes throughout. The event, organized by the Yacht Club Costa Smeralda and Boat International Media, ran from 11th to 14th March 2015.
Both classes completed an anti-clockwise round-the-island course today that took them from a downwind start on a spectacular run to Round Rock off the south western tip of Virgin Gorda. A long and challenging upwind beat followed as the boats battled 10-foot waves around the back of the island before finishing just off the North Sound.
Only two points separated the top three boats in Class A heading into the final race, so every second and every manoeuvre counted today. A battle to the finish ensued between P2, Freya and Cape Arrow with less than 40 seconds separating the top three boats across the line after 29 miles of racing. The Southern Wind yacht Cape Arrow, with Pier Luigi Loro Piana at the helm and Francesco De Angelis calling tactics, stormed down the final stretch to overtake the Swan 90 Freya just metres from the finish line. The 125-foot Perini Navi sloop P2, meanwhile, claimed her second consecutive bullet to assure her overall victory over the Vitters ketch Inoui with Freya just one point behind in third place.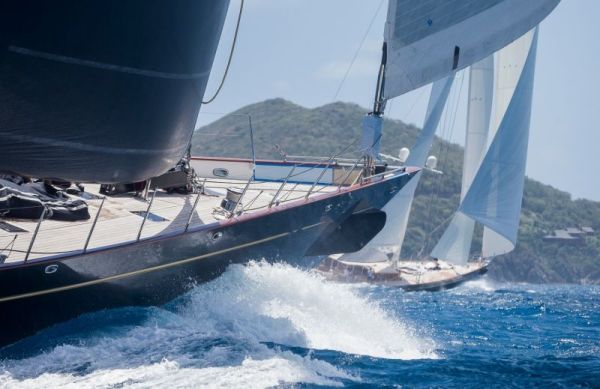 Marie, Class B Winner. Loro Piana Caribbean Superyacht Regatta & Rendezvous 2015. Photo Carlo Borlenghi
Gerhard Andlinger, P2 was understandably pleased with his result: "We won by just seconds, the new rating system is really working out. It was pretty relaxing until the last 15 minutes when you see the competition. You see the sails, you see how fast they're going and you begin to mentally calculate. I have a great crew and this victory is theirs, not mine."
In Class B Seahawk put in another first-rate performance to notch up her second bullet of the event. A DNF in the first race however, caused by a rigging failure, meant she was able to climb no higher than third place overall. Although the 2014-launched Royal Huisman sloop Wisp gained the upper hand on the race course today to place second ahead of Marie, it was not sufficient to unseat the 180-foot Hoek-designed ketch from the overall top spot which she had held since day one. The Perini Navi ketch Seahawk, at 190 feet in length the giant of the fleet, took third place overall.
ENTRIES  2015
SAILING YACHTS
Blues
100 ft
Southern Winds
Bolero
72 ft
Henry Nevis
Cape Arrow
99 ft
Southern Wind
Drumfire
79 ft
Bloemsma
Freya
91 ft
Nautor Swan
Ganesha
150 ft
Vitters
Inoui
108 ft
Green Marine / Vitters
Marie
180 ft
Vitters Shipyard
P2
125 ft
Perini Navi
Parsifal III
177.17 ft
Perini Navi
Seahawk
197 ft
Perini Navi
Wisp
157.5 ft
Royal Huisman
MOTOR YACHTS
Bella Una
126 ft
Burger Boat Company
Deep Blue II
143 ft
Oceanco
Ingot
153 ft
Burger Boat Company
M4
131.89 ft
Trident
Seaquest
164 ft
Westport
Plan A
130 ft
Westport
Tony Rey, tactician on board Marie was a satisfied sailor today: "This kind of racing is spectacular. The ORCsy rating couldn't ask for a better soft launch. This event at YCCS was absolutely spectacular and the perfect way to introduce it. The fact we had a few different winners, close finishes: that's what we want and that's what we got."
"Thanks to all the owners who brought their beautiful yachts here. The racing was fantastic this week, very close, and the Race Committee did an excellent job. When the people who didn't win say that the new rule worked well then you know it really did work well." commented YCCS Commodore Riccardo Bonadeo during the prize giving.
Ganesha and Wisp: Class B. Loro Piana Caribbean Superyacht Regatta & Rendezvous 2015. Photo Carlo Borlenghi
Loro Piana Deputy Chairman Pier Luigi Loro Piana was equally happy: "I want to express my gratitude for everything that was organized this week by the BVI government and by the yacht club. It was a spectacular, beautiful week and I am certain many of these boats will be joining us both for the Porto Cervo event and the 2016 edition in Virgin Gorda."
During the prize giving, attended by the BVI Premier Dr. Orlando Smith, P2 also received the Loro Piana Prize – Boat International Media Trophy for the lowest scoring superyacht overall.
PRIZE WINNERS
The Loro Piana Prize: The Boat International Media Trophy
Winner: P2
Class A – 1st Classified
Winner: P2
Class B – 1st Classified
Winner: Marie
Class A – 2nd Classified
Winner: Inoui
Class B – 2nd Classified
Winner: Wisp
Class A – 3rd Classified
Winner: Freya
Class B – 3rd Classified
Winner: Seahawk
1st Highest Place YCCS Member
Winner: Seahawk
Spirit of the Regatta Trophy
Presented by David V. Johnson, Founder and Owner Oil Nut Bay
Winner: Seahawk
Race Day 1
Winner: Class A – Inoui
Winner: Class B – Marie
Oil Nut Bay Race Day 2
Winner: Class A – P2
Winner: Class B – Seahawk
Embraer Executive Jets Race Day 3
Winner: Class A – P2
Winner: Class B – Seahawk
Share on Facebook