NEWPORT, RHODE ISLAND (September 29, 2016) – A three-year pilot program at Harvard University (Cambridge, Mass.) has culminated in a formal partnership between the University's sailing team and Rhode Island-based Sail To Prevail, the not-for-profit organization that has pioneered overcoming adversity through the sport of sailing.
Michael O'Connor (Foxboro, Mass.), the Crimson's Head Sailing Coach, felt that not only should his student-athletes share their skill sets with others who likely would never have their same opportunities but also that his sailors should be encouraged to contribute to society as part of their overall education. In collaborating with Sail To Prevail CEO Paul Callahan (Newport, R.I./Cape Coral, Fla.), a Harvard graduate and accomplished sailor, O'Connor has brought a new dimension to the Cambridge campus, as well as the local community.
O'Connor dedicates at least 15% of his overall practice time to allowing members of the sailing team to work with specially trained instructors from Sail To Prevail; the student-athletes then put those techniques into action with children and adults with disabilities from Allston, Brighton, Cambridge and the greater Boston community. The program, which runs during the fall season (roughly twice a week, weather permitting) from the Harvard Sailing Center in Cambridge, allows the Sail To Prevail participants and instructors to sail on the Charles River in a specially-equipped Catalina 20 right alongside members of the varsity sailing team. With O'Connor integrating the program into regular practices, the disabled participants are able to feel that they are part of the team and the Harvard sailors learn firsthand how to teach sailing to people with disabilities.
The mission of Sail To Prevail is to utilize sailing to teach people with disabilities how to use the acquired sailing skills – including teamwork and leadership – in their daily lives to overcome adversity and gain self-confidence. Recently, Sail To Prevail has found that the program has a similar effect on the able-bodied people who have come in contact with the organization.
"Michael O'Connor has designed a program that results in maximum outcomes for both the Harvard sailors and the disabled participants alike," said Callahan who explained that the new program is allowing Sail To Prevail to expand into another geographic area and offer its model to more people. "People with disabilities who drive along the Charles River and wish they could somehow get out on it, we provide that opportunity for them."
Sail To Prevail has helped over 18,000 individuals since the organization was founded in 1982. From its base in Fort Adams State Park in Newport, R.I., the organization coordinates a wide variety of sailing opportunities including daily sailing sessions and competitive racing on Wednesday nights throughout the summer; sailing clinics for veterans in cooperation with the Boston Veteran's Administration for rehab patients and their families; the Confidence is Cool summer day camps for children aged seven to 17; and out-of-hospital therapeutic sailing experiences provided to pediatric cancer patients, their physicians and parents through Sail Away From Cancer. Additionally, a satellite program runs in Nantucket, Mass., also during the summer. For more information, please visit:  sailtoprevail.org
Share on Facebook
 200 miles to go. After 9 months and nearly 40,000 miles
Dongfeng slenderest of leads over main rivals Brunel and Mapfre, but seems like it will not mean much this evening.
Caudrelier: "For us its easy to go from 3rd place to 5th place (overall), and also to come back to second. Everything can happen still"
The podium of the Volvo Ocean Race might just come down to a total lottery tonight as wind forecasts predict a difficult transition as Charles Caudrelier describes "from the current strong southerly winds that have carried Dongfeng up the North Sea, to some light easterly winds that will should get us to the finish line. Its going to be stressful".In between potentially little or no wind at all – during the early evening tonight in theory. The battleground will probably be between Hanstholm and Skagen, the two towns with a bay between them, that mark the northern tip of Denmark. But even now the compression is starting, from Yanndirect this morning "Still coming back from behind. Less than 4 miles, now. Nothing we can do about it. Not a nice feeling". More often than not in ocean racing, the rich get richer – but this time its not going to work like that. The guys (and girls) behind are going to sail on in pressure as the boats in front that worked so hard to grind out their leads, will stop in the transition zone between the old and new winds.The warm front moving from the UK east, that has been chasing the fleet since they left, is going to slow down and stall before it gets to them, at least at surface level. Higher up in the atmosphere its forecast to continue east – this differential between up high and at the surface, will provide the conditions for a new low to form, bringing new winds – but the transition could be long – and in the meantime somehow the boats have to get from the old to the new. This in effect should allow almost all, if not all, the backmarkers to sail straight to the front, with the leaders helpless.

It will be tragic if the entire race comes down to luck, but then this is part of ocean racing. Since Dong Feng means 'winds from the east bringing freshness and energy' and Aeolus being the Guardian of the Winds – on land we can only hope and pray to whatever Gods we believe in, that luck will be on our side, and that we will get the podium finish we deserve!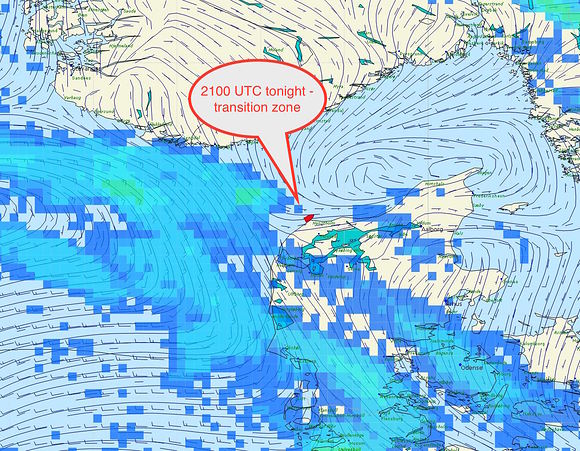 You can follow our story and interact with the team on all social media channels and our official website:Facebook: Click here
Twitter: Click here
Instagram: Click here
Weibo: Click here
WeChat: Click here
Youtube: Click here
YouKu: Click here
Official website: Click here
Share on Facebook
Skipper Sam Davies (GBR) and her Team SCA crew struck a resounding blow for women's offshore sailing in the early hours of Thursday morning when they gloriously clinched Leg 8 of the Volvo Ocean Race
Leg 8

DTL

(NM)

GAIN/LOSS

(NM)

DTF

(NM)

Speed

(kt)

SCA1
FIN – 03d 13h 11m 11s

VEST
FIN – 03d 13h 59m 38s

ADOR
0.3
10.9
3
11.1

MAPF
0.8
11.3
4
11.7

TBRU
1.8
11.5
5
12.4

ALVI
2.3
11.7
5
12.9

DFRT
5.5
11.7
8
13.2
Latest positions may be downloaded
from the race dashboard hereº MAPFRE given 2-point penalty Leg 5
Dongfeng Race Team, Team SCA & MAPFRE penalised Leg 7
– A resounding blow for women's offshore sailing
– Team Vestas Wind bounce back for second place
– Abu Dhabi Ocean Racing nearing overall trophy win
LORIENT, France, June 11 – Skipper Sam Davies (GBR) and her Team SCA crew struck a resounding blow for women's offshore sailing in the early hours of Thursday morning when they gloriously clinched Leg 8 of the Volvo Ocean Race.
The comfortable victory was the first leg win in offshore sailing's toughest challenge since Tracy Edwards' Maidenclinched two stage wins in Class D of the 1989-90 race, won overall by Sir Peter Blake's famous Steinlager2.
At least as satisfying for the first all-women's crew to enter the race in 12 years will be the opportunity to silence critics who suggested that they were looking outclassed in the current 12th edition by their experienced male rivals.
True, the Swedish entry had yet to win a podium place until now, but the crew has clearly improved leg after leg and many observers felt that a breakthrough performance was just around the corner.
The win was certainly no fluke in an upwind leg that tested seamanship to the full with an often heinous sea state and strong winds virtually throughout.
They grabbed the 647-nautical mile leg from Lisbon by the scruff of the neck on Monday, and strengthened that grip on Tuesday after taking an offshore course while most of their rivals hugged the Spanish and French coast approaching the Bay of Biscay.
It took them three days 13 hours 11 minutes and 11 seconds to grab their share of Race history.
"Thanks to everybody for all your support. It's not really sunk in yet," said a jubilant Davies. "It probably won't hit us until we hit the dock and we see there aren't any other boats there.
"It's a reward for all the hard work we have done. It's a great confidence booster. It's going to be huge for us. We've had a mountain to climb to get here."
Behind them, another fairy-tale was unfolding as Team Vestas Wind (Chris Nicholson/AUS) closed to a remarkable second-placed finish in their return to the race after six months out following a collision with an Indian Ocean reef on November 29 during Leg 2.
Nicholson had every reason for the huge smile on his face as he approached the port of Lorient following a near perfect race from Lisbon starting on Sunday.
He had simply hoped that his boat could negotiate the leg without mishap and be competitive – a high podium finish is almost beyond his wildest dreams.
"It's a very special moment," said the team's Onboard Reporter, Brian Carlin (IRL), simply.
Astern of the leading pair, third-placed Abu Dhabi Ocean Racing (Ian Walker/GBR) were nearing an ever bigger prize than the handsome silver leg trophy claimed by Team SCA.
They needed simply to finish ahead of their nearest overall pursuers in the standings,Team Brunel (Bouwe Bekking/NED) and Dongfeng Race Team (Charles Caudrelier/FRA), with a boat in between, to be all but be sure of winning the 12th edition of the Volvo Ocean Race.
As Team SCA passed the finish at 0211 UTC/0411 local time on Thursday, that prospect looked very much on with MAPFRE (Xabi Fernández/ESP) in fourth, Team Brunel fifth, and Team Alvimedica (Charlie Enright/USA) keeping Dongfeng Race Team at bay in the fight for sixth.
The boats will have a short maintenance period before Sunday's SCA In-Port Race here in Lorient, before the fleet set sail for Gothenburg via a much-awaited pit-stop in The Hague, on Tuesday, June 16.
It promises to be a period of considerable celebration for at least three crews of very, very happy sailors.
Share on Facebook
Team Brunel (Bouwe Bekking/NED) completed a triumphant Leg 7 early on Wednesday to bolster their hopes of finishing with a podium place in the Volvo Ocean Race and also keep alive their hopes of overall victory
Leg 7

DTL

(NM)

GAIN/LOSS

(NM)

DTF

(NM)

Speed

(kt)

TBRU
FIN – 09d 11h 09m 49s

MAPF
FIN – 09d 11h 31m 39s

ALVI
FIN – 09d 12h 50m 49s

DFRT
FIN – 09d 12h 51m 44s

ADOR
FIN – 09d 13h 24m 34s

SCA1
FIN – 09d 15h 32m 38s

VEST
Did Not Start
Latest positions may be downloaded
from the race dashboard here º MAPFRE given two-point penalty – read more
– Team Brunel edge home ahead in transatlantic leg
– MAPFRE chase them all the way into Lisbon
– Team Alvimedica beat Dongfeng in thrilling dogfight
– Team Vestas Wind are reunited with rest of the fleet
LISBON, Portugal, May 27 – Team Brunel (Bouwe Bekking/NED) completed a triumphant Leg 7 early on Wednesday to bolster their hopes of finishing with a podium place in the Volvo Ocean Race and also keep alive the possibility of overall victory.
The Dutch boat sailed a near faultless transatlantic stage, edging MAPFRE (Iker Martínez/ESP) into second, just under 22 minutes behind.
Behind them, Team Alvimedica (Charlie Enright/USA) edged out long-time leg leaders, Dongfeng Race Team (Charles Caudrelier/FRA), after an enthralling dogfight over the final miles.
The Chinese-backed boat was caught by Enright's crew in the early hours of Wednesday, but battled their way back and looked sure to overtake them again before a botched tack ruined their chances.
They lost out by just 55 seconds after nearly nine days and 13 hours of sailing across 2,800 nautical miles (nm).
With overall leaders Abu Dhabi Ocean Racing (Ian Walker/GBR) finishing fifth ahead of Team SCA (Sam Davies/GBR), the overall race standings are left finely poised.
The Emirati crew now have a five-point lead over Dongfeng Race Team with two short legs to sail, while Team Brunel are a point further adrift of Charles Caudrelier's crew.
Caudrelier made no attempt to hide his disappointment after leading the leg for so long and seeing a podium place disappear in the final miles.
"I'm feeling very bad, very upset and very sad," he summed up. "We deserved better, but I guess that's life.
"Most of all, I'm upset with myself because my crew did a great job and I made a huge mistake – and I don't accept mistakes. We really missed a chance in this leg with Abu Dhabi Ocean Racing finishing fifth."
Few sailors in the fleet will savour a win over one of the race's trademark legs more than Team Brunel's 51-year-old skipper, Bouwe Bekking, in his record-equalling seventh appearance.
He has certainly experienced the ups and downs of racing across the Atlantic. Few will forget the agonising position he faced in 2006 before he was finally forced to abandon his sinking movistar boat during the same stage of that Volvo Ocean Race.
Bekking insisted last week that he had not lost 'a single night's sleep' over the incident and the confident way that Team Brunel sailed the leg would bear that out.
Team Brunel were harried all the way over the past 24 hours by both MAPFRE and Dongfeng Race Team, especially over the final few miles when the breeze dropped to almost zero in the Tagus River as they approached the Lisbon finish.
"We sailed a tremendous leg but just at the end when there was no wind, it was getting a bit gnarly," said Bekking. "But we pulled it off."
The victory was achieved with two newcomers on board, Adam Minoprio (NZL) and Timo Hagoort (NED), the latter replacing the injured Gerd-Jan Poortman (NED).
"It was good to have those young guys on board, they did a fantastic job," added Bekking.
Team SCA crossed the line, some four hours and 22 minutes behind Team Brunel (see panel above), after an action-packed transatlantic leg in which they sailed within the pack for much of the nine days and at one stage threatened a podium finish after taking a bold strategic choice around the Azores High.
The final two stages, to Lorient (France) and then Gothenburg (Sweden) via a pit-stop in The Hague (Netherlands), will once again be contested by seven boats.
Team Vestas Wind (Chris Nicholson/AUS) rejoin the fleet for the first time since November 29 when the boat was grounded on a reef in the Indian Ocean.
After a four-month rebuild in the Persico boatyard in Bergamo, Italy, the boat was transported by sea and road to Lisbon, arriving a few hours before the rest of the fleet in the small hours of Wednesday morning.
Over the next few days, the rig will be stepped ahead of the Danish-backed team's competitive comeback on June 6 in the Lisbon In-Port Race. Leg 8 to Lorient, a relative sprint at 647nm, begins a day later.
The race concludes on June 27 with the In-Port Race in Gothenburg after nine months and 38,739nm of sailing, visiting 11 ports and every continent.
Current latest standings (low points wins, In-Port Race Series splits ties): 1) Abu Dhabi Ocean Racing 16 pts, 2) Dongfeng Race Team 21, 3) Team Brunel 22, 4) MAPFRE 26, 5) Team Alvimedica 27, 6) Team SCA 41, 7) Team Vestas Wind (Denmark) 52 (DNS).
Share on Facebook
Spanish boat MAPFRE, boosted by the return of their skipper Iker Martinez, claimed their first win of the Volvo Ocean Race in-port series on Saturday in front of thousands of spectators.
With Martinez at the helm, the red boat raced to the first mark with a narrow lead over Team Alvimedica (Turkey/US) and gradually stretched their advantage in a race completed in just under an hour.
The result leaves the Spanish crew still trailing the fleet in the overall standings on 31 points, but they have closed the gap considerably after a string of largely disappointing performances prior to Saturday.
Martinez, 37, was delighted to return to the winner's circle having returned to lead the crew after missing the previous leg due to Olympic commitments.
The helmsman from San Sebastian won gold in the 2004 Athens Games and silver in Beijing 2008, but finished disappointingly down the field in the 2012 London Olympics.
He is determined to put that right in Rio de Janeiro next year, but his commitment to his preparation has led to his missing several legs in this edition of the nine-month Ocean Race which started last October.
"We are improving slowly and that's the way we want to do these things," said Martinez after the victory. "Today we were first and we're feeling super good."
Team Alvimedica, led by Newport local Charlie Enright, clung on to second place while Abu Dhabi Ocean Racing stole third position from the all-women crew of Team SCA, who made a damaging positioning error mid-race.
The result puts Abu Dhabi, led by Briton Ian Walker, back on top of the overall in-port race series standings on 19 points. The series will count towards a separate trophy and be used to split ties in the main offshore competition.
The six boats in the fleet will begin the seventh leg, a 2,800-nautical mile (4,815km) trip to Lisbon, Portugal, on Sunday at 1800GMT.
Abu Dhabi lead by six points from China's Dongfeng Race Team, with three legs to complete in the nine-month, 38,739-nautical mile (71,745km) marathon.
The race concludes on June 27 in Gothenburg, Sweden, having visited 11 ports and every continent.
Team Vestas Wind In-Port Race Newport results 
Course: 3 laps.
Bearing to top gate: 230
Distance to top: 1.4nm, extended to 1.8nm on the 3rd lap.
Total distance sailed: 9.2nm
TWD: 180-185
TWS: 8kts
Team Vestas Wind In-Port Race Newport Results:
1. MAPFRE 14:55:41 – 1pt
2. Team Alvimedica 14:56:39 – 2pts
3. Abu Dhabi Ocean Racing 14:57:38 – 3pts
4. Team SCA 14:57:57 – 4pts
5. Team Brunel 14:58:17 – 5pts
6. Dongfeng Race Team 14:59:09 – 6pts
DNS. Team Vestas Wind – 8pts
In-Port series Overall standings:
1. Abu Dhabi Ocean Racing – 19pts
2. Team Brunel – 20pts
3. Team SCA – 24pts
4. Dongfeng Race Team – 27pts
5. Team Alvimedica – 28pts
6. MAPFRE – 31pts
7. Team Vestas Wind  – 52pts
Crew List for Team Vestas Wind Newport In-Port Race:
Dongfeng Race Team Charles Caudrelier FRA Kevin Escoffier FRA Thomas Rouxel FRA Martin Strömberg SWE Chen Jin Hao (Horace) CHN Pascal Bidegorry FRA Sidney Gavignet FRA Jiru Yang (Wolf) CHN Yann Riou FRA (OBR)
Team Alvimedica Charles Enright USA William Oxley AUS Alberto Bolzan ITA Mark Towill USA Sébastien Marsset FRA Nick Dana USA Ryan Houston NZL Dave Swete NZL Amory Ross USA (OBR)
MAPFRE Iker Martínez ESP Xabi Fernández ESP Jean-Luc Nélias FRA Rob Greenhalgh GBR André Fonseca BRA Antonio Cuervas-Mons ESP Carlos Hernández ESP Guillermo Altadill ESP Francisco Vignale ARG (OBR)
Abu Dhabi Ocean Racing Ian Walker GBR Simon Fisher GBR Daryl Wislang NZL Adil Khalid UAE Luke Parkinson AUS Justin Slattery IRL Roberto Bermúdez de Castro ESP Phil Harmer AUS Matt Knighton USA (OBR)
Team Brunel Bouwe Bekking NED Andrew Cape AUS Jens Dolmer DEN Pablo Arrarte ESP Louis Balcaen BEL Adam Minoprio NZL Rokas Milevicius LTU Timo Hagoort NED Stefan Coppers NED (OBR)
Team SCA Sam Davies GBR Carolijn Brouwer NED Dee Caffari GBR Abby Ehler GBR Annie Lush GBR Elodie-Jane Mettraux SUI Stacey Jackson AUS Libby Greenhalgh GBR Liz Wardley AUS Sally Barkow USA Sophie Ciszek AUS Anna-Lena Elled SWE (OBR)
Share on Facebook
by Kirsten Ferguson
Nothing But Rave Reviews for Rhode Island's Sailing Education Vessel
NEWPORT, R.I. (July 10, 2013) – The SSV Oliver Hazard Perry was dedicated as Rhode Island's Official Sailing Education Vessel at a dockside ceremony Saturday morning at Fort Adams State Park. Rhode Island Lt. Governor Elizabeth Roberts was among a half dozen local, state and Navy dignitaries to speak to an audience of approximately 600 supporters and had the distinguished honor of reading the official declaration proclamation on behalf of Governor Lincoln Chafee.
"In 2012, the legislature designated this ship as the state's official Sailing Education Vessel, authorizing the ship to fly the state flag at sea and in port and to act as the state's ambassador as she sails the world's waters," read Roberts. "With my power and with these words, I dedicate the Oliver Hazard Perry as Rhode Island's official Sailing Education Vessel and wish her fair winds and smooth seas as she spreads the wisdom of our forefathers and modern scholars to all who visit and study aboard her."
At the end of her speech, Roberts ordered the ship's commander, Captain Richard Bailey, to "set the first watch," which was represented by the hoisting of the American flag at the ship's stern, followed by a gun salute from the Artillery Company of Newport and the manning of the rails by nine Navy sea cadets. (The Northeast Navy Band also was present at the event.) A final flag, declaring "Don't Give up the Ship"—just as Commodore Oliver Hazard Perry's did in 1813 when he captured the British fleet and its flagship in the Battle of Lake Erie—was raised to the highest point of the ship's three lower masts, which were draped from stem to stern with signal flags.
Earlier, Lt. Governor Roberts had called the SSV Oliver Hazard Perry "this amazing sailing vessel where students will be learning about not only science, technology, engineering, the arts and mathematics but also–as they walk on this ship or walk by this ship–the history of our state and our country and the importance of Rhode Island to that history." She added, "We often overlook the role we have played at different times as we celebrate the 350th Anniversary of our Colonial Charter and how important that has been to our country and the entire western world."
Another advocate for the project, R.I. Commissioner of Education Deborah Gist, said in her impassioned speech, "When (OHPRI Chair) Bart Dunbar and (Operations Director) Jessica Wurzbacher came to talk to me about this project, they had me at 'hello.' I was immediately sold. The idea of having Rhode Island students out on the water– experiencing what it's like to be on a tall ship, with the science and all the activities, and the incredible building of character and being on a team and relying on one another–fills me with excitement and joy."
Gist, a former science teacher and environmental educator, also thanked Vice Admiral Tom Weschler (Ret), a driving force behind the ship who also is the Chairman Emeritus of the non-profit Oliver Hazard Perry Rhode Island. "A visionary is someone who imagines the possible, but it is when a visionary brings the possible to life, that magic truly happens, and we are so grateful for everything that you and your family have done," said Gist.
Although the ship was clearly unfinished (her masts will be three times as tall as what was seen and her bowsprit half as long again, plus her engines, generators and more are still to come in the final outfitting), the topsides were freshly painted and a Great Cabin finished out as the "showpiece" for the work in progress. The Great Cabin, traditionally where the captain entertained on 18th and 19th century ships, is designated as a teaching area/navigation station aboard the SSV Oliver Hazard Perry. An hour prior to the public dedication of the ship, a private, and moving, dedication of this space took place with the family of Vice Admiral Weschler. It is after his brother—Navy Lt. Charles J. Weschler, a decorated World War II hero—that the Great Cabin has been named.
Over the remainder of the Fourth of July weekend, nearly 1000 visitors inspected the SSV Oliver Hazard Perry before the ship returned to Senesco Marine in Quonset, R.I., to continue construction. When it is launched in 2014, The 196' three-masted, square-rigged tall ship SSV Oliver Hazard Perry will be the largest civilian training vessel in North America and the first ocean-going, full-rigged ship built in the United States in more than 100 years.
For more information about OHPRI and how to contribute to the effort, visit www.OHPRI.org or contact Vice-Chair Perry Lewis at OHPRI headquarters, Buliod-Perry House, 29 Touro Street, Washington Square, Newport, R.I., 401.841.0080.
What Others Said
RADM Glenn E. Whisler, USN (Ret) (OHPRI Board Member and Master of Ceremonies):""I can't wait to look out over Narragansett Bay and see this ship under full sail with a full complement of students aboard.
Bartlett Dunbar (OHPRI Chairman): "With the dedication of this magnificent ship, named for our Rhode Island hero Oliver Hazard Perry, and with a Great Cabin just dedicated to the Weschler Family and naval hero Lieutenant Charles Weschler, we have an appropriate symbol for Rhode Island's historic past, its incredibly energetic present, and its prosperous future."
Hon. Jack Reed (U.S. Senate): "September 10th marks the 200th Anniversary of the victory of Oliver Hazard Perry at the Battle of Lake Erie. It's an extraordinarily important moment in our history. His motto was "Don't Give up the Ship," and that pennant flew over his vessel and inspired his crew. Then at the end of the long fight, he was able to report, 'We have met the enemy and they are ours. Two ships, two rigs, one schooner, and one sloop.' This is the spirit of America."
Congressman James Langevin: "The maritime industry is an integral part of Rhode Island's history, and the SSV Oliver Hazard Perry is a tribute to that past and a beacon to the future and will continue to support the Ocean State's maritime environment. The major difference between this tall ship and its predecessors in the early 19th century is that this one is wheelchair accessible. (Langevin delivered his comments from his wheelchair.)
Hon. M. Teresa Paiva-Weed (President, R.I. Senate): "I want to point out this beautiful setting of Fort Adams State Park, which I love so much, as an example of when the private sector and the public sector come together from start to finish. We have Sail Newport, we have the Fort Adams Trust and now our newest tenant here in the Oliver Hazard Perry. This is truly one of the state's greatest assets and each time we improve this park and each time we add something as beautiful as this, it really attracts more Rhode Islanders to come and enjoy the beauty of the park."
RADM Walter Carter Jr., USN (President, Naval War College): "I can't think of a better way to begin my tenure as president of the Naval War College than to represent our United States Navy in uniform during the very week that we celebrate our nation's birthday, and to participate in the dedication of a ship that will serve as a living tribute to the maritime heritage of Rhode Island. As we dedicate this great ship, we recognize the role that it will soon play in educating our youth in the skills of seamanship, teamwork and service to others. I am indeed a proud native Rhode Islander and earned my very first sea legs right here in Narragansett Bay in 1976, but more importantly, over the centuries, New England has produced some of the world's best mariners, and this fair city has been home to many distinguished naval officers, including naval heroes Matthew C. Perry and his brother Oliver Hazard Perry for whom this ship is named."
Larry Mouradjian (Associate Director of DEM): "We log over 6 million visitors a year to our state parks. This [Fort Adams] is a very special place, and we are very fortunate to have the support of government to continue to invest in the infrastructure here, so that we can once again become even better in hosting so many programs that benefit the public and create so many opportunities for people. So, it is true that just to the north, off the Visitor's Center dock, will be a 248-foot fixed pier that will ultimately be the home of the Oliver Hazard Perry."
Harry Winthrop (Mayor of Newport, R.I.): "What better place to have a tall ship than in the sailing capital of the world, Newport, Rhode Island."
(Photo Credit OHPRI/Kim Fuller
Share on Facebook
Newport, Rhode Island – 5 February 2013 – Newport, Rhode Island will host the Volvo Ocean Race for the first time after winning a place on the route for the 12th edition of sailing's premier round-the-world challenge in 2014-15.
The Race will reach Newport, one of the world's sailing capitals, around May 2015 after a stop in Itajaí, Brazil. From Newport, the teams will sail across the Atlantic for the final legs around Europe.
The Volvo Ocean Race has visited the United States in every edition since 1989-90 but despite Newport's great sailing heritage, it has never before had Host Port status.
"I'm delighted to announce that we are bringing the world's greatest offshore sailing event to one of the world's great sailing cities," Volvo Ocean Race CEO Knut Frostad. said at a presentation at Rhode Island State House in Providence.
"It's about time the Race came to the city of Newport and we are looking forward to a real festival that will delight and inspire sailing fans and those who are new to the sport."
Rhode Island is known as the Ocean State and for over 50 years Newport was the home of the America's Cup. The city hosted a hugely successful stop on the America's Cup World Series in 2012, with 65,000 people visiting over the four-day racing period.
Frostad was joined at the presentation by Rhode Island Governor Lincoln D. Chafee, Newport Mayor Harry Winthrop, Sail Newport executive director Brad Read and other local and state officials. Volvo Ocean Race COO Tom Touber was also at the presentation.
"It gives me great pleasure and pride to welcome the Volvo Ocean Race to beautiful Rhode Island for the first time," said Governor Chafee. "We have made significant strategic land and marine infrastructure improvements at Fort Adams State Park, paving the way for a new era of racing in Rhode Island and setting the stage for the world-class events we continue to host.
"We had a positive experience with the America's Cup World Series last summer, and I look forward to welcoming the Volvo Ocean Race to Rhode Island. These large-scale sailing events draw impressive numbers of visitors to our state – visitors who make valuable contributions to our economy."
Newport, a popular tourist destination, is the sixth Host Port for the Volvo Ocean Race 2014-15 to be revealed so far. The Race will start in Alicante, Spain and visit Recife in north east Brazil. Later in the Race, the teams will race to Auckland in New Zealand before rounding Cape Horn and making a second Brazilian stop in Itajaí and then heading to Newport.
The Race will finish in the Swedish city of Gothenburg. The remaining stopovers on the 2014-15 route will be revealed over the coming weeks.
The upcoming edition of the Volvo Ocean Race will start in autumn 2014 and will be the 12th edition of the 40-year-old event, which started in 1973 as the Whitbread Round the World Race.
The next two editions of the Volvo Ocean Race will be contested in a new high-performance yacht, the Volvo Ocean 65, designed by Farr Yacht Design in the United States and built by a consortium of boatyards in the United Kingdom, France, Italy and Switzerland.
The new 65-foot (19.8-metre) monohull racing yachts will be strictly One Design and delivered "ready to sail". The boats incorporate the latest video, satellite and content production facilities to further enhance the Onboard Reporter programme that has been in place since 2008-09.
The all-female Team SCA were the first to announce their participation in the 2014-15 edition. Backed by SCA, the global hygiene and forest products company, they will be the first all-women's team to compete in the race since 2001-02. A team from the state of Pernambuco, Brazil has also been announced.
The previous edition of the Volvo Ocean Race started in October 2011 in Alicante, Spain and was won by Groupama sailing team, skippered by Frenchman Franck Cammas.
The last race took the teams over 39,000 nautical miles (45,000 miles or 72,000 kilometres) and started in Alicante. The route featured stopovers in Cape Town (South Africa), Abu Dhabi (UAE), Sanya (China), Auckland (New Zealand), Itajaí (Brazil), Miami (USA), Lisbon (Portugal) and Lorient (France) before the finish in Galway (Ireland).
Share on Facebook