200 miles to go. After 9 months and nearly 40,000 miles
Dongfeng slenderest of leads over main rivals Brunel and Mapfre, but seems like it will not mean much this evening.
Caudrelier: "For us its easy to go from 3rd place to 5th place (overall), and also to come back to second. Everything can happen still"
The podium of the Volvo Ocean Race might just come down to a total lottery tonight as wind forecasts predict a difficult transition as Charles Caudrelier describes "from the current strong southerly winds that have carried Dongfeng up the North Sea, to some light easterly winds that will should get us to the finish line. Its going to be stressful".In between potentially little or no wind at all – during the early evening tonight in theory. The battleground will probably be between Hanstholm and Skagen, the two towns with a bay between them, that mark the northern tip of Denmark. But even now the compression is starting, from Yanndirect this morning "Still coming back from behind. Less than 4 miles, now. Nothing we can do about it. Not a nice feeling". More often than not in ocean racing, the rich get richer – but this time its not going to work like that. The guys (and girls) behind are going to sail on in pressure as the boats in front that worked so hard to grind out their leads, will stop in the transition zone between the old and new winds.The warm front moving from the UK east, that has been chasing the fleet since they left, is going to slow down and stall before it gets to them, at least at surface level. Higher up in the atmosphere its forecast to continue east – this differential between up high and at the surface, will provide the conditions for a new low to form, bringing new winds – but the transition could be long – and in the meantime somehow the boats have to get from the old to the new. This in effect should allow almost all, if not all, the backmarkers to sail straight to the front, with the leaders helpless.

It will be tragic if the entire race comes down to luck, but then this is part of ocean racing. Since Dong Feng means 'winds from the east bringing freshness and energy' and Aeolus being the Guardian of the Winds – on land we can only hope and pray to whatever Gods we believe in, that luck will be on our side, and that we will get the podium finish we deserve!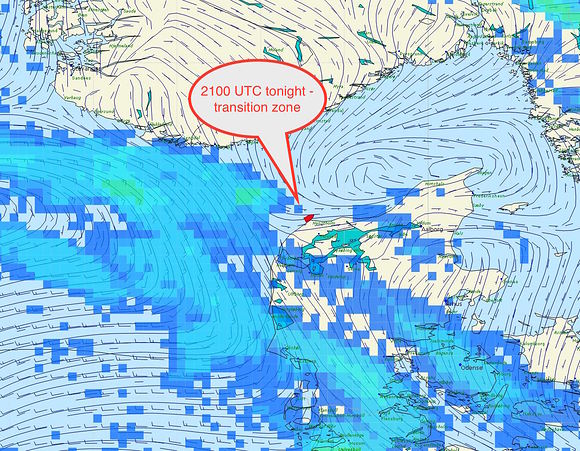 You can follow our story and interact with the team on all social media channels and our official website:Facebook: Click here
Twitter: Click here
Instagram: Click here
Weibo: Click here
WeChat: Click here
Youtube: Click here
YouKu: Click here
Official website: Click here
Share on Facebook
Skipper Sam Davies (GBR) and her Team SCA crew struck a resounding blow for women's offshore sailing in the early hours of Thursday morning when they gloriously clinched Leg 8 of the Volvo Ocean Race
Leg 8

DTL

(NM)

GAIN/LOSS

(NM)

DTF

(NM)

Speed

(kt)

SCA1
FIN – 03d 13h 11m 11s

VEST
FIN – 03d 13h 59m 38s

ADOR
0.3
10.9
3
11.1

MAPF
0.8
11.3
4
11.7

TBRU
1.8
11.5
5
12.4

ALVI
2.3
11.7
5
12.9

DFRT
5.5
11.7
8
13.2
Latest positions may be downloaded
from the race dashboard hereº MAPFRE given 2-point penalty Leg 5
Dongfeng Race Team, Team SCA & MAPFRE penalised Leg 7
– A resounding blow for women's offshore sailing
– Team Vestas Wind bounce back for second place
– Abu Dhabi Ocean Racing nearing overall trophy win
LORIENT, France, June 11 – Skipper Sam Davies (GBR) and her Team SCA crew struck a resounding blow for women's offshore sailing in the early hours of Thursday morning when they gloriously clinched Leg 8 of the Volvo Ocean Race.
The comfortable victory was the first leg win in offshore sailing's toughest challenge since Tracy Edwards' Maidenclinched two stage wins in Class D of the 1989-90 race, won overall by Sir Peter Blake's famous Steinlager2.
At least as satisfying for the first all-women's crew to enter the race in 12 years will be the opportunity to silence critics who suggested that they were looking outclassed in the current 12th edition by their experienced male rivals.
True, the Swedish entry had yet to win a podium place until now, but the crew has clearly improved leg after leg and many observers felt that a breakthrough performance was just around the corner.
The win was certainly no fluke in an upwind leg that tested seamanship to the full with an often heinous sea state and strong winds virtually throughout.
They grabbed the 647-nautical mile leg from Lisbon by the scruff of the neck on Monday, and strengthened that grip on Tuesday after taking an offshore course while most of their rivals hugged the Spanish and French coast approaching the Bay of Biscay.
It took them three days 13 hours 11 minutes and 11 seconds to grab their share of Race history.
"Thanks to everybody for all your support. It's not really sunk in yet," said a jubilant Davies. "It probably won't hit us until we hit the dock and we see there aren't any other boats there.
"It's a reward for all the hard work we have done. It's a great confidence booster. It's going to be huge for us. We've had a mountain to climb to get here."
Behind them, another fairy-tale was unfolding as Team Vestas Wind (Chris Nicholson/AUS) closed to a remarkable second-placed finish in their return to the race after six months out following a collision with an Indian Ocean reef on November 29 during Leg 2.
Nicholson had every reason for the huge smile on his face as he approached the port of Lorient following a near perfect race from Lisbon starting on Sunday.
He had simply hoped that his boat could negotiate the leg without mishap and be competitive – a high podium finish is almost beyond his wildest dreams.
"It's a very special moment," said the team's Onboard Reporter, Brian Carlin (IRL), simply.
Astern of the leading pair, third-placed Abu Dhabi Ocean Racing (Ian Walker/GBR) were nearing an ever bigger prize than the handsome silver leg trophy claimed by Team SCA.
They needed simply to finish ahead of their nearest overall pursuers in the standings,Team Brunel (Bouwe Bekking/NED) and Dongfeng Race Team (Charles Caudrelier/FRA), with a boat in between, to be all but be sure of winning the 12th edition of the Volvo Ocean Race.
As Team SCA passed the finish at 0211 UTC/0411 local time on Thursday, that prospect looked very much on with MAPFRE (Xabi Fernández/ESP) in fourth, Team Brunel fifth, and Team Alvimedica (Charlie Enright/USA) keeping Dongfeng Race Team at bay in the fight for sixth.
The boats will have a short maintenance period before Sunday's SCA In-Port Race here in Lorient, before the fleet set sail for Gothenburg via a much-awaited pit-stop in The Hague, on Tuesday, June 16.
It promises to be a period of considerable celebration for at least three crews of very, very happy sailors.
Share on Facebook
Team Brunel (Bouwe Bekking/NED) completed a triumphant Leg 7 early on Wednesday to bolster their hopes of finishing with a podium place in the Volvo Ocean Race and also keep alive their hopes of overall victory
Leg 7

DTL

(NM)

GAIN/LOSS

(NM)

DTF

(NM)

Speed

(kt)

TBRU
FIN – 09d 11h 09m 49s

MAPF
FIN – 09d 11h 31m 39s

ALVI
FIN – 09d 12h 50m 49s

DFRT
FIN – 09d 12h 51m 44s

ADOR
FIN – 09d 13h 24m 34s

SCA1
FIN – 09d 15h 32m 38s

VEST
Did Not Start
Latest positions may be downloaded
from the race dashboard here º MAPFRE given two-point penalty – read more
– Team Brunel edge home ahead in transatlantic leg
– MAPFRE chase them all the way into Lisbon
– Team Alvimedica beat Dongfeng in thrilling dogfight
– Team Vestas Wind are reunited with rest of the fleet
LISBON, Portugal, May 27 – Team Brunel (Bouwe Bekking/NED) completed a triumphant Leg 7 early on Wednesday to bolster their hopes of finishing with a podium place in the Volvo Ocean Race and also keep alive the possibility of overall victory.
The Dutch boat sailed a near faultless transatlantic stage, edging MAPFRE (Iker Martínez/ESP) into second, just under 22 minutes behind.
Behind them, Team Alvimedica (Charlie Enright/USA) edged out long-time leg leaders, Dongfeng Race Team (Charles Caudrelier/FRA), after an enthralling dogfight over the final miles.
The Chinese-backed boat was caught by Enright's crew in the early hours of Wednesday, but battled their way back and looked sure to overtake them again before a botched tack ruined their chances.
They lost out by just 55 seconds after nearly nine days and 13 hours of sailing across 2,800 nautical miles (nm).
With overall leaders Abu Dhabi Ocean Racing (Ian Walker/GBR) finishing fifth ahead of Team SCA (Sam Davies/GBR), the overall race standings are left finely poised.
The Emirati crew now have a five-point lead over Dongfeng Race Team with two short legs to sail, while Team Brunel are a point further adrift of Charles Caudrelier's crew.
Caudrelier made no attempt to hide his disappointment after leading the leg for so long and seeing a podium place disappear in the final miles.
"I'm feeling very bad, very upset and very sad," he summed up. "We deserved better, but I guess that's life.
"Most of all, I'm upset with myself because my crew did a great job and I made a huge mistake – and I don't accept mistakes. We really missed a chance in this leg with Abu Dhabi Ocean Racing finishing fifth."
Few sailors in the fleet will savour a win over one of the race's trademark legs more than Team Brunel's 51-year-old skipper, Bouwe Bekking, in his record-equalling seventh appearance.
He has certainly experienced the ups and downs of racing across the Atlantic. Few will forget the agonising position he faced in 2006 before he was finally forced to abandon his sinking movistar boat during the same stage of that Volvo Ocean Race.
Bekking insisted last week that he had not lost 'a single night's sleep' over the incident and the confident way that Team Brunel sailed the leg would bear that out.
Team Brunel were harried all the way over the past 24 hours by both MAPFRE and Dongfeng Race Team, especially over the final few miles when the breeze dropped to almost zero in the Tagus River as they approached the Lisbon finish.
"We sailed a tremendous leg but just at the end when there was no wind, it was getting a bit gnarly," said Bekking. "But we pulled it off."
The victory was achieved with two newcomers on board, Adam Minoprio (NZL) and Timo Hagoort (NED), the latter replacing the injured Gerd-Jan Poortman (NED).
"It was good to have those young guys on board, they did a fantastic job," added Bekking.
Team SCA crossed the line, some four hours and 22 minutes behind Team Brunel (see panel above), after an action-packed transatlantic leg in which they sailed within the pack for much of the nine days and at one stage threatened a podium finish after taking a bold strategic choice around the Azores High.
The final two stages, to Lorient (France) and then Gothenburg (Sweden) via a pit-stop in The Hague (Netherlands), will once again be contested by seven boats.
Team Vestas Wind (Chris Nicholson/AUS) rejoin the fleet for the first time since November 29 when the boat was grounded on a reef in the Indian Ocean.
After a four-month rebuild in the Persico boatyard in Bergamo, Italy, the boat was transported by sea and road to Lisbon, arriving a few hours before the rest of the fleet in the small hours of Wednesday morning.
Over the next few days, the rig will be stepped ahead of the Danish-backed team's competitive comeback on June 6 in the Lisbon In-Port Race. Leg 8 to Lorient, a relative sprint at 647nm, begins a day later.
The race concludes on June 27 with the In-Port Race in Gothenburg after nine months and 38,739nm of sailing, visiting 11 ports and every continent.
Current latest standings (low points wins, In-Port Race Series splits ties): 1) Abu Dhabi Ocean Racing 16 pts, 2) Dongfeng Race Team 21, 3) Team Brunel 22, 4) MAPFRE 26, 5) Team Alvimedica 27, 6) Team SCA 41, 7) Team Vestas Wind (Denmark) 52 (DNS).
Share on Facebook
Spanish boat MAPFRE, boosted by the return of their skipper Iker Martinez, claimed their first win of the Volvo Ocean Race in-port series on Saturday in front of thousands of spectators.
With Martinez at the helm, the red boat raced to the first mark with a narrow lead over Team Alvimedica (Turkey/US) and gradually stretched their advantage in a race completed in just under an hour.
The result leaves the Spanish crew still trailing the fleet in the overall standings on 31 points, but they have closed the gap considerably after a string of largely disappointing performances prior to Saturday.
Martinez, 37, was delighted to return to the winner's circle having returned to lead the crew after missing the previous leg due to Olympic commitments.
The helmsman from San Sebastian won gold in the 2004 Athens Games and silver in Beijing 2008, but finished disappointingly down the field in the 2012 London Olympics.
He is determined to put that right in Rio de Janeiro next year, but his commitment to his preparation has led to his missing several legs in this edition of the nine-month Ocean Race which started last October.
"We are improving slowly and that's the way we want to do these things," said Martinez after the victory. "Today we were first and we're feeling super good."
Team Alvimedica, led by Newport local Charlie Enright, clung on to second place while Abu Dhabi Ocean Racing stole third position from the all-women crew of Team SCA, who made a damaging positioning error mid-race.
The result puts Abu Dhabi, led by Briton Ian Walker, back on top of the overall in-port race series standings on 19 points. The series will count towards a separate trophy and be used to split ties in the main offshore competition.
The six boats in the fleet will begin the seventh leg, a 2,800-nautical mile (4,815km) trip to Lisbon, Portugal, on Sunday at 1800GMT.
Abu Dhabi lead by six points from China's Dongfeng Race Team, with three legs to complete in the nine-month, 38,739-nautical mile (71,745km) marathon.
The race concludes on June 27 in Gothenburg, Sweden, having visited 11 ports and every continent.
Team Vestas Wind In-Port Race Newport results 
Course: 3 laps.
Bearing to top gate: 230
Distance to top: 1.4nm, extended to 1.8nm on the 3rd lap.
Total distance sailed: 9.2nm
TWD: 180-185
TWS: 8kts
Team Vestas Wind In-Port Race Newport Results:
1. MAPFRE 14:55:41 – 1pt
2. Team Alvimedica 14:56:39 – 2pts
3. Abu Dhabi Ocean Racing 14:57:38 – 3pts
4. Team SCA 14:57:57 – 4pts
5. Team Brunel 14:58:17 – 5pts
6. Dongfeng Race Team 14:59:09 – 6pts
DNS. Team Vestas Wind – 8pts
In-Port series Overall standings:
1. Abu Dhabi Ocean Racing – 19pts
2. Team Brunel – 20pts
3. Team SCA – 24pts
4. Dongfeng Race Team – 27pts
5. Team Alvimedica – 28pts
6. MAPFRE – 31pts
7. Team Vestas Wind  – 52pts
Crew List for Team Vestas Wind Newport In-Port Race:
Dongfeng Race Team Charles Caudrelier FRA Kevin Escoffier FRA Thomas Rouxel FRA Martin Strömberg SWE Chen Jin Hao (Horace) CHN Pascal Bidegorry FRA Sidney Gavignet FRA Jiru Yang (Wolf) CHN Yann Riou FRA (OBR)
Team Alvimedica Charles Enright USA William Oxley AUS Alberto Bolzan ITA Mark Towill USA Sébastien Marsset FRA Nick Dana USA Ryan Houston NZL Dave Swete NZL Amory Ross USA (OBR)
MAPFRE Iker Martínez ESP Xabi Fernández ESP Jean-Luc Nélias FRA Rob Greenhalgh GBR André Fonseca BRA Antonio Cuervas-Mons ESP Carlos Hernández ESP Guillermo Altadill ESP Francisco Vignale ARG (OBR)
Abu Dhabi Ocean Racing Ian Walker GBR Simon Fisher GBR Daryl Wislang NZL Adil Khalid UAE Luke Parkinson AUS Justin Slattery IRL Roberto Bermúdez de Castro ESP Phil Harmer AUS Matt Knighton USA (OBR)
Team Brunel Bouwe Bekking NED Andrew Cape AUS Jens Dolmer DEN Pablo Arrarte ESP Louis Balcaen BEL Adam Minoprio NZL Rokas Milevicius LTU Timo Hagoort NED Stefan Coppers NED (OBR)
Team SCA Sam Davies GBR Carolijn Brouwer NED Dee Caffari GBR Abby Ehler GBR Annie Lush GBR Elodie-Jane Mettraux SUI Stacey Jackson AUS Libby Greenhalgh GBR Liz Wardley AUS Sally Barkow USA Sophie Ciszek AUS Anna-Lena Elled SWE (OBR)
Share on Facebook
Ice Monitoring for the race plays a unique role in research
Round the World Races commision 90 per cent of ice tracking research
Neutrogena pit stopped
The Barcelona World Race and the competing skippers are playing an important role in one aspect of the monitoring of climate change.
Ice is now seen more frequently and more accurately when it breaks away from the Antarctic ice cap and as it drifts into the areas which have been the traditional southern oceans routes for round the world races.
As a consequence it is vital for the absolute safety of the crews that the positions and movement of ice is tracked and the racing area restricted to avoid danger to the crews.

In fact this comprehensive, accurate level of tracking is done almost exclusively for the Barcelona World Race – and other round the world races – but over time this level of tracking will deliver a direct benefit to scientific research.
Proof of climate change is hard to measure, but even in the Furious 50s and Roaring 40s latitudes Barcelona World Race duos have recently been experiencing warm, sunny interludes.

"We are enjoying our summer holiday in the Southern Ocean" quipped Spirit of Hungary's Conrad Colman a couple of days ago, basking in sunshine and temperatures akin to summer in northern Europe.
At 50 degrees south today Anna Corbella on GAES Centros Auditivos today reflected on a sunny, almost warm respite from the usual cold weather. Renault Captur's Jorg Riechers and Sébastien Audigane were sailing in short and t-shirts in the Roaring 40s a few days ago.

Such intermissions become part of anecdotal evidence but it is the round the world race's safety requirement for in-depth study of iceberg detection and the circulation and drift patterns that will help scientists understand the evolution of climate change.

Ice Day in BCN
It was Ice Day at the Barcelona World Race HQ today. In the media studio were Franck Mercier (FRA) of CLS, the organisation which is charged with the actual ice tracking, and Marcel van Triest (NED) who coordinates the safety zone in collaboration with Race Direction. He serves as the race meteorolgist.

Van Triest explained: "Now we know there are large pieces of ice floating in the ocean as it warms up and Antarctic ice is melting and breaking".
The most immediate recent example are the icebergs which are near the Crozet Islands, quite north of usual expectations. A few days ago One Planet One Ocean Pharmaton were sailing within 70 miles of three or four big icebergs. They were alerted to the exact positions by Race Direction. Aleix Gelabert recalled:

"We had a warning last night from race management about this situation, that there may be a possible growlers in our route and so we changed our course a little bit just in case. There is no need to put ourselves at any additional risk. We are in contact with race management and are very confident about this. There is no problem."

This race has opted for an exclusion zone rather than ice gates. Speaking today he highlighted how difficult it can be to avoid ice van Triest said:

" If you sail at 10 m/s speed and see an iceberg 200 m away from you, you have only 20 seconds to maneuver, that's nothing. That's why we have an exclusion zone, a prohibited zone. It's better than ice gates. In my first round the world race there were no ice limits, we went down to latitudes 60ºS and 61ºS. Today the technology to detect the ice exists, so we control it, we just can't send people down there knowing what we know. "
" With the exclusion zone it gives more control and security. We can go closer to where we know there is ice, like we have done with the icebergs which were at the north of Crozet islands. And the limit can be set more to the South than with the ice gates. Down there there is of course more wind and the route is shorter."

It may seem remarkable that ocean races like the Barcelona World Race are almost alone in pushing forwards the study of floating ice detection and its tracking.
Van Triest highlights:
"Ocean racing commissions do 90% of ice detection work. And this work has really only been going on for 15 years."

Franck Mercier of CLS: " Because of this, round-the-world races like BWR help to work on understanding the climatic change. It's very expensive to study the ice detection, nobody does it except round-the-world races because it's very expensive, although it's very interesting for the understanding of climate change. "

Also as part of the Barcelona World Race's drive to propagate scientific understanding, the Argo beacons which were launched recently are already providing interesting information. The one which Neutrogena launched is at 44 deg S and shows a surface sea temperature of 12 Deg. Cheminées Poujoulat's is at 43 Deg South showing a sea temp of 17 Deg.

Meantime, asked if this is a year of moderate conditions in the Big South for the fleet, both Van Triest and Mercier chorused:
"….for the moment…."

In the Dock, In The Race
In Bluff by Invercargill, South Island New Zealand, repairs to Neutrogena's failed charging system are reported to be on schedule. Skippers Guillermo Altadill and José Munoz are described as having a good night's sleep in readiness for their departure which the team believe will be at 0522hrs UTC Saturday morning as per the mandatory minimum 24 hours duration.
Race leaders Cheminées Poujoulat were taking some brief respite in lighter airs today and expect more of the same tomorrow. Jean Le Cam and Bernard Stamm are now nearly 800 miles ahead of the pit-stopped Neutrogena. In turn GAES Centros Auditivos have reduced their deficit to Neutrogena from 1100 miles to 657 miles.

Skippers' quotes:
Anna Corbella (ESP) GAES Centros Auditivos: " We are pushing as hard as we can. It is not easy to push harder. But if we have any opportunity to catch Neutrogena then we take it.  
At the moment we feel safe. We did not see any ice. I hope it will continue like this. I think it is safe. I feel confident with the people in the people working on it and I think it is working. I don't know which system I would prefer, I dont know whether ice gates or the exclusion zone is better. For the moment the exclusion zone for us is not very good. We had some problems in the Indian Ocean because of it. I dont know which I prefer."

Jean Le Cam, FRA, Cheminées Poujoulat:"The atmosphere on board has changed a bit. After a week when it was hard to do anything less than 19kts average it is quieter again and we are under spinnaker. It is not really that nice but at least the boat is going forwards and it is not slamming. You can drink a coffee quietly and rest. We will make the big general check of the boat tomorrow. It is good.

Stop for Neutrogena
We go as fast and best we can. We are in the rhythym and try not to break it. We route by our weather options and so nothing changes for us. Yes we are comfortable now, that is clear. And it is good. But you still have to stay on it all the time, because no one is immune to a technical problem. Tomorrow we will take full advantage of a little time to make a general check of everything. Neutrogena will get going and it is true we will have a little advance, you can say we are comfortably off. But, hey, we are not immune to shit happening."

Friday the 13th superstition?
"Yes, pfff, no … On Friday 13 you can take it both ways. So I will take it in the right way. Friday the 13th is called a lucky day. It always reminds me of the boat Yvon Fauconnier, Friday 13. Come on, let's say it's a lucky day! »

Antimériden
"For me, it's a real border. The numbers are decreasing now and that means we are closer. You see, I'm at 173 ° 29 West, and the numbers decrease more, so the closer you get. It is a sign of reconciliation and not a sign of remoteness. It is in the phase of the course when you really start to feel you are going towards the finish.»
Standings Friday 13th February 1400hrs UTC
1 Cheminées Poujoulat (B. Stamm – J. Le Cam) at 10.756,7 miles to finish
2 Neutrogena (G. Altadill – J. Muñoz) + 796,0 miles to leader
3 GAES Centros Auditivos (A. Corbella – G. Marín) + 1.453,9 miles to leader
4 Renault Captur (J. Riechers – S. Audigane) + 1.729,9 miles to leader
5 We Are Water (B. Garcia – W. Garcia) + 2.605,0 miles to leader
6 One Planet, One Ocean & Pharmaton (A. Gelabert – D. Costa) + 3.503,3 millas del líde
7 Spirit of Hungary (N. Fa – C. Colman) + 4.176,9 miles to leader
ABD Hugo Boss (A. Thomson – P. Ribes)
Share on Facebook
Kerguelens tomorrow for Cheminees Poujoulat
We Are Water break Cape of Good Hope
GAES Centros Auditivos stem their losses
Another landmark will be ticked off tomorrow for Barcelona World Race leaders Cheminées Poujoulat when they sail north of the lonely Kerguelen Islands.
Coralled north by the race's Antarctic Exclusion Zone, Bernard Stamm and Jean La Cam will pass 300 miles north of the island archipelago which are in every sense one of the most isolated, lonely spots on planet earth, over 2000 miles from the nearest significantly populated area.
The Kerguelen or Desolation Islands were discoveed 240 years ago by the Breton navigator Yves-Joseph de Kerguelen Trémerec and claimed as French.  There are hundreds of small islands but the only inhabitants are between 45 and 100 French scientists, researchers and engineers stationed there.
As such they are important point on the race course, almost exactly half way from the Cape Good Hope to Australia's Cape Leeuwin, 2300 miles from the South African cape, 2100 to Leeuwin. They are in effect equidistant from somewhere but quite literally in the middle of nowhere.
They are also the only possible haven for the race fleets when they are crossing this inhospitable stretch of the Indian Ocean. Indeed, just as Jean LeCam was pleased to have passed the Cape Verde islands where his Barcelona World Race ended prematurely, so co-skipper Stamm will subconsciously be pleased to check off the Kerguelens, passing at good speeds with their IMOCA 60 in good shape and with a lead of more than 270 miles. Stamm lost a previous Cheminées Poujoulat when it was grounded in December 2008 during the solo Vendèe Globe. Ironically fellow Swiss skipper Dominique Wavre was also stopped there with a keel problem.
Stamm was not making his memories obv ious indeed he was on good form today when he summed up the Barcelona World Race so far for himself and co-skipper Jean Le Cam.
" A lot has gone on. But all in all the boat performs well , it goes well. Now we had some small technical problems that don'y exactly make our lives easier even now, but nothing is insurmountable. Apart from a passage a little close to the Azores high where we got light winds  we have sailed the course we wanted."
Cheminées Poujoulat is now lined up 275 miles directly in front of second placed Neutrogena, benefiting from more wind which is more consistent than that of the pursuing duo Guillermo Altadill and José Munoz.
The biggest problem on the horizon for the two leading IMOCA 60s is the former tropical cyclone Diamondra which was more of a threat but which looks to be dissipating now after winds peaking at around 55kts. These storms lose their energy quickly when they pass over the colder water. Nonetheless it remains a concern for Cheminées Poujoulat and for Neutrogena and will certainly alter their relatively straightforwards regime in about three days time.
Their passage of the Cape of Good Hope this morning at 1106hrs UTC is the first Great Cape for the Garcia brothers Bruno and Willy on We Are Water. Considering how little preparation time they had prior to the start, and how both were carrying on their day jobs, Bruno as a heart doctor and Willy as a jewellery retailer until days before the start, their success to date is commendable. Indeed of the fleet they are the first genuine 'amateurs'  in this race, sailors who make their li ving from outside of the sport.
Anna Corbella and Gérard Marin have meantime stemmed some of their worst losses on GAES Centros Auditivos and have been making double digit boat speeds for much of the day after being badly stuck in a high pressure system, although the light winds are moving east with them. In fact their nearest pursuers, fourth placed Renault Captur are now 416 miles behind when two days ago they were 602 miles astern, but the Spanish duo are now quicker again than Renault Captur'sJorg Riechers and Seb Audigane.
Skippers quotes:
Anna Corbella (ESP) GAES Centros Auditivos:" In fact at the moment we are looking backwards because the meteo we have just now is dangerous for us because the boats in front are gone and the boats in the back are catching us, so at the moment we are looking back. It is our concern. I think after this high pressure we will look forwards again and try to catch some miles again on Neutrogena.
Right now we are going out and have 14kts of wind, downwind sailing now and sailing faster – at 12 kts – in the coming hours we will probably stop again and the wind will got to the front and we are going to have another problem with the high pressure. For the moment the night was not so bad we were sailing slowly but we it was not so bad.
From my side, I don't know what Gerard thinks, it's a different race from last time. I don't know if it is harder. Maybe harder is not the word… but it is a little bit more  intense because since the first days we've been sailing with the head of the fleet and we've had more pressure and we've had to sail as fast as possible. And this makes the race more demanding but not harder. For the moment the weather is the same (as the last edition) and we are doing pretty much the same.
To us, particularly in our case, it is hurting us (the exclusion zone) because it really gives us absolutely no choice. With the ice gates we could have gone up and down a bit, and now all we do is go straight along the line of the exclusion zone. I think for other boats it will be different, I guess in every way it is better or worst. That's it. I guess it depends on the case.
Bernard Stamm (SUI) Cheminées Poujopulat: "From the beginning we have been O K, we passed a little close to the high and had light winds but since then we have been able to do what we want with no problems, and we were doing everything we can to go as fast as we can, safely as possible. It has been a good first month."
A month of racing , what conclusions do you draw ?
A lot has gone on. But all in all the boat performs well , it goes well. Now we had some small technical problems that did not make our lives easier even now, but nothing is surmountable . Apart from a passage a little close to the Azores high  we have sailed the course we wanted.
The gaps widen
It is more obvious now that GAES are caught by the anticyclone. With Neutrogena , maybe it will be a bit of concertina effect, I do not know. We make our way according to the the wind not really compared to other competitors.
Things are different from solo?
This is much more serene, sleeping much better. It is good proper slee. Frequently you sleep for three or four hours. Very rarely , much more. Evenother things it is much better . The maneuvers are two , the stacking is with two , it is much simpler.
Life with Jean
Normally , there is no problem. It's always easier said before , we are not sphinxes , but for many reasons  it has to work. The bottom line is it work for many reasons . Jean said before  said that the biggest concern was the ego. If it was one of us that had this ego problem , but this is not the case, we are tools to make the boat go, so it 's going pretty well.
Course to Cape Leeuwin
In front of us on the east coast of Australia , there are two small tropical lows that will come down to us. And our course and strategy will be dicated by how we deal with them. We will have some bad weather, you just have to not push too hard and try and sail in the best, most normal conditions.
The gaps widen
It is more obvious now that GAES are caught by the anticyclone. With Neutrogena , maybe it will be a bit of concertina effect, I do not know. We make our way according to the the wind not really compared to other competitors .
Things are different from solo?
This is much more serene, sleeping much better. It is good proper slee. Frequently you sleep for three or four hours. Very rarely , much more. Evenother things it is much better . The maneuvers are two , the stacking is with two , it is much simpler.
Rankings at 1400hrs UTC Friday 30th January 2015
1. Cheminées Poujoulat (B. Stamm – J. Le Cam) at 15.736,5 miles to the finish
2. Neutrogena (G. Altadill – J. Muñoz) + 272,9 miles to the leader
3. GAES Centros Auditivos (A. Corbella – G. Marín) + 889,8 miles to the leader
4. Renault Captur (J. Riechers – S. Audigane) + 1.305,2 miles to the leader
5. We Are Water (B. Garcia – W. Garcia) + 1.889,4 miles to the leader
6. One Planet, One Ocean & Pharmaton (A. Gelabert – D. Costa) + 2.444,7 miles to the leader
7. Spirit of Hungary (N. Fa – C. Colman) + 2.955,8 miles to the leader
ABD Hugo Boss (A. Thomson – P. Ribes)
Share on Facebook
As if to underline their billing as pre-race favourites to win, Alex Thomson and Pepe Ribes on Hugo Boss led the eight-strong fleet of IMOCA 60s off the start line of the third edition of the Barcelona World Race, two handed race around the world. The British-Spanish duo made the best of the very light winds, setting up with speed at the gun, to eke out a small lead to the turning mark, 1.5 miles away from the line.
With 23,450 miles to sail, of course the early advantage to the British-Spanish duo might only appear to be psychological and within the first hour of racing they found themselves snared by the combination of very calm winds and wash from the sizeable spectator fleet, and were passed by the Swiss-French pairing Bernard Stamm and Jean Le Cam on Cheminées Poujoulat, but the main objective for all was to ensure they stay in the lead group on what will be a tricky, challenging descent of the Mediterranean to the exit doors at the Straits of Gibraltar.
As per forecast breezes were only very light for the start, 2-6 knots. But the sun shone brightly and brought out huge crowds to the beaches of the Catalan capital. To all intents it felt less like the last day of 2014 in the depths of winter, and more like a day stolen from summer.
The warmth of the sunshine leant an almost surreal air to the emotional scenes as the 16 skippers left the Barcelona World Race dock this morning. They may be heading for some of the most feared stretches of the world's oceans, but there was a welcome serenity as the crowds bid farewell to each of the duos. To those observers and skippers more used to the oppressive atmosphere of other winter race starts, usually contemplating Atlantic storms, it was a pleasant change.
But for all that, emotions bubbled to the surface, tugging hard at the heartstrings. Who could fail to be moved when Alex Thomson and his four-year-old son Oscar shouted 'Good bye' to each other across the widening gap between the pontoon and the departing 60-foot monohull? In their private world it was a beautiful toddler waving his dad off to a day at the office – even if Thomson blinked back a tear behind the Hugo Boss designer shades – but to everyone else it was a harsh reminder of the imminent three months of separation from the son whose illness precluded his participation in the last edition.
Hugo Boss team-mate Pepe Ribes' farewell to Pepe Ribes Jr was no less touching, considering the last time he left on this race his son was only three weeks old. This time GAES Centros Auditivos'Gérard Marin's son is only a few months old.
The biggest cheer of the morning was for Anna Corbella, the only female skipper in the race who became the first Spanish woman to sail around the world when she finished the second edition of the race in April 2011 with Briton Dee Caffari. Corbella and Gérard Marin, both local to Barcelona, have been training for two years with their GAES Centros Auditivos and harbour high hopes of a podium finish.
Their partisan fan club were, predictably, the loudest. Corbella's smile wavered as if to crack but as the docklines came aboard, her game face was fixed and she was immediately in 'race mode'.
When the gun sounded at 1300hrs local time (1200hrs UTC) GAES Centros Auditivos looked to have made the best start along with Hugo Boss and Renault Captur (Jorge Riechers and Sébastien Audigane), but both GAES Centros Auditivos and One Planet One Ocean Pharmaton (Aleix Gelabeirtand Didac Costa) jumped the gun and had to restart.
As well as media, family, friends and team-mates, the dock was dotted with key figures of the race including twice winner Jean-Pierre Dick, who saw off the eight boats, and Race Director Jacques Caraës, who helped many teams slip their lines. FNOB president Maite Fandos, the depute mayor of Barcelona; IMOCA President Jean Kehroas; Peter Bayer, General Manager of Open Sports Management, and the President of the Spanish Sailing Federation José Ángel Rodríguez, all joined the farewell.
Meanwhile the city of Barcelona delivered a 'tapas menu' of live performance featuring wind instruments, spraying water, seashells, and performance artists by the Fura dels Baus as a fitting show as the Mayor of Barcelona Xavier Trias lowered a flag on the La Dona of Mil·leni sculpture to signify the start of the race.
Winds might only have been light at the start but the skippers know the pressure is absolutely on from the start. The race start sat between two wind zones. To the east the brisk NE'ly Tramontana is a strong lure, to sail more miles to reach this corridor of breeze does represent the high risk option but with potentially the biggest reward. A fast passage to the Balearics would allow the leader(s) to hold on to this wind longest. Conversely, this breeze will fade first, potentially leaving any gamblers on this flank downwind in very gentle winds. The alternative is to sail the direct, rhumb line – or to the west of it – and wait until the NE'ly has strengthened all the way to the Spanish coast.
The overall balance between the options remained unclear. For sure there is a 'rich get richer' scenario for anyone who breaks through the Strait of Gibraltar first, breaching the brisk, favourable trade winds first for quick train ride south. But the greater likelihood is of a period of very light winds in the busy gateway between the Atlantic and the Mediterranean.
Follow the race:
See the Barcelona World Race Leaderboard, Tracking, Weather Guide, TV schedule and much more athttp://www.barcelonaworldrace.org/en/race-live. Tracker positions are updated at 0500, 0900, 1400 and 1900hrs (UTC).  http://barcelonaworldrace.geovoile.org/2015/
Ranking at 14:00 UTC December 31, 2014:
1 Cheminées Poujoulat (B Stamm – J Le Cam) 23 448.3 miles from the finish
2 GAES Centros Auditivos (A Corbella – G Marino) 0.3 miles to leader
3 Renault Captur (J Riechers – S Audigane) 0.6 miles to leader
4 Hugo Boss (A Thomson – Ribes P) 0.7 miles to leader
5 Neutrogena (G Altadill – Muñoz J) 1.2 miles to leader
6 We Are Water (B Garcia – Garcia W) 1.2 miles to leader
7 One Planet One Ocean & Pharmaton (A Gelabert – Costa D) 1.2 miles to leader
8 Spirit of Hungary (N F – C Colman) 1.3 miles to leader
Skippers' quotes:
Guillermo Altadill (ESP), Neutrogena:
"The last GRIB files are showing a little bit variable conditions that are quite tricky. It's going to be quite open to the Straits – you could go inshore, offshore, so I think it's going to be quite tricky and very open for all the fleet. We hope to be at Gibraltar ahead, but it's not very relevant in one race that's 25000 miles to be ahead 10 miles at Gibraltar, it makes you feel better but it's not very important.
"You make your own pressure, but it's going to be pressure for everybody because everybody is going to push the boat and be the first one out to Gibraltar, but for us it's about holding onto the fleet and to be with the fleet the first part of the race."
"I've probably [raced to Gibraltar] 20 or 25 times. The Med is very unpredictable, so the more you know and the more you race here… you get more confused!"
Nandor Far (HUN), Spirit of Hungary:
"I'm quite relaxed. We did our best to be finished, to be 100 per cent prepared, but you never know. The boat is a very complicated piece so there is always something which is going wrong. Right now I feel the boat is well prepared.
"We are concentrating on the wind and the proper sail choice, and going out in a safe good way, that's all. It will be nice to have time to think about everything. If we want to be in a good place we have to make good progress, but I'm not worried really."
Anna Corbella (ESP), GAES Centros Auditivos:
"I'm feeling excited and happy. I want to get going! The weather is OK, it's nice. It's easy – in terms of physically, so it's not going to be a lot of sail changes, I think it's nice downwind to Gibraltar. Probably at some point it's not [going to be] easy, but I think what is important is to be at Gibraltar in a good position, and to go out in a good position."
Alex Thomson (GBR), Hugo Boss:
"I think the first 5-6 hours there probably won't be very much wind, and then after that we should see some breeze, some fairly good breeze hopefully. Then the breeze will run out, but whether we get to Gibraltar or not I don't know.
"I think for all of us the routing shows that the people at the front will gain and the people at the back will lose – so all the pressure is to be at the front of the pack and not to not lose too much is important. We feel fortunate that we've got a boat that can probably catch everybody up if we need to catch everybody up, but we don't really want to be in that position really!
"As a team we feel very confident. We've put in a lot of work and a lot of prep. These last moments are always a bit heartfelt because of the family and leaving them behind for three months. I think it's not something you would want to get used to, because if you got used to it then it would maybe mean you don't care as much as you do."
Share on Facebook
The 16 skippers, eight duos, who are set to take on the 2014-2015 Barcelona World Race gathered to face the media at today's busy official press conference, the last official gathering of all the teams before the race start on 31st December, now less than 48 hours away.
The conference was opened by Jean Kerhoas, IMOCA Class President, who introduced the UNESCO marine research and education programmes which are essential to this edition of the race, innovating by integrating the round the world competition with an ambitious scientific research programme and a global, openly available further education programme.
He was followed by Race Director Jacques Caräes who explained the starting procedure, which will see the eight IMOCA 60s start at 1300hrs, heading north-easterly along the Barcelona beachfront, before rounding the North Buoy turning mark and heading for Gibraltar and the Atlantic.
But all attention was focused on the 16 sailors gathered on stage. As ever body language and attitude spoke louder and more comprehensively than the words they uttered. Some, like veteran Jean Le Cam (Cheminees Poujoulat), appearing like it was just another work day at the office, relaxed and enjoying the build-up to his second Barcelona World Race. When asked about his final preparations, Le Cam joked that he was going to be mostly eating for the next two days. Guillermo Altadill (Neutrogena), approaching his seventh global circumnavigation, also played to the gallery:
"I live in a small village 90 kilometers from Barcelona. And I realised that I had left the lights on.. So my plan for the next two days, will be to go back tomorrow and put them out!" But for all his humour, fiery Catalan Altadill knows he has been given a gilt edged chance of winning the race which starts and finishes on the waters where he first learned to sail, an opportunity of a victory which would rank him as the first Spaniard to win a major IMOCA race, the same as it would be for Pepe Ribes who grew up in Benissa beside Calpe, 75 kilometres down the race track. 
Share on Facebook