NEWPORT, RI (17 March 2017) – The public is invited to attend the Sail Newport Volvo Ocean Race press conference and Pep Rally on Tuesday, March 21 starting at 10:00 a.m.   The major announcement will feature speakers from the Volvo Ocean Race and Sail Newport.
The press conference will be held at Belle Mer, 2 Goat Island, Newport, RI, USA. The public is invited to attend as space permits and coffee will be served starting at 9:30 a.m. at Belle Mer.
"We're encouraging sailing fans to come and help us show Newport's excitement about the Volvo Ocean Race coming back to Rhode Island," says Brad Read, executive director of Sail Newport.
Also, Sail Newport will host a reception to celebrate the announcement at the Clarke Cooke House, at 5:30 p.m. on Tuesday.  Complimentary hors d'oeuvres and cash bar will be available.
The Volvo Ocean Race Newport Stopover in 2015 was a huge success as over 130,000 people attended and enjoyed the racing, entertainment and hospitality of the public shore side festival. The Race starts October 22, 2017 from Alicante, Spain and will make its only North American stop in Newport, RI, May 8-20, 2018.
LIVE STREAMING:
The event will be live streamed for those who can't make the event. Check the home page at
sailnewport.org
on Monday for information.
The Volvo Ocean Race
The Volvo Ocean Race is the ultimate ocean marathon, pitting sport's best sailors against each other across the world's toughest oceans.  The legendary race that began in 1973 will start from Alicante, Spain in October 2017 and finish in The Hague, Netherlands in June 2018.  Featuring almost three times as much Southern Ocean sailing as in the previous edition, the Volvo Ocean Race 2017-18 will be contested over the longest distance in the race's history at around 45,000 nautical miles, crossing four oceans and taking in 12 major cities on six continents.
The Volvo Ocean Race has been the global sponsorship flagship of Volvo Group and Volvo Car Group since taking ownership of the race in 1999.  The Volvo Ocean Race is operated as a non-profit organization.
| | |
| --- | --- |
| | |
ABOUT THE VOLVO OCEAN RACE NEWPORT STOPOVER
The only North American Stopover of the Volvo Ocean Race will be hosted by Sail Newport, Rhode Island's Public Sailing Center, the State of Rhode Island Dept. of Environmental Management (DEM), Discover Newport, and the City of Newport.  This two-week stopover celebration and festival will be open to the public for free and will include a Race Village (opens May 8, 2018) with entertainment, a marine Exploration Zone (opens May 12, 2018), kids activities, a food court, team compounds, sponsor pavilions and a theater.  On-the-water activities and sailing events are scheduled for each day such as Try Sailing for families, M32 and other sailboat racing, up-close viewing of the race boats at dock and racing during the Pro-Am Race, the In-Port Races, and the boat parade and Leg Start to Cardiff, Wales (May 20, 2018)  All sailing will take place within yards of the Race Village on the shoreline at Fort Adams State Park.
Share on Facebook
NEWPORT, R.I. (July 26, 2016) – The 200-foot Tall Ship SSV Oliver Hazard Perry caused heads to turn last week while she completed drills on Narragansett Bay under full sail and in brisk breezes. The drills, as well as inspections, have been required by the US Coast Guard in order for the ship to qualify as a Sailing School Vessel under USCG regulations. The three-masted, full rigged ship is Rhode Island's official "Sailing Education Vessel" and carries 14,000 sq. ft. of sail area and seven miles of running rigging. Her tallest mast is 13 ½ stories high.
"We are very pleased with the way the crew has come together and that Oliver Hazard Perry has made it through all the complexities of Coast Guard certification to receive her USCG Certificate of Inspection," said Captain David Dawes, who joined the ship three months ago. "The ship is performing as expected, and we're confident we'll be able to give trainees an excellent experience this summer."
Teen and Adult Voyages
SSV Oliver Hazard Perry's first trainees will board this weekend (July 31) in Boston during the first of this year's two scheduled Teen Summer Voyages. The ship will sail with its students to several ports along the coast on its way to Portsmouth, N.H., where it will arrive on August 10. The second teen voyage is scheduled to depart Portsmouth on August 14 and arrive at Fort Adams State Park in Newport, R.I. (where the ship is based) on August 20. (Limited openings are still available for both sessions.)
SSV Oliver Hazard Perry also has just announced its first 2016 Adult and Family Voyage for Labor Day Weekend. It leaves from Fort Adams on Saturday morning, September 3, and returns the afternoon of Monday, September 5. The ship will sail in and around Narragansett Bay, with overnight anchorages that may include (depending on wind and weather) Dutch Harbor, the Sakonnet River, and Block Island. (Each participant under 18 must be accompanied by at least one adult; no prior experience is necessary, and no extraordinary fitness is required.)
Although SSV Oliver Hazard Perry is a new 21st Century Tall Ship, participants of all ages who sail aboard her will connect with a long history of education-at-sea adventures, living aboard and working side-by-side with professional crew to learn square-rig seamanship – including bracing the yards, steering the ship and going aloft – on the first ocean-going full-rigged ship to be built in America in over a hundred years.
For more information on SSV Oliver Hazard Perry and its programs, visit www.ohpri.org or contact gretchen@ohpri.org. Follow OHPRI on Facebook and Twitter for current news and developments.
Share on Facebook
Panerai North American President Rafael Alvarez and a host of others awarded the Panerai Classic Yachts Challenge North American Circuit's top classic racing prizes this past weekend, as well as naming the Best Overall Winner for the Museum of Yachting (MoY) 36th Annual Classic Yacht Regatta. The two day regatta took place September 5th – 6th in America's famed racing capitol Newport, RI. Fifty-two classic sailing vessels entered the final segment of the sixth annual Panerai Classic Yachts Challenge (PCYC) North American Circuit; of which nearly 20 were eligible to win the Panerai Circuit Prizes, having competed in their respective classes in two of the three Regattas and participated in a minimum of three of the five Circuit racing days.
The North American Circuit of the PCYC is comprised of the Corinthian Classic Yacht Regatta (held August 8th – 9th in Marblehead, MA), the Opera House Cup (held August 16th in Nantucket, MA) and culminates with the MoY Classic Yacht Regatta, which is held annually over Labor Day weekend at historic Fort Adams State Park. While the PCYC North American Circuit is celebrating six years of spirited competition under Panerai's sponsorship, it has been 11 years since Officine Panerai, the Italian high-end watch brand, first launched their global classic yachting regatta series in 2005 and 10 years since they began hosting some of the country's most prestigious classic yachting events in ports around New England.
The MoY Classic Yacht Regatta Race
Saturday brought pleasant temperatures, blue skies and plenty of sunshine with early afternoon winds light out of the north at 5 knots, which delayed the race start by over two hours. While the Race Committee determined which wind direction would win out, a situation Newport sailors are accustomed to, the captains and crews patiently waited for the winds to increasingly blow from the south northward. The competitors got their wish when just after 2 p.m. the Race Committee, under the stewardship of Organizing Authority Sail Newport, announced a shortened 5.5 mile course to the north and started the race, allowing the sailors to have an afternoon of competition on Narragansett Bay before they returned to Fort Adams State Park and the Panerai Hospitality Lounge for the annual MoY CYR Cocktail Party.
Sunday's more robust winds out of the southwest reached upwards of 18 knots and created perfect conditions for the entire fleet, which chartered an almost 20 mile course from the middle of Narragansett Bay, south to Rhode Island Sound and then north to circumnavigate Conanicut Island and round the island's northern tip. The fleet finally returned south under the Newport-Pell Bridge toward Newport Harbor, followed by dozens of spectator boats cheering them on.
Prior to the race start on Sunday morning, many of the participating yachts took part in the Newport tradition of proudly hoisting their yacht club pennants and PCYC flags to circle Newport's inner harbour for the Annual Classic Yacht Parade. From land and sea, spectators could appreciate the beauty and spirit of the wide range of classic boats, from grande dame yachts (one of which boasted a crew serenading spectators with a jolly rendition of "You Are My Sunshine"), to classic motor yachts, and a small Bantry Bay gig enthusiastically crewed by 12 uniformed rowers.
The MoY Prize Giving Ceremony and Special Mentions
Ahead of the MoY Regatta Dinner and the evening's finale presentation of the Panerai North American Circuit Awards, members of the Board of Trustees representing IYRS School of Technology & Trades/Museum of Yachting presented dozens of awards recognizing spirit and classic yachting design. Of special note, MINK, a 32′ Buzzards Bay 1925 (1914), was recognized as the winner of the Tom Benson Award for Restoration, in addition to winning best performance within the Herreshoff-designed fleet and best performance of a gaff-rigged vessel.
The famous Clingstone Cannon – the award for "Best Corinthian Spirit" – was fired off for SUMMER WIND, a 37′ Carriacou Sloop Day Racer and its skipper Dennis Dowling and crew.
PCYC Regatta Committee Chair Bill Doyle took the podium midway through the dinner to pay a tribute to recently passed Newport classic sailing enthusiasts and visionaries Jack Brown and Jim Cassidy and to begin announcing the Panerai Awards.
The Official Panerai Prize-Winners
Mr. Doyle explained the distinction between the "starting classes" and the "scoring classes" and proceeded to announce that this year the Panerai 1st Place Class Winners would receive a beautifully engraved Silver Plate, presented by Mr. Alvarez, in addition to the traditional trophy winners for the Best Overall in the Vintage and Grand Prix Divisions.
For Best Overall Performance in the MoY Classic Yacht Regatta, Rafael Alvarez presented a Radiomir 1940 3 Days Acciaio – 47mm (PAM00514) to Newporter George Hill of WEATHERLY. The celebrated 12-Metre was the only boat to have won the America's Cup on its second attempt, after losing to COLUMBIA in the 1958 Defender trials. Mr. Hill, who rescued and restored the racing yacht, was stunned and delighted to accept the Panerai top prize for his yacht's performance.
Walking away with the replica Vintage Class trophy was SIREN and DAGGER took home the Grand Prix Class trophy for the Circuit. The perpetual trophies will be engraved with the winning boats' names and placed on display at the Museum of Yachting at IYRS until next year's competition.
PCYC NA Circuit Division Class Winners:
Grand Prix Class
Day Racer – DAGGER – A 35′ Hunt International 225 (1940), skippered by Ted Boynton
Yacht – NASHUA – A 47′ W-46, skippered by Wendy Schmidt
Vintage Class
Day Racer – ADAMANT – A 24′ Adams Interclub (1937) skippered by Mark Pincus
Corinthian Classic – SIREN – A 45′ S&S designed NY-32 skippered by Peter Cassidy
Grand Classic – WEATHERLY – A 1962 America's Cup defender 12-Metre (1958) that is listed on the National Register of Historic Places; owned and skippered by George Hill
Among the fleet competing for the Vintage Class prizes were three 1905 Herreshoff NY-30s, as well as their successors, the NY-32 fleet designed by esteemed naval architects Sparkman and Stephens, of which SIREN was a part of this special reunion of New York Yacht Club classic yacht racers.
Among the many noteworthy competitors, a few stand outs which competed in multiple regattas comprising the 2015 PCYC North American Circuit, included WHEN AND IF, THE BLUE PETER, GALAVANT, TICONDEROGA and BLACK WATCH.
Panerai and Healing Sails
Panerai has dedicated at least one day of classic sailing, before or after each regatta during the PCYC North American Circuit, to sponsoring patient and caregiver sails for the community residents who live in the vicinity of the racing. Again this year, Panerai partnered with Sailing Heals, a Massachusetts-based non-profit sailing organization, along with their dedicated Host Captains to host more than 20 local 'VIP Guests' for a beautiful Italian-inspired lunch followed by a rejuvenating sail on five separate classic boating vessels: THE BLUE PETER, WILD HORSES, WINDIGO, GALAVANT and TOBIAS on beautiful Narragansett Bay.
Share on Facebook
 200 miles to go. After 9 months and nearly 40,000 miles
Dongfeng slenderest of leads over main rivals Brunel and Mapfre, but seems like it will not mean much this evening.
Caudrelier: "For us its easy to go from 3rd place to 5th place (overall), and also to come back to second. Everything can happen still"
The podium of the Volvo Ocean Race might just come down to a total lottery tonight as wind forecasts predict a difficult transition as Charles Caudrelier describes "from the current strong southerly winds that have carried Dongfeng up the North Sea, to some light easterly winds that will should get us to the finish line. Its going to be stressful".In between potentially little or no wind at all – during the early evening tonight in theory. The battleground will probably be between Hanstholm and Skagen, the two towns with a bay between them, that mark the northern tip of Denmark. But even now the compression is starting, from Yanndirect this morning "Still coming back from behind. Less than 4 miles, now. Nothing we can do about it. Not a nice feeling". More often than not in ocean racing, the rich get richer – but this time its not going to work like that. The guys (and girls) behind are going to sail on in pressure as the boats in front that worked so hard to grind out their leads, will stop in the transition zone between the old and new winds.The warm front moving from the UK east, that has been chasing the fleet since they left, is going to slow down and stall before it gets to them, at least at surface level. Higher up in the atmosphere its forecast to continue east – this differential between up high and at the surface, will provide the conditions for a new low to form, bringing new winds – but the transition could be long – and in the meantime somehow the boats have to get from the old to the new. This in effect should allow almost all, if not all, the backmarkers to sail straight to the front, with the leaders helpless.

It will be tragic if the entire race comes down to luck, but then this is part of ocean racing. Since Dong Feng means 'winds from the east bringing freshness and energy' and Aeolus being the Guardian of the Winds – on land we can only hope and pray to whatever Gods we believe in, that luck will be on our side, and that we will get the podium finish we deserve!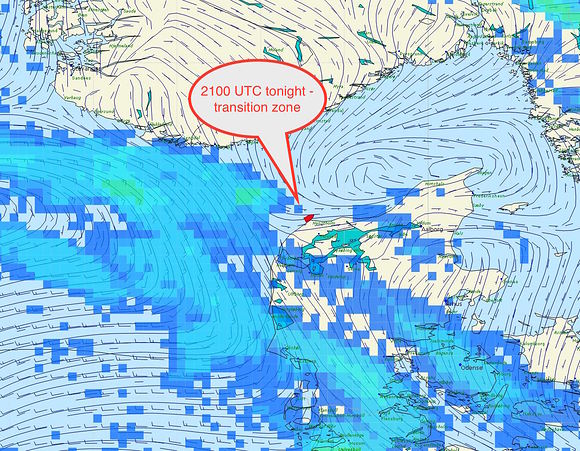 You can follow our story and interact with the team on all social media channels and our official website:Facebook: Click here
Twitter: Click here
Instagram: Click here
Weibo: Click here
WeChat: Click here
Youtube: Click here
YouKu: Click here
Official website: Click here
Share on Facebook
Skipper Sam Davies (GBR) and her Team SCA crew struck a resounding blow for women's offshore sailing in the early hours of Thursday morning when they gloriously clinched Leg 8 of the Volvo Ocean Race
Leg 8

DTL

(NM)

GAIN/LOSS

(NM)

DTF

(NM)

Speed

(kt)

SCA1
FIN – 03d 13h 11m 11s

VEST
FIN – 03d 13h 59m 38s

ADOR
0.3
10.9
3
11.1

MAPF
0.8
11.3
4
11.7

TBRU
1.8
11.5
5
12.4

ALVI
2.3
11.7
5
12.9

DFRT
5.5
11.7
8
13.2
Latest positions may be downloaded
from the race dashboard hereº MAPFRE given 2-point penalty Leg 5
Dongfeng Race Team, Team SCA & MAPFRE penalised Leg 7
– A resounding blow for women's offshore sailing
– Team Vestas Wind bounce back for second place
– Abu Dhabi Ocean Racing nearing overall trophy win
LORIENT, France, June 11 – Skipper Sam Davies (GBR) and her Team SCA crew struck a resounding blow for women's offshore sailing in the early hours of Thursday morning when they gloriously clinched Leg 8 of the Volvo Ocean Race.
The comfortable victory was the first leg win in offshore sailing's toughest challenge since Tracy Edwards' Maidenclinched two stage wins in Class D of the 1989-90 race, won overall by Sir Peter Blake's famous Steinlager2.
At least as satisfying for the first all-women's crew to enter the race in 12 years will be the opportunity to silence critics who suggested that they were looking outclassed in the current 12th edition by their experienced male rivals.
True, the Swedish entry had yet to win a podium place until now, but the crew has clearly improved leg after leg and many observers felt that a breakthrough performance was just around the corner.
The win was certainly no fluke in an upwind leg that tested seamanship to the full with an often heinous sea state and strong winds virtually throughout.
They grabbed the 647-nautical mile leg from Lisbon by the scruff of the neck on Monday, and strengthened that grip on Tuesday after taking an offshore course while most of their rivals hugged the Spanish and French coast approaching the Bay of Biscay.
It took them three days 13 hours 11 minutes and 11 seconds to grab their share of Race history.
"Thanks to everybody for all your support. It's not really sunk in yet," said a jubilant Davies. "It probably won't hit us until we hit the dock and we see there aren't any other boats there.
"It's a reward for all the hard work we have done. It's a great confidence booster. It's going to be huge for us. We've had a mountain to climb to get here."
Behind them, another fairy-tale was unfolding as Team Vestas Wind (Chris Nicholson/AUS) closed to a remarkable second-placed finish in their return to the race after six months out following a collision with an Indian Ocean reef on November 29 during Leg 2.
Nicholson had every reason for the huge smile on his face as he approached the port of Lorient following a near perfect race from Lisbon starting on Sunday.
He had simply hoped that his boat could negotiate the leg without mishap and be competitive – a high podium finish is almost beyond his wildest dreams.
"It's a very special moment," said the team's Onboard Reporter, Brian Carlin (IRL), simply.
Astern of the leading pair, third-placed Abu Dhabi Ocean Racing (Ian Walker/GBR) were nearing an ever bigger prize than the handsome silver leg trophy claimed by Team SCA.
They needed simply to finish ahead of their nearest overall pursuers in the standings,Team Brunel (Bouwe Bekking/NED) and Dongfeng Race Team (Charles Caudrelier/FRA), with a boat in between, to be all but be sure of winning the 12th edition of the Volvo Ocean Race.
As Team SCA passed the finish at 0211 UTC/0411 local time on Thursday, that prospect looked very much on with MAPFRE (Xabi Fernández/ESP) in fourth, Team Brunel fifth, and Team Alvimedica (Charlie Enright/USA) keeping Dongfeng Race Team at bay in the fight for sixth.
The boats will have a short maintenance period before Sunday's SCA In-Port Race here in Lorient, before the fleet set sail for Gothenburg via a much-awaited pit-stop in The Hague, on Tuesday, June 16.
It promises to be a period of considerable celebration for at least three crews of very, very happy sailors.
Share on Facebook
Team Brunel (Bouwe Bekking/NED) completed a triumphant Leg 7 early on Wednesday to bolster their hopes of finishing with a podium place in the Volvo Ocean Race and also keep alive their hopes of overall victory
Leg 7

DTL

(NM)

GAIN/LOSS

(NM)

DTF

(NM)

Speed

(kt)

TBRU
FIN – 09d 11h 09m 49s

MAPF
FIN – 09d 11h 31m 39s

ALVI
FIN – 09d 12h 50m 49s

DFRT
FIN – 09d 12h 51m 44s

ADOR
FIN – 09d 13h 24m 34s

SCA1
FIN – 09d 15h 32m 38s

VEST
Did Not Start
Latest positions may be downloaded
from the race dashboard here º MAPFRE given two-point penalty – read more
– Team Brunel edge home ahead in transatlantic leg
– MAPFRE chase them all the way into Lisbon
– Team Alvimedica beat Dongfeng in thrilling dogfight
– Team Vestas Wind are reunited with rest of the fleet
LISBON, Portugal, May 27 – Team Brunel (Bouwe Bekking/NED) completed a triumphant Leg 7 early on Wednesday to bolster their hopes of finishing with a podium place in the Volvo Ocean Race and also keep alive the possibility of overall victory.
The Dutch boat sailed a near faultless transatlantic stage, edging MAPFRE (Iker Martínez/ESP) into second, just under 22 minutes behind.
Behind them, Team Alvimedica (Charlie Enright/USA) edged out long-time leg leaders, Dongfeng Race Team (Charles Caudrelier/FRA), after an enthralling dogfight over the final miles.
The Chinese-backed boat was caught by Enright's crew in the early hours of Wednesday, but battled their way back and looked sure to overtake them again before a botched tack ruined their chances.
They lost out by just 55 seconds after nearly nine days and 13 hours of sailing across 2,800 nautical miles (nm).
With overall leaders Abu Dhabi Ocean Racing (Ian Walker/GBR) finishing fifth ahead of Team SCA (Sam Davies/GBR), the overall race standings are left finely poised.
The Emirati crew now have a five-point lead over Dongfeng Race Team with two short legs to sail, while Team Brunel are a point further adrift of Charles Caudrelier's crew.
Caudrelier made no attempt to hide his disappointment after leading the leg for so long and seeing a podium place disappear in the final miles.
"I'm feeling very bad, very upset and very sad," he summed up. "We deserved better, but I guess that's life.
"Most of all, I'm upset with myself because my crew did a great job and I made a huge mistake – and I don't accept mistakes. We really missed a chance in this leg with Abu Dhabi Ocean Racing finishing fifth."
Few sailors in the fleet will savour a win over one of the race's trademark legs more than Team Brunel's 51-year-old skipper, Bouwe Bekking, in his record-equalling seventh appearance.
He has certainly experienced the ups and downs of racing across the Atlantic. Few will forget the agonising position he faced in 2006 before he was finally forced to abandon his sinking movistar boat during the same stage of that Volvo Ocean Race.
Bekking insisted last week that he had not lost 'a single night's sleep' over the incident and the confident way that Team Brunel sailed the leg would bear that out.
Team Brunel were harried all the way over the past 24 hours by both MAPFRE and Dongfeng Race Team, especially over the final few miles when the breeze dropped to almost zero in the Tagus River as they approached the Lisbon finish.
"We sailed a tremendous leg but just at the end when there was no wind, it was getting a bit gnarly," said Bekking. "But we pulled it off."
The victory was achieved with two newcomers on board, Adam Minoprio (NZL) and Timo Hagoort (NED), the latter replacing the injured Gerd-Jan Poortman (NED).
"It was good to have those young guys on board, they did a fantastic job," added Bekking.
Team SCA crossed the line, some four hours and 22 minutes behind Team Brunel (see panel above), after an action-packed transatlantic leg in which they sailed within the pack for much of the nine days and at one stage threatened a podium finish after taking a bold strategic choice around the Azores High.
The final two stages, to Lorient (France) and then Gothenburg (Sweden) via a pit-stop in The Hague (Netherlands), will once again be contested by seven boats.
Team Vestas Wind (Chris Nicholson/AUS) rejoin the fleet for the first time since November 29 when the boat was grounded on a reef in the Indian Ocean.
After a four-month rebuild in the Persico boatyard in Bergamo, Italy, the boat was transported by sea and road to Lisbon, arriving a few hours before the rest of the fleet in the small hours of Wednesday morning.
Over the next few days, the rig will be stepped ahead of the Danish-backed team's competitive comeback on June 6 in the Lisbon In-Port Race. Leg 8 to Lorient, a relative sprint at 647nm, begins a day later.
The race concludes on June 27 with the In-Port Race in Gothenburg after nine months and 38,739nm of sailing, visiting 11 ports and every continent.
Current latest standings (low points wins, In-Port Race Series splits ties): 1) Abu Dhabi Ocean Racing 16 pts, 2) Dongfeng Race Team 21, 3) Team Brunel 22, 4) MAPFRE 26, 5) Team Alvimedica 27, 6) Team SCA 41, 7) Team Vestas Wind (Denmark) 52 (DNS).
Share on Facebook
Spanish boat MAPFRE, boosted by the return of their skipper Iker Martinez, claimed their first win of the Volvo Ocean Race in-port series on Saturday in front of thousands of spectators.
With Martinez at the helm, the red boat raced to the first mark with a narrow lead over Team Alvimedica (Turkey/US) and gradually stretched their advantage in a race completed in just under an hour.
The result leaves the Spanish crew still trailing the fleet in the overall standings on 31 points, but they have closed the gap considerably after a string of largely disappointing performances prior to Saturday.
Martinez, 37, was delighted to return to the winner's circle having returned to lead the crew after missing the previous leg due to Olympic commitments.
The helmsman from San Sebastian won gold in the 2004 Athens Games and silver in Beijing 2008, but finished disappointingly down the field in the 2012 London Olympics.
He is determined to put that right in Rio de Janeiro next year, but his commitment to his preparation has led to his missing several legs in this edition of the nine-month Ocean Race which started last October.
"We are improving slowly and that's the way we want to do these things," said Martinez after the victory. "Today we were first and we're feeling super good."
Team Alvimedica, led by Newport local Charlie Enright, clung on to second place while Abu Dhabi Ocean Racing stole third position from the all-women crew of Team SCA, who made a damaging positioning error mid-race.
The result puts Abu Dhabi, led by Briton Ian Walker, back on top of the overall in-port race series standings on 19 points. The series will count towards a separate trophy and be used to split ties in the main offshore competition.
The six boats in the fleet will begin the seventh leg, a 2,800-nautical mile (4,815km) trip to Lisbon, Portugal, on Sunday at 1800GMT.
Abu Dhabi lead by six points from China's Dongfeng Race Team, with three legs to complete in the nine-month, 38,739-nautical mile (71,745km) marathon.
The race concludes on June 27 in Gothenburg, Sweden, having visited 11 ports and every continent.
Team Vestas Wind In-Port Race Newport results 
Course: 3 laps.
Bearing to top gate: 230
Distance to top: 1.4nm, extended to 1.8nm on the 3rd lap.
Total distance sailed: 9.2nm
TWD: 180-185
TWS: 8kts
Team Vestas Wind In-Port Race Newport Results:
1. MAPFRE 14:55:41 – 1pt
2. Team Alvimedica 14:56:39 – 2pts
3. Abu Dhabi Ocean Racing 14:57:38 – 3pts
4. Team SCA 14:57:57 – 4pts
5. Team Brunel 14:58:17 – 5pts
6. Dongfeng Race Team 14:59:09 – 6pts
DNS. Team Vestas Wind – 8pts
In-Port series Overall standings:
1. Abu Dhabi Ocean Racing – 19pts
2. Team Brunel – 20pts
3. Team SCA – 24pts
4. Dongfeng Race Team – 27pts
5. Team Alvimedica – 28pts
6. MAPFRE – 31pts
7. Team Vestas Wind  – 52pts
Crew List for Team Vestas Wind Newport In-Port Race:
Dongfeng Race Team Charles Caudrelier FRA Kevin Escoffier FRA Thomas Rouxel FRA Martin Strömberg SWE Chen Jin Hao (Horace) CHN Pascal Bidegorry FRA Sidney Gavignet FRA Jiru Yang (Wolf) CHN Yann Riou FRA (OBR)
Team Alvimedica Charles Enright USA William Oxley AUS Alberto Bolzan ITA Mark Towill USA Sébastien Marsset FRA Nick Dana USA Ryan Houston NZL Dave Swete NZL Amory Ross USA (OBR)
MAPFRE Iker Martínez ESP Xabi Fernández ESP Jean-Luc Nélias FRA Rob Greenhalgh GBR André Fonseca BRA Antonio Cuervas-Mons ESP Carlos Hernández ESP Guillermo Altadill ESP Francisco Vignale ARG (OBR)
Abu Dhabi Ocean Racing Ian Walker GBR Simon Fisher GBR Daryl Wislang NZL Adil Khalid UAE Luke Parkinson AUS Justin Slattery IRL Roberto Bermúdez de Castro ESP Phil Harmer AUS Matt Knighton USA (OBR)
Team Brunel Bouwe Bekking NED Andrew Cape AUS Jens Dolmer DEN Pablo Arrarte ESP Louis Balcaen BEL Adam Minoprio NZL Rokas Milevicius LTU Timo Hagoort NED Stefan Coppers NED (OBR)
Team SCA Sam Davies GBR Carolijn Brouwer NED Dee Caffari GBR Abby Ehler GBR Annie Lush GBR Elodie-Jane Mettraux SUI Stacey Jackson AUS Libby Greenhalgh GBR Liz Wardley AUS Sally Barkow USA Sophie Ciszek AUS Anna-Lena Elled SWE (OBR)
Share on Facebook
A record 189 teams competed in the 160th New York Yacht Club Annual Regatta presented by Rolex this weekend. The event is the oldest regatta in the country and was challenged by near-drifting conditions at times.  Nevertheless, the breezes cooperated better for the final day of racing and winners were named in 19 classes. Among the star-studded gathering of sailors was Australian John Bertrand sailing in Etchells class. He is best known for winning the America's Cup here in 1983, breaking the New York Yacht Club's hold on the trophy for 132 years.
Though light, shifty winds had an unusual stronghold on this year's 160th New York Yacht Club Annual Regatta presented by Rolex, most of the 189 teams competing knew how to take it all in stride. In particular, Doug and Dick DeVos, brothers from Grand Rapids, Mich., couldn't have asked for a better Father's Day gift than getting to sail with their sons, Dalton (22) and Ryan (age 23), respectively, on separate boats and against each other in the Melges 32 class.
"My brother and I grew up sailing with our father on his yacht Windquest," said Dick DeVos, "and he always felt like he was working for us, because we were the ones pushing the program and he was the one sitting on the rail. Doug or I would be driving, and we thought 'this is a pretty good deal!'" Laughing, DeVos added, "Now our sons have turned it around on us, and they're driving; it doesn't seem as good of a deal as it was when I was a kid…I might be the oldest guy on the rail of a Melges 32 at this point!"
After adding one race to the single races sailed on Friday and Saturday, Doug and Dalton DeVos finished with a second overall on Delta, while Dick and Ryan DeVos finished third with their boat Volpe. (Winning the class with all firsts was Argo, steered by Jason Carroll, who is a Melges 32 World Champion and two-time defending National Champion.)
"Sailing with Dad is a lot of fun," said Dalton, the son of Doug DeVos. "Sometimes it's hard with his work schedule to get all of us on the boat at the same time, but when we do, there's nothing better. That was the whole point of starting the program, to sail together, and when we can sail with Uncle Dick and Ryan, as well, it makes it that much better. It's a two-boat program."
Another father-son team could be found sailing on Erbil Arkin's Turkish entry Tempus Fugit. The 90-foot Spirit of Tradition yacht  Rob and his son Tom Humphries, who said the yacht "leans on history, but has its own DNA."
And not to leave moms out of the picture, Terrapin, the Andrews 68 that finished eighth overall in Class 7 ORR (won by the Pearson 39 Simpatico), sails with pink jerseys, hats, and a bow painted on its hull, raising awareness for breast cancer research. Its owner Jon Litt explained: "For my 50th birthday, my crew asked me what I wanted from them and I suggested giving to cancer research rather than buying me something. (Litt's mom has been battling breast cancer for 10 years.) They did better than that and launched a campaign in May to raise $50,000 for my 50th; in three weeks we have raised $54,000!"
"The weather has been challenging," said James Madden, owner of the Swan 60 Stark Raving Mad, who counts this as his seventh Annual Regatta and today rose to second behind the Ker 43 Otra Vez in IRC 3 class, pushing yesterday's leader Spookie back to fourth. "Friday was flukey (in the Around the Island Race, which doesn't count toward the weekend series), and yesterday it was non-existent at times, so it was looking a lot better this morning. "
Sailors were greeted on the docks with a brisk northerly, but it didn't hold steady throughout the day, resulting in another "glass-off" (as Madden called it) for boats in the ORR class and three PHRF classes sailing Navigators Courses in northern Narragansett Bay. But while many boats in those classes were not able to finish within their time limits, several boats in other classes made notable gains on the scoreboard after adding today's single race to one sailed yesterday.
They included the Mini Maxi 72 Bella Mente, which displaced the 90-foot Rambler at the top of the scoreboard in IRC Class 1; The IRC 52 Hooligan, which picked off Interlodge and Sled to take first place overall in IRC 2; and the Sydney 43 Christopher Dragon, which replaced yesterday's leader, the X-41 Pendragon, in IRC 4.
The Etchells class, which got in no races yesterday, left the docks early today, but still only completed one race, which left race winner Bruce Golison's Midlife Crisis as the class winner.
In the end it was all about the experience, no matter who you were. "This is a sensational venue," said Dick DeVos, "and there's something special about Newport. I remember the first time I came here when 12 Metres were warming up for the America's Cup. For me, as a kid growing up loving sailing, it was a sacred moment to come to Newport for the first time and be a part of this community that is so oriented to sailing."
The New York Yacht Club Annual Regatta presented by Rolex is the oldest regatta in the country, and this year's event has entered the history books as the largest Annual Regatta on record. Engraved overall trophies in each class were given at tonight's (Sunday) Rolex Awards Party. Rolex also awards a timepiece to the overall winner (determined by the organizers) of Saturday's and Sunday's combined series of races, which officially constitutes the 160th New York Yacht Club Annual Regatta presented by Rolex. This special prize, as well as the Great Corinthian Trophy for yacht club teams of three or more boats posting the best class finishes, will be awarded at the Annual Awards Dinner, held on November 13 at the New York Yacht Club's main clubhouse in New York City.
Share on Facebook