Derry~Londonderry~Doire is diverting to Hobart in Tasmania for a medevac of an injured crewman as a precautionary measure.
Skipper Daniel Smith contacted the Race Office at 1030 AEDT today (2330 UTC Tuesday 8 December) to report that round-the-world crew member Michael Gaskin, 54, from the West Midlands, UK, had sustained suspected broken ribs after he fell by the helming position when a wave broke over the back of the yacht in rough seas and 35 knots wind, approximately 130 nautical miles to the southwest of Tasmania.
Team Medics Ali Boeree and Jan Chatzis administered first aid while the Skipper contacted ClipperTelemed+, the Clipper Race remote telemedicine service. Doctors at the Praxes operations centre in Halifax, Canada, confirmed diagnosis and directed the provision of pain relief and anti-nausea medication.
Due to the proximity of Hobart and the rough conditions, the Skipper has decided to divert as a precaution so that Michael can be treated ashore. The team will continue the race to Sydney once Michael has been transferred to hospital.
"The Skipper reports that Mike is in a stable condition and is receiving pain relief," explained Race Director Justin Taylor. "The conditions were quite challenging at the time. Mike was clipped on behind the high side helm. The low side helm took over to allow Mike to step in. A breaking wave broke over the side of cockpit and Mike says he hit the pushpit and heard his ribs crunch. He was then washed into the A frame and sustained a small cut to his head. He was stopped by his safety tether. This was the first breaking wave into the boat the team had experienced, although they had a lot of spray."
Water breaking over the deck is very powerful. A cubic metre of water weighs a metric tonne.
This is the first medevac of the Clipper 2015-16 Round the World Yacht Race, the tenth edition of the biennial global series, the world's longest ocean race at more than 40,000 miles, taking 11 months to race between six continents. Only a handful of the 3300 amateur sailors who have participated over the last 19 years have had to be evacuated, the majority as a precaution following medical treatment aboard.
Michael's next of kin has been informed. Everyone else aboard is safe and well.
Michael is an experienced yachtsman, holding a Day Skipper qualification and had previously sailed around Scotland, the Mediterranean and Indian Ocean.
The yacht is estimated to reach Hobart around 1000 AEDT tomorrow (Thursday) morning 10 December (2300 UTC 9 December).
Share on Facebook
Close competitive racing in the first leg of the Clipper Round the World Yacht Race from London to Rio has been overshadowed this week by the death of a crew member in what appears to be a tragic accident.
Having safely navigated the Bay of Biscay, increasing wind speeds propelled the fleet along the Portuguese coast. But as the team aboard IchorCoal put in a reef to reduce sail area one of the crew was knocked unconscious and failed to recover despite immediate medical assistance and expert remote guidance.
Andy Ashman, a paramedic from South East London was an experienced sailor and described as being typical of the 'Corinthian' Clipper Race spirit. He was an inspiration to the rest of his team of amateur sailors from all walks of life.
This was the first fatality in the 19-year history of the race which has trained over 3300 people to participate safely in nine previous editions of the biennial global event.
The news of the incident was received soberly across the fleet and tributes were paid by many who had trained alongside Andrew.
Messages of support from his family and friends encouraged the team to continue as it is 'what Andy would have wanted'.
While the team aboard IchorCoal went ashore at Porto, in northern Portugal, the Clipper Race fleet paid their respects, flew their Red Ensigns at half mast, and raced on as the most fitting tribute.
At the front of the fleet the duel continued between GREAT Britain and LMAX Exchange. But the two have now split with LMAX Exchange taking a clear lead of more than 160 nautical miles closer to the finish in Rio after taking better winds further east, racing through the Canary Islands and then close to the West Saharan coast.
The leaderboard has seen some considerable changes over the last 24 hours, as the teams made their tactical decisions on whether to pass between the Canary Islands and take more of an inshore route, or leave them to port.
Get it wrong and you are caught in the wind shadow of the huge volcanic mountains that extend for more than 100 miles out to sea, creating a major headache as the Skippers seek out the more steady Trade Winds.
The Northern Irish entry Derry~Londonderry~Doire is neck-and-neck with GREAT Britain further west, but they could be overtaken by Qingdao and Garmin hoping to copy the LMAX Exchange manoeuvre through the Canaries.
Derry~Londonderry~Doire led the race for a time on Tuesday. Skipper Daniel Smith explained: "The day was spent gybing down a narrow band of wind trying to keep the boat moving and achieve the best speeds downwind. By 1800UTC we got the result we were looking for. For the first time since leaving the Thames we were back in first place.
"This was a great achievement from the crew despite them knowing it probably wouldn't last for long. LMAX Exchange has put itself further east, and was approaching a band of stronger steadier winds. Our plan of squeezing through west of Madeira hadn't worked out as well as we'd hoped due to the wind strength decreasing.
"We are continuing to fight our way south into what should be an ever-increasing wind, keeping an eye on the positions of more easterly yachts and hoping that they don't all manage to slot in in front of us."
The fleet is spread over some 500 nautical miles with around 4000 nautical miles of racing still ahead of it.
In Porto the team of IchorCoal was met by Clipper Race officials led by founder Sir Robin Knox-Johnston.
After time to reflect they came to the unanimous joint decision to continue racing and return to sea as soon as possible.
Andrew's brother Keith Ashman flew out to reinforce the family's support for the team's decision and waved them off as they headed out to resume racing.
On the broad transom at the stern of their 70-foot ocean racing yacht the team wrote "For Andy. Roger that!" One of Andy's favourite responses.
The team has been awarded redress for the incident to compensate the time lost. The Race Committee has decided to award a time redress of 81 hours and 1 minute to IchorCoal.  This is calculated on the time from the accident until the yacht commenced racing of 85 hours and 52 minutes, less the time the yacht gained by re-starting 41.2 miles further along the race course, which, at their average speed at the time of the accident of 8.7 knots, is 4 hours and 51 minutes.
This 81 hours and 1 minute will be deducted from IchorCoal's finishing time in Rio de Janeiro to give the team's overall position on Race 1.
As a lasting tribute the Atlantic Ocean Sprint, a short section of the race track off the Brazilian coast where extra points are awarded for the fastest team between two points, will be named in Andy's honour. The fastest team will receive a special trophy, the 'Andy Ashman Memorial Plate' in Rio and it will continue to be awarded in future editions of the Clipper Race.
As at 1400 UTC (1500 UK/BST) the fleet positions were as follows:
1 LMAX Exchange – 3542 nM to finish
2 GREAT Britain
3 Derry~Londonderry~Doire
4 Garmin
5 Qingdao
6 Da Nang – Viet Nam
7 ClipperTelemed
8 Unicef
9 PSP Logistics
10 Visit Seattle
11 + Mission Performance
12 IchorCoal
Share on Facebook
 200 miles to go. After 9 months and nearly 40,000 miles
Dongfeng slenderest of leads over main rivals Brunel and Mapfre, but seems like it will not mean much this evening.
Caudrelier: "For us its easy to go from 3rd place to 5th place (overall), and also to come back to second. Everything can happen still"
The podium of the Volvo Ocean Race might just come down to a total lottery tonight as wind forecasts predict a difficult transition as Charles Caudrelier describes "from the current strong southerly winds that have carried Dongfeng up the North Sea, to some light easterly winds that will should get us to the finish line. Its going to be stressful".In between potentially little or no wind at all – during the early evening tonight in theory. The battleground will probably be between Hanstholm and Skagen, the two towns with a bay between them, that mark the northern tip of Denmark. But even now the compression is starting, from Yanndirect this morning "Still coming back from behind. Less than 4 miles, now. Nothing we can do about it. Not a nice feeling". More often than not in ocean racing, the rich get richer – but this time its not going to work like that. The guys (and girls) behind are going to sail on in pressure as the boats in front that worked so hard to grind out their leads, will stop in the transition zone between the old and new winds.The warm front moving from the UK east, that has been chasing the fleet since they left, is going to slow down and stall before it gets to them, at least at surface level. Higher up in the atmosphere its forecast to continue east – this differential between up high and at the surface, will provide the conditions for a new low to form, bringing new winds – but the transition could be long – and in the meantime somehow the boats have to get from the old to the new. This in effect should allow almost all, if not all, the backmarkers to sail straight to the front, with the leaders helpless.

It will be tragic if the entire race comes down to luck, but then this is part of ocean racing. Since Dong Feng means 'winds from the east bringing freshness and energy' and Aeolus being the Guardian of the Winds – on land we can only hope and pray to whatever Gods we believe in, that luck will be on our side, and that we will get the podium finish we deserve!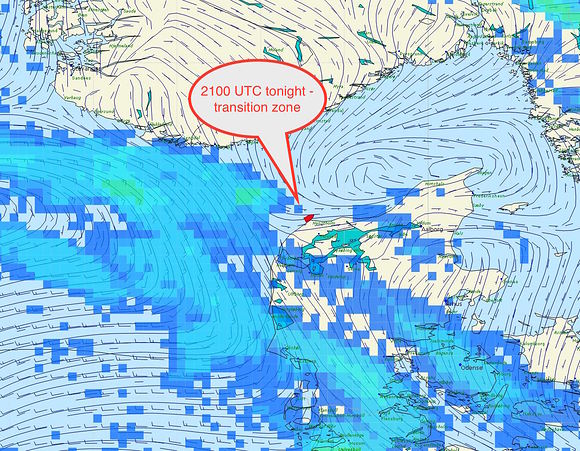 You can follow our story and interact with the team on all social media channels and our official website:Facebook: Click here
Twitter: Click here
Instagram: Click here
Weibo: Click here
WeChat: Click here
Youtube: Click here
YouKu: Click here
Official website: Click here
Share on Facebook
Skipper Sam Davies (GBR) and her Team SCA crew struck a resounding blow for women's offshore sailing in the early hours of Thursday morning when they gloriously clinched Leg 8 of the Volvo Ocean Race
Leg 8

DTL

(NM)

GAIN/LOSS

(NM)

DTF

(NM)

Speed

(kt)

SCA1
FIN – 03d 13h 11m 11s

VEST
FIN – 03d 13h 59m 38s

ADOR
0.3
10.9
3
11.1

MAPF
0.8
11.3
4
11.7

TBRU
1.8
11.5
5
12.4

ALVI
2.3
11.7
5
12.9

DFRT
5.5
11.7
8
13.2
Latest positions may be downloaded
from the race dashboard hereº MAPFRE given 2-point penalty Leg 5
Dongfeng Race Team, Team SCA & MAPFRE penalised Leg 7
– A resounding blow for women's offshore sailing
– Team Vestas Wind bounce back for second place
– Abu Dhabi Ocean Racing nearing overall trophy win
LORIENT, France, June 11 – Skipper Sam Davies (GBR) and her Team SCA crew struck a resounding blow for women's offshore sailing in the early hours of Thursday morning when they gloriously clinched Leg 8 of the Volvo Ocean Race.
The comfortable victory was the first leg win in offshore sailing's toughest challenge since Tracy Edwards' Maidenclinched two stage wins in Class D of the 1989-90 race, won overall by Sir Peter Blake's famous Steinlager2.
At least as satisfying for the first all-women's crew to enter the race in 12 years will be the opportunity to silence critics who suggested that they were looking outclassed in the current 12th edition by their experienced male rivals.
True, the Swedish entry had yet to win a podium place until now, but the crew has clearly improved leg after leg and many observers felt that a breakthrough performance was just around the corner.
The win was certainly no fluke in an upwind leg that tested seamanship to the full with an often heinous sea state and strong winds virtually throughout.
They grabbed the 647-nautical mile leg from Lisbon by the scruff of the neck on Monday, and strengthened that grip on Tuesday after taking an offshore course while most of their rivals hugged the Spanish and French coast approaching the Bay of Biscay.
It took them three days 13 hours 11 minutes and 11 seconds to grab their share of Race history.
"Thanks to everybody for all your support. It's not really sunk in yet," said a jubilant Davies. "It probably won't hit us until we hit the dock and we see there aren't any other boats there.
"It's a reward for all the hard work we have done. It's a great confidence booster. It's going to be huge for us. We've had a mountain to climb to get here."
Behind them, another fairy-tale was unfolding as Team Vestas Wind (Chris Nicholson/AUS) closed to a remarkable second-placed finish in their return to the race after six months out following a collision with an Indian Ocean reef on November 29 during Leg 2.
Nicholson had every reason for the huge smile on his face as he approached the port of Lorient following a near perfect race from Lisbon starting on Sunday.
He had simply hoped that his boat could negotiate the leg without mishap and be competitive – a high podium finish is almost beyond his wildest dreams.
"It's a very special moment," said the team's Onboard Reporter, Brian Carlin (IRL), simply.
Astern of the leading pair, third-placed Abu Dhabi Ocean Racing (Ian Walker/GBR) were nearing an ever bigger prize than the handsome silver leg trophy claimed by Team SCA.
They needed simply to finish ahead of their nearest overall pursuers in the standings,Team Brunel (Bouwe Bekking/NED) and Dongfeng Race Team (Charles Caudrelier/FRA), with a boat in between, to be all but be sure of winning the 12th edition of the Volvo Ocean Race.
As Team SCA passed the finish at 0211 UTC/0411 local time on Thursday, that prospect looked very much on with MAPFRE (Xabi Fernández/ESP) in fourth, Team Brunel fifth, and Team Alvimedica (Charlie Enright/USA) keeping Dongfeng Race Team at bay in the fight for sixth.
The boats will have a short maintenance period before Sunday's SCA In-Port Race here in Lorient, before the fleet set sail for Gothenburg via a much-awaited pit-stop in The Hague, on Tuesday, June 16.
It promises to be a period of considerable celebration for at least three crews of very, very happy sailors.
Share on Facebook
Team Brunel (Bouwe Bekking/NED) completed a triumphant Leg 7 early on Wednesday to bolster their hopes of finishing with a podium place in the Volvo Ocean Race and also keep alive their hopes of overall victory
Leg 7

DTL

(NM)

GAIN/LOSS

(NM)

DTF

(NM)

Speed

(kt)

TBRU
FIN – 09d 11h 09m 49s

MAPF
FIN – 09d 11h 31m 39s

ALVI
FIN – 09d 12h 50m 49s

DFRT
FIN – 09d 12h 51m 44s

ADOR
FIN – 09d 13h 24m 34s

SCA1
FIN – 09d 15h 32m 38s

VEST
Did Not Start
Latest positions may be downloaded
from the race dashboard here º MAPFRE given two-point penalty – read more
– Team Brunel edge home ahead in transatlantic leg
– MAPFRE chase them all the way into Lisbon
– Team Alvimedica beat Dongfeng in thrilling dogfight
– Team Vestas Wind are reunited with rest of the fleet
LISBON, Portugal, May 27 – Team Brunel (Bouwe Bekking/NED) completed a triumphant Leg 7 early on Wednesday to bolster their hopes of finishing with a podium place in the Volvo Ocean Race and also keep alive the possibility of overall victory.
The Dutch boat sailed a near faultless transatlantic stage, edging MAPFRE (Iker Martínez/ESP) into second, just under 22 minutes behind.
Behind them, Team Alvimedica (Charlie Enright/USA) edged out long-time leg leaders, Dongfeng Race Team (Charles Caudrelier/FRA), after an enthralling dogfight over the final miles.
The Chinese-backed boat was caught by Enright's crew in the early hours of Wednesday, but battled their way back and looked sure to overtake them again before a botched tack ruined their chances.
They lost out by just 55 seconds after nearly nine days and 13 hours of sailing across 2,800 nautical miles (nm).
With overall leaders Abu Dhabi Ocean Racing (Ian Walker/GBR) finishing fifth ahead of Team SCA (Sam Davies/GBR), the overall race standings are left finely poised.
The Emirati crew now have a five-point lead over Dongfeng Race Team with two short legs to sail, while Team Brunel are a point further adrift of Charles Caudrelier's crew.
Caudrelier made no attempt to hide his disappointment after leading the leg for so long and seeing a podium place disappear in the final miles.
"I'm feeling very bad, very upset and very sad," he summed up. "We deserved better, but I guess that's life.
"Most of all, I'm upset with myself because my crew did a great job and I made a huge mistake – and I don't accept mistakes. We really missed a chance in this leg with Abu Dhabi Ocean Racing finishing fifth."
Few sailors in the fleet will savour a win over one of the race's trademark legs more than Team Brunel's 51-year-old skipper, Bouwe Bekking, in his record-equalling seventh appearance.
He has certainly experienced the ups and downs of racing across the Atlantic. Few will forget the agonising position he faced in 2006 before he was finally forced to abandon his sinking movistar boat during the same stage of that Volvo Ocean Race.
Bekking insisted last week that he had not lost 'a single night's sleep' over the incident and the confident way that Team Brunel sailed the leg would bear that out.
Team Brunel were harried all the way over the past 24 hours by both MAPFRE and Dongfeng Race Team, especially over the final few miles when the breeze dropped to almost zero in the Tagus River as they approached the Lisbon finish.
"We sailed a tremendous leg but just at the end when there was no wind, it was getting a bit gnarly," said Bekking. "But we pulled it off."
The victory was achieved with two newcomers on board, Adam Minoprio (NZL) and Timo Hagoort (NED), the latter replacing the injured Gerd-Jan Poortman (NED).
"It was good to have those young guys on board, they did a fantastic job," added Bekking.
Team SCA crossed the line, some four hours and 22 minutes behind Team Brunel (see panel above), after an action-packed transatlantic leg in which they sailed within the pack for much of the nine days and at one stage threatened a podium finish after taking a bold strategic choice around the Azores High.
The final two stages, to Lorient (France) and then Gothenburg (Sweden) via a pit-stop in The Hague (Netherlands), will once again be contested by seven boats.
Team Vestas Wind (Chris Nicholson/AUS) rejoin the fleet for the first time since November 29 when the boat was grounded on a reef in the Indian Ocean.
After a four-month rebuild in the Persico boatyard in Bergamo, Italy, the boat was transported by sea and road to Lisbon, arriving a few hours before the rest of the fleet in the small hours of Wednesday morning.
Over the next few days, the rig will be stepped ahead of the Danish-backed team's competitive comeback on June 6 in the Lisbon In-Port Race. Leg 8 to Lorient, a relative sprint at 647nm, begins a day later.
The race concludes on June 27 with the In-Port Race in Gothenburg after nine months and 38,739nm of sailing, visiting 11 ports and every continent.
Current latest standings (low points wins, In-Port Race Series splits ties): 1) Abu Dhabi Ocean Racing 16 pts, 2) Dongfeng Race Team 21, 3) Team Brunel 22, 4) MAPFRE 26, 5) Team Alvimedica 27, 6) Team SCA 41, 7) Team Vestas Wind (Denmark) 52 (DNS).
Share on Facebook
The Danish yacht, Oceans of Hope, has set sail from Copenhagen on a historic global voyage. It is the first ever circumnavigation of the world by a yacht crewed by people with multiple sclerosis (MS)
Oceans of Hope is the flagship of a campaign by the same name, organised by the Sailing Sclerosis Foundation. The aim of the 17-month project is to change perceptions of MS by showing what is possible when people with a chronic disease are empowered to conquer their individual challenges.
The crew who set sail from Amaliehaven this afternoon on the 61,000-kilometre (33,000-nautical mile) voyage have been involved in establishing an active network across Denmark of groups of people with MS who sail on a regular basis. Through sailing events organised during stopovers in the 20 ports of call they want to widen those networks between the MS and the sailing worlds and help create a valuable legacy for the Oceans of Hope project.
The route will take the yacht from Copenhagen to Kiel, Germany, for the first stopover from 19-22 June, followed by Amsterdam, Netherlands (26-29 June), Portsmouth, UK (3-6 July), La Rochelle, France (10-14 July), Lisbon, Portugal (25 July ñ 2 August) and across the Atlantic Ocean to Boston, Massachusetts, USA, where the crew is due to arrive on 8 September. Oceans of Hope will take centre stage at the joint ACTRIMS-ECTRIMS conference, the world's largest annual international conference devoted to basic and clinical research in multiple sclerosis.
The Sailing Sclerosis Foundation's yacht Oceans of Hope was unveiled at a ceremony in Copenhagen, Denmark on World MS Day (Wednesday 28 May). Former Environment Minister and MEP Lone Dybkær officially named the 20-metre yacht which will set sail from the Danish capital on 15 June on the first ever global circumnavigation crewed by people with multiple sclerosis (MS). 

The Oceans of Hope project aims to change the perceptions of the disease, inspiring people with MS to overcome their own personal challenges by telling the stories of those taking part – including the highs and the lows – and hosting sailing events in ports of call during the 17-month voyage around the world. 

Dr Mikkel Anthonisen is the founder of the Sailing Sclerosis Foundation and creator of the Oceans of Hope project. 

He said, 'Today's naming ceremony is a huge milestone in our project. Our plan to sail around the world with a crew of people with MS is another step closer to being realized and we will be carrying the hopes and dreams of so many people with us. From the modest beginning when we took a small group of people sailing it shows what can be achieved when people with a chronic disease are empowered to conquer their individual challenges.'
For more information and to follow the team go to  http://www.sailingsclerosis.com/
Share on Facebook
By Corinna Halloran
13 women, 3750 nautical miles, 12 days – and 26 knots of wind overnight. Team SCA are crossing the Atlantic Ocean for the first time. The all-female crew left their Spanish base in Lanzarote on Thursday, sailing to Newport in the USA. Onboard Reporter trialist Corinna Halloran sent us a report from the boat – and it sounds quite wild.
Completely exposed to all of the elements, maneuvering through a gybe completely blind" – OBR trialist Corinna Halloran
Day 2: Transatlantic Blog
Imagine riding a wicked fast motorbike at night. You're cruising along down a windy road. Suddenly, it starts to rain, not just a nice easy rain but a relentless rain – the kind that floods roads.
And then you're blind folded. You cannot get off the motorbike; you are propelling yourself faster and faster down hills and bends, into the dark night with water all around.
This is what it was like sailing downwind last night in 26 knots. Completely exposed to all of the elements, maneuvering through a gybe completely blind.
Sam was stationed at the helm. Her focus was completely on getting the boat safely down waves. She couldn't see to ensure no one was injured whilst stacking sails from windward to leeward. This process can be a challenge – think carrying long, wet, potato sacks over your shoulder – but you're trying to not to get hurt, or worse, fall off the boat as it screams down waves doing 22, 23, 24, 25 knots.
The girls knew the night was going to be tricky. During dinner, Stacey made a good point: we were certainly jumping off into the deep end! No chance to hide now! With the wind and sea state only increasing during the night, the girls needed to be focused.
Staying focused, Sam said, would be the key to being safe on a night like last night. All maneuvers, even the smallest of ones, needed to be thoughtful and done with the utmost concentration.
Once dawn broke, we continued to see much of the same conditions from the night before, except now we could see. Over the day we had to gybe a few more times before putting in our final, multi-day gybe shortly before dinner.
Abby was pretty happy with how the first 24 hours had gone – despite the tough conditions – they had sent it.
Team SCA transatlantic crew – Lanzarote-Newport
1.        Sally Barkow (USA) –  Helm / Trimmer
2.        Carolijn Brouwer (NED) – Navigator / Helm
3.        Dee Caffari (GBR) – Helm / Pit
4.        Sophie Ciszek (AUS) – Bow
5.        Sam Davies (GBR) – Watch Captain / Person In Charge
6.        Abby Ehler (GBR) – Boat Captain/ Pit
7.        Stacey Jackson (AUS) – Bow
8.        Annie Lush (GBR) – Helm / Trimmer
9.        Elodie-Jane Mettraux (SUI) – Helm / Trimmer
10.     Justine Mettraux (SUI) – Helm / Trimmer
11.     Liz Wardley (AUS) – Watch Captain
Libby Greenhalgh (GBR) – Navigator (on trial)
Corinna Halloran (USA) – OBR (on trial)
ETA into Newport on Tuesday May 6, 2014
Route: Lanzarote – waypoint east of the Caribbean – Newport
Return trip: Newport – waypoint off Lisbon, Portugal (a dry run of the Leg 7) – Lanzarote
Share on Facebook
– Act 5 Porto starts tomorrow – follow online on the official http://www.extremesailingseries.com/website and watch the live video stream from 1700-1800 BST (GMT + 1) / 1800-1900 CEST daily from the 26 – 28 July.
– Pierre Pennec returns to Extreme Sailing Series™ at the helm of the Swiss-flagged Realteam.
– Win Extreme Sailing Series™ kit from official clothing partners Marinepool! Click here for more info.
– Watch the preview video here.
With less then 24 hours before the start of Act 5 of the Extreme Sailing Series™ in Porto, the teams have spent today making final preparations to their Extreme 40s in the technical area at Douro Marina and putting in some last minute training time on the water before proceedings get underway tomorrow (Thursday 25th July). There is plenty of anticipation and excitement dockside with official Extreme Sailing Series weather partners WetterWelt predicting 8-12 knots of breeze with gusts up to 15 knots for the first two days racing.
How to follow the Extreme Sailing Series, Act 5, Porto ONLINE
Racing takes place over four days from the 25-28 July kicking off with a day of open water racing and the official skippers press conference before moving into stadium mode where the Douro River will provide the playground for the eight Extreme 40s from the 26-28 July.
The Extreme Sailing Series website homepage will go into race mode on day one and will serve as a 'one-stop-shop' for live video, results and news as well as an interactive live blog where fans can leave their comments.
From the 26 July, the 'Stadium Racing' will be streamed live to the website with expert commentary from sailing expert and Olympic commentator Richard Simmonds and analytics from technical partner SAP. This streaming is also available on all iOS devices (iPad, iPhone) from 1700-1800 BST (GMT + 1), 26-28 July.
How to follow the Extreme Sailing Series, Act 5, Porto ONSITE
The free to enter public Race Village is located on Porto's Douro Riverbank near the iconic Dom Luís I iron bridge designed by one of Eiffel's partners, Téophile Seyrig, where the Extreme 40 fleet will race close to shore on the public days, providing the perfect viewing platform for 'Stadium Racing'.
The public Race Village will provide a host of entertainment throughout the day including music, public bar and food stalls, a resident DJ, live commentary in English and Portuguese throughout the racing, a Range Rover Sport TDV6 HSE car display as well as a zone dedicated to children. The on-water entertainment will be complemented by the main warm up act, the NeilPryde Windsurf Racing Series.
For the full event schedule visit the dedicated Porto page on the official website, here.
Pierre Pennec returns at the helm of the Swiss-flagged Realteam
Pierre Pennec, one of the most experienced Extreme 40 sailors having finished the Series in second and third in 2011 and 2012 respectively with Groupe Edmond de Rothschild, is to join Realteam for Act 5, Porto as helmsman for this event.
Pennec, who is looking forward to taking up the challenge alongside the Swiss entry commented, "I have often come across the team onboard the Décision 35 and they seem very well structured, I am impressed with their level of performance and focus. I thought that with my Extreme 40 experience, I might be able to bring something to the team and things have progressed naturally from there. Jérome got in touch a while ago about coaching and sailing and I am delighted to be joining the team for Act 5 which is shaping up to be a tough competition!" Read more online here.
Win Marinepool Kit!
Extreme Sailing Series is  giving away some exclusive Extreme Sailing Series team kit from official clothing partners Marinepool – perfect for a day on or off the water! They have one summer bundle for men and one for women up for grabs.
Extreme Sailing Series Rankings to date
OVERALL
(Results updated after each race)
RANK
TEAM
∑
1
Alinghi
27
2
The Wave Muscat
26
3
Red Bull Sailing Team
24
4
S

AP Extreme Sailing Team

20
5
Team Korea
16
6
GAC Pindar
16
7
Realteam
14
8
Team X Invitational
13
.
Share on Facebook