NEWPORT, RI (17 March 2017) – The public is invited to attend the Sail Newport Volvo Ocean Race press conference and Pep Rally on Tuesday, March 21 starting at 10:00 a.m.   The major announcement will feature speakers from the Volvo Ocean Race and Sail Newport.
The press conference will be held at Belle Mer, 2 Goat Island, Newport, RI, USA. The public is invited to attend as space permits and coffee will be served starting at 9:30 a.m. at Belle Mer.
"We're encouraging sailing fans to come and help us show Newport's excitement about the Volvo Ocean Race coming back to Rhode Island," says Brad Read, executive director of Sail Newport.
Also, Sail Newport will host a reception to celebrate the announcement at the Clarke Cooke House, at 5:30 p.m. on Tuesday.  Complimentary hors d'oeuvres and cash bar will be available.
The Volvo Ocean Race Newport Stopover in 2015 was a huge success as over 130,000 people attended and enjoyed the racing, entertainment and hospitality of the public shore side festival. The Race starts October 22, 2017 from Alicante, Spain and will make its only North American stop in Newport, RI, May 8-20, 2018.
LIVE STREAMING:
The event will be live streamed for those who can't make the event. Check the home page at
sailnewport.org
on Monday for information.
The Volvo Ocean Race
The Volvo Ocean Race is the ultimate ocean marathon, pitting sport's best sailors against each other across the world's toughest oceans.  The legendary race that began in 1973 will start from Alicante, Spain in October 2017 and finish in The Hague, Netherlands in June 2018.  Featuring almost three times as much Southern Ocean sailing as in the previous edition, the Volvo Ocean Race 2017-18 will be contested over the longest distance in the race's history at around 45,000 nautical miles, crossing four oceans and taking in 12 major cities on six continents.
The Volvo Ocean Race has been the global sponsorship flagship of Volvo Group and Volvo Car Group since taking ownership of the race in 1999.  The Volvo Ocean Race is operated as a non-profit organization.
| | |
| --- | --- |
| | |
ABOUT THE VOLVO OCEAN RACE NEWPORT STOPOVER
The only North American Stopover of the Volvo Ocean Race will be hosted by Sail Newport, Rhode Island's Public Sailing Center, the State of Rhode Island Dept. of Environmental Management (DEM), Discover Newport, and the City of Newport.  This two-week stopover celebration and festival will be open to the public for free and will include a Race Village (opens May 8, 2018) with entertainment, a marine Exploration Zone (opens May 12, 2018), kids activities, a food court, team compounds, sponsor pavilions and a theater.  On-the-water activities and sailing events are scheduled for each day such as Try Sailing for families, M32 and other sailboat racing, up-close viewing of the race boats at dock and racing during the Pro-Am Race, the In-Port Races, and the boat parade and Leg Start to Cardiff, Wales (May 20, 2018)  All sailing will take place within yards of the Race Village on the shoreline at Fort Adams State Park.
Share on Facebook
NEWPORT, RHODE ISLAND (September 29, 2016) – A three-year pilot program at Harvard University (Cambridge, Mass.) has culminated in a formal partnership between the University's sailing team and Rhode Island-based Sail To Prevail, the not-for-profit organization that has pioneered overcoming adversity through the sport of sailing.
Michael O'Connor (Foxboro, Mass.), the Crimson's Head Sailing Coach, felt that not only should his student-athletes share their skill sets with others who likely would never have their same opportunities but also that his sailors should be encouraged to contribute to society as part of their overall education. In collaborating with Sail To Prevail CEO Paul Callahan (Newport, R.I./Cape Coral, Fla.), a Harvard graduate and accomplished sailor, O'Connor has brought a new dimension to the Cambridge campus, as well as the local community.
O'Connor dedicates at least 15% of his overall practice time to allowing members of the sailing team to work with specially trained instructors from Sail To Prevail; the student-athletes then put those techniques into action with children and adults with disabilities from Allston, Brighton, Cambridge and the greater Boston community. The program, which runs during the fall season (roughly twice a week, weather permitting) from the Harvard Sailing Center in Cambridge, allows the Sail To Prevail participants and instructors to sail on the Charles River in a specially-equipped Catalina 20 right alongside members of the varsity sailing team. With O'Connor integrating the program into regular practices, the disabled participants are able to feel that they are part of the team and the Harvard sailors learn firsthand how to teach sailing to people with disabilities.
The mission of Sail To Prevail is to utilize sailing to teach people with disabilities how to use the acquired sailing skills – including teamwork and leadership – in their daily lives to overcome adversity and gain self-confidence. Recently, Sail To Prevail has found that the program has a similar effect on the able-bodied people who have come in contact with the organization.
"Michael O'Connor has designed a program that results in maximum outcomes for both the Harvard sailors and the disabled participants alike," said Callahan who explained that the new program is allowing Sail To Prevail to expand into another geographic area and offer its model to more people. "People with disabilities who drive along the Charles River and wish they could somehow get out on it, we provide that opportunity for them."
Sail To Prevail has helped over 18,000 individuals since the organization was founded in 1982. From its base in Fort Adams State Park in Newport, R.I., the organization coordinates a wide variety of sailing opportunities including daily sailing sessions and competitive racing on Wednesday nights throughout the summer; sailing clinics for veterans in cooperation with the Boston Veteran's Administration for rehab patients and their families; the Confidence is Cool summer day camps for children aged seven to 17; and out-of-hospital therapeutic sailing experiences provided to pediatric cancer patients, their physicians and parents through Sail Away From Cancer. Additionally, a satellite program runs in Nantucket, Mass., also during the summer. For more information, please visit:  sailtoprevail.org
Share on Facebook
NEWPORT, R.I. (July 26, 2016) – The 200-foot Tall Ship SSV Oliver Hazard Perry caused heads to turn last week while she completed drills on Narragansett Bay under full sail and in brisk breezes. The drills, as well as inspections, have been required by the US Coast Guard in order for the ship to qualify as a Sailing School Vessel under USCG regulations. The three-masted, full rigged ship is Rhode Island's official "Sailing Education Vessel" and carries 14,000 sq. ft. of sail area and seven miles of running rigging. Her tallest mast is 13 ½ stories high.
"We are very pleased with the way the crew has come together and that Oliver Hazard Perry has made it through all the complexities of Coast Guard certification to receive her USCG Certificate of Inspection," said Captain David Dawes, who joined the ship three months ago. "The ship is performing as expected, and we're confident we'll be able to give trainees an excellent experience this summer."
Teen and Adult Voyages
SSV Oliver Hazard Perry's first trainees will board this weekend (July 31) in Boston during the first of this year's two scheduled Teen Summer Voyages. The ship will sail with its students to several ports along the coast on its way to Portsmouth, N.H., where it will arrive on August 10. The second teen voyage is scheduled to depart Portsmouth on August 14 and arrive at Fort Adams State Park in Newport, R.I. (where the ship is based) on August 20. (Limited openings are still available for both sessions.)
SSV Oliver Hazard Perry also has just announced its first 2016 Adult and Family Voyage for Labor Day Weekend. It leaves from Fort Adams on Saturday morning, September 3, and returns the afternoon of Monday, September 5. The ship will sail in and around Narragansett Bay, with overnight anchorages that may include (depending on wind and weather) Dutch Harbor, the Sakonnet River, and Block Island. (Each participant under 18 must be accompanied by at least one adult; no prior experience is necessary, and no extraordinary fitness is required.)
Although SSV Oliver Hazard Perry is a new 21st Century Tall Ship, participants of all ages who sail aboard her will connect with a long history of education-at-sea adventures, living aboard and working side-by-side with professional crew to learn square-rig seamanship – including bracing the yards, steering the ship and going aloft – on the first ocean-going full-rigged ship to be built in America in over a hundred years.
For more information on SSV Oliver Hazard Perry and its programs, visit www.ohpri.org or contact gretchen@ohpri.org. Follow OHPRI on Facebook and Twitter for current news and developments.
Share on Facebook
Volvo Ocean Race COO Tom Touber today joined Sail Newport's Brad Read and Governor Gina Raimondo, to announce that the Race will be heading back to the Ocean State for the 2017-18 edition
–       Rhode Island town to host race for a second time in 2018
–       Governor Raimondo heralds Newport's achievement
–       More port announcements to come in the New Year
NEWPORT, Rhode Island, October 30 – Newport, Rhode Island, will once again host the North American stopover for the 13th edition of the Volvo Ocean Race in 2017-18 following the success of the sailing-mad coastal town's hosting of the world's leading offshore event in May.
"We're delighted to be able to confirm that Newport will be staging a second consecutive stopover in 2018," said Race COO, Tom Touber, at Friday's (October 30) official announcement.
"Everything worked brilliantly in Newport in May thanks to the great work of Brad Read and his team plus the backing of the Governor, legislative leaders and State of Rhode Island agencies, and we were delighted with the large amount of spectators from our major fan base in the U.S. and elsewhere, who supported the stopover.
"Moreover, the Newport stopover was greatly valued by our stakeholders, who very much enjoyed visiting the area for its history, culture and, of course, the commercial opportunities it provided."
The news that Newport will again be hosting the event means that seven ports for the next edition of the 42-year-old race are already known.
The east coast port joins Alicante (Spain), Cape Town (South Africa), Auckland (New Zealand), Cardiff (United Kingdom), Lisbon (Portugal) and Gothenburg (Sweden) on the list of confirmed stopovers for the 2017-18 edition.
"The route is already shaping up very nicely, although we have several more key port announcements to come, probably early in the New Year," added Touber.
Rhode Island Governor, Gina M. Raimondo, who joined Volvo Ocean Race officials and Stopover Director Brad Read in Friday's announcement ceremony at the State Room in the State capital, Providence, said:
"Rhode Island looks forward to welcoming back the Volvo Ocean Race in 2018, and we're honoured to be among this list of world-class port destinations."
She added: "This year's event was a great success, drawing more than 130,000 fans from across the U.S. and abroad. We look forward to once again showcasing Rhode Island as a great place to visit – and do business."
Brad Read, who heads Sail Newport, which masterminded the stopover this year, was delighted to have the chance to repeat – and improve on – the success of their inaugural hosting of the round-the-world marathon.
"Sail Newport, the Department of Environmental Management, and State Leadership, together with all of our outstanding partners, organised and hosted the most successful North American stopover in Volvo Ocean Race history," he said.
"We did this as a non-profit organization combined with a whole lot of community heart and passion because we knew the event would be a remarkable success."
He continued: "I believe strongly that tourists, fans, sponsors and media will travel from all over the world to Rhode Island to be part of the next Newport stopover.
"Everyone wants the Race back here. The State, the marine, business, education communities, and fans, will follow the Race until it arrives back at Castle Hill in 2018."
The precise dates of the fleet's visit in 2018 are not yet known but will be announced when the full route is unveiled early next year.
Share on Facebook
Panerai North American President Rafael Alvarez and a host of others awarded the Panerai Classic Yachts Challenge North American Circuit's top classic racing prizes this past weekend, as well as naming the Best Overall Winner for the Museum of Yachting (MoY) 36th Annual Classic Yacht Regatta. The two day regatta took place September 5th – 6th in America's famed racing capitol Newport, RI. Fifty-two classic sailing vessels entered the final segment of the sixth annual Panerai Classic Yachts Challenge (PCYC) North American Circuit; of which nearly 20 were eligible to win the Panerai Circuit Prizes, having competed in their respective classes in two of the three Regattas and participated in a minimum of three of the five Circuit racing days.
The North American Circuit of the PCYC is comprised of the Corinthian Classic Yacht Regatta (held August 8th – 9th in Marblehead, MA), the Opera House Cup (held August 16th in Nantucket, MA) and culminates with the MoY Classic Yacht Regatta, which is held annually over Labor Day weekend at historic Fort Adams State Park. While the PCYC North American Circuit is celebrating six years of spirited competition under Panerai's sponsorship, it has been 11 years since Officine Panerai, the Italian high-end watch brand, first launched their global classic yachting regatta series in 2005 and 10 years since they began hosting some of the country's most prestigious classic yachting events in ports around New England.
The MoY Classic Yacht Regatta Race
Saturday brought pleasant temperatures, blue skies and plenty of sunshine with early afternoon winds light out of the north at 5 knots, which delayed the race start by over two hours. While the Race Committee determined which wind direction would win out, a situation Newport sailors are accustomed to, the captains and crews patiently waited for the winds to increasingly blow from the south northward. The competitors got their wish when just after 2 p.m. the Race Committee, under the stewardship of Organizing Authority Sail Newport, announced a shortened 5.5 mile course to the north and started the race, allowing the sailors to have an afternoon of competition on Narragansett Bay before they returned to Fort Adams State Park and the Panerai Hospitality Lounge for the annual MoY CYR Cocktail Party.
Sunday's more robust winds out of the southwest reached upwards of 18 knots and created perfect conditions for the entire fleet, which chartered an almost 20 mile course from the middle of Narragansett Bay, south to Rhode Island Sound and then north to circumnavigate Conanicut Island and round the island's northern tip. The fleet finally returned south under the Newport-Pell Bridge toward Newport Harbor, followed by dozens of spectator boats cheering them on.
Prior to the race start on Sunday morning, many of the participating yachts took part in the Newport tradition of proudly hoisting their yacht club pennants and PCYC flags to circle Newport's inner harbour for the Annual Classic Yacht Parade. From land and sea, spectators could appreciate the beauty and spirit of the wide range of classic boats, from grande dame yachts (one of which boasted a crew serenading spectators with a jolly rendition of "You Are My Sunshine"), to classic motor yachts, and a small Bantry Bay gig enthusiastically crewed by 12 uniformed rowers.
The MoY Prize Giving Ceremony and Special Mentions
Ahead of the MoY Regatta Dinner and the evening's finale presentation of the Panerai North American Circuit Awards, members of the Board of Trustees representing IYRS School of Technology & Trades/Museum of Yachting presented dozens of awards recognizing spirit and classic yachting design. Of special note, MINK, a 32′ Buzzards Bay 1925 (1914), was recognized as the winner of the Tom Benson Award for Restoration, in addition to winning best performance within the Herreshoff-designed fleet and best performance of a gaff-rigged vessel.
The famous Clingstone Cannon – the award for "Best Corinthian Spirit" – was fired off for SUMMER WIND, a 37′ Carriacou Sloop Day Racer and its skipper Dennis Dowling and crew.
PCYC Regatta Committee Chair Bill Doyle took the podium midway through the dinner to pay a tribute to recently passed Newport classic sailing enthusiasts and visionaries Jack Brown and Jim Cassidy and to begin announcing the Panerai Awards.
The Official Panerai Prize-Winners
Mr. Doyle explained the distinction between the "starting classes" and the "scoring classes" and proceeded to announce that this year the Panerai 1st Place Class Winners would receive a beautifully engraved Silver Plate, presented by Mr. Alvarez, in addition to the traditional trophy winners for the Best Overall in the Vintage and Grand Prix Divisions.
For Best Overall Performance in the MoY Classic Yacht Regatta, Rafael Alvarez presented a Radiomir 1940 3 Days Acciaio – 47mm (PAM00514) to Newporter George Hill of WEATHERLY. The celebrated 12-Metre was the only boat to have won the America's Cup on its second attempt, after losing to COLUMBIA in the 1958 Defender trials. Mr. Hill, who rescued and restored the racing yacht, was stunned and delighted to accept the Panerai top prize for his yacht's performance.
Walking away with the replica Vintage Class trophy was SIREN and DAGGER took home the Grand Prix Class trophy for the Circuit. The perpetual trophies will be engraved with the winning boats' names and placed on display at the Museum of Yachting at IYRS until next year's competition.
PCYC NA Circuit Division Class Winners:
Grand Prix Class
Day Racer – DAGGER – A 35′ Hunt International 225 (1940), skippered by Ted Boynton
Yacht – NASHUA – A 47′ W-46, skippered by Wendy Schmidt
Vintage Class
Day Racer – ADAMANT – A 24′ Adams Interclub (1937) skippered by Mark Pincus
Corinthian Classic – SIREN – A 45′ S&S designed NY-32 skippered by Peter Cassidy
Grand Classic – WEATHERLY – A 1962 America's Cup defender 12-Metre (1958) that is listed on the National Register of Historic Places; owned and skippered by George Hill
Among the fleet competing for the Vintage Class prizes were three 1905 Herreshoff NY-30s, as well as their successors, the NY-32 fleet designed by esteemed naval architects Sparkman and Stephens, of which SIREN was a part of this special reunion of New York Yacht Club classic yacht racers.
Among the many noteworthy competitors, a few stand outs which competed in multiple regattas comprising the 2015 PCYC North American Circuit, included WHEN AND IF, THE BLUE PETER, GALAVANT, TICONDEROGA and BLACK WATCH.
Panerai and Healing Sails
Panerai has dedicated at least one day of classic sailing, before or after each regatta during the PCYC North American Circuit, to sponsoring patient and caregiver sails for the community residents who live in the vicinity of the racing. Again this year, Panerai partnered with Sailing Heals, a Massachusetts-based non-profit sailing organization, along with their dedicated Host Captains to host more than 20 local 'VIP Guests' for a beautiful Italian-inspired lunch followed by a rejuvenating sail on five separate classic boating vessels: THE BLUE PETER, WILD HORSES, WINDIGO, GALAVANT and TOBIAS on beautiful Narragansett Bay.
Share on Facebook
Time to Beat: 137 Days 20 Hours Set by Chinese Sailor Guo Chuan in 2013
 Newport, Rhode Island – Long time U.S. short-handed sailor, Joe Harris, announced his plans today to attempt to break the non-stop solo Around the World Record for 40-foot monohulls. Harris will make the attempt in his Class 40, GryphonSolo2. The attempt will be made in accordance with the rules of the World Sailing Speed Record Council, who will time the start and finish in Newport, RI. Additionally, a "WSSRC Black Box" will be installed on the boat, the data from which will be used to ratify any claim by GryphonSolo2, that the existing record of 137 days, 20 hours, 01 minute, 57 seconds, set by Chinese sailor Guo Chuan in 2013, has been broken.
Joe intends to leave Newport on a favorable weather window at the beginning of November. To qualify for an Around the World record, Joe will sail from Castle Hill Light in Newport, returning to Newport, leaving Antarctica to starboard. The attempt is an approximate distance of 26,700 nautical miles. To beat the current record, Joe will need to average 195 miles per day, or roughly 8.2 knots/hour.
Joe Harris stated, "I have been hoping, planning and dreaming of racing around the world since I was about 20 and now I am 55. I have come dangerously close to doing this twice; first with my Open 50 GryphonSolo in 2008 in the Velux 5 Oceans Race, before it was postponed. I then bought my Class 40 GryphonSolo2 in 2011 with the express purpose of racing solo around the world, but alas, there is no longer a race, as the Global Ocean Race will not run again. So, being 'all dressed up with nowhere to go', I have decided to 'just do it' and in turn attempt to break the speed record for a 40-foot monohull.
 There is no other sporting event in the world that runs for 137 days, 24 hours day, in which you are the only athlete on the playing field racing against the clock. So this will no doubt be the greatest challenge I have ever faced and I would be lying if I said that the prospect of being alone on the great oceans of the world for four months is not an intimidating thought. It is. But in the end, this will provide me the greatest test that I can imagine. So I look forward to engaging with anyone who would like to follow the record attempt, from the preparation, to the start, to the communication from sea, to my return to Newport in, hopefully, anything less than 137 days." 
Throughout the next five months, Joe will be actively training for his around the world record attempt. In addition to multi-day training sails, Joe will also participate in Block Island Race Week (double-handed Navigators Division), Marblehead-Halifax (double-handed) and the Ida Lewis Distance Race.
In preparation of the attempt, GryphonSolo2 has undergone a major refit at Maine Yacht Center including:
·       New auto pilots installed.
·       New solar panels and hydrogenerator installed for offshore energy production
·       Keel and rudders removed, inspected and reinstalled.
·       New set of sails built specifically for the record attempt.
·       Mast completely stripped and re-painted.
·       New Iridium satellite communication system.
·       New computer and navigation system.
About Joe Harris
Joe grew up sailing on Long Island Sound, being mentored by his father, Woody Harris and his grandfather Hans Rozendaal, both experienced offshore racing sailors.  With 4 trans-Atlantic crossings, 9 Newport-Bermuda races, 5 Marblehead to Halifax races, 5 Bermuda 1-2 races, 3 Atlantic Cups and numerous international miles sailed, Joe has logged over 60,000 offshore ocean miles, while owning 5 boats over a span of 30 years.
After graduating from Brown University in 1981, Joe spent the next seven years as a boat builder in New England during the winters and commercial fisherman in the summers in Bristol Bay, Alaska. Joe sailed offshore frequently in his twenties, racing to Bermuda and delivering boats to and from Europe and the Caribbean, before buying a C&C 40 he named Shiva.  Joe migrated to double-handed sailing aboard Shiva, and ultimately sold Shiva to purchase the Aerodyne 38 Gryphon, which he campaigned aggressively.
In 2004 Joe purchased an all-carbon Finot-Conq designed Open 50 that he named GryphonSolo, which he campaigned in the solo Transat and the Transat Jacques Vabre. In 2011, Joe purchased an Akilaria RC 2 Class 40 named GryphonSolo2 with the intent of racing solo around the world.
Joe is married to his wife Kimberly and they have three children (Griffin- 17, Emmett- 11 and Sophie Grace-8) and live in South Hamilton, MA.  He is involved in real estate investment, development and project management when not sailing.
Career Highlights:
1st – 2014 Atlantic Cup
4th – 2013 Atlantic Cup
3rd – 2012 Atlantic Cup
1st – 2007 Bermuda 1-2 – Overall and set the course record
1st – 2006 Newport-Bermuda – Open Division
1st – 2005 Transat Jaques Vabre (France-Brazil) – Double-handed
2nd – 2004 Transat (Plymouth, UK- Boston, MA) – Single-handed
About GryphonSolo2
GryphonSolo2 is an Akilaria RC2 Class 40. The Akilaria RC2 is the second generation of Class 40s designed by Marc Lombard and built by MC-Tec. She was launched in 2011 in LaTrinite, France.
Share on Facebook
 200 miles to go. After 9 months and nearly 40,000 miles
Dongfeng slenderest of leads over main rivals Brunel and Mapfre, but seems like it will not mean much this evening.
Caudrelier: "For us its easy to go from 3rd place to 5th place (overall), and also to come back to second. Everything can happen still"
The podium of the Volvo Ocean Race might just come down to a total lottery tonight as wind forecasts predict a difficult transition as Charles Caudrelier describes "from the current strong southerly winds that have carried Dongfeng up the North Sea, to some light easterly winds that will should get us to the finish line. Its going to be stressful".In between potentially little or no wind at all – during the early evening tonight in theory. The battleground will probably be between Hanstholm and Skagen, the two towns with a bay between them, that mark the northern tip of Denmark. But even now the compression is starting, from Yanndirect this morning "Still coming back from behind. Less than 4 miles, now. Nothing we can do about it. Not a nice feeling". More often than not in ocean racing, the rich get richer – but this time its not going to work like that. The guys (and girls) behind are going to sail on in pressure as the boats in front that worked so hard to grind out their leads, will stop in the transition zone between the old and new winds.The warm front moving from the UK east, that has been chasing the fleet since they left, is going to slow down and stall before it gets to them, at least at surface level. Higher up in the atmosphere its forecast to continue east – this differential between up high and at the surface, will provide the conditions for a new low to form, bringing new winds – but the transition could be long – and in the meantime somehow the boats have to get from the old to the new. This in effect should allow almost all, if not all, the backmarkers to sail straight to the front, with the leaders helpless.

It will be tragic if the entire race comes down to luck, but then this is part of ocean racing. Since Dong Feng means 'winds from the east bringing freshness and energy' and Aeolus being the Guardian of the Winds – on land we can only hope and pray to whatever Gods we believe in, that luck will be on our side, and that we will get the podium finish we deserve!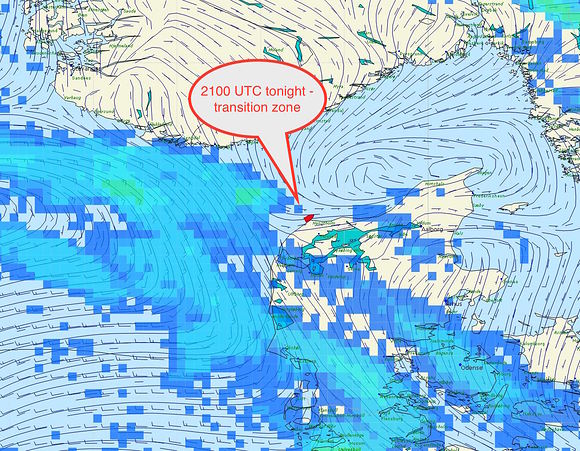 You can follow our story and interact with the team on all social media channels and our official website:Facebook: Click here
Twitter: Click here
Instagram: Click here
Weibo: Click here
WeChat: Click here
Youtube: Click here
YouKu: Click here
Official website: Click here
Share on Facebook
Skipper Sam Davies (GBR) and her Team SCA crew struck a resounding blow for women's offshore sailing in the early hours of Thursday morning when they gloriously clinched Leg 8 of the Volvo Ocean Race
Leg 8

DTL

(NM)

GAIN/LOSS

(NM)

DTF

(NM)

Speed

(kt)

SCA1
FIN – 03d 13h 11m 11s

VEST
FIN – 03d 13h 59m 38s

ADOR
0.3
10.9
3
11.1

MAPF
0.8
11.3
4
11.7

TBRU
1.8
11.5
5
12.4

ALVI
2.3
11.7
5
12.9

DFRT
5.5
11.7
8
13.2
Latest positions may be downloaded
from the race dashboard hereº MAPFRE given 2-point penalty Leg 5
Dongfeng Race Team, Team SCA & MAPFRE penalised Leg 7
– A resounding blow for women's offshore sailing
– Team Vestas Wind bounce back for second place
– Abu Dhabi Ocean Racing nearing overall trophy win
LORIENT, France, June 11 – Skipper Sam Davies (GBR) and her Team SCA crew struck a resounding blow for women's offshore sailing in the early hours of Thursday morning when they gloriously clinched Leg 8 of the Volvo Ocean Race.
The comfortable victory was the first leg win in offshore sailing's toughest challenge since Tracy Edwards' Maidenclinched two stage wins in Class D of the 1989-90 race, won overall by Sir Peter Blake's famous Steinlager2.
At least as satisfying for the first all-women's crew to enter the race in 12 years will be the opportunity to silence critics who suggested that they were looking outclassed in the current 12th edition by their experienced male rivals.
True, the Swedish entry had yet to win a podium place until now, but the crew has clearly improved leg after leg and many observers felt that a breakthrough performance was just around the corner.
The win was certainly no fluke in an upwind leg that tested seamanship to the full with an often heinous sea state and strong winds virtually throughout.
They grabbed the 647-nautical mile leg from Lisbon by the scruff of the neck on Monday, and strengthened that grip on Tuesday after taking an offshore course while most of their rivals hugged the Spanish and French coast approaching the Bay of Biscay.
It took them three days 13 hours 11 minutes and 11 seconds to grab their share of Race history.
"Thanks to everybody for all your support. It's not really sunk in yet," said a jubilant Davies. "It probably won't hit us until we hit the dock and we see there aren't any other boats there.
"It's a reward for all the hard work we have done. It's a great confidence booster. It's going to be huge for us. We've had a mountain to climb to get here."
Behind them, another fairy-tale was unfolding as Team Vestas Wind (Chris Nicholson/AUS) closed to a remarkable second-placed finish in their return to the race after six months out following a collision with an Indian Ocean reef on November 29 during Leg 2.
Nicholson had every reason for the huge smile on his face as he approached the port of Lorient following a near perfect race from Lisbon starting on Sunday.
He had simply hoped that his boat could negotiate the leg without mishap and be competitive – a high podium finish is almost beyond his wildest dreams.
"It's a very special moment," said the team's Onboard Reporter, Brian Carlin (IRL), simply.
Astern of the leading pair, third-placed Abu Dhabi Ocean Racing (Ian Walker/GBR) were nearing an ever bigger prize than the handsome silver leg trophy claimed by Team SCA.
They needed simply to finish ahead of their nearest overall pursuers in the standings,Team Brunel (Bouwe Bekking/NED) and Dongfeng Race Team (Charles Caudrelier/FRA), with a boat in between, to be all but be sure of winning the 12th edition of the Volvo Ocean Race.
As Team SCA passed the finish at 0211 UTC/0411 local time on Thursday, that prospect looked very much on with MAPFRE (Xabi Fernández/ESP) in fourth, Team Brunel fifth, and Team Alvimedica (Charlie Enright/USA) keeping Dongfeng Race Team at bay in the fight for sixth.
The boats will have a short maintenance period before Sunday's SCA In-Port Race here in Lorient, before the fleet set sail for Gothenburg via a much-awaited pit-stop in The Hague, on Tuesday, June 16.
It promises to be a period of considerable celebration for at least three crews of very, very happy sailors.
Share on Facebook