NEWPORT, R.I. (Sept. 24, 2018) – An eight-race series held Friday through Sunday (September 21-23) on Rhode Island Sound and Narragansett Bay determined title holders for the 2018 12 Metre North American Championship. The event, hosted by Ida Lewis Yacht Club and including divisions for historic 12 Metres from the Modern and Traditional eras (1974-1983 and 1958-1970, respectively), was especially competitive this year due to teams ramping up for the 2019 12 Metre World Championship, which also will be hosted by Ida Lewis Yacht Club on these same waters off Newport, R.I. next July.

Action aboard winners Challenge XII and American Eagle at the 2018 12 Metre North American Championship held in Newport, R.I.
"The boats that prevailed had to perform in all wind ranges and sailing conditions," said Event Chairman Peter Gerard, explaining that the fleet of nine boats had three races on Friday that were held in ideal 12-15 knot winds "outside" on the open water where the America's Cup 12 Metre races were held from 1958-1983. Saturday's three races saw 15-18 knots at the racecourse "inside" the Bay (north of Pell Bridge), and Sunday's last two races were held in challengingly light and variable breezes, also inside. "It was a true test for the championship and a great example of the 12 Metres committed to and prepping for the Worlds here next year."
Topping five boats in the Traditional Division was American Eagle, which has been chartered by the American Eagle 2019 Syndicate for this year and next. The team is comprised of regional sailors mostly from Rhode Island and Massachusetts, including Bob Morton (Newport) who skippers and leads the syndicate jointly with team member Cindy DeLotto (Newport/Edgartown, Mass.).
"This really showed that both our team and boat are tuned up," said Morton after racing on Sunday. "I don't know if we'll do anything else to the boat; we'll just continue to improve on what we are doing in preparation for the Worlds."

The 2019 12 Metre North American Championship was hosted by Ida Lewis Yacht Club in Newport, R.I., where the 2019 12 Metre World Championship is scheduled to take place.
Giving American Eagle its best run for the money was Weatherly, chartered by Jay Schachne (Barrington, R.I.) who plans to compete in the Worlds. Weatherly finished with 18 points to American Eagle's 14; however, only two points separated the two boats going into Sunday. "We were working one-on-one with Weatherly because mathematically we only had to beat them to win," said Morton, who took second in both races Sunday while Weatherly finished third in both. "It was crazy out there, all the back and forth, close racing all the time. We don't have any real strengths…for instance, Columbia excels in heavy air, Weatherly is good in light air.  We just average out; we're always there. You can see that in our scoreline; we were never worse than second."
According to American Eagle's tactician Dave Vietor (Edgartown, Mass.), Sunday's races were "character building." He knows a thing or two about 12 Metres, as he skippered Courageous in the Defender Trials for the 1983 America's Cup. (Courageous, a veteran of five America's Cup campaigns and twice a successful defender, finished third in the Modern Division with a new face, Arthur Santry of Arlington, Va./Newport, R.I., at the helm.)

Historic 12 Metres competing in the 12 Metre North American Championship participated in an exhibition race back to Newport Harbor on Friday (Sept. 21). The nine-boat fleet had just completed three races on Rhode Island Sound, where 12 Metres contended for the America's Cup from 1958-1983.
Going into Sunday, Victory '83, skippered by owner Dennis Williams (Hobe Sound, Fla./Newport, R.I.), was leading the four-boat Modern Division by one point, but it was Challenge XII with owner Jack LeFort (Jamestown, R.I.) at the helm that ultimately won – by one point. "We were really concerned about Victory '83, because it's a very good boat and team, and we knew whoever won today was going to be the champion," said LeFort, who sailed with America's Cup and Volvo Ocean Race veteran Ken Read aboard as tactician. "It was fluky, it was hard and we ended up 1-2 and they posted a 2-3. All regatta, it was anybody's game at any time. The 12 Metre racing is great competition, we love it. It will be nice when there are more boats at the Worlds."
According to Peter Gerard, who is also heading up the Worlds, as any as 10 Modern 12 Metres are expected at that event, while five Traditional, six Grand Prix (built for the 1987 America's Cup) and three Vintage 12 Metres (built before the America's Cup 12 Metre era) are also expected, making it the largest gathering of 12 Metres ever in North America.
Ted Hood and Ted Turner Trophies
At Sunday's afternoon Awards Ceremony at Ida Lewis Yacht Club, the Ted Hood Trophy was awarded to the teams in each division with the highest points overall for the season. Those teams were American Eagle and Challenge XII.
American Eagle is currently the top America's Fleet contender in the Waypoint Series leading up to the 2019 Worlds.

Clockwise from left: Ted Turner Trophy photographed at 12 Metre Yacht Club/Clarke Cooke House; American Eagle team with the 12 Metre North American Trophy; Event Chair Peter Gerard, Alec LeFort and his father Jack LeFort with the Ted Hood Trophy.
At the 12 Metre Yacht Club's Annual Dinner, held at the Clarke Cooke House on Thursday evening (Sept. 20), the Ted Turner Trophy was awarded (in absentia) to James Patrick Howaldt (Copenhagen, DK), Vice President of the International Twelve Metre Association (ITMA). Gary Jobson made the presentation noting that Howaldt's love of 12 Metres combined with his determination and dedication are largely responsible for the thriving Baltic fleet of Vintage 12 Metres, now 20 boats strong. ITMA's Treasurer, Dr. Robin Wallace, read remarks of acceptance and thanks from Howaldt, while ITMA's President, Dyer Jones, relayed additional words of praise from his Baltic fleet colleagues.
The Ted Turner Trophy is awarded annually to individuals(s) who have made an outstanding contribution to the 12 Metre Class on or off the water.
For more information, visit http://www.12mrclass.com/, https://12mrworlds.com/ or contact Peter Gerard at pgerard53@gmail.com, +1 214-244-4955.
Follow on Facebook: https://www.facebook.com/12mR.Class
12 Metre North American Championship Results
Sept. 21-23, 2018
Modern (4 Boats)
1. Challenge XII, 12 Metre 67, Jack LeFort , Jamestown, RI, USA – 3 -1 -2 -1 -3 -2 -1 -2 ; 15
2. Victory 83, 12 Metre 65, Dennis Williams , Hobe Sound, FL, USA – 2 -4 -1 -2 -1 -1 -2 -3 ; 16
3. Courageous, 12 Metre 65, Ralph Isham /Alexander Auersperg , Newport, RI, USA – 1 -2 -3 -3 -2 -3 -3 -1 ; 18
4. Freedom, 12 Metre 63'5, Charles Robertson , Guilford, CT, USA – 4 -3 -4 -4 -5 -5 -4 -4 ; 33
Traditional (5 Boats)
1. American Eagle, 12 Metre 67, Eagle 2019 Syndicate , Middletown, RI, USA – 1 -2 -2 -1 -2 -2 -2 -2 ; 14
2. Weatherly, 12 Metre 69, Jay Schachne , Barrington, RI, USA – 3 -1 -1 -3 -1 -3 -3 -3 ; 18
3. Columbia, 12 Metre 69'8, Kevin Hegarty / Anthony Chiurco , Newport, RI, USA – 2 -4 -4 -3 -3 -1 -1 -1 ; 19
4. Nefertiti, 12 Metre 68′, Jon Wullschleger , Sarasota, FL, USA – 4 -3 -3 -4 -4 -4 -4 -4 ; 30
5. Easterner, 12 Metre 65, Scott Bernard , Annapolis, MD, USA – 6 -6 -6 -6 -6 -6 -6 -6 ; 48
Share on Facebook
For the second year running, the Candy Store Cup Superyacht Edition will showcase some of the world's most spectacular yachts racing in a regatta designed specifically for them. The event, scheduled for Thursday through Saturday, July 27-29, is organized and hosted by Newport Shipyard and Bannister's Wharf, which partnered last year to consolidate the Newport Bucket and Candy Store Cup regattas.
The largest yacht entered thus far is the 184' (56m) Perini Navi ketch Zenji, which will join the other entries at Newport Shipyard's newly expanded docks alongside dozens of other megayachts, both sail and power. The working shipyard has become the epicenter of the megayacht industry in New England and is uniquely positioned on the Newport waterfront to allow the public to view the yachts that are berthed there.
The Candy Store Cup is all about sportsmanship and camaraderie, as the pristine superyachts must race to rules specially formulated to keep them safe distances from each other. The format calls for pursuit-style (staggered start) racing on Rhode Island Sound, with one race planned for each of the three days, leaving plenty of time in the afternoons and evenings for socializing. Racing begins at 1 p.m. off Castle Hill and will provide a stunning visual for those watching from vantage points along the shore of Narragansett Bay's East Passage, south of the Pell Bridge. The Candy Store Cup Party and Awards are on Saturday at 7 p.m.
Royal Huisman, Perini Navi, Vitters and Rybovich, which are major players in the superyacht industry and were all stewards of the Newport Bucket, are presenting partners of the Candy Store Cup Newport. Supporting partners of the event are KVH, North Sails, Sentient Jet, Southern Spars / Future Fibres, Willis Towers Watson, The Marshall Islands Registry, and M. Gemi.
Newport Shipyard, one of the most popular and recommended shipyards in the U.S., is a full-service marina and shipyard with over 3,500 linear feet of dock space that can accommodate yachts up to 300+ feet. Its amenities include a dockside café, ship store, fitness center, courtesy vehicles and crew housing. Bannister's Wharf, founder of the original Candy Store Cup in 1977, is situated in downtown Newport and attracts visitors and locals alike with 20 shops and galleries that offer a diverse selection of life's niceties. The social center of the Wharf is the Clarke Cooke House, home of the original Candy Store Cup.
PRELIMINARY CLASS BREAKS (UPDATED JULY 13, 2017)
CLASS A:
Action – Sloop – 37m – Royal Huisman – Dykstra
Ranger (J) – Sloop – 42m – Danish Yacht – S&S / Dykstra NA
Sunleigh – Sloop – 32m – Jongert – Tony Castro
CLASS B:
Audrey II – Ketch – 27m – Jongert – Jongert
Bequia – Yawl – 28m – Brooklin Boat Yard – Stephens
Freya – Sloop – 27m – Nautor's Swan – Frers
Wild Horses – Sloop – 23m – W-Class™ Yachts – White
CLASS C:
Meteor – Schooner – 52m – Royal Huisman – Dykstra NA
Naema – 42m – G Schooner – Graafship – Hodgdon Yachts
Whitehawk – 32m – Ketch – Lie-Nielsen – Bruce King
Zenji – Ketch – 56m – Perini-Navi – Ron Holland
Share on Facebook
 200 miles to go. After 9 months and nearly 40,000 miles
Dongfeng slenderest of leads over main rivals Brunel and Mapfre, but seems like it will not mean much this evening.
Caudrelier: "For us its easy to go from 3rd place to 5th place (overall), and also to come back to second. Everything can happen still"
The podium of the Volvo Ocean Race might just come down to a total lottery tonight as wind forecasts predict a difficult transition as Charles Caudrelier describes "from the current strong southerly winds that have carried Dongfeng up the North Sea, to some light easterly winds that will should get us to the finish line. Its going to be stressful".In between potentially little or no wind at all – during the early evening tonight in theory. The battleground will probably be between Hanstholm and Skagen, the two towns with a bay between them, that mark the northern tip of Denmark. But even now the compression is starting, from Yanndirect this morning "Still coming back from behind. Less than 4 miles, now. Nothing we can do about it. Not a nice feeling". More often than not in ocean racing, the rich get richer – but this time its not going to work like that. The guys (and girls) behind are going to sail on in pressure as the boats in front that worked so hard to grind out their leads, will stop in the transition zone between the old and new winds.The warm front moving from the UK east, that has been chasing the fleet since they left, is going to slow down and stall before it gets to them, at least at surface level. Higher up in the atmosphere its forecast to continue east – this differential between up high and at the surface, will provide the conditions for a new low to form, bringing new winds – but the transition could be long – and in the meantime somehow the boats have to get from the old to the new. This in effect should allow almost all, if not all, the backmarkers to sail straight to the front, with the leaders helpless.

It will be tragic if the entire race comes down to luck, but then this is part of ocean racing. Since Dong Feng means 'winds from the east bringing freshness and energy' and Aeolus being the Guardian of the Winds – on land we can only hope and pray to whatever Gods we believe in, that luck will be on our side, and that we will get the podium finish we deserve!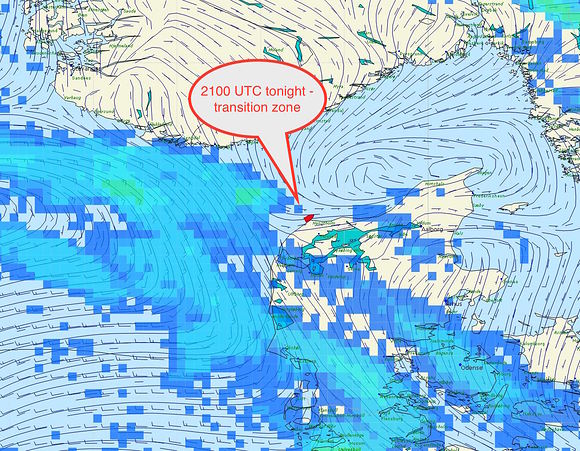 You can follow our story and interact with the team on all social media channels and our official website:Facebook: Click here
Twitter: Click here
Instagram: Click here
Weibo: Click here
WeChat: Click here
Youtube: Click here
YouKu: Click here
Official website: Click here
Share on Facebook
Skipper Sam Davies (GBR) and her Team SCA crew struck a resounding blow for women's offshore sailing in the early hours of Thursday morning when they gloriously clinched Leg 8 of the Volvo Ocean Race
Leg 8

DTL

(NM)

GAIN/LOSS

(NM)

DTF

(NM)

Speed

(kt)

SCA1
FIN – 03d 13h 11m 11s

VEST
FIN – 03d 13h 59m 38s

ADOR
0.3
10.9
3
11.1

MAPF
0.8
11.3
4
11.7

TBRU
1.8
11.5
5
12.4

ALVI
2.3
11.7
5
12.9

DFRT
5.5
11.7
8
13.2
Latest positions may be downloaded
from the race dashboard hereº MAPFRE given 2-point penalty Leg 5
Dongfeng Race Team, Team SCA & MAPFRE penalised Leg 7
– A resounding blow for women's offshore sailing
– Team Vestas Wind bounce back for second place
– Abu Dhabi Ocean Racing nearing overall trophy win
LORIENT, France, June 11 – Skipper Sam Davies (GBR) and her Team SCA crew struck a resounding blow for women's offshore sailing in the early hours of Thursday morning when they gloriously clinched Leg 8 of the Volvo Ocean Race.
The comfortable victory was the first leg win in offshore sailing's toughest challenge since Tracy Edwards' Maidenclinched two stage wins in Class D of the 1989-90 race, won overall by Sir Peter Blake's famous Steinlager2.
At least as satisfying for the first all-women's crew to enter the race in 12 years will be the opportunity to silence critics who suggested that they were looking outclassed in the current 12th edition by their experienced male rivals.
True, the Swedish entry had yet to win a podium place until now, but the crew has clearly improved leg after leg and many observers felt that a breakthrough performance was just around the corner.
The win was certainly no fluke in an upwind leg that tested seamanship to the full with an often heinous sea state and strong winds virtually throughout.
They grabbed the 647-nautical mile leg from Lisbon by the scruff of the neck on Monday, and strengthened that grip on Tuesday after taking an offshore course while most of their rivals hugged the Spanish and French coast approaching the Bay of Biscay.
It took them three days 13 hours 11 minutes and 11 seconds to grab their share of Race history.
"Thanks to everybody for all your support. It's not really sunk in yet," said a jubilant Davies. "It probably won't hit us until we hit the dock and we see there aren't any other boats there.
"It's a reward for all the hard work we have done. It's a great confidence booster. It's going to be huge for us. We've had a mountain to climb to get here."
Behind them, another fairy-tale was unfolding as Team Vestas Wind (Chris Nicholson/AUS) closed to a remarkable second-placed finish in their return to the race after six months out following a collision with an Indian Ocean reef on November 29 during Leg 2.
Nicholson had every reason for the huge smile on his face as he approached the port of Lorient following a near perfect race from Lisbon starting on Sunday.
He had simply hoped that his boat could negotiate the leg without mishap and be competitive – a high podium finish is almost beyond his wildest dreams.
"It's a very special moment," said the team's Onboard Reporter, Brian Carlin (IRL), simply.
Astern of the leading pair, third-placed Abu Dhabi Ocean Racing (Ian Walker/GBR) were nearing an ever bigger prize than the handsome silver leg trophy claimed by Team SCA.
They needed simply to finish ahead of their nearest overall pursuers in the standings,Team Brunel (Bouwe Bekking/NED) and Dongfeng Race Team (Charles Caudrelier/FRA), with a boat in between, to be all but be sure of winning the 12th edition of the Volvo Ocean Race.
As Team SCA passed the finish at 0211 UTC/0411 local time on Thursday, that prospect looked very much on with MAPFRE (Xabi Fernández/ESP) in fourth, Team Brunel fifth, and Team Alvimedica (Charlie Enright/USA) keeping Dongfeng Race Team at bay in the fight for sixth.
The boats will have a short maintenance period before Sunday's SCA In-Port Race here in Lorient, before the fleet set sail for Gothenburg via a much-awaited pit-stop in The Hague, on Tuesday, June 16.
It promises to be a period of considerable celebration for at least three crews of very, very happy sailors.
Share on Facebook
Team Brunel (Bouwe Bekking/NED) completed a triumphant Leg 7 early on Wednesday to bolster their hopes of finishing with a podium place in the Volvo Ocean Race and also keep alive their hopes of overall victory
Leg 7

DTL

(NM)

GAIN/LOSS

(NM)

DTF

(NM)

Speed

(kt)

TBRU
FIN – 09d 11h 09m 49s

MAPF
FIN – 09d 11h 31m 39s

ALVI
FIN – 09d 12h 50m 49s

DFRT
FIN – 09d 12h 51m 44s

ADOR
FIN – 09d 13h 24m 34s

SCA1
FIN – 09d 15h 32m 38s

VEST
Did Not Start
Latest positions may be downloaded
from the race dashboard here º MAPFRE given two-point penalty – read more
– Team Brunel edge home ahead in transatlantic leg
– MAPFRE chase them all the way into Lisbon
– Team Alvimedica beat Dongfeng in thrilling dogfight
– Team Vestas Wind are reunited with rest of the fleet
LISBON, Portugal, May 27 – Team Brunel (Bouwe Bekking/NED) completed a triumphant Leg 7 early on Wednesday to bolster their hopes of finishing with a podium place in the Volvo Ocean Race and also keep alive the possibility of overall victory.
The Dutch boat sailed a near faultless transatlantic stage, edging MAPFRE (Iker Martínez/ESP) into second, just under 22 minutes behind.
Behind them, Team Alvimedica (Charlie Enright/USA) edged out long-time leg leaders, Dongfeng Race Team (Charles Caudrelier/FRA), after an enthralling dogfight over the final miles.
The Chinese-backed boat was caught by Enright's crew in the early hours of Wednesday, but battled their way back and looked sure to overtake them again before a botched tack ruined their chances.
They lost out by just 55 seconds after nearly nine days and 13 hours of sailing across 2,800 nautical miles (nm).
With overall leaders Abu Dhabi Ocean Racing (Ian Walker/GBR) finishing fifth ahead of Team SCA (Sam Davies/GBR), the overall race standings are left finely poised.
The Emirati crew now have a five-point lead over Dongfeng Race Team with two short legs to sail, while Team Brunel are a point further adrift of Charles Caudrelier's crew.
Caudrelier made no attempt to hide his disappointment after leading the leg for so long and seeing a podium place disappear in the final miles.
"I'm feeling very bad, very upset and very sad," he summed up. "We deserved better, but I guess that's life.
"Most of all, I'm upset with myself because my crew did a great job and I made a huge mistake – and I don't accept mistakes. We really missed a chance in this leg with Abu Dhabi Ocean Racing finishing fifth."
Few sailors in the fleet will savour a win over one of the race's trademark legs more than Team Brunel's 51-year-old skipper, Bouwe Bekking, in his record-equalling seventh appearance.
He has certainly experienced the ups and downs of racing across the Atlantic. Few will forget the agonising position he faced in 2006 before he was finally forced to abandon his sinking movistar boat during the same stage of that Volvo Ocean Race.
Bekking insisted last week that he had not lost 'a single night's sleep' over the incident and the confident way that Team Brunel sailed the leg would bear that out.
Team Brunel were harried all the way over the past 24 hours by both MAPFRE and Dongfeng Race Team, especially over the final few miles when the breeze dropped to almost zero in the Tagus River as they approached the Lisbon finish.
"We sailed a tremendous leg but just at the end when there was no wind, it was getting a bit gnarly," said Bekking. "But we pulled it off."
The victory was achieved with two newcomers on board, Adam Minoprio (NZL) and Timo Hagoort (NED), the latter replacing the injured Gerd-Jan Poortman (NED).
"It was good to have those young guys on board, they did a fantastic job," added Bekking.
Team SCA crossed the line, some four hours and 22 minutes behind Team Brunel (see panel above), after an action-packed transatlantic leg in which they sailed within the pack for much of the nine days and at one stage threatened a podium finish after taking a bold strategic choice around the Azores High.
The final two stages, to Lorient (France) and then Gothenburg (Sweden) via a pit-stop in The Hague (Netherlands), will once again be contested by seven boats.
Team Vestas Wind (Chris Nicholson/AUS) rejoin the fleet for the first time since November 29 when the boat was grounded on a reef in the Indian Ocean.
After a four-month rebuild in the Persico boatyard in Bergamo, Italy, the boat was transported by sea and road to Lisbon, arriving a few hours before the rest of the fleet in the small hours of Wednesday morning.
Over the next few days, the rig will be stepped ahead of the Danish-backed team's competitive comeback on June 6 in the Lisbon In-Port Race. Leg 8 to Lorient, a relative sprint at 647nm, begins a day later.
The race concludes on June 27 with the In-Port Race in Gothenburg after nine months and 38,739nm of sailing, visiting 11 ports and every continent.
Current latest standings (low points wins, In-Port Race Series splits ties): 1) Abu Dhabi Ocean Racing 16 pts, 2) Dongfeng Race Team 21, 3) Team Brunel 22, 4) MAPFRE 26, 5) Team Alvimedica 27, 6) Team SCA 41, 7) Team Vestas Wind (Denmark) 52 (DNS).
Share on Facebook
Spanish boat MAPFRE, boosted by the return of their skipper Iker Martinez, claimed their first win of the Volvo Ocean Race in-port series on Saturday in front of thousands of spectators.
With Martinez at the helm, the red boat raced to the first mark with a narrow lead over Team Alvimedica (Turkey/US) and gradually stretched their advantage in a race completed in just under an hour.
The result leaves the Spanish crew still trailing the fleet in the overall standings on 31 points, but they have closed the gap considerably after a string of largely disappointing performances prior to Saturday.
Martinez, 37, was delighted to return to the winner's circle having returned to lead the crew after missing the previous leg due to Olympic commitments.
The helmsman from San Sebastian won gold in the 2004 Athens Games and silver in Beijing 2008, but finished disappointingly down the field in the 2012 London Olympics.
He is determined to put that right in Rio de Janeiro next year, but his commitment to his preparation has led to his missing several legs in this edition of the nine-month Ocean Race which started last October.
"We are improving slowly and that's the way we want to do these things," said Martinez after the victory. "Today we were first and we're feeling super good."
Team Alvimedica, led by Newport local Charlie Enright, clung on to second place while Abu Dhabi Ocean Racing stole third position from the all-women crew of Team SCA, who made a damaging positioning error mid-race.
The result puts Abu Dhabi, led by Briton Ian Walker, back on top of the overall in-port race series standings on 19 points. The series will count towards a separate trophy and be used to split ties in the main offshore competition.
The six boats in the fleet will begin the seventh leg, a 2,800-nautical mile (4,815km) trip to Lisbon, Portugal, on Sunday at 1800GMT.
Abu Dhabi lead by six points from China's Dongfeng Race Team, with three legs to complete in the nine-month, 38,739-nautical mile (71,745km) marathon.
The race concludes on June 27 in Gothenburg, Sweden, having visited 11 ports and every continent.
Team Vestas Wind In-Port Race Newport results 
Course: 3 laps.
Bearing to top gate: 230
Distance to top: 1.4nm, extended to 1.8nm on the 3rd lap.
Total distance sailed: 9.2nm
TWD: 180-185
TWS: 8kts
Team Vestas Wind In-Port Race Newport Results:
1. MAPFRE 14:55:41 – 1pt
2. Team Alvimedica 14:56:39 – 2pts
3. Abu Dhabi Ocean Racing 14:57:38 – 3pts
4. Team SCA 14:57:57 – 4pts
5. Team Brunel 14:58:17 – 5pts
6. Dongfeng Race Team 14:59:09 – 6pts
DNS. Team Vestas Wind – 8pts
In-Port series Overall standings:
1. Abu Dhabi Ocean Racing – 19pts
2. Team Brunel – 20pts
3. Team SCA – 24pts
4. Dongfeng Race Team – 27pts
5. Team Alvimedica – 28pts
6. MAPFRE – 31pts
7. Team Vestas Wind  – 52pts
Crew List for Team Vestas Wind Newport In-Port Race:
Dongfeng Race Team Charles Caudrelier FRA Kevin Escoffier FRA Thomas Rouxel FRA Martin Strömberg SWE Chen Jin Hao (Horace) CHN Pascal Bidegorry FRA Sidney Gavignet FRA Jiru Yang (Wolf) CHN Yann Riou FRA (OBR)
Team Alvimedica Charles Enright USA William Oxley AUS Alberto Bolzan ITA Mark Towill USA Sébastien Marsset FRA Nick Dana USA Ryan Houston NZL Dave Swete NZL Amory Ross USA (OBR)
MAPFRE Iker Martínez ESP Xabi Fernández ESP Jean-Luc Nélias FRA Rob Greenhalgh GBR André Fonseca BRA Antonio Cuervas-Mons ESP Carlos Hernández ESP Guillermo Altadill ESP Francisco Vignale ARG (OBR)
Abu Dhabi Ocean Racing Ian Walker GBR Simon Fisher GBR Daryl Wislang NZL Adil Khalid UAE Luke Parkinson AUS Justin Slattery IRL Roberto Bermúdez de Castro ESP Phil Harmer AUS Matt Knighton USA (OBR)
Team Brunel Bouwe Bekking NED Andrew Cape AUS Jens Dolmer DEN Pablo Arrarte ESP Louis Balcaen BEL Adam Minoprio NZL Rokas Milevicius LTU Timo Hagoort NED Stefan Coppers NED (OBR)
Team SCA Sam Davies GBR Carolijn Brouwer NED Dee Caffari GBR Abby Ehler GBR Annie Lush GBR Elodie-Jane Mettraux SUI Stacey Jackson AUS Libby Greenhalgh GBR Liz Wardley AUS Sally Barkow USA Sophie Ciszek AUS Anna-Lena Elled SWE (OBR)
Share on Facebook
A "virtual mark" adds an intriguing new twist to the 10th Annual Ida Lewis Distance Race (ILDR), which starts this Friday (August 15). Starting at 12:30 p.m. off Fort Adams in Newport, R.I., the popular overnighter takes its fleet of PHRF, IRC, One-Design, Doublehanded and Multihull boats on one of four courses – between 104nm and 177nm – that trace the New England coastline.
"This is the first time that we have used the concept of a 'virtual mark' at the Ida Lewis Distance Race," said ILDR Race Chairman Simon Davidson, adding that the mark is similar to a traditional mark, as defined in the rules of sailing, except rather than being a physical object, it's a position defined by latitude and longitude coordinates.
"Originally, this concept was born out of necessity, due to the Coast Guard's removal of various traditional marks that we've used in the past. However, making this change actually enhances the race committee's ability to set an optimal distance course. If this experience proves successful, we expect to see it used for a lot of other events."
This year, the mark will be located at longitude 41:06.00 north and latitude 071:23.34 west.
"This seems to be an emerging trend," said Ed Cesare (Norwalk, Conn.), who is returning this summer to defend his 2013 win on Class 40 Pleiad Racing in the Doublehanded Division. "I know the RORC uses virtual marks and have been doing so for some time. Certainly the technology is there, so if it works for the race course, then let's do it."
Cesare has been racing in the Ida Lewis Distance Race since its inception in 2004. "I competed in this event on a variety of different boats, and what I love about it is that the organizers are constantly trying to modify the format to make it better for a variety of different teams. It also starts and finishes in Newport, making it a fun weekend for all members of the family."
To that point, the Ida Lewis Distance Race welcomes the next generation of sailors to try offshore racing on for size with its Youth and Collegiate Challenges. To qualify for the Youth Challenge, more than 40% of the crew must have reached their 14th birthday but not turned 20 prior to August 15. To qualify for the Collegiate Challenge, more than 40% of the crew must not have reached the age of 26 prior to August 15. For both challenges, teams are encouraged to register under the burgee of a college sailing program or a US SAILING yacht club or community sailing program.
Video and Photo Contests
The Ripple Effect Short Video Contest has been introduced to attract and engage the youth sailors (between 14 and 20 years of age) competing in the Ida Lewis Distance Race. The contest was originally developed by Joe Cooper and Manuka SEM for the Atlantic Cup this past May. Participants (working either individually or as a team) are asked to answer the question "What do you like most about offshore/overnight sailing?" through a video essay or documentary no longer than five minutes in length.
The Ida Lewis Distance Race Photo Challenge invites all sailors competing in this summer's event to submit photos to the event Facebook Page (with hashtag #ILDR) that capture their experience at the race. Prizes for both contests will be announced at a later date.
To download contest guidelines and registration form, visit http://bit.ly/1oIOWFb
Sponsors
Starting Line sponsors for the 2014 Ida Lewis Distance Race include the City of Newport, Helly Hansen, New England Boatworks, Marsh, Newport Shipyard and North Sails; Contributing Sponsors are DYT Yacht Transport, Goslings Rum, Rig Pro Southern Spars, Stella Artois, Flint Audio Video, Mac Designs, Sea Gear Uniforms, Toni Mills Graphic Design and Z Block.
The Ida Lewis Distance Race is a qualifier for the New England Lighthouse Series (PHRF); the Northern and Double-Handed Ocean Racing Trophies (IRC); and the US-IRC Gulf Stream Series.
For more information or to register, visit http://www.ildistancerace.org or contact Race Chair Simon Davidson, RaceChairman@ILDistanceRace.org.
Follow the race on Facebook, Twitter and YouTube
IDA LEWIS DISTANCE RACE ENTRIES FOR 2014
Sail Number Yacht Name Owner's Name Home Port Yacht Type Length
1. USA 41241 And She Was Tim Keyworth Deep River , CT , USA Nelson Marek 45 45.61
2. USA 60510 Ariel Bob Anderson Seekonk, MA, USA J 46 46 ft
3. USA 14111 Aurora Andrew Kallfelz Jamestown, RI, USA Tartan41 12.37m
4. USA 4224 Barleycorn Brendan Brownyard Bay Shore, NY, USA Swan 42 42.5
5. USA 190 Bazinga! Dave Lussier Exeter, RI, USA F-31 31
6. USA 4243 Blazer Christopher Culver Stamford, CT, USA Swan 42 42.5
7. USA 42258 Breakaway Paul Grimes Portsmouth, RI, USA J 35 35.5
8. GBR 7190 BUFFALO – Collegiate Richard Fontaine Buzzards Bay, MA, USA DK 46 46.3
9. USA 42565 Covenant-Collegiate Chris Oliver – Univ. of Michigan Norwalk, CT, USA J 40 40
10. USA 43777 Crazy Horse – Collegiate Kevin McLaughlin – Duquesne Univ. Fairhaven, MA, USA Sloop 50
11. USA 54 DRAGON Michael Hennessy New York, NY, USA Class 40 40
12. USA 42700 Duck Soup Bill Clavin Warwick, RI, USA C&C 37 R/XL 39'6
13. USA 60511 Eagles Dare Mike Piper Marblehead, MA, USA J 111 36
14. USA 50400 Entropy Paul Hamilton / Patti Young Jamestown, RI, USA Tripp 41 41.0
15. USA 52162 EXILE Brendan Kelley Newport, RI, USA J 133 43
16. USA 88 Flight Risk John R Sampson Rumson, NJ, USA Corsair 31 Trimaran 31
17. 27 Flying Fish Steven Parks Middletown, RI, USA F27 27
18. USA 106 GryphonSolo2 Joe Harris S. Hamilton, MA, USA Class 40 40
19. GBR 8858R Jackknife 11 Andrew Hall Southport, Merseyside, GBR C&C Redline 41 41
20. USA 52056 KING DADDY Devin McGranahan Sewickley, PA, USA Swan 56 56
21. GBR 711 Maximizer Jose Diego-Arozamena New York, NY, USA Farr 73 73
22. USA 10 Milk and Honey III Mchael Divon New York, NY, USA Corsair C37 37
23. USA 60554 Moonshot Aldo Roldan Princeton, NJ, USA Amel Ketch 53
24. USA 52814 North Sails Youth Challenge Joe Cooper Middletown, RI, USA Class 40 40
25. USA 2001 Oakcliff Racing – Youth Entry Oakcliff Sailing Oyster Bay, NY, USA Farr 47 47
26. USA 711 Odyssey – Youth Entry Alfred Van Liew Middletown, RI, USA J 111 36.5
27. USA 12282 Orion Paul Milo Leesburg, VA, USA J 122 40
28. USA 60426 Oronoco Adrian Ravenscroft Cohasset, MA, USA Sabre 426 42
29. USA 39 Pleiad Racing Edward Cesare Norwalk, CT, USA Class 40 40
30. USA 301 Samba Tristan Mouligne Boston, MA, USA Quest 30 30
31. USA 52756 Sarah Greg Manning Warwick, RI, USA X-41 41
32. USA 61200 Secondhand Lions – Youth Challenge Robert Kits van Heyningen Portsmouth, RI, USA J 120 40
33. USA 40808 SELKIE David Brown Middletown, RI, USA McCurdy&Rhodes 38 38
34. USA 52643 Settler Thomas Rich Portsmouth, RI, USA NEB Tripp 43 43
35. USA 57 Skedaddle Andrew Houlding Hamden, CT, USA Corsair 28R 28
36. USA 56 Spirit EC Helme Newport, RI, USA J 92S 30
37. USA 95 SPOOKIE Steve & Heidi Benjamin Norwalk, CT, USA Carkeek HP 40 40.0
38. USA 31 Team McMichael Youth Challenge Richard Fleig Portsmouth, RI, USA J 88 29
39. USA 4212 The Cat Came Back Lincoln Mossop Providence, RI, USA Swan 42 42
40. USA 52985 Three Little Birds Kevin Baxley Brooklyn, NY, USA Trimaran 11m
41. USA 128 Toothface2 Michael Dreese West Newton, MA, USA Class 40 – Akilaria RC3 40
42. USA 203 URSA Brooke Mastrorio Lakeville, MA, USA J 109 35
43. USA 93499 Valkyrie Drew Chapman New York, NY, USA Beneteau First 44.7 44
44. USA 51322 Vamoose Bob Manchester Barrington, RI, USA J 120 40.0
45. USA 7145 Vortices Chris Saxton Plymouth, MI, USA J 145 48
46. USA 52821 White Rhino Todd Stuart Newport, RI, USA Swan 56 56
Share on Facebook
America's Cup history will repeat itself this week in Rhode Island when the 12 Metre North American Championship features two of sailing's most famous skippers, Ted Turner and Dennis Conner, reuniting with their winning tacticians, Gary Jobson and Tom Whidden, respectively.
Turner, an American media mogul and philanthropist, will sail American Eagle in the Traditional division at the regatta, while Conner, known as "Mr. America's Cup," will sail KZ-7 (Kiwi Magic) in the Grand Prix division.
The three-day regatta takes place from September 21-23 in Newport, Rhode Island, with racing starting each day at 11am on Rhode Island Sound, where the Cup races were staged from 1930 until 1983.
All nine participating 12 Metres will be berthed at Bannister's Wharf, reminiscent of the glory days when America's Cup legends roamed the docks there after racing each day and where those who attended the 12 Metre America's Cup reunion two years ago revisited.
Turner has won the 12 Metre North Americans for the last two years here, sailing American Eagle as he did in the late '60s and early '70s. His performance in 2011 earned Turner first place in the Traditional division as well as the Pine Brothers Trophy for best overall performance.
"It's a great thrill to reconnect with my long-time friend Ted Turner," said Gary Jobson, who served as tactician for his skipper when Courageous beat Australia to win the 1977 America's Cup.
"Ted is one of the heroes of our sport. He retired many years ago, but when he is on the water his competitive drive continues."
About Conner, Jobson added, "Dennis Conner is one of the most successful American sailors of all time. Any time he is on the water he has a way of lifting every competitor's game."
Conner, a four time America's Cup Winner (1974, '80, '87, '88), will have an impressive crew aboard KZ-7 (Kiwi Magic), which is currently owned by the U.S. Merchant Marine Academy (USMMA) Foundation.
Tom Whidden, one of the most experienced AC sailors in the world, sailed with Conner in three of his victories (1980, 1987 and 1988), while three others have sailed with Conner during various AC campaigns: Jerry Kirby (2003), Dave Kulver ('92, '95) and Ralf Steitz ('92, '95). Joining them will be Michel Maeder, who sailed with Baron Marcel Bich in 1980.
"This will be Kiwi Magic, powered primarily by Stars & Stripes," said Steitz, recognising the irony that during the Louis Vuitton Challenger series held in Fremantle, Australia during 1986/'87, Conner had challenged the fairness of KZ-7's fibreglass hull against the slower aluminum hulls being used at the time.
"We will, of course, also have five USMMA midshipmen sailing as part of the 15-man crew. It's great to give these young people an opportunity to sail with these great legends in our sport, these America's Cup notables who also are truly among the greatest sailors in the world," said Steitz of the program of which he is president.
In addition to American Eagle and KZ-7, Columbia, Courageous, Intrepid, KZ-5, USA, Victory '83 and Weatherly will be racing. Other celebrity yachtsmen participating include America's Cup veterans Jim Gretzky, Andy MacGowan, Tom O'Brien, Dave Pedrick, Scott Perry, Reggie Pierce, Richie Sayer and Bill Shore.
A special private-invitation event on Thursday, September 20, will kick off the 12 Metre North American Championships in style and serve a good cause by supporting the national nonprofit Hope For The Warriors®. The organisation was founded by Robin Kelleher, the wife of a Naval War College Officer, and supports wounded U.S. service members, their families and families of the fallen.
Cocktails and dinner will be served at the 12 Metre Yacht Club, located on the third floor of the famous Clark Cooke House on Bannister's Wharf. During the dinner, 12 Metre Yacht Club Station Steward, Gary Jobson, will introduce Jimmy Gubelmann as the new commodore of the Club.
Also making presentations will be Ted Turner and combat-wounded veteran and solo distance sailor Ronnie Simpson.
The event concludes on Sunday, September 23, with an Awards Ceremony at Ida Lewis Yacht Club, which also serves as the Organising Authority of the event.
Herb Marshall, Vice President of the 12 Metre Americas Fleet, will present the Gubelmann Trophy for the winner of each class in the North American Championships; the Ted Hood Trophy for the highest points overall for specific regattas during the season; and the Pine Brothers Trophy for best overall boat in the North American Championships.
Ted Turner will present the Ted Turner Trophy for noteworthy contribution on or off the water.
Regatta Sponsor is Pine Brothers, while Supporting Sponsors are Boston Beer Company, Harbor Town Wine of NZ (partner to the 12 Metre fleet), Sebago and Atlantis.
Entries:
Grand Prix – yachts built for the 1987 America's Cup
KZ-5 ~ KZ5, Kip Curren, Newport, R.I.
KZ-7 (Kiwi Magic) ~ KZ7, Dennis Conner, San Diego, California
USA ~ US 61, Andy MacGowan, Middletown, R.I.
Modern – yachts built between 1974 and 1983
Courageous ~ US 26, Ralph Isham, New York, N.Y.
Intrepid ~ US 22, Jack Curtin, New York, N.Y.
Victory '83 ~ K 21, Dennis Williams, Hobe Sound, Fla.
Traditional – yachts built between 1958 and 1970
American Eagle/Hope for the Warriors ~ US 21, Ted Turner, Atlanta, Georgia
Columbia ~ US 16, Alain Hanover, Weston, Massachusetts
Weatherly ~ US 17, George Hill, Newport, R.I.
Further information: www.12mrclass.com
Share on Facebook