The trimaran skippered by Yann Guichard has finished its first Jules Verne Trophy, registering the second fastest time in history, and with Dona Bertarelli becoming the fastest woman to have sailed around the world.
Note:
– Spindrift racing has finished its first voyage around the world
– Spindrift 2 crossed the line at 15:01 UTC after 47 days 10 hours 59 minutes and 02 seconds at sea
– The trimaran is expected to arrive in La Trinité-sur-Mer at around 21:00 UTC
The sailors on Spindrift 2 crossed the finish line of the Jules Verne Trophy off Ushant at 15:01 UTC on Friday, after 47 days 10 hours 59 minutes and 02 seconds at sea. After nearly 29,000 miles travelled at an average speed of 25.35 knots, Spindrift 2 completed the circle on its first voyage around the world by claiming the second fastest time in history. The crew, led by Yann Guichard, did not better, on this attempt, the time set by Loïck Peyron (they were slower by 1d 21h 16' 09"), whose record of 45 days 13 hours 42 minutes is still the one to beat. However, they were 20 hours 45 minutes 50 seconds faster than the time set by Franck Cammas in 2010, over this always demanding course. During its high-speed journey, the black and gold trimaran also improved three record times (Ushant-Equator, Ushant-Tasmania and Ushant-Cape Horn) and held, for a few hours, the record for the crossing of the Indian Ocean. One woman among 13 men on this record attempt, and the first to complete a Jules Verne Trophy course, Dona Bertarelli is now the fastest woman to have sailed around the world.
The crew is sailing to its home port and base in La Trinité-sur-Mer and is expected to arrive there at 21:00 UTC on Friday night. They will be greeted by the public and notably the schoolchildren who shared the adventure, along with the families, friends, project partners, supporters and onshore members of this young Spindrift racing team, who have prepared a warm welcome on the harbour. After the arrival of the trimaran, the sailors will enjoy sharing a drink and some oysters with the public.
They left in the dark of night on November 22, and in the afternoon of January 8, just before sunset, the three bows of Spindrift 2 emerged from the great Atlantic swell with Dona Bertarelli, Yann Guichard, Sébastien Audigane, Antoine Carraz, Thierry Duprey du Vorsent, Christophe Espagnon, Jacques Guichard, Erwan Israël, Loïc Le Mignon, Sébastien Marsset, François Morvan, Xavier Revil, Yann Riou and Thomas Rouxel on board.
Yann Guichard, skipper: "The passage south of the Cape of Good Hope was one of the most important moments for me, but then, finishing in front of Ushant is also a relief. Not in the sense of liberation, because I wasn't a prisoner and I really enjoyed this round-the-world voyage, but it's time I have a little break. Of course, there was a bit of stress, but that's part of my job.
This Jules Verne Trophy has been a series of firsts for me: going around the world, rounding the three capes, having so many days on the clock… And I really want to get back out there. The boat is perfectly adapted for this task, we'll just need the weather to be with us. And then the South Seas, they're magical. The Indian Ocean was rather grey, but in the Pacific we were treated to some incredible light when we went down to almost 60° South… But I'll remember all the birds most: the albatrosses, petrels, fulmars and Cape petrels constantly following us.
My biggest fear was when we hit an unidentified object with the foil: I thought we were going to have to give up. I'm glad we've finished because since Cape Horn – and this goes beyond just the effect on the record attempt – the climb back up the Atlantic was as severe on the boat as on the crew."
Dona Bertarelli, helm/trimmer: "This ascent of the Atlantic has been long, laborious, and it felt like time was standing still. Fortunately yesterday, we could feel the finish line because we passed the symbolic mark of being 500 miles from Ushant: it was a special moment and I didn't sleep much last night because there was so much emotion and adrenaline. Completing this voyage around the world allowed me to achieve the goals I had set myself, even if we didn't beat the record for the Jules Verne Trophy. I have no regrets because the essential thing was to get back to Ushant as quickly as possible and we did everything we could to achieve that.
The voyage was a great experience for me because we all know each other very well and everyone respected each other's individualities. It was really nice because it's a team of real friends. But it's also because of having been able, somehow, to exorcise my fears, those fears of plunging into the Southern Ocean or being so far from anything. Through writing articles for the schools in France and Switzerland and continuing to communicate with the world and share my experiences, I never felt isolated or alone on this adventure."
A first one together
The crew was able to manage a journey across the oceans for over a month and a half. The incredible experience accumulated on a voyage around the world showed that the optimisations made the previous winter have paid off: with its rigging slightly shorter but much lighter and more aerodynamically efficient, Spindrift 2 was safer in the wind and easier to handle in moderate winds, without compromising its qualities in light airs. But the three storm fronts and ridges of high pressure that cluttered the Indian Ocean after the Kerguelen Islands, the Pacific before Cape Horn, and the South Atlantic off Brazil, were too much even for the efforts and perseverance of this crew. And that is without counting an arduous climb up the Atlantic due to adverse headwinds at the latitude of Argentina and Uruguay, and an uncooperative Azores High between the Canaries and Florida. The whole Spindrift team can be proud of what has been achieved, and that they rose to the challenge and finished the journey despite the problems pitted along the way, such as breaking the lower part of the port foil in the Indian Ocean after hitting a UFO (unidentified floating object). It was a collision that caused a crack in the port hull and could have cost them the Indian Ocean record. Then, later, there was the sudden weakness in the mast (repaired at sea) off Uruguay.
Record times
The 14 sailors have set three new record times on this voyage around the world. The first came from the start at Ushant to the Equator in 4 days 21 hours 29 minutes, a staggering average of 30.33 knots on the theoretical route (the shortest route). The second, between Ushant and the South of Tasmania, symbolising the entrance into the Pacific Ocean, was 20 days 04 hours 37 minutes. Incidentally, Spindrift 2 fleetingly held the record for crossing the Indian Ocean in 8 days 04 hours 35 minutes, which was broken a few hours later by IDEC Sport, who also left from Ushant on November 22. Finally, the third record: Ushant-Cape Horn in 30 days 04 hours 07 minutes, which brought a lead of 18 hours and 11 minutes over Banque Populaire V.
The women's record
This Jules Verne Trophy has also finished with the confirmation of Dona Bertarelli as the fastest woman to have sailed around the world. During her standby watches, she also focused on the ocean environment of a voyage around the world and shared her feelings, discoveries and logbook. And she corresponded, in particular, with 2,000 children from schools in France and Switzerland, who are partners of the Spindrift for Schools programme, to help improve their understanding of these maritime areas and the species, so often under threat, which live there.
Shared time
There has also been a lot of life experience garnered along the miles covered across three oceans. A voyage around the world is not for the faint-hearted: from suffering the coldness of the Southern Ocean, to enduring the blistering Equatorial heat, braving the icy spray hitting your face at more than 40mph, performing a succession of manoeuvres in fading and fickle winds, worrying about the approach of drift ice and being trapped with 13 other people in a 20m³ box…
Share on Facebook
CAPE LEEUWIN TOMORROW NIGHT
"There is an all-pervasive grey, with rays of sunshine at times, and always a few birds accompanying the boat," was how the message received from the boat this morning started. Wrapped up well for over a week against the harsh environment of the Deep South, the sailors are now acclimatized and paying more attention to the cold pinching their faces. Warm clothes, gloves and hats are evident, with the key stopping the icy wind that tries to whip in. But mentally, all attention is focused on an Indian Ocean that is not really roaring. The maxi-trimaran is heading towards the second legendary cape of a round-the-world sailing voyage, Cape Leeuwin, which marks the south-west tip of Australia and which it will reach by the end of the day on Thursday. The current weather system limits the choice of route, forcing the crew to manoeuvre to keep the power up and not to fall into a windless area that is moving due east ahead of the bows of the trimaran. Spindrift 2 will gradually climb to 45° South, following a trajectory parallel to its predecessor Banque Populaire V. The good news: the area of drift ice is well and truly behind their transom. The way is clear until the entrance into the Pacific Ocean off Tasmania.
Day 18 – 17h00 GMT
198 nm behind the current record holder
Distance covered from the start: 11,656 nm
Average speed over 24 hours: 21.6 knots
Distance over 24 hours: 517.4 nm
THE ICE AGE
Strategic 
analisis – 12h00 (GMT)
« The highlight of this third week has been the rounding of the Kerguelen archipelago which are in the middle of the Indian Ocean. The crew decided to sail north of the islands in order to avoid the drift ice located to their south. Although Spindrift 2 has lost a few miles over the last couple of days, it is mainly due to a zone of light winds ahead, moving at more than twenty knots…» Read more…
WEATHER FORECAST
Day 18 – December 9th – 10h55 (GMT)
"The Indian Ocean has never deserved its nickname – "The tunnel" – so much. Spindrift 2 continues on its way, stuck between southern depressions and a windless connecting…" Read more…
MESSAGE FROM THE BOAT
Day 18 – December 9th – 06h17 (GMT)
"With more than half of the Indian Ocean behind us, the scenery has not changed much since Spindrift 2's upwind passage of the Kerguelen Islands. There is a dominance of grey…" Read more…
TOMORROW ON CNN
Shirley Robertson's Mainsail show with Dona Bertarelli
And as well Dame Ellen MacArthur, Loïck Peyron, Francis Joyon, Sir Robin Knox-Johnston and Brian Thomson.Emission mainsail de Shirley Robertson… Read more…
Share on Facebook
Currently on stand-by for the right weather to start their Jules Verne Trophy record attempt, Dona Bertarelli, Yann Guichard and their crew present the opportunity to share their adventure.
DIGITAL COMMUNICATION

SPECIAL JULES VERNE TROPHY WEBSITE

Spindrift racing has created a new platform devoted entirely to the record attempt. Using your computer, tablet or smartphone, you can explore the history of the Jules Verne Trophy and retrace the steps of the previous record holders. Go behind the scenes, meet the Spindrift 2 crew and see how they organise life on board for 45 days at sea. Experience Spindrift 2 as if you were actually there thanks to video footage of her at the dock, ready to depart.

The fun, accessible, entirely responsive website will be the place to go for daily updates during the around-the-world tour. The logbook will contain messages, photos and videos sent by the crew. Various experts will regularly shed light on the record, while the team's onshore router Jean-Yves Bernot will provide several illustrated weather reports. Finally, once a week, a live video link will provide an even closer experience of life on board.

FOLLOW SPINDRIFT 2 IN REAL TIME 

The map will go online as soon as the boat starts the record attempt and will be updated every 15 minutes, allowing you to follow the progress of Spindrift 2 around the world. The map is compatible with all screen types, and can be viewed in standard view, Google Maps or Google Earth. One dashboard shows the current race time, the lead or deficit with the current record, the distance covered, the average speed, and the trimaran's sail plan. The other provides the main environmental data such as the general weather situation, the wind speed and direction, and the air and water temperatures.

For the latest info, stay connected to www.spindrift-racing.com and Facebook, Twitter  and Instagram and sign up to the newsletter to receive news about the record attempt in your inbox.

SPINDRIFT FOR SCHOOLS

 CLASSROOM ADVENTURE BOOK

Since the birth of Spindrift racing, Dona Bertarelli and Yann Guichard have sought to share their passion for sailing, the sea and offshore sailing with children. The Spindrift for Schools programme was conceived as soon as the team decided to attempt the Jules Verne Trophy and has grown as the team has moved from one project to another.

Spindrift racing has worked alongside scientists and teachers to develop tools that fit into the French and Swiss curricula. Launched several weeks ago for primary school teachers, Spindrift for Schools already has 25 partner schools: 17 in France, 8 in Switzerland.

The material available includes a classroom adventure book designed for teachers of 7-12 year-olds and developed by Spindrift racing and Cité de la Voile Éric Tabarly. This comprehensive, illustrated document uses the around-the-world tour as a platform to look at geography, history, science and the arts with the children, and includes practical workshops for the classroom.

The material is supported by five turnkey lessons designed specifically for schools on the oceans, the climate and the water cycle. The lessons will soon be available for download from the Spindrift for Schools page on the team's website.

Cité de la Voile Eric Tabarly, which receives more than 12,000 students a year, has devised a fun game open to all school classes in France and Switzerland. Like Jules Verne did back in his day, the schoolchildren must design an "extraordinary machine" capable of beating Spindrift 2 in the around-the-world sailing record attempt. A jury formed by educational advisers, the Head of the Cité de la Voile programmes, Dona Bertarelli and Yann Guichard will determine which entries best meet the criteria. The winning classes will be given the chance to visit the Cité de la Voile and meet the members of Spindrift racing.

Full details of the programme are available at www.spindrift-racing.com.
Contact address for schools: spindrift.for.schools@spindrift-racing.com

SPINDRIFT IMMERSION

A PLACE TO DISCOVER AND SHARE THE ADVENTURE

Following trips to Kiel (Germany), Brest (France) and Geneva (Switzerland), Spindrift immersion is returning to France, first to La Trinité-sur-Mer harbour, then to Brest for the winter. Spindrift immersion uses fun, educational tools to reveal to the general public what life is like for Spindrift racing and its sailors and what lies ahead for them during the Jules Verne Trophy. Immersive videos will give the public the opportunity to simulate sailing Spindrift 2 and the GC32 foiling catamaran.  Spindrift racing has also designed and produced an exhibition on the history of Jules Verne, the around-the-world record and the various trophy winners. The exhibition shows the innovations on Spindrift 2, reveals what life is like on board the boat, and explains how the team prepare for such an extraordinary voyage around the world.

OFFICIAL VIRTUAL REGATTA GAME     

Spindrift racing and the world's most popular virtual regatta game are launching a special Jules Verne Trophy 2015 edition. Players must choose a departure window based on the weather and attempt to beat the current "real-life" record of 45 days, 13 hours and 42 minutes, as well as the "virtual" record set by the winner of the 2012 Jules Verne Virtual Regatta, who completed the course in 43 days, 19 hours and 45 minutes. This year, the famous game will include rankings for schoolchildren. First prize is the chance to spend a day with the Spindrift racing team. Many other prizes are also provided by partners and official suppliers.

Register at www.spindrift-racing.com or www.virtualregatta.com.
Share on Facebook
Dona Bertarelli and Yann Guichard introduce the Spindrift 2 crew for the Jules Verne Trophy around-the-world record attempt. The crew will be on stand-by from October 19th.
To undertake the crewed around-the-world record is as much about the human adventure as it is a technical and sporting challenge. The men and women working alongside Dona Bertarelli and Yann Guichard at Spindrift racing have been preparing this race against the clock for almost three years. The target: to sail around the world in less than 45 days, 13 hours and 42 minutes. The tough record they will try to beat was set by Loïck Peyron and his crew in 2012 on Banque Populaire V, which was renamed Spindrift 2 a year later.
The French-Swiss team decided to use the same 40 m trimaran because they believed that the boat could be further optimised, a task that sailors, engineers and technicians at the team have been working on ever since. After countless hours of work at the boatyard and 40,000 nautical miles of racing and training, the Spindrift racing-prepared trimaran is all set to go. The team will officially go on stand-by on October 19th and wait for the ideal weather window.
With just a few days left until that important date, Dona and Yann are pleased to announce the twelve men who will join them on their journey through the world's most hostile oceans. Most are multihull experts; some have an Olympic background; others, experience in offshore challenges; but all are familiar with the trimaran and share the team's values and mindset. The crew members know each other, having competed together for Spindrift racing or taken part in other projects. Some have already circumnavigated the globe, whether in the Jules Verne Trophy or the Volvo Ocean Race.
From left to right, at the top : Thierry Duprey du Vorsent, Thomas Rouxel, Sébastien Audigane, Antoine Carraz, Sébastien Marsset, Xavier Revil, François Morvan. From left to right, at the bottom : Yann Riou, Dona Bertarelli, Yann Guichard, Jacques Guichard, Christophe Espagnon, Erwan Israël. (Loïc Le Mignon, not in the picture)
Photo © Eloi Stichelbaut I Spindrift racing
"The Jules Verne Trophy is the highlight of a programme we drew up as soon as we bought the trimaran Spindrift 2," explains Dona Bertarelli. "The tour around the world will require total physical, mental, professional and especially personal dedication. Being a team means relying on each another, supporting each other, and accepting the highs and lows while striving to strike the right balance to succeed together. Yann and I are hugely motivated by this immense challenge. We want to surround ourselves with people who share our approach and our values. We're also driven by a desire to share our passion for sailing with the public, especially youngsters, and to show them the hard work put in by our team. Very soon we'll reveal the tools we've decided to use to achieve this goal."
Yann Guichard also spoke about the record attempt: "Apart from the competition itself, for Dona and me it is as much about the human adventure. The record attempt brings together sailors who competed in Olympic series before turning to offshore competition and sailors with previous experience of oceanic record attempts and the Southern Ocean. Spindrift 2 is a prototype, so we have to take good care of her. Multihull specialists are aware of the fundamental balance we must strike between speed and safety. I'm surrounded by sailors who I know are talented and who feel good at sea. I can rely on them and trust them. In training I see us gel as a team, which gives me such a strong desire to experience this unique challenge together."
Photo © Eloi Stichelbaut I Spindrift racing
First around-the-world campaign for Dona Bertarelli and Yann Guichard
Two challenges lie ahead for the skipper Yann Guichard, who has dedicated his career to elite multihull sailing and has made more than 15 transatlantic crossings. First, to complete his first around-the-world sail, and second, to take charge of the boat and the crew on board. "I must concentrate hard to make the right choices at the right time, whether during early or final preparations or out on the water," says Yann. He set up Spindrift racing with his partner Dona Bertarelli, and the couple are jointly responsible for the team's day-to-day development and management. Dona is an exacting, determined businesswoman, actively involved in several foundations, including the Bertarelli Foundation for marine conservation, and she has been involved in the Jules Verne Trophy project from day one. She first took up offshore multihull sailing on Spindrift 2 in 2013. Since then she has listened, observed, honed her skills and grown in confidence, and is now ready to spend more than 40 days at sea, following in the footsteps of Tracy Edwards (1998) and Ellen MacArthur (2003) in attempting to become the first woman ever to beat the record. "This circumnavigation is probably one of the biggest challenges I've ever set myself," says Dona. "We've spent several years preparing ourselves and preparing those close to us who support and encourage us, but I don't think you can ever be fully prepared for the unknown that awaits us. If we want to enjoy the adventure, those of us out at sea and those ashore will have to accept whatever comes our way."
A supportive, well-drilled crew
One of Spindrift racing's goals is to perform well all year round on the different circuits on which it competes. To achieve this, a core group of sailors accompany Dona and Yann throughout the year on the D35, the Diam 24, the GC32 and the maxi-trimaran. From that core group, Christophe Espagnon, François Morvan and Xavier Revil, whom Yann met during his Olympic preparations, will be part of the Jules Verne Trophy crew, as will the skipper's younger brother Jacques Guichard, who is the team's sailmaker at North Sails. Xavier Revil has already sailed around the world on the same boat as part of Loïck Peyron's record-breaking crew in 2012.
Another member of Peyron's crew was Thierry Duprey du Vorsent, who was brought in to the project last winter as Boat Captain because of his maritime experience over the last fifteen years, including his role in the Banque Populaire V record. Antoine Carraz was also part of the previous record and is one of the persons who know Spindrift 2 the best, having spent three years as technical manager for the trimaran and for the design office. This will be his first circumnavigation during which he will be keeping a particularly close eye on the boat.
Three other crew members – Thomas Rouxel, Sébastien Marsset and Erwan Israël – were part of the team that beat the Discovery Route record (Cádiz-San Salvador) on Spindrift 2 at the end of 2013, so their experience on the boat will also be important. Two of three have just competed in the 2014–15 Volvo Ocean Race: Thomas for the Chinese Dongfeng Race Team and Sébastien for the American Team Alvimedica. None of the three, however, took part in the Southern Ocean leg, so they will have their sights set firmly on rounding Cape Horn during the Jules Verne. Erwan Israël was Yann Guichard's router for the 2014 edition of the single-handed Route du Rhum (Yann was sailing Spindrift 2), and last winter he joined Dongfeng for the Sanya-Auckland stage of the Volvo Ocean Race. After several months as Spindrift racing's performance analyst, Erwan will be the navigator for the Jules Verne Trophy, working alongside the skipper at the chart table to determine the best route.
Yann Riou also has experience in the Volvo Ocean Race: the former electronics specialist was Groupama's media reporter during their victorious 2011–12 campaign, and in the latest edition of the race he performed the same role for Dongfeng Race Team. Yann will be the first full-time on-board reporter for a Jules Verne record attempt.
Dona Bertarelli and Yann Guichard have called up two men with vast experience sailing multihulls at high speed in the Southern Ocean. Brest-based sailor Sébastien Audigane will take on sailing's most famous record for the fourth time, having been part of Bruno Peyron's successful bid on Orange II in 2005 and the unsuccessful attempts by Olivier de Kersauson in 2002 and Franck Cammas in 2008. Loïc Le Mignon, meanwhile, was part of the Jules Verne attempts by Groupama 3, including the successful one in 2010.
Onshore support will be provided by world-renowned meteorologist and offshore sailing router Jean-Yves Bernot, who has prepared and routed some of the world's best single-handed sailors. Jean-Yves has also competed in the Whitbread Round the World Race and has been a crew member for various teams in different countries.
Finally, there are two reserves, Thomas Le Breton and Simone Gaeta, both of whom have trained on the maxi-trimaran this season and are ready to stand in if a crew member has to drop out.
On stand-by
Preparations on the trimaran are drawing to a close. As of Monday, October 19th, Spindrift 2 will officially be on stand-by in Brest, a port famous for major record attempts, located just a few miles away from the start line at Créac'h lighthouse on Ushant island. The routing team will analyse weather data several times a year in search of a good opportunity to launch the assault on the legendary course.
Spindrift 2 crew for the Jules Verne Trophy
Yann Guichard, skipper
Dona Bertarelli, helmsman-trimmer
Sébastien Audigane, helmsman-trimmer
Antoine Carraz, helmsman-trimmer
Thierry Duprey du Vorsent, helmsman-trimmer
Christophe Espagnon, helmsman-bowman
Jacques Guichard, helmsman-trimmer
Erwan Israël, navigator
Loïc Le Mignon, helmsman-trimmer
Sébastien Marsset, bowman
François Morvan, helmsman-trimmer
Xavier Revil, helmsman-trimmer
Yann Riou, media reporter
Thomas Rouxel, helmsman-bowman
Jean-Yves Bernot, onshore router
Simone Gaeta, substitute
Thomas Le Breton, substitute
Jules Verne Trophy:
Start and finish: a line between Créac'h lighthouse (Ushant island) and Lizard Point (England)
Course: non-stop around-the-world tour travelling without outside assistance via the three capes (Good Hope, Leeuwin and Horn)
Minimum distance: 21,600 nautical miles (40,000 kilometres)
Ratification: World Sailing Speed Record Council 
Time to beat: 45 days, 13 hours, 42 minutes and 53 seconds
Average speed: 19.75 knots
Date of current record: January 2012
Holder: Banque Populaire V, Loïck Peyron and a 13-man crew
Maxi-trimaran joined Spindrift racing on: January 2013
Stand-by start date for Spindrift 2: October 19th, 2015

Spindrift 2 maxi-trimaran:
Design: VPLP & Spindrift racing design team
Launch date: July 2008
Deck and mast boatyard: CDK Technologies
Sails: North Sails
Length of main hull: 40 metres
Length of outrigger hulls: 37 metres
Width: 23 metres
Dry weight: 20.5 tonnes
Draft: 5.1 metres
New mast height: 42 metres
Mainsail: 405 m²
Gennaker max: 560 m²
Gennaker medium: 450 m²
Gennaker mini: 360 m²
Reacher: 260 m²
Staysail: 170 m²
ORC: 75 m²
_______________________________________________________
The History of the Jules Verne Trophy
Records
Record attempts
[
edit
]
Year
Skipper
Yacht
Type
Notes
Failed attempts (15)
2011
Pascal Bidégorry
Banque Populaire V
Trimaran
Damaged centerboard, west of the Cape of Good Hope[4]
2009
Franck Cammas
Groupama 3
Trimaran
Ushant–Equator: 5 days 15 hours 23 minutes (new record)[5]
Broken aft beam bulkhead, South Africa[6]
2008
Franck Cammas
Groupama 3
Trimaran
Loss of leeward float leading to capsize, New Zealand[7]
2004
Bruno Peyron
Orange II
Catamaran
Damaged starboard hull, Cap Verde islands
2004
Bruno Peyron
Orange II
Catamaran
Damaged starboard crashbox, Spain
2004
Olivier de Kersauson
Geronimo
Trimaran
Damaged gennaker, North Atlantic
2003
Olivier de Kersauson
Geronimo
Trimaran
Circumnavigation achieved, record not broken
2003
Ellen MacArthur
Kingfisher 2
(formerly Orange)
Catamaran
Broken mast, South-East Kerguelen Islands
2002
Olivier de Kersauson
Geronimo
Trimaran
Damaged rudder, Brasil
2002
Bruno Peyron
Orange
(formerly Innovation Explorer)
Catamaran
Damaged mast, Ouessant
1998
Tracy Edwards
Royal et SunAlliance
(formerly ENZA New Zealand)
Catamaran
Broken mast, Southern seas
1996
Olivier de Kersauson
Sport-Elec
Trimaran
Excessive delay
1995
Olivier de Kersauson
Sport-Elec
(formerly Lyonnaise des Eaux)
Trimaran
Extreme weather
1994
Olivier de Kersauson
Lyonnaise des Eaux
(formerly Charal)
Trimaran
Circumnavigation achieved, record not broken
1993
Peter Blake
Robin Knox-Johnston
ENZA New Zealand
Catamaran
Damaged hull, Indian Ocean
1993
Olivier de Kersauson
Charal
Trimaran
Damaged outrigger hull, South of Cape Town
Share on Facebook
 200 miles to go. After 9 months and nearly 40,000 miles
Dongfeng slenderest of leads over main rivals Brunel and Mapfre, but seems like it will not mean much this evening.
Caudrelier: "For us its easy to go from 3rd place to 5th place (overall), and also to come back to second. Everything can happen still"
The podium of the Volvo Ocean Race might just come down to a total lottery tonight as wind forecasts predict a difficult transition as Charles Caudrelier describes "from the current strong southerly winds that have carried Dongfeng up the North Sea, to some light easterly winds that will should get us to the finish line. Its going to be stressful".In between potentially little or no wind at all – during the early evening tonight in theory. The battleground will probably be between Hanstholm and Skagen, the two towns with a bay between them, that mark the northern tip of Denmark. But even now the compression is starting, from Yanndirect this morning "Still coming back from behind. Less than 4 miles, now. Nothing we can do about it. Not a nice feeling". More often than not in ocean racing, the rich get richer – but this time its not going to work like that. The guys (and girls) behind are going to sail on in pressure as the boats in front that worked so hard to grind out their leads, will stop in the transition zone between the old and new winds.The warm front moving from the UK east, that has been chasing the fleet since they left, is going to slow down and stall before it gets to them, at least at surface level. Higher up in the atmosphere its forecast to continue east – this differential between up high and at the surface, will provide the conditions for a new low to form, bringing new winds – but the transition could be long – and in the meantime somehow the boats have to get from the old to the new. This in effect should allow almost all, if not all, the backmarkers to sail straight to the front, with the leaders helpless.

It will be tragic if the entire race comes down to luck, but then this is part of ocean racing. Since Dong Feng means 'winds from the east bringing freshness and energy' and Aeolus being the Guardian of the Winds – on land we can only hope and pray to whatever Gods we believe in, that luck will be on our side, and that we will get the podium finish we deserve!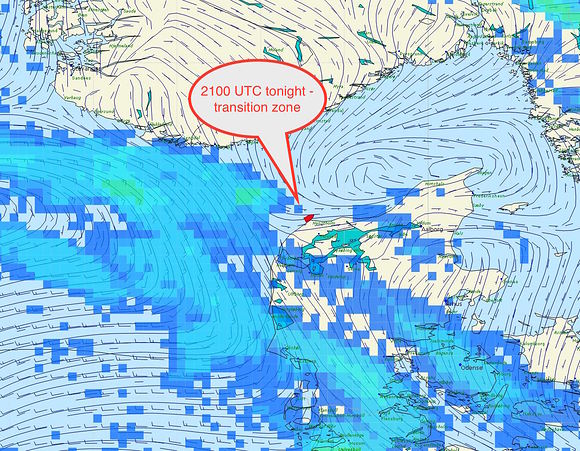 You can follow our story and interact with the team on all social media channels and our official website:Facebook: Click here
Twitter: Click here
Instagram: Click here
Weibo: Click here
WeChat: Click here
Youtube: Click here
YouKu: Click here
Official website: Click here
Share on Facebook
Skipper Sam Davies (GBR) and her Team SCA crew struck a resounding blow for women's offshore sailing in the early hours of Thursday morning when they gloriously clinched Leg 8 of the Volvo Ocean Race
Leg 8

DTL

(NM)

GAIN/LOSS

(NM)

DTF

(NM)

Speed

(kt)

SCA1
FIN – 03d 13h 11m 11s

VEST
FIN – 03d 13h 59m 38s

ADOR
0.3
10.9
3
11.1

MAPF
0.8
11.3
4
11.7

TBRU
1.8
11.5
5
12.4

ALVI
2.3
11.7
5
12.9

DFRT
5.5
11.7
8
13.2
Latest positions may be downloaded
from the race dashboard hereº MAPFRE given 2-point penalty Leg 5
Dongfeng Race Team, Team SCA & MAPFRE penalised Leg 7
– A resounding blow for women's offshore sailing
– Team Vestas Wind bounce back for second place
– Abu Dhabi Ocean Racing nearing overall trophy win
LORIENT, France, June 11 – Skipper Sam Davies (GBR) and her Team SCA crew struck a resounding blow for women's offshore sailing in the early hours of Thursday morning when they gloriously clinched Leg 8 of the Volvo Ocean Race.
The comfortable victory was the first leg win in offshore sailing's toughest challenge since Tracy Edwards' Maidenclinched two stage wins in Class D of the 1989-90 race, won overall by Sir Peter Blake's famous Steinlager2.
At least as satisfying for the first all-women's crew to enter the race in 12 years will be the opportunity to silence critics who suggested that they were looking outclassed in the current 12th edition by their experienced male rivals.
True, the Swedish entry had yet to win a podium place until now, but the crew has clearly improved leg after leg and many observers felt that a breakthrough performance was just around the corner.
The win was certainly no fluke in an upwind leg that tested seamanship to the full with an often heinous sea state and strong winds virtually throughout.
They grabbed the 647-nautical mile leg from Lisbon by the scruff of the neck on Monday, and strengthened that grip on Tuesday after taking an offshore course while most of their rivals hugged the Spanish and French coast approaching the Bay of Biscay.
It took them three days 13 hours 11 minutes and 11 seconds to grab their share of Race history.
"Thanks to everybody for all your support. It's not really sunk in yet," said a jubilant Davies. "It probably won't hit us until we hit the dock and we see there aren't any other boats there.
"It's a reward for all the hard work we have done. It's a great confidence booster. It's going to be huge for us. We've had a mountain to climb to get here."
Behind them, another fairy-tale was unfolding as Team Vestas Wind (Chris Nicholson/AUS) closed to a remarkable second-placed finish in their return to the race after six months out following a collision with an Indian Ocean reef on November 29 during Leg 2.
Nicholson had every reason for the huge smile on his face as he approached the port of Lorient following a near perfect race from Lisbon starting on Sunday.
He had simply hoped that his boat could negotiate the leg without mishap and be competitive – a high podium finish is almost beyond his wildest dreams.
"It's a very special moment," said the team's Onboard Reporter, Brian Carlin (IRL), simply.
Astern of the leading pair, third-placed Abu Dhabi Ocean Racing (Ian Walker/GBR) were nearing an ever bigger prize than the handsome silver leg trophy claimed by Team SCA.
They needed simply to finish ahead of their nearest overall pursuers in the standings,Team Brunel (Bouwe Bekking/NED) and Dongfeng Race Team (Charles Caudrelier/FRA), with a boat in between, to be all but be sure of winning the 12th edition of the Volvo Ocean Race.
As Team SCA passed the finish at 0211 UTC/0411 local time on Thursday, that prospect looked very much on with MAPFRE (Xabi Fernández/ESP) in fourth, Team Brunel fifth, and Team Alvimedica (Charlie Enright/USA) keeping Dongfeng Race Team at bay in the fight for sixth.
The boats will have a short maintenance period before Sunday's SCA In-Port Race here in Lorient, before the fleet set sail for Gothenburg via a much-awaited pit-stop in The Hague, on Tuesday, June 16.
It promises to be a period of considerable celebration for at least three crews of very, very happy sailors.
Share on Facebook
Team Brunel (Bouwe Bekking/NED) completed a triumphant Leg 7 early on Wednesday to bolster their hopes of finishing with a podium place in the Volvo Ocean Race and also keep alive their hopes of overall victory
Leg 7

DTL

(NM)

GAIN/LOSS

(NM)

DTF

(NM)

Speed

(kt)

TBRU
FIN – 09d 11h 09m 49s

MAPF
FIN – 09d 11h 31m 39s

ALVI
FIN – 09d 12h 50m 49s

DFRT
FIN – 09d 12h 51m 44s

ADOR
FIN – 09d 13h 24m 34s

SCA1
FIN – 09d 15h 32m 38s

VEST
Did Not Start
Latest positions may be downloaded
from the race dashboard here º MAPFRE given two-point penalty – read more
– Team Brunel edge home ahead in transatlantic leg
– MAPFRE chase them all the way into Lisbon
– Team Alvimedica beat Dongfeng in thrilling dogfight
– Team Vestas Wind are reunited with rest of the fleet
LISBON, Portugal, May 27 – Team Brunel (Bouwe Bekking/NED) completed a triumphant Leg 7 early on Wednesday to bolster their hopes of finishing with a podium place in the Volvo Ocean Race and also keep alive the possibility of overall victory.
The Dutch boat sailed a near faultless transatlantic stage, edging MAPFRE (Iker Martínez/ESP) into second, just under 22 minutes behind.
Behind them, Team Alvimedica (Charlie Enright/USA) edged out long-time leg leaders, Dongfeng Race Team (Charles Caudrelier/FRA), after an enthralling dogfight over the final miles.
The Chinese-backed boat was caught by Enright's crew in the early hours of Wednesday, but battled their way back and looked sure to overtake them again before a botched tack ruined their chances.
They lost out by just 55 seconds after nearly nine days and 13 hours of sailing across 2,800 nautical miles (nm).
With overall leaders Abu Dhabi Ocean Racing (Ian Walker/GBR) finishing fifth ahead of Team SCA (Sam Davies/GBR), the overall race standings are left finely poised.
The Emirati crew now have a five-point lead over Dongfeng Race Team with two short legs to sail, while Team Brunel are a point further adrift of Charles Caudrelier's crew.
Caudrelier made no attempt to hide his disappointment after leading the leg for so long and seeing a podium place disappear in the final miles.
"I'm feeling very bad, very upset and very sad," he summed up. "We deserved better, but I guess that's life.
"Most of all, I'm upset with myself because my crew did a great job and I made a huge mistake – and I don't accept mistakes. We really missed a chance in this leg with Abu Dhabi Ocean Racing finishing fifth."
Few sailors in the fleet will savour a win over one of the race's trademark legs more than Team Brunel's 51-year-old skipper, Bouwe Bekking, in his record-equalling seventh appearance.
He has certainly experienced the ups and downs of racing across the Atlantic. Few will forget the agonising position he faced in 2006 before he was finally forced to abandon his sinking movistar boat during the same stage of that Volvo Ocean Race.
Bekking insisted last week that he had not lost 'a single night's sleep' over the incident and the confident way that Team Brunel sailed the leg would bear that out.
Team Brunel were harried all the way over the past 24 hours by both MAPFRE and Dongfeng Race Team, especially over the final few miles when the breeze dropped to almost zero in the Tagus River as they approached the Lisbon finish.
"We sailed a tremendous leg but just at the end when there was no wind, it was getting a bit gnarly," said Bekking. "But we pulled it off."
The victory was achieved with two newcomers on board, Adam Minoprio (NZL) and Timo Hagoort (NED), the latter replacing the injured Gerd-Jan Poortman (NED).
"It was good to have those young guys on board, they did a fantastic job," added Bekking.
Team SCA crossed the line, some four hours and 22 minutes behind Team Brunel (see panel above), after an action-packed transatlantic leg in which they sailed within the pack for much of the nine days and at one stage threatened a podium finish after taking a bold strategic choice around the Azores High.
The final two stages, to Lorient (France) and then Gothenburg (Sweden) via a pit-stop in The Hague (Netherlands), will once again be contested by seven boats.
Team Vestas Wind (Chris Nicholson/AUS) rejoin the fleet for the first time since November 29 when the boat was grounded on a reef in the Indian Ocean.
After a four-month rebuild in the Persico boatyard in Bergamo, Italy, the boat was transported by sea and road to Lisbon, arriving a few hours before the rest of the fleet in the small hours of Wednesday morning.
Over the next few days, the rig will be stepped ahead of the Danish-backed team's competitive comeback on June 6 in the Lisbon In-Port Race. Leg 8 to Lorient, a relative sprint at 647nm, begins a day later.
The race concludes on June 27 with the In-Port Race in Gothenburg after nine months and 38,739nm of sailing, visiting 11 ports and every continent.
Current latest standings (low points wins, In-Port Race Series splits ties): 1) Abu Dhabi Ocean Racing 16 pts, 2) Dongfeng Race Team 21, 3) Team Brunel 22, 4) MAPFRE 26, 5) Team Alvimedica 27, 6) Team SCA 41, 7) Team Vestas Wind (Denmark) 52 (DNS).
Share on Facebook
Spanish boat MAPFRE, boosted by the return of their skipper Iker Martinez, claimed their first win of the Volvo Ocean Race in-port series on Saturday in front of thousands of spectators.
With Martinez at the helm, the red boat raced to the first mark with a narrow lead over Team Alvimedica (Turkey/US) and gradually stretched their advantage in a race completed in just under an hour.
The result leaves the Spanish crew still trailing the fleet in the overall standings on 31 points, but they have closed the gap considerably after a string of largely disappointing performances prior to Saturday.
Martinez, 37, was delighted to return to the winner's circle having returned to lead the crew after missing the previous leg due to Olympic commitments.
The helmsman from San Sebastian won gold in the 2004 Athens Games and silver in Beijing 2008, but finished disappointingly down the field in the 2012 London Olympics.
He is determined to put that right in Rio de Janeiro next year, but his commitment to his preparation has led to his missing several legs in this edition of the nine-month Ocean Race which started last October.
"We are improving slowly and that's the way we want to do these things," said Martinez after the victory. "Today we were first and we're feeling super good."
Team Alvimedica, led by Newport local Charlie Enright, clung on to second place while Abu Dhabi Ocean Racing stole third position from the all-women crew of Team SCA, who made a damaging positioning error mid-race.
The result puts Abu Dhabi, led by Briton Ian Walker, back on top of the overall in-port race series standings on 19 points. The series will count towards a separate trophy and be used to split ties in the main offshore competition.
The six boats in the fleet will begin the seventh leg, a 2,800-nautical mile (4,815km) trip to Lisbon, Portugal, on Sunday at 1800GMT.
Abu Dhabi lead by six points from China's Dongfeng Race Team, with three legs to complete in the nine-month, 38,739-nautical mile (71,745km) marathon.
The race concludes on June 27 in Gothenburg, Sweden, having visited 11 ports and every continent.
Team Vestas Wind In-Port Race Newport results 
Course: 3 laps.
Bearing to top gate: 230
Distance to top: 1.4nm, extended to 1.8nm on the 3rd lap.
Total distance sailed: 9.2nm
TWD: 180-185
TWS: 8kts
Team Vestas Wind In-Port Race Newport Results:
1. MAPFRE 14:55:41 – 1pt
2. Team Alvimedica 14:56:39 – 2pts
3. Abu Dhabi Ocean Racing 14:57:38 – 3pts
4. Team SCA 14:57:57 – 4pts
5. Team Brunel 14:58:17 – 5pts
6. Dongfeng Race Team 14:59:09 – 6pts
DNS. Team Vestas Wind – 8pts
In-Port series Overall standings:
1. Abu Dhabi Ocean Racing – 19pts
2. Team Brunel – 20pts
3. Team SCA – 24pts
4. Dongfeng Race Team – 27pts
5. Team Alvimedica – 28pts
6. MAPFRE – 31pts
7. Team Vestas Wind  – 52pts
Crew List for Team Vestas Wind Newport In-Port Race:
Dongfeng Race Team Charles Caudrelier FRA Kevin Escoffier FRA Thomas Rouxel FRA Martin Strömberg SWE Chen Jin Hao (Horace) CHN Pascal Bidegorry FRA Sidney Gavignet FRA Jiru Yang (Wolf) CHN Yann Riou FRA (OBR)
Team Alvimedica Charles Enright USA William Oxley AUS Alberto Bolzan ITA Mark Towill USA Sébastien Marsset FRA Nick Dana USA Ryan Houston NZL Dave Swete NZL Amory Ross USA (OBR)
MAPFRE Iker Martínez ESP Xabi Fernández ESP Jean-Luc Nélias FRA Rob Greenhalgh GBR André Fonseca BRA Antonio Cuervas-Mons ESP Carlos Hernández ESP Guillermo Altadill ESP Francisco Vignale ARG (OBR)
Abu Dhabi Ocean Racing Ian Walker GBR Simon Fisher GBR Daryl Wislang NZL Adil Khalid UAE Luke Parkinson AUS Justin Slattery IRL Roberto Bermúdez de Castro ESP Phil Harmer AUS Matt Knighton USA (OBR)
Team Brunel Bouwe Bekking NED Andrew Cape AUS Jens Dolmer DEN Pablo Arrarte ESP Louis Balcaen BEL Adam Minoprio NZL Rokas Milevicius LTU Timo Hagoort NED Stefan Coppers NED (OBR)
Team SCA Sam Davies GBR Carolijn Brouwer NED Dee Caffari GBR Abby Ehler GBR Annie Lush GBR Elodie-Jane Mettraux SUI Stacey Jackson AUS Libby Greenhalgh GBR Liz Wardley AUS Sally Barkow USA Sophie Ciszek AUS Anna-Lena Elled SWE (OBR)
Share on Facebook