The local heroes on Xabi Fernàndez's MAPFRE were a popular winner in the first point scoring race of the Volvo Ocean Race.
The local heroes on Xabi Fernández's MAPFRE were a popular winner in the first point scoring race of the Volvo Ocean Race.
Fernández and his team made a bold call at the start to duck behind the entire fleet in order to sail up what turned out to be the favoured right hand side of the course, coming from behind to earn a narrow lead at the first gate.
"It was pretty clear from Joan (Vila) and Rob (Greenhalgh) that we wanted to hit the right side of the course in the first upwind looking for more breeze," explained Fernández.
"Our intention was to start on port but Pablo (Arrarte) saw the gap himself when Brunel did a poor tack and they couldn't accelerate so we want for the cross and we had plenty of room and once we hit the right everything went well."
MAPFRE then managed to stretch out to a lead of nearly one-minute at the bottom gate, giving them a lead they would enjoy the rest of the way.
"The truth is it hasn't been an easy race but we took a bit of a risk at the start," Fernández said after the finish. "We saw the gap in front of Brunel and we went for it. Everything went really well."
In fact, the Spanish team sailed a flawless race, in terms of strategy and execution, and were never threatened after grabbing the lead at the first mark.
But behind them, it was a hard-fought race. Sun Hung Kai/Scallywag was strong on the first leg, but dropped back over the course of the race. In contrast, Dongfeng Race Team fought up the fleet to grab second place, battling with Vestas 11th Hour Racing and Team Brunel who were trading places throughout the race.
"There was a lot of action! MAPFRE played their own game alone but behind them, we had a big fight for second place. It's good, it's good," said skipper Charles Caudrelier on Dongfeng Race Team.
"We showed how we can sail well, after having not such good results in the last few days. It's great that we managed to come back and get this result."
"It was a very exciting first In-Port Race for us," said Charlie Enright, the skipper of Vestas 11th Hour Racing. "They're always really close. You know, when you're racing these 65-foot canting keel boats around a one-mile track it gets interesting, with a lot of exchanges and big headsails and a lot of grinding. We did some good things and some bad things and got third place. All in all, not a bad way to start the campaign."
"I had a bad start and that put us on the back foot," said Bouwe Bekking the skipper of Team Brunel. "But we sailed the boat very nicely. All in all, we're pretty happy with how we sailed today."
Sun Hung Kai/Scallywag made a late gain to grab fifth over team AkzoNobel with Turn the Tide on Plastic never recovering from a poor first leg.
"It was okay. Fifth's not great but it was okay. We were second at the top but we just made one mistake on the first run and it cost us. Basically, it was good. Amazing to be racing here in Alicante," said David Witt, the skipper of Sun Hung Kai/Scallywag.
MAPFRE In-Port Race Alicante — Results

| | | | |
| --- | --- | --- | --- |
| Position | Team | Elapsed Time | Points |
| 1 | MAPFRE | 54:38 | 7 |
| 2 | Dongfeng Race Team | 56:06 | 6 |
| 3 | Vestas 11th Hour Racing | 56:54 | 5 |
| 4 | Team Brunel | 57:13 | 4 |
| 5 | Team Sun Hung Kai/Scallywag | 58:07 | 3 |
| 6 | team AkzoNobel | 58:31 | 2 |
| 7 | Turn the Tide on Plastic | 59:39 | 1 |
Share on Facebook
Sunday 6 August 2017
The Solent laid on 'classic' conditions for the start of the Royal Ocean Racing Club's 47th Rolex Fastnet Race. In brilliant sunshine and with brisk westerly winds gusting up to 20 knots, the giant fleet tacked up the western Solent before compressing through the usual bottleneck at Hurst Narrows. A record-sized fleet of 368 boats started the race, 12 more than two years ago, confirming the Rolex Fastnet Race's position as the world's largest offshore yacht race.
The first start got underway at 11:00 BST for the nine multihulls and within minutes, the blue three-hulled streak that is Concise 10 had pulled out a lead, frequently heeling to an alarming degree, just one hull immersed.
By the time IRC One was starting at 12:20 Tony Lawson's MOD 70, skippered by Ned Collier Wakefield, was already off Poole. Crewman Paul Larsen, who five years ago became the world's fastest sailor setting a world record of 65.45 knots, reported Concise 10 was sailing under reefed mainsail and staysail. "We're making 20 knots tacking past Poole and just dropping into the watch system. Glamour start conditions in the Solent. I can just see the next boats clearing Hurst Castle." However Larsen warned that unless the wind freed up, there was little chance for them to break the multihull race record. By 1500 Concise 10 was already level with Portland Bill.
The multihulls were followed away from Cowes by two other 'non-IRC' classes – the nine doublehanded IMOCA 60s and twenty seven Class40s. Given the upwind conditions, the older, conventionally foiled IMOCA 60s were prevailing. At 1630 Paul Meilhat and Jules Verne Trophy record holder crewman Gwénolé Gahinet aboard SMA, the 2012-3 Vendee Globe (and the 2013 Rolex Fastnet Race) winner as MACIF, were leading the 60s past Portland Bill. The first 'foil-assisted' IMOCA 60 was favourite Alex Thomson and Nicholas O'Leary on Hugo Boss in third place, taking a northerly route, close to the land.
In the Class40s present championship leader Phil Sharp on board Imerys led past St Alban's Head, but later there was little too choose with the British boat neck and neck for the lead in this incredible fleet with the Maxime Sorel-skippered V And B, Burkhard Keese's Stella Nova, Benoit Charon's LMAX Normandie and race veteran Halvard Mabire and Miranda Merron on Campagne de France.
The five IRC handicap classes, chasing the race's overall prize of the Fastnet Challenge Cup started with the smallest boats first at 1120.
This afternoon at 1600, the IRC One fleet had fanned out across the course to the southeast of St Alban's Head. James Neville's HH42 Ino XXX was leading the charge inshore as Staffan Wincrantz's Arcona 465 SALT 2.0 was ahead on the water to the south, just ahead of the venerable 1960s maxi Kialoa II, owned by Patrick Broughton.
Mid-afternoon, competitors in IRC Two were favouring the inshore route with Dutchman Frans Rodenburg's First 40 Elke, closest to St Alban's Head at 1620, with class favourite Gilles Fournier and Corinne Migraine's J/133 Pintia nearby.
Marc Alperovitch's JPK 1080, Timeline in the largest class – IRC 3 © Rolex/Carlo Borlenghi
The IRC Three boats were following a similar tactic with the offshore tack being less popular. Having started 20 minutes earlier, they were still successfully fending off the advances of the larger, faster IRC Two fleet. The Russian JPK 10.80, Igor Rytov's Boyatyr, was leading the pack inshore while the brilliantly-named Seafarers Ale Anticipation, the First 40.7 of former 470 Olympian Pete Newlands, was ahead on the water offshore.
The inshore-offshore spread was more evenly distributed among the smallest boats in IRC Four. Here Noel Racine's impeccably sailed JPK 10.10 Foggy Dew was ahead inshore while Dan Rigden's Elan 37 Tacktic was furthest down the track out to sea.
The last to start were the largest in the IRC fleet, IRC Zero, including the line honours contenders George David's Rambler 88 and Ludde Ingvall's 100ft CQS. By 1520 Rambler 88 was off and close into St Alban's Head, leading IRC Zero on the water just ahead of the biggest boat in the fleet, the 115ft Nikata.
Among the seven one design VO65s competing in 'Leg 0' of the 2017-18 Volvo Ocean Race, it was very close, with the Charles Caudrelier-skippered Dongfeng Race Team a nose ahead and making 12.3 knots but facing a threat from Team Brunel, skippered again by Dutch race veteran Bouwe Bekking, making 12.5 as the boats passed St Alban's Head.
This morning Xabi Fernández, skipper of MAPFRE, looked forward to the race: "Once out of the Solent it will be upwind sailing up to the Fastnet rock, and finally we will sail downwind towards Plymouth. This is the first time I've competed in the Rolex Fastnet Race. It is a historic race, much like the Rolex Sydney Hobart."
Joan Vila, MAPFRE's legendary navigator confirmed the forecast: "Once we leave the Solent, the wind will blow at around 20 knots. From there, it will drop until tomorrow morning, with the probability of encountering areas of very light wind. As we get closer to Plymouth, the wind will build again."
Share on Facebook
The 8th edition of the RORC Caribbean 600 started in spectacular style with the record 70 yacht fleet gathering in the starting area outside English Harbour, Antigua. Under the Pillars of Hercules, the magnificent collection of yachts started the 600 nmile race in a sublime 14 knot south-easterly breeze with brilliant sunshine. The conditions were enough to have the fleet fully ramped up and a not insignificant swell added to the excitement. Five highly competitive starts thrilled hundreds of spectators lining the cliffs at Shirley Heights and Fort Charlotte. Not only was this a record fleet for the RORC Caribbean 600, it was undoubtedly the highest quality of participants since the inaugural race in 2009.
CSA, IRC 2 & IRC 3 Start
24 yachts engaged in a pre-start peloton resulting in a tremendous battle for the line. The all-girl Sirens' Tigress; IRC 2 champion, Scarlet Oyster and Polish team, Por Favor executed text book starts. However, winning the pin was American Swan 48, Isbjorn. Jua Kali also got away well which was marvellous for the British team who badly damaged their rig in the Atlantic en route to the start.
First to start the 2016 RORC Caribbean 600: CSA, IRC 2 and IRC 3 – Credit: RORC/Tim Wright
IRC 1 & CLASS40
17 yachts started the race with American Sydney 43, Christopher Dragon winning the pin ahead of Canadian Farr 45, Spitfire. Spanish Tales II was the first Class40 to cross the line with Antiguan entry Taz also starting well. Belladonna, skippered by RORC Admiral, Andrew McIrvine had a great start controlling the favoured coastal side of the course.
IRC 1 and Class40 fleet at the start of the 8th RORC Caribbean 600 Race  – Credit: RORC/Tim Wright
IRC Zero & IRC Canting Keel
The most impressive start in the eight-year history of the race featured 23 head-turning yachts. 115ft Baltic, Nikata tried to use her might to win the pin but encountered severe congestion, forcing the superyacht to round the wrong side of the pin. Lithuanian Volvo 60, Ambersail were overeager and with no room to bear away, sailed around the pin end buoy. Irish Cookson 50, Lee Overlay Partners was adjudged OCS and had to restart. Dutch Ker 51, Tonnerre 4 with octogenarian owner Piet Vroon on board had a cracking start, as did Hap Fauth's Maxi72, Bella Mente going for speed and heading for the lift off the cliffs. Jim Clark and Kristy Hinze Clark's, 100ft Maxi had a slightly conservative run-up to the line before the big winches growled in a dial-down and Comanche powered up, accelerating into the lead.
The IRC Zero and IRC Canting Keel fleet made an impression at the start of the RORC Caribbean 600 – Credit: RORC/Emma Louise Wyn Jones
Superyacht
The penultimate start featured two of the largest yachts competing in the RORC Caribbean 600. Southernwind 102 Farfalla executed a textbook start to begin the 600-nmile race, assisted by a crew including Steve Hayles as navigator, winner of the race with Niklas Zennstrom's RAN in 2012. The magnificent sight of 178ft schooner Adix crossing the line under full sail drew gasps from the crowd ashore. Adix is the first three-masted schooner to take part in the race.
The magnificent three-masted schooner Adix at the start – Credit: RORC/Tim Wright
MOCRA Multihull
Six Multihulls including MOD70s Phaedo3 & Concise 10 lined up for the last start of the day. Phaedo3 and Concise 10 locked horns in the pre-start as expected, with Phaedo3 co-skippered by Lloyd Thornburg and Brian Thompson gaining a small but significant advantage at the start. Concise 10 had to tack offshore to escape bad air and ploughed through several spectator boats that had gathered close to the exclusion zone. The two MOD70s are expected to have a titanic battle over the next two days. Belgian Zed 6 reported a broken daggerboard before the start but managed a repair in time to begin the race.
With a south-easterly breeze the fleet took a long starboard tack to Green Island where they bore away for Barbuda hoisting downwind sails. The sleigh ride has already begun for Comanche, Phaedo3 and Concise 10 with the YB tracker already showing the trio hitting close to 30 knots of boat speed. The wind is expected to return to the east before morning and freshen to a possible 20 knots when many more of this magnificent fleet will be enjoying the magic carpet ride of strong trade winds.
Phaedo3 flying two hulls past Willoughby Bay, Antigua – Credit: RORC/Tim Wright
Watching the start from the cliffs at Shirley Heights was RORC Chief Executive Eddie Warden Owen who could not help but marvel at the quality of the fleet: "This is an amazing collection of boats sailed by the best offshore sailors in the world and was shown by the intensity of the start. Each fleet battled for the outer favoured end of the line, caused by the wind being south of its normal easterly direction. No one held back," said Warden Owen "And I am surprised we only had one boat over the line at the start. The lighter wind increasing as the week goes on, could favour a small boat for an overall win under the IRC rating rule. It will be fun to watch, but I'd much prefer to be out there racing."
Hundreds of spectators watched the start of the 8th RORC Caribbean 600 from ashore and on the water Credit: RORC/Tim Wright
High resolution images will be available from the race for editorial use and requests for specific interviews/photographs/video should be made to:
press@rorc.org
Keep up to date with all the news. There will be blogs from the boats themselves on the race course, images, video and daily race reports. Follow the action as it unfolds on the RORC Caribbean 600 website.
SOCIAL MEDIA:
Twitter: #rorcrc600  – Follow @rorcracing
TRACK THE FLEET:
Share on Facebook
 200 miles to go. After 9 months and nearly 40,000 miles
Dongfeng slenderest of leads over main rivals Brunel and Mapfre, but seems like it will not mean much this evening.
Caudrelier: "For us its easy to go from 3rd place to 5th place (overall), and also to come back to second. Everything can happen still"
The podium of the Volvo Ocean Race might just come down to a total lottery tonight as wind forecasts predict a difficult transition as Charles Caudrelier describes "from the current strong southerly winds that have carried Dongfeng up the North Sea, to some light easterly winds that will should get us to the finish line. Its going to be stressful".In between potentially little or no wind at all – during the early evening tonight in theory. The battleground will probably be between Hanstholm and Skagen, the two towns with a bay between them, that mark the northern tip of Denmark. But even now the compression is starting, from Yanndirect this morning "Still coming back from behind. Less than 4 miles, now. Nothing we can do about it. Not a nice feeling". More often than not in ocean racing, the rich get richer – but this time its not going to work like that. The guys (and girls) behind are going to sail on in pressure as the boats in front that worked so hard to grind out their leads, will stop in the transition zone between the old and new winds.The warm front moving from the UK east, that has been chasing the fleet since they left, is going to slow down and stall before it gets to them, at least at surface level. Higher up in the atmosphere its forecast to continue east – this differential between up high and at the surface, will provide the conditions for a new low to form, bringing new winds – but the transition could be long – and in the meantime somehow the boats have to get from the old to the new. This in effect should allow almost all, if not all, the backmarkers to sail straight to the front, with the leaders helpless.

It will be tragic if the entire race comes down to luck, but then this is part of ocean racing. Since Dong Feng means 'winds from the east bringing freshness and energy' and Aeolus being the Guardian of the Winds – on land we can only hope and pray to whatever Gods we believe in, that luck will be on our side, and that we will get the podium finish we deserve!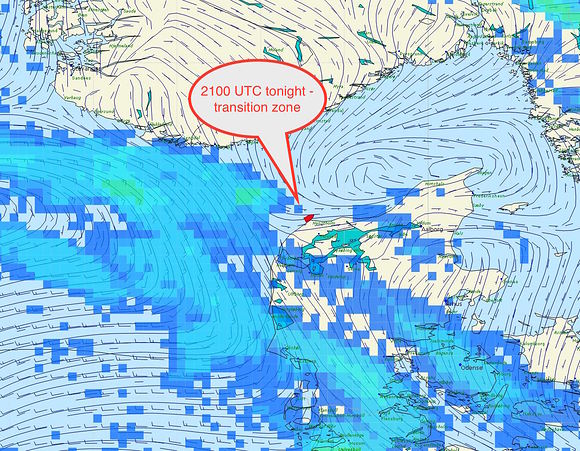 You can follow our story and interact with the team on all social media channels and our official website:Facebook: Click here
Twitter: Click here
Instagram: Click here
Weibo: Click here
WeChat: Click here
Youtube: Click here
YouKu: Click here
Official website: Click here
Share on Facebook
Skipper Sam Davies (GBR) and her Team SCA crew struck a resounding blow for women's offshore sailing in the early hours of Thursday morning when they gloriously clinched Leg 8 of the Volvo Ocean Race
Leg 8

DTL

(NM)

GAIN/LOSS

(NM)

DTF

(NM)

Speed

(kt)

SCA1
FIN – 03d 13h 11m 11s

VEST
FIN – 03d 13h 59m 38s

ADOR
0.3
10.9
3
11.1

MAPF
0.8
11.3
4
11.7

TBRU
1.8
11.5
5
12.4

ALVI
2.3
11.7
5
12.9

DFRT
5.5
11.7
8
13.2
Latest positions may be downloaded
from the race dashboard hereº MAPFRE given 2-point penalty Leg 5
Dongfeng Race Team, Team SCA & MAPFRE penalised Leg 7
– A resounding blow for women's offshore sailing
– Team Vestas Wind bounce back for second place
– Abu Dhabi Ocean Racing nearing overall trophy win
LORIENT, France, June 11 – Skipper Sam Davies (GBR) and her Team SCA crew struck a resounding blow for women's offshore sailing in the early hours of Thursday morning when they gloriously clinched Leg 8 of the Volvo Ocean Race.
The comfortable victory was the first leg win in offshore sailing's toughest challenge since Tracy Edwards' Maidenclinched two stage wins in Class D of the 1989-90 race, won overall by Sir Peter Blake's famous Steinlager2.
At least as satisfying for the first all-women's crew to enter the race in 12 years will be the opportunity to silence critics who suggested that they were looking outclassed in the current 12th edition by their experienced male rivals.
True, the Swedish entry had yet to win a podium place until now, but the crew has clearly improved leg after leg and many observers felt that a breakthrough performance was just around the corner.
The win was certainly no fluke in an upwind leg that tested seamanship to the full with an often heinous sea state and strong winds virtually throughout.
They grabbed the 647-nautical mile leg from Lisbon by the scruff of the neck on Monday, and strengthened that grip on Tuesday after taking an offshore course while most of their rivals hugged the Spanish and French coast approaching the Bay of Biscay.
It took them three days 13 hours 11 minutes and 11 seconds to grab their share of Race history.
"Thanks to everybody for all your support. It's not really sunk in yet," said a jubilant Davies. "It probably won't hit us until we hit the dock and we see there aren't any other boats there.
"It's a reward for all the hard work we have done. It's a great confidence booster. It's going to be huge for us. We've had a mountain to climb to get here."
Behind them, another fairy-tale was unfolding as Team Vestas Wind (Chris Nicholson/AUS) closed to a remarkable second-placed finish in their return to the race after six months out following a collision with an Indian Ocean reef on November 29 during Leg 2.
Nicholson had every reason for the huge smile on his face as he approached the port of Lorient following a near perfect race from Lisbon starting on Sunday.
He had simply hoped that his boat could negotiate the leg without mishap and be competitive – a high podium finish is almost beyond his wildest dreams.
"It's a very special moment," said the team's Onboard Reporter, Brian Carlin (IRL), simply.
Astern of the leading pair, third-placed Abu Dhabi Ocean Racing (Ian Walker/GBR) were nearing an ever bigger prize than the handsome silver leg trophy claimed by Team SCA.
They needed simply to finish ahead of their nearest overall pursuers in the standings,Team Brunel (Bouwe Bekking/NED) and Dongfeng Race Team (Charles Caudrelier/FRA), with a boat in between, to be all but be sure of winning the 12th edition of the Volvo Ocean Race.
As Team SCA passed the finish at 0211 UTC/0411 local time on Thursday, that prospect looked very much on with MAPFRE (Xabi Fernández/ESP) in fourth, Team Brunel fifth, and Team Alvimedica (Charlie Enright/USA) keeping Dongfeng Race Team at bay in the fight for sixth.
The boats will have a short maintenance period before Sunday's SCA In-Port Race here in Lorient, before the fleet set sail for Gothenburg via a much-awaited pit-stop in The Hague, on Tuesday, June 16.
It promises to be a period of considerable celebration for at least three crews of very, very happy sailors.
Share on Facebook
Team Brunel (Bouwe Bekking/NED) completed a triumphant Leg 7 early on Wednesday to bolster their hopes of finishing with a podium place in the Volvo Ocean Race and also keep alive their hopes of overall victory
Leg 7

DTL

(NM)

GAIN/LOSS

(NM)

DTF

(NM)

Speed

(kt)

TBRU
FIN – 09d 11h 09m 49s

MAPF
FIN – 09d 11h 31m 39s

ALVI
FIN – 09d 12h 50m 49s

DFRT
FIN – 09d 12h 51m 44s

ADOR
FIN – 09d 13h 24m 34s

SCA1
FIN – 09d 15h 32m 38s

VEST
Did Not Start
Latest positions may be downloaded
from the race dashboard here º MAPFRE given two-point penalty – read more
– Team Brunel edge home ahead in transatlantic leg
– MAPFRE chase them all the way into Lisbon
– Team Alvimedica beat Dongfeng in thrilling dogfight
– Team Vestas Wind are reunited with rest of the fleet
LISBON, Portugal, May 27 – Team Brunel (Bouwe Bekking/NED) completed a triumphant Leg 7 early on Wednesday to bolster their hopes of finishing with a podium place in the Volvo Ocean Race and also keep alive the possibility of overall victory.
The Dutch boat sailed a near faultless transatlantic stage, edging MAPFRE (Iker Martínez/ESP) into second, just under 22 minutes behind.
Behind them, Team Alvimedica (Charlie Enright/USA) edged out long-time leg leaders, Dongfeng Race Team (Charles Caudrelier/FRA), after an enthralling dogfight over the final miles.
The Chinese-backed boat was caught by Enright's crew in the early hours of Wednesday, but battled their way back and looked sure to overtake them again before a botched tack ruined their chances.
They lost out by just 55 seconds after nearly nine days and 13 hours of sailing across 2,800 nautical miles (nm).
With overall leaders Abu Dhabi Ocean Racing (Ian Walker/GBR) finishing fifth ahead of Team SCA (Sam Davies/GBR), the overall race standings are left finely poised.
The Emirati crew now have a five-point lead over Dongfeng Race Team with two short legs to sail, while Team Brunel are a point further adrift of Charles Caudrelier's crew.
Caudrelier made no attempt to hide his disappointment after leading the leg for so long and seeing a podium place disappear in the final miles.
"I'm feeling very bad, very upset and very sad," he summed up. "We deserved better, but I guess that's life.
"Most of all, I'm upset with myself because my crew did a great job and I made a huge mistake – and I don't accept mistakes. We really missed a chance in this leg with Abu Dhabi Ocean Racing finishing fifth."
Few sailors in the fleet will savour a win over one of the race's trademark legs more than Team Brunel's 51-year-old skipper, Bouwe Bekking, in his record-equalling seventh appearance.
He has certainly experienced the ups and downs of racing across the Atlantic. Few will forget the agonising position he faced in 2006 before he was finally forced to abandon his sinking movistar boat during the same stage of that Volvo Ocean Race.
Bekking insisted last week that he had not lost 'a single night's sleep' over the incident and the confident way that Team Brunel sailed the leg would bear that out.
Team Brunel were harried all the way over the past 24 hours by both MAPFRE and Dongfeng Race Team, especially over the final few miles when the breeze dropped to almost zero in the Tagus River as they approached the Lisbon finish.
"We sailed a tremendous leg but just at the end when there was no wind, it was getting a bit gnarly," said Bekking. "But we pulled it off."
The victory was achieved with two newcomers on board, Adam Minoprio (NZL) and Timo Hagoort (NED), the latter replacing the injured Gerd-Jan Poortman (NED).
"It was good to have those young guys on board, they did a fantastic job," added Bekking.
Team SCA crossed the line, some four hours and 22 minutes behind Team Brunel (see panel above), after an action-packed transatlantic leg in which they sailed within the pack for much of the nine days and at one stage threatened a podium finish after taking a bold strategic choice around the Azores High.
The final two stages, to Lorient (France) and then Gothenburg (Sweden) via a pit-stop in The Hague (Netherlands), will once again be contested by seven boats.
Team Vestas Wind (Chris Nicholson/AUS) rejoin the fleet for the first time since November 29 when the boat was grounded on a reef in the Indian Ocean.
After a four-month rebuild in the Persico boatyard in Bergamo, Italy, the boat was transported by sea and road to Lisbon, arriving a few hours before the rest of the fleet in the small hours of Wednesday morning.
Over the next few days, the rig will be stepped ahead of the Danish-backed team's competitive comeback on June 6 in the Lisbon In-Port Race. Leg 8 to Lorient, a relative sprint at 647nm, begins a day later.
The race concludes on June 27 with the In-Port Race in Gothenburg after nine months and 38,739nm of sailing, visiting 11 ports and every continent.
Current latest standings (low points wins, In-Port Race Series splits ties): 1) Abu Dhabi Ocean Racing 16 pts, 2) Dongfeng Race Team 21, 3) Team Brunel 22, 4) MAPFRE 26, 5) Team Alvimedica 27, 6) Team SCA 41, 7) Team Vestas Wind (Denmark) 52 (DNS).
Share on Facebook
Spanish boat MAPFRE, boosted by the return of their skipper Iker Martinez, claimed their first win of the Volvo Ocean Race in-port series on Saturday in front of thousands of spectators.
With Martinez at the helm, the red boat raced to the first mark with a narrow lead over Team Alvimedica (Turkey/US) and gradually stretched their advantage in a race completed in just under an hour.
The result leaves the Spanish crew still trailing the fleet in the overall standings on 31 points, but they have closed the gap considerably after a string of largely disappointing performances prior to Saturday.
Martinez, 37, was delighted to return to the winner's circle having returned to lead the crew after missing the previous leg due to Olympic commitments.
The helmsman from San Sebastian won gold in the 2004 Athens Games and silver in Beijing 2008, but finished disappointingly down the field in the 2012 London Olympics.
He is determined to put that right in Rio de Janeiro next year, but his commitment to his preparation has led to his missing several legs in this edition of the nine-month Ocean Race which started last October.
"We are improving slowly and that's the way we want to do these things," said Martinez after the victory. "Today we were first and we're feeling super good."
Team Alvimedica, led by Newport local Charlie Enright, clung on to second place while Abu Dhabi Ocean Racing stole third position from the all-women crew of Team SCA, who made a damaging positioning error mid-race.
The result puts Abu Dhabi, led by Briton Ian Walker, back on top of the overall in-port race series standings on 19 points. The series will count towards a separate trophy and be used to split ties in the main offshore competition.
The six boats in the fleet will begin the seventh leg, a 2,800-nautical mile (4,815km) trip to Lisbon, Portugal, on Sunday at 1800GMT.
Abu Dhabi lead by six points from China's Dongfeng Race Team, with three legs to complete in the nine-month, 38,739-nautical mile (71,745km) marathon.
The race concludes on June 27 in Gothenburg, Sweden, having visited 11 ports and every continent.
Team Vestas Wind In-Port Race Newport results 
Course: 3 laps.
Bearing to top gate: 230
Distance to top: 1.4nm, extended to 1.8nm on the 3rd lap.
Total distance sailed: 9.2nm
TWD: 180-185
TWS: 8kts
Team Vestas Wind In-Port Race Newport Results:
1. MAPFRE 14:55:41 – 1pt
2. Team Alvimedica 14:56:39 – 2pts
3. Abu Dhabi Ocean Racing 14:57:38 – 3pts
4. Team SCA 14:57:57 – 4pts
5. Team Brunel 14:58:17 – 5pts
6. Dongfeng Race Team 14:59:09 – 6pts
DNS. Team Vestas Wind – 8pts
In-Port series Overall standings:
1. Abu Dhabi Ocean Racing – 19pts
2. Team Brunel – 20pts
3. Team SCA – 24pts
4. Dongfeng Race Team – 27pts
5. Team Alvimedica – 28pts
6. MAPFRE – 31pts
7. Team Vestas Wind  – 52pts
Crew List for Team Vestas Wind Newport In-Port Race:
Dongfeng Race Team Charles Caudrelier FRA Kevin Escoffier FRA Thomas Rouxel FRA Martin Strömberg SWE Chen Jin Hao (Horace) CHN Pascal Bidegorry FRA Sidney Gavignet FRA Jiru Yang (Wolf) CHN Yann Riou FRA (OBR)
Team Alvimedica Charles Enright USA William Oxley AUS Alberto Bolzan ITA Mark Towill USA Sébastien Marsset FRA Nick Dana USA Ryan Houston NZL Dave Swete NZL Amory Ross USA (OBR)
MAPFRE Iker Martínez ESP Xabi Fernández ESP Jean-Luc Nélias FRA Rob Greenhalgh GBR André Fonseca BRA Antonio Cuervas-Mons ESP Carlos Hernández ESP Guillermo Altadill ESP Francisco Vignale ARG (OBR)
Abu Dhabi Ocean Racing Ian Walker GBR Simon Fisher GBR Daryl Wislang NZL Adil Khalid UAE Luke Parkinson AUS Justin Slattery IRL Roberto Bermúdez de Castro ESP Phil Harmer AUS Matt Knighton USA (OBR)
Team Brunel Bouwe Bekking NED Andrew Cape AUS Jens Dolmer DEN Pablo Arrarte ESP Louis Balcaen BEL Adam Minoprio NZL Rokas Milevicius LTU Timo Hagoort NED Stefan Coppers NED (OBR)
Team SCA Sam Davies GBR Carolijn Brouwer NED Dee Caffari GBR Abby Ehler GBR Annie Lush GBR Elodie-Jane Mettraux SUI Stacey Jackson AUS Libby Greenhalgh GBR Liz Wardley AUS Sally Barkow USA Sophie Ciszek AUS Anna-Lena Elled SWE (OBR)
Share on Facebook
Dongfeng Race Team (Charles Caudrelier/FRA) edged overall Volvo Ocean Race leaders Abu Dhabi Ocean Racing (Ian Walker/GBR) by just three minutes and 25 seconds to win Leg 6 to Newport after an enthralling duel over the past 24 hours
Leg 6

DTL

(NM)

GAIN/LOSS

(NM)

DTF

(NM)

Speed

(kt)

DFRT
FIN – 017d 09h 03m 00s

ADOR
FIN – 017d 09h 06m 25s

TBRU
FIN – 017d 09h 56m 40s

MAPF
FIN – 017d 10h 34m 25s

ALVI
0.0
22.2
14
9.4

SCA1
42.4
22.1
56
9.3

VEST
DID NOT START
Latest positions may be downloaded
from the race dashboard hereº MAPFRE given two-point penalty – read more
– Skipper Caudrelier praises shore crew after thrilling win
– Abu Dhabi Ocean Racing within four minutes of victors
– Follow the final boats in on our App
NEWPORT, Rhode Island, USA (May 7) – Dongfeng Race Team (Charles Caudrelier/FRA) edged overall Volvo Ocean Race leaders Abu Dhabi Ocean Racing (Ian Walker/GBR) by just three minutes and 25 seconds to win Leg 6 to Newport after an enthralling duel over the past 24 hours.
The result cuts the Emirati boat's lead over the Chinese-backed challengers to six points and marks a fantastic comeback for Caudrelier and his crew after they were forced to pull out of the previous leg to Itajaí because of a broken mast.
The French skipper paid tribute to his shore crew who managed to fit a new rig in under a week in Brazil and prepare the boat for the 5,010-nautical mile (nm), ultra-competitive next stage through the Atlantic.
"For this leg, the goal was to be ready in Itajaí and the (shore) crew did a fantastic job. I'd like to give them the victory," said Caudrelier.
"I'm very proud of them and very happy to take this first place. They worked very hard to get this boat ready. I'm really, really happy."
Abu Dhabi Ocean Racing made Caudrelier and his men work all the way for the win after 17 days at sea and even threatened to overturn their lead as they passed Block Island 30nm from the finish.
"We were within a couple of lengths of getting over them at Block Island – literally three or four boat lengths from rolling them – but they held on and dug deep. Very well deserved win," said Walker.
Caudrelier's hopes of bouncing back for the triumph had looked in serious jeopardy just two days into the leg, which started on April 19, when the electronic water-maker, which converts sea water into drinking water, broke down.
He said if his crew had not been able to repair it, they would have had to make a 12-hour stop.
'We wouldn't have had to retire, but we would have had to stop and fix it. When you stop in this race, you see the difference between the boats, and that means the leg is over because it means you lose at least 12 hours," said Caudrelier, whose boat finished in an elapsed time of 17 days, nine hours and three minutes exactly after leaving Itajaí.
"That would have meant another leg where we would have finished last."
Dutch challengers Team Brunel (Bouwe Bekking/NED) finished just over 55 minutes afterDongfeng to claim the final podium spot following yet another closely-fought leg.
It will have been a big relief to Bekking whose boat has been pipped in similar close finishes in earlier legs.
"It's always good to be back on the podium. But the race is lost for us, we have to tell the public about that, because Abu Dhabi has an inaccessible lead now compared to us," he said.
"Dongfeng still has a good chance. They sailed an excellent leg, congratulations to them. And to Abu Dhabi too – they both sailed very well.
"We're aiming for second and we still want to win the In-Port Series as well. We're in the lead over there. We've got a couple of things to sail for – and of course we want to win a couple of legs."
MAPFRE (Xabi Fernández/ESP) followed Team Brunel home in fourth spot with an elapsed time of 17 days 10 hours 34 minutes and 25 seconds with Team Alvimedica (Charlie Enright/USA) heading for a home town welcome in fifth place ahead of Team SCA (Sam Davies/GBR), who were expected to finish later on Thursday.
Current latest standings (low points wins, Team Alvimedica* and Team SCA* yet to finish Leg 6): 1) Abu Dhabi Ocean Racing 11 pts, 2) Dongfeng Race Team 17, 3) Team Alvimedica 19*, 4) Team Brunel 21, 5) MAPFRE 24, 6) Team SCA 29*, 7) Team Vestas (Denmark) 44.
Share on Facebook