Bella Mente, Open Season, H20, Supernikka, Windfall and Inoui division winners
Porto Cervo, 12 September 2015. Eighteen knots of scirocco wind and a rip-roaring race around the islands on the final day of the Maxi Yacht Rolex Cup & Rolex Maxi 72 World Championship provided the perfect end to a superlative week of competition in Porto Cervo. The 26th edition of the event, which attracted a fleet of 40 yachts ranging from 18 to 66 metres in length, was organized by Yacht Club Costa Smeralda together with title sponsor Rolex and the International Maxi Association.
Hap Fauth's Bella Mente, with a bullet and a third place in today's two windward-leeward races, was crowned Rolex Maxi 72 World Champion 2015. The American team which boasts Terry Hutchinson on tactics managed to whisk victory from the grasp of Roberto Tomasini Grinover with his Robertissima III by just one point. Dieter Schön's Momo claimed third place in her debut on the waters of the Costa Smeralda.
"It was just fantastic," enthused a delighted Hap Fauth, "The level of competition was so high and everyone had fun. We had a great time and the organization and hospitality was excellent."
At the conclusion of a coastal course of approximately 30 nautical miles Marco Vogele's 33-metre Inoui was able to celebrate her victory over Viriella and Hetairos respectively in the Supermaxi division. Newly elected IMA President Thomas Bscher was also celebrating in the Wally division as his Open Season rounded off a week of near-perfect results with a second place in today's race to claimed overall victory in the Wally division. After a fierce battle for second place throughout the week, Magic Carpet Cubed, owned by Sir Lindsay Owen Jones, took the silver prize with J One in third place on equal points.
The record-breaking 100-foot Comanche, owned by Jim Clark and Kristy Hinze-Clark, gave spectacular performances throughout the week and word is she will be joined by several more pure racing machines for the next edition of the Maxi Yacht Rolex Cup.
In the Maxi division, which together with the Mini Maxis completed a slightly shorter coastal course, The Southern Wind yacht Windfall, owned by Michael Cotter claimed the Rolex prize and timepiece. Following an event-long leadership battle, Masimiliano Florio's Grande Orazio Pioneer Investments had to settle for second place, just one point behind. The Swan 77 Tugela rounded off the podium finishers.
Thanks to a victory in today's race Riccardo di Michele's H2O managed to beat Shirlaf on countback as both yachts finished with the same score. Third place in the Mini Maxi RC/SOT division went to Wallyño.
The Mini Maxi Racing Division saw Roberto Lacorte's 2015-launched Supernikka perform consistently well throughout the week to take first place overall ahead of Britain's Spectre and Maximilian Klink's Caro.
"It may seem redundant to say that this was a wonderful event – the Maxi Yacht Rolex Cup is always a highlight of our sporting calendar – however this 26th edition of the regatta was truly exceptional." Commented YCCS Commodore Riccardo Bonadeo "The fleet, the owners and the crews were all of an incredibly high standard and mother nature stepped in to provide almost perfect conditions."
Looking forward to the next Maxi event Bonadeo continued "The conclusion of a perfect event seems the perfect time to invite you all, if you haven't already done so, to enrol for the very first edition of the Maxi Yacht Rolex Caribbean Cup taking place in April 2016 at our Caribbean home in Virgin Gorda where we are lucky enough to have another beautiful regatta course and constant trade winds."
The YCCS calendar in the Mediterranean continues with the Sailing Champions League final which will see teams from across Europe and beyond competing on J70 boats from 18th to 20th September.
See all the results HERE
Wallys and Comanche (Photo by Rolex / Carlo Borlenghi)
Share on Facebook
With 40 yachts gathered in Porto Cervo, the 2015 edition of the Maxi Yacht Rolex Cup has attracted one of its largest and highest calibre entries in the event's 35-year history. When Rolex first joined forces with the Yacht Club Costa Smeralda (YCCS) and the International Maxi Association (IMA) to sponsor the event for the first time in 1985, a 60ft yacht was considered to be a big beast. Fast-forward 30 years however, and the Swan 601 @Robas (FRA) is now the smallest in this impressive international line-up, while the 219ft Hetairos (CAY) is by far the largest.
Much of the fleet has been out training on the azure waters of the Costa Smeralda, enjoying the stunning scenery of Northern Sardinia's wild and beautiful coastline but more importantly, making final checks on crew manoeuvres and refining the final 1/10th of a knot of boat speed. Jim and Kristy Hinze Clark must be happy with how Comanche (USA) is going right now. The recent line honours winner of the Rolex Fastnet Race has been designed primarily with offshore performance in mind, but this mean-looking 100-footer has been clocking speeds up to 30 knots during the strong wind lead-up to the regatta.
The navigators have one of the trickiest jobs at the Maxi Yacht Rolex Cup, being required to keep a weather eye on the clouds above, as well as know what rocky dangers lurk beneath the surface. Tom Addis is one of the big-name navigators at this event, the Volvo Ocean Race veteran working at the back of Carla Cornelli's Wally 107 Kenora (BVI). "Today's mistral dies away and our attention turns to the south with a low pressure forming just north of Sicily. This will bring strengthening north-easterly to northerly breeze over us over the next few days."
The week certainly looks set to offer up a good mix of conditions, which is exactly what most teams want. Among the five racing classes, the most closely fought contest is expected to come in the Rolex Maxi 72 World Championship. Newest of the six 72-footers is Dieter Schön's Momo (GER) which has notched up some impressive victories in her debut season, not least winning her division at last month's Rolex Fastnet Race. But Momo's tactician Markus Wieser certainly doesn't consider his team as the favourites. "All six boats are going very fast, and you couldn't ask for better crews than you see here this week," said the German professional. "Yes, Momo has had a very good season, although we were 2nd at the Giraglia Rolex Cup. This is the one that matters more than any other event, though. It's the World Championship, and it's one that we would love to win."
Wieser has been impressed with Bella Mente's (USA) boat speed in training, and owner Hap Fauth has put together an impressive team in his bid to repeat a sweet victory back in 2012. America's Cup finallist Terry Hutchinson is calling tactics alongside other Cup veterans like navigator Ian Moore and strategist Adrian Stead. "The racing this week is going to be a game of feet and inches, where you take advantage of every opportunity, no matter how small," said Hutchinson. "You can see why people can't get enough of this place – great racing, organised by one of the top three yacht clubs in the world."
This evening the Skippers' Briefing took place on the top deck of the Yacht Club Costa Smeralda, with Principal Race Officer Peter Craig welcoming owners, skippers and crews for what promises to be a challenging, exhilarating week's competition. "If there's a better place in the world to go yacht racing, I don't know about it," said Craig. "The venue, the yacht club, are fantastic. And you look at the calibre of sailors here – bow to stern, these boats are packed with the very best in the world."
Five days' racing are scheduled from Monday 7 September to Saturday 12 September, with a lay day on Thursday.
.
Entry List 2015 Maxi Yacht Rolex Cup – Porto Cervo, Italy
@ROBAS
ARAGON
BLACK BETTY
BULTACO
CARO
COMANCHE
GALMA
GAETANA
GENIE OF THE LAMP
GERONIMO
GRANDE ORAZIO by Pioneer Investments
H2O
HETAIROS
INOUI
J ONE
KENORA
LUNZ AM MEER
LYRA
MAGIC CARPET CUBED
MY WAY 60
NAHITA
OPEN SEASON
RYOKAN 2
SENSEI
SHIRLAF
SOLLEONE
SPECTRE
SUPERNIKKA
TANGO G
TILAKKHANA
TUGELA
VIRIELLA
WALLY ῆO
WINDFALL
Y3K
BELLA MENTE
CAOL ILA R
JETHOU
MOMO
PROTEUS
ROBERTISSIMA III
Share on Facebook
The final race day of the Loro Piana Caribbean Superyacht Regatta & Rendezvous was a fittingly gripping affair that brought three days of hard-fought and incredibly tight racing to a close and saw overall victory awarded to P2 (Class A) and Marie (Class B). Unofficial accolades also went to the new ORCsy handicap rule, implemented for the first time ever during this event, which assured compact racing and scene-stealing finishes throughout. The event, organized by the Yacht Club Costa Smeralda and Boat International Media, ran from 11th to 14th March 2015.
Both classes completed an anti-clockwise round-the-island course today that took them from a downwind start on a spectacular run to Round Rock off the south western tip of Virgin Gorda. A long and challenging upwind beat followed as the boats battled 10-foot waves around the back of the island before finishing just off the North Sound.
Only two points separated the top three boats in Class A heading into the final race, so every second and every manoeuvre counted today. A battle to the finish ensued between P2, Freya and Cape Arrow with less than 40 seconds separating the top three boats across the line after 29 miles of racing. The Southern Wind yacht Cape Arrow, with Pier Luigi Loro Piana at the helm and Francesco De Angelis calling tactics, stormed down the final stretch to overtake the Swan 90 Freya just metres from the finish line. The 125-foot Perini Navi sloop P2, meanwhile, claimed her second consecutive bullet to assure her overall victory over the Vitters ketch Inoui with Freya just one point behind in third place.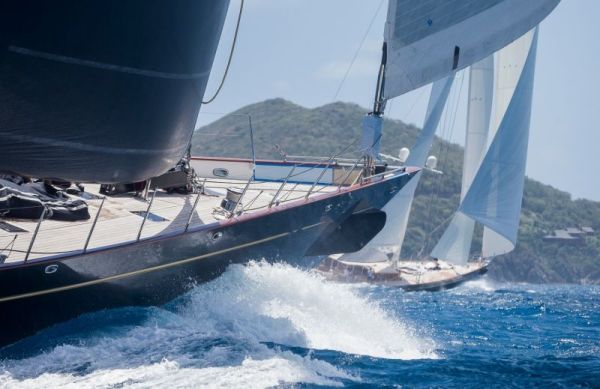 Marie, Class B Winner. Loro Piana Caribbean Superyacht Regatta & Rendezvous 2015. Photo Carlo Borlenghi
Gerhard Andlinger, P2 was understandably pleased with his result: "We won by just seconds, the new rating system is really working out. It was pretty relaxing until the last 15 minutes when you see the competition. You see the sails, you see how fast they're going and you begin to mentally calculate. I have a great crew and this victory is theirs, not mine."
In Class B Seahawk put in another first-rate performance to notch up her second bullet of the event. A DNF in the first race however, caused by a rigging failure, meant she was able to climb no higher than third place overall. Although the 2014-launched Royal Huisman sloop Wisp gained the upper hand on the race course today to place second ahead of Marie, it was not sufficient to unseat the 180-foot Hoek-designed ketch from the overall top spot which she had held since day one. The Perini Navi ketch Seahawk, at 190 feet in length the giant of the fleet, took third place overall.
ENTRIES  2015
SAILING YACHTS
Blues
100 ft
Southern Winds
Bolero
72 ft
Henry Nevis
Cape Arrow
99 ft
Southern Wind
Drumfire
79 ft
Bloemsma
Freya
91 ft
Nautor Swan
Ganesha
150 ft
Vitters
Inoui
108 ft
Green Marine / Vitters
Marie
180 ft
Vitters Shipyard
P2
125 ft
Perini Navi
Parsifal III
177.17 ft
Perini Navi
Seahawk
197 ft
Perini Navi
Wisp
157.5 ft
Royal Huisman
MOTOR YACHTS
Bella Una
126 ft
Burger Boat Company
Deep Blue II
143 ft
Oceanco
Ingot
153 ft
Burger Boat Company
M4
131.89 ft
Trident
Seaquest
164 ft
Westport
Plan A
130 ft
Westport
Tony Rey, tactician on board Marie was a satisfied sailor today: "This kind of racing is spectacular. The ORCsy rating couldn't ask for a better soft launch. This event at YCCS was absolutely spectacular and the perfect way to introduce it. The fact we had a few different winners, close finishes: that's what we want and that's what we got."
"Thanks to all the owners who brought their beautiful yachts here. The racing was fantastic this week, very close, and the Race Committee did an excellent job. When the people who didn't win say that the new rule worked well then you know it really did work well." commented YCCS Commodore Riccardo Bonadeo during the prize giving.
Ganesha and Wisp: Class B. Loro Piana Caribbean Superyacht Regatta & Rendezvous 2015. Photo Carlo Borlenghi
Loro Piana Deputy Chairman Pier Luigi Loro Piana was equally happy: "I want to express my gratitude for everything that was organized this week by the BVI government and by the yacht club. It was a spectacular, beautiful week and I am certain many of these boats will be joining us both for the Porto Cervo event and the 2016 edition in Virgin Gorda."
During the prize giving, attended by the BVI Premier Dr. Orlando Smith, P2 also received the Loro Piana Prize – Boat International Media Trophy for the lowest scoring superyacht overall.
PRIZE WINNERS
The Loro Piana Prize: The Boat International Media Trophy
Winner: P2
Class A – 1st Classified
Winner: P2
Class B – 1st Classified
Winner: Marie
Class A – 2nd Classified
Winner: Inoui
Class B – 2nd Classified
Winner: Wisp
Class A – 3rd Classified
Winner: Freya
Class B – 3rd Classified
Winner: Seahawk
1st Highest Place YCCS Member
Winner: Seahawk
Spirit of the Regatta Trophy
Presented by David V. Johnson, Founder and Owner Oil Nut Bay
Winner: Seahawk
Race Day 1
Winner: Class A – Inoui
Winner: Class B – Marie
Oil Nut Bay Race Day 2
Winner: Class A – P2
Winner: Class B – Seahawk
Embraer Executive Jets Race Day 3
Winner: Class A – P2
Winner: Class B – Seahawk
Share on Facebook
Dramatic showdowns have been set up for the final races at the 2014 Maxi Yacht Rolex Cup. Verdicts in three classes will be decided during tomorrow's decisive day: true proof of the close nature of the racing. All classes sailed a coastal course today with around seven knots from the north at the start, building to a 12-15 knot north-easterly midway through the race.
The Mini Maxi Rolex World Championship is living up to its pre-event billing as the tightest and most competitive in its five-year history. Heading into today's critical coastal race, just two points separated the leading three teams.
Consistency, sound decision-making and taking only calculated risks are credited as the determining factors in such a tight championship. Andres Soriano's Alegre, three-time runner-up, is proving the most reliable performer. "It's going to be a very competitive week. One mistake and that's that," promised Soriano ahead of the competition. Today Alegre assumed impressive control of the 25-nm long coastal race after rounding the first mark well ahead of her rivals. Her lead remained unthreatened for the remainder of the race, which took yachts south to Mortoriotto, back up the coast into the Maddalena Archipelago and a brief glimpse of Bomb Alley, before turning north to Monaci and the run home.
Robertissima III, the Italian-crewed boat (and former Rán 2, last year's winning yacht), has enjoyed a terrific week and today claimed second place. She trails Alegre by three points ahead of tomorrow's two scheduled windward/leeward races, and Alegre's crew know from bitter experience that such a margin is vulnerable. "We've been playing averages. It would have been nice to have put more points between ourselves and Robertissima ahead of the final day, but these two boats now have a jump on the fleet," said Alegre's Olly Cameron. "We can't let them [Robertissima] get away. We need to be cautious [tomorrow] and keep it close."
The learning curve for Robertissima owner Roberto Tomasini Grinover and his crew has been steep but one they are mounting at impressive velocity. "We are an inexperienced team in this class. Less than a year ago, we were here looking at the 72-ft boats and said how wonderful they were," explains tactician Vasco Vascotto. "It's a dream to be part of this class – it is not only about great boats but top class teams. We want to be very competitive."
Niklas Zennström's Rán crew started the week as the defending champion and have experience in making dramatic comebacks in Porto Cervo, but today's sixth place on his new Rán 5 has all but ended the crew's chances of a fourth title in five years. A new champion is all but guaranteed after 2012 victor Bella Mente also struggled in today's coastal race, leaving Hap Fauth's crew in fourth.
Wally Form
Engaging competition and a dramatic final day is also offered by the Wally class. Four-time winner, Claus-Peter Offen and Y3K are tied on points with defending champion Jean-Charles Decaux and his J One crew. And one point behind lies Magic Carpet 3. Y3K performed better of the three teams today, finishing in third while J One claimed fourth and Owen-Jones's Magic Carpet 3 had to settle for sixth.
"The Wally class is very strong," explains Offen, President of the International Maxi Association, "with the two Wally Centos (Magic Carpet 3 and Open Season) and many other well-sailed yachts, it will not be easy for Y3K to win the Wally title back, but we are working on it."
J-Class report
The only certainty in the J-Class is that a new champion will be crowned. Velsheda has failed to finish higher than third all week, leaving a three-way battle between Rainbow, Lionheart and Ranger for the title. The week's largest boat, the 43.7m Lionheart holds a slender one-point advantage over Rainbow, three-time winner Ranger is a further point adrift.
Elsewhere, bullets today have handed Firefly (Supermaxi), Lupa of London (Mini Maxi Racing/Cruising) and Highland Fling (Maxi) insurmountable leads in their respective classes.
Racing ends tomorrow. Up to two windward/leeward races are scheduled for the Mini Maxi Rolex Worlds fleet, the J-Class and Wally, while the remaining classes will sail a coastal course.
A full review of the 25th edition of the Maxi Yacht Rolex Cup will be available tomorrow.
Maxi Yacht Rolex Cup
The Maxi Yacht Rolex Cup is organized by the Yacht Club Costa Smeralda (YCCS) and the International Maxi Association (IMA). Rolex has been title sponsor since 1985.
2014 MAXI YACHT ROLEX CUP – PROVISIONAL RESULTS DAY 4
Place, Boat Name, Boat Owner, Races; Total Points
Mini Maxi Rolex World Championship
1. ALEGRE (GBR), Alegre Yachting Ltd., 1.5-1-3-4-(5)-1.5; 11
2. ROBERTISSIMA (CAY), Roberto Tomasini, 6-2-1-(5)-2-3; 14
3. RÁN 5 (GBR), Niklas Zennstrom 4.5-3-2-2-(7)-9; 20.5
Mini Maxi R/C
1. LUPA OF LONDON (GBR), Jeremy Pilkington, 1-1-2-1; 5
2. BRONENOSEC (RUS), Alpenberg S.A., 4-2-1-2; 9
3. AROBAS (FRA), Gerard Logel, 2-4-3-3; 12
Maxi Racing
1. HIGHLAND FLING XI (MON), Irvine Laidlaw, 1-1-1-1; 4
2. ODIN (CAY), Tom Siebel, 2-2-2-2; 8
3. BRISTOLIAN (GBR), Bristolian Marine Ltd., 4-4-3-3; 14
J-Class
1. LIONHEART (GBR), Stichting Lionheart Syndicate, (4)-1-2-2-1; 6
2. RAINBOW (NED), SPF JH2, 2-3-1-1-(4); 7
3. RANGER (CAY), R.S.V. Ltd., 1-2-(4)-3-2; 8
Supermaxi
1. FIREFLY (NED), Eric Bijlsma, 1-1-2-1; 5
2. INOUI (SUI), Marco Vögele, 2-2-1-2; 7
3. VIRIELLA (ITA), Vittorio Moretti, 3-3-3-3; 12
Wally
1. Y3K (GER), Claus Peter Offen, (3)-2-1-3-2; 8
2. J ONE (GBR), Jean Charles Decaux, 1-(3)-2-2-3; 8
3. MAGIC CARPET 3 (GBR), Sir Lindsey Owen Jones, 2-1-(5)-1-5; 9
Complete results may be found here
Share on Facebook
Enthusiasm was in abundance at the 2013 Maxi Yacht Rolex Cup as a gathering of the finest sailors, most passionate owners, and inspiring yachts met in Porto Cervo, Sardinia for the pinnacle rendezvous of the annual Maxi yacht racing calendar.
"The two things which make the event unique are the racecourses and the participants," explained Riccardo Bonadeo, Commodore of event organizers Yacht Club Costa Smeralda (YCCS). "The Maxi Yacht Rolex Cup from the very beginning has always been the event of excellence for ocean-going boats. And the environment is perhaps the most spectacular and technical in the world."
"This is the pre-eminent regatta. Everyone is training for it for the whole season. It's where everyone comes together," explained Niklas Zennström, owner of the highly successful Mini Maxi Rán 2. "It's the one we all want to win."
37 yachts, divided into six classes, contested a myriad of challenging racecourses organized during the weeklong event on the Costa Smeralda. While conditions throughout the 24th edition of this pre-eminent competition were light, the Race Committee was able to successfully organize a gripping week of racing.
Fast and fascinating
The Maxi Yacht Rolex Cup, sponsored by Rolex since 1985, has always been the showcase and proving ground for a fleet of contrasting yachts, and a chance for designers and owners to meet and draw inspiration for future projects. "I'm always looking for the latest, newest technology and something that's a bit different to what other people are doing," admitted Lord Irvine Laidlaw, owner of the 82-ft Highland Fling. A sentiment and quest echoed by many in attendance.
Many owners are using advances in technology to drive the design of faster boats; an idea at the forefront of Sir Lindsay Owen-Jones's mind when he commissioned Magic Carpet 3, a 100-ft yacht designed to answer his quest for a boat that would be comfortable and sail fast whether cruising or racing. Line honours success at the Giraglia Rolex Cup was an early indication of the boat's speed potential compared to his previous yacht. "It's much faster. It is much more fun, much more exciting. It feels like a racing boat and that's what we wanted," explained Owen-Jones. "Paradoxically, it is a much better cruising boat because of its extra width, which gives people air and space and makes it a very stable cruising platform.
"
Owen-Jones had firm ambitions for Magic Carpet 3. "We've written our name five times on the wall next to the door to the Yacht Club (Costa Smeralda), the idea of putting it there a sixth time, which I think would be a record for any name, is a terribly exciting idea."
Jean Charles Decaux – J-ONE Despite the presence of Magic Carpet 3 and Sir Charles Dunstone's Hamilton, whose crew included both British Olympian Ian Walker and Simon Le Bon of Duran Duran fame, the Wally Class was dominated by Jean Charles Decaux's J-One, which won four of the seven races. "Consistency, focus and great teamwork is the magic combination and we are very happy to be the winner again after six years," explained Decaux. "We are the oldest boat in the fleet and smaller compared to the new ones. We really had to make no mistakes, or at least fewer mistakes than our competitors."
Elegance Personified
While eyes feasted on some of the newer boats, the J-Class offered purists with an eye-catching reminder of yesteryear. Of the four J-Class yachts entered at the Maxi Yacht Rolex Cup, Shamrock and Velsheda are restorations of yachts launched over 80 years ago, while Rainbow and Ranger are design replicas of original boats destroyed for metal during the Second World War.
Those competing in the J-Class were not intent on solely distracting photographers. "We enjoy close racing and have to be very mindful dealing with equipment that is incredibly valuable and doesn't respond that quickly. However, none of us want to simply nurse the boats around the course. We want to push it in the gap, that's the challenge," revealed Velsheda' s Tom Dodson.
Share on Facebook
Always one of the most eye-catching and momentous events in the international sailing calendar, the Maxi Yacht Rolex Cup is an astonishing line up of design, power and prowess. The 24th edition of the event – the world's most important meeting of Maxi yachts – will take place from 1-7 September. This annual rendezvous held in Porto Cervo, Sardinia is organized by the Yacht Club Costa Smeralda (YCCS) and the International Maxi Association (IMA). Rolex has been title sponsor since 1985.
The stage is set for a dramatic week of sailing with an impressive fleet of yachts all upwards of 60-feet (18.29-metres) in length preparing to grace the alluring but often uncompromising waters of Sardinia's La Maddalena Archipelago. Competition will take place in different categories, including Mini Maxi, Maxi Racing, Maxi Racing/Cruising, Supermaxi and Wally.
The highly competitive Mini Maxi Class – yachts measuring from 60-79 ft – is experiencing something of a golden age; the fleet is closely matched, highly competitive and increasingly popular. This year marks the fourth running of the Mini Maxi Rolex World Championship. The defending champion is Hap Fauth's 72-ft American entry Bella Mente. Last year, the new launch narrowly defeated Niklas Zennström's 72-ft Rán 2, winner in 2010 and 2011. The level of competition is even greater this year. Andres Soriano is expected to arrive with his recently launched 72-ft Alegre (GBR), the freshest Mini Maxi design. His former 68-ft Alegre is now owned by Alexander Schaerer and is continuing to excel as Caol Ila R. Other forecast entrants like George Sakellaris's Shockwave, Sir Peter Ogden's Jethou and Alessandro Rombelli's Stig are all equally capable of upsetting the form book.
Rivalries will be renewed throughout the competing fleet. The Wally class always reserves dramatic action. This year looks particularly appetising. Sir Lindsay Owen-Jones's Magic Carpet crew – perennial winners in Porto Cervo – will be racing for the first time on Owen-Jones's new Wally Cento Magic Carpet 3. The line honours winner at June's Giraglia Rolex Cup features experienced former Olympic medallist Jochen Schümann as skipper. Meanwhile Claus-Peter Offen's 100-ft Y3K from Germany will hit the water after recent modifications in an effort to maintain her remarkable run of success in Porto Cervo.
Belgian Filip Balcaen's 112-ft Nilaya has dominated the Supermaxi class – reserved for yachts measuring in excess of 100-ft – over the past two years. The Class is typically the most diverse, attracting yachts built for both luxurious cruising and competitive sailing. Last year, the event set a new record with the appearance of the gigantic 216-ft Hetairos, the largest boat to ever feature in the competition.
For further details on the 2013 Maxi Yacht Rolex Cup and the event's rich history, a dedicated Press Kit is available to download here and will shortly be available in other languages. An accompanying photo story provides a visual presentation of the event.
EVENT PROGRAMME
Sunday, 1 September
YCCS Welcome Reception
Inspections, registration and briefing
Monday, 2 September
Race (s)
Tuesday, 3 September
Race (s)
Wednesday, 4 September
Race (s)
Thursday, 5 September
Lay day or resail
Friday, 6 September
Race (s)
Rolex Crew Party
Saturday, 7 September
Race (s)
Final Prize Giving
Share on Facebook
2013 marks the first edition of the Rolex Swan Cup Caribbean, held at the Yacht Club Costa Smeralda's new clubhouse in the sailing paradise of the British Virgin Islands. The event is organized by Rolex, Nautor's Swan and the Yacht Club Costa Smeralda, who have established close ties through organizing the Rolex Swan Cup in Porto Cervo, Sardinia since the early 1980s.
A full fleet of Swan yachts, an alluring playground and four days of intense racing: all hallmarks of the upcoming Rolex Swan Cup Caribbean. Commencing today, Monday 11 March, the event will be held over the next 5 days at the Yacht Club Costa Smeralda's recently launched base on Virgin Gorda in the British Virgin Islands.
Swan yachts ranging from 12.98 metres (42 foot) to 30.20m (100 ft) and representing countries including Belgium, Italy, Finland, Germany, the Netherlands, South Africa, the United Kingdom and the United States make up the entry list. Competing Swans will be divided into two groups: Class A (Maxi), measuring upwards of 18.29m/60-ft; and, Class B, reserved for yachts measuring less than 18.29m.
Registration took place today, followed by the opening reception on the spectacular terrace of the Yacht Club Costa Smeralda. Competition on the water starts tomorrow, Tuesday 12 March, and the round Virgin Gorda race is scheduled for Wednesday 13 March. Ideal sailing conditions are forecast.
A range of Swans will grace the event: from historic Sparkman & Stephens models including Hokusai (FIN), Lianda (BEL) and Swan Lake (USA) through to more modern designs from German Frers including the Swan 90 Freya (USA) which is also taking part and was the 2,000th yacht to be built by Nautor in Finland.
Other Class A entries include Varsovie, the largest competing yacht, the Swan 80 Selene and Stark Raving Mad a Swan 601, whose crew has enjoyed a successful last twelve months. In Class B, the week's smallest entrant – the Club Swan 42 Arethusa (USA) – is using the waters of the Caribbean to continue preparations for September's New York Yacht Club Invitational Cup presented by Rolex.
Crews will need to marry sharp tactics and cohesive teamwork to prevail in a fleet renowned for sportsmanship and graceful sailing. The week's standout performers will be rewarded at the final prizegiving, on Friday 15 March, where the Rolex Swan Cup Caribbean Trophy will be presented.
The eagerly anticipated event marks a continuation of the long-standing relationship between Nautor's Swan, Rolex and the Yacht Club Costa Smeralda, which commenced in 1984 with the first edition of the now biennial Rolex Swan Cup in Porto Cervo, Sardinia.
James Blakeman's Music day one (Photo by Rolex / Carlo Borlenghi Borlenghi)
ENTRIES 2013
| Boat Name | L.O.A. | Country | Designer | Builder | Model |
| --- | --- | --- | --- | --- | --- |
| Arethusa | 12,98mt | USA |   | Nautor s Swan | 42 |
| Catch 22 | 14,85mt | USA | Frers | Nautor s Swan | 48 |
| Creuza de ma | 19,80mt | USA | S & S | Nautor s Swan | 65 |
| Eclipse | 14,36mt | FIN | Frers | Nautor s Swan | 46 |
| Fenix | 18,85mt | GBR | Frers | Nautor s Swan | 60 |
| Freya | 25,90mt | USA | Frers | Nautor s Swan | 90 |
| Glisse | 19,82mt | USA | Frers | Nautor s Swan | 62 |
| High Yield | 13,83mt | GER | Frers | Nautor s Swan | 45 |
| Hokusai | 13,48mt | FIN | S & S | Nautor s Swan | 44 |
| Island Water World | 13,83mt | NL | Frers | Nautor s Swan | 45 |
| Lianda | 17,50mt | BEL | S & S | Nautor s Swan | 57 |
| Music | 16,48mt | GBR | Frers | Nautor s Swan | 53 |
| Nai a | 16,51mt | USA | Frers | Nautor s Swan | 53 |
| Northern Child | 15,54mt | GBR | Frers | Nautor s Swan | 51 |
| Olivia Lee | 17,06mt |   | Frers | Nautor s Swan | 56 |
| Selene | 24,37mt | BVI | Frers | Nautor s Swan | 80 |
| Stark Raving Mad | 18,28mt | USA | Frers | Nautor s Swan | 601 |
| Swan Lake | 18,00mt | USA | S & S | Nautor s Swan | 57 |
| Tenacity | 17,06mt | USA | Frers | Nautor s Swan | 56 |
| Varsovie | 30,20mt | CAY | Frers | Nautor s Swan | 100 |
| White Rhino | 17,06mt | USA | Frers | Nautor s Swan | 56 |
Share on Facebook
A fleet of 34 international Maxi yachts are braced for tomorrow's start to competitive action at the 2012 Maxi Yacht Rolex Cup, held in Porto Cervo, Sardinia. Five days of racing are scheduled for the 23rd edition of this annual contest, open to Maxi yachts upwards of 18.29 metres. Boats representing fourteen different countries make up the entry list from the smallest competitor – the 18.30m Mini Maxi @robas  (FRA) – to the gigantic 66m Supermaxi  Hetairos (CY). A stunning spectacle is always guaranteed when the world's most technologically impressive Maxis lock horns in the challenging and scenic racecourses offered by the Costa Smeralda and the Maddalena Archipelago.
Ever since its inception in 1980, the Maxi Yacht Rolex Cup has represented a rare for opportunity for Maxi yachts to engage exclusively in direct competition. It has also been synonymous with the latest developments in yacht design and technology. 2012 is no exception as three eagerly-anticipated new launches prepare to make their bow: Charles Dunstone's 30.47m Wally Hamilton(GBR) and two new entries in the intriguing Mini Maxi Rolex World Championship: Hap Fauth's 21.94m Bella Mente (USA) and the similarly sized Stig (ITA), owned by Alessandro Rombelli.
Edoardo Recchi, Sporting Director of event organizer the Yacht Club Costa Smeralda (YCCS), believes a vintage edition is in store, revealing: "We are very happy to have a fleet of 34 boats with a number sailing here for the first time. The Mini Maxi Rolex World Championship, in particular, will be very competitive because all the Mini Maxis are, from a certain point of view, as good as new, with many having changed keels or rigs." As Recchi confirms, the week will be a test of each crew's resolve and endurance: "For the Maxis and Supermaxis five coastal races are planned and for the Mini Maxis and Wallys there will be three coastal races and four windward/leeward races." Tomorrow, coastal races are scheduled for the event's five classes (Maxi Racing, Maxi Racing/Cruising, Mini Maxi, Supermaxi and Wally).
A number of this season's most successful boats are in attendance. Sir Peter Ogden's 18.90m Mini Maxi Jethou (GBR) triumphed in May's Rolex Volcano Race; Filip Balcaen's 34.13m Nilaya (GBR) won line honours at that same event and returns to Porto Cervo to defend her Supermaxi class title. Igor Simcic's 30.48m Esimit Europa 2 (SLO) has enjoyed a stellar year, smashing the race record at the recent Giraglia Rolex Cup before arriving in Sardinia in style, setting a new fastest time between Monte Carlo and Porto Cervo.
The third running of the Mini Maxi Rolex World Championship is likely to be one of the week's most eye-catching contests. The previous two editions have been claimed by the 21.91m Rán 2 (GBR). Niklas Zennström's fully professional crew start off as favourites, but the competition will be determined and races decided by the merest fractions. Strength in depth across the Championship is provided by the revamped Jethou, George Sakellaris' 21.80m Shockwave (USA), Stig and the 21.01m Caol Ila R (USA), the former Alegre – second place finishers in 2010 and 2011 – as Alex Schärer and his crew make the transition from their racer/cruiser of the same name.
Brand-new Bella Mente (USA), counting on the expertise of 2006 ISAF Rolex World Sailor of the Year Mike Sanderson, concedes nothing to Rán 2 in terms of length although the crew have the challenge of tackling the competition for the first time. "We're really excited," remarks Sanderson. "The Maxi Yacht Rolex Cup is one of the great events on the calendar, where the fascination is seeing all of the hardware together – a collection of amazing boats in terms of power and sail." Sanderson is expecting a baptism of fire: "In the Mini Maxi class, the level is very high. The other guys currently have a bit more refinement and finesse including Rán who are a very polished act with a very consistent crew."
Navigators are facing a difficult time predicting what the week's weather will provide: "The forecast is really tricky," confirms Sanderson. "There is a low settling off to the west of Sardinia. Some forecasts are saying 50 knots and others five! So we are in for a pretty changeable week."
The Maxi Yacht Rolex Cup is organized by the Yacht Club Costa Smeralda and the International Maxi Association, prestigious organizations with close ties to Rolex. A first-class social programme is in store, including the Rolex Crew Party and the final Prize-Giving Ceremony, where the Maxi Yacht Rolex Cups and Rolex timepieces will be presented to the winners.
EVENT PROGRAMME
Sunday, 2 September
Inspections, registration and briefing
Welcome Reception
Monday, 3 September
Race(s)
Tuesday, 4 September
Race(s)
Wednesday, 5 September
Race(s)
Thursday, 6 September
Lay day or resail
Friday, 7 September
Race (s)
Rolex Crew Party
Saturday, 8 September
Race(s)
Final Prize-Giving
Share on Facebook